'My mother took me to the library and I became a complete bookworm'
Syima Aslam, the co-founder and director of the Bradford Literature Festival on supporting up-and-coming authors and why this year's schedule of events is the most diverse yet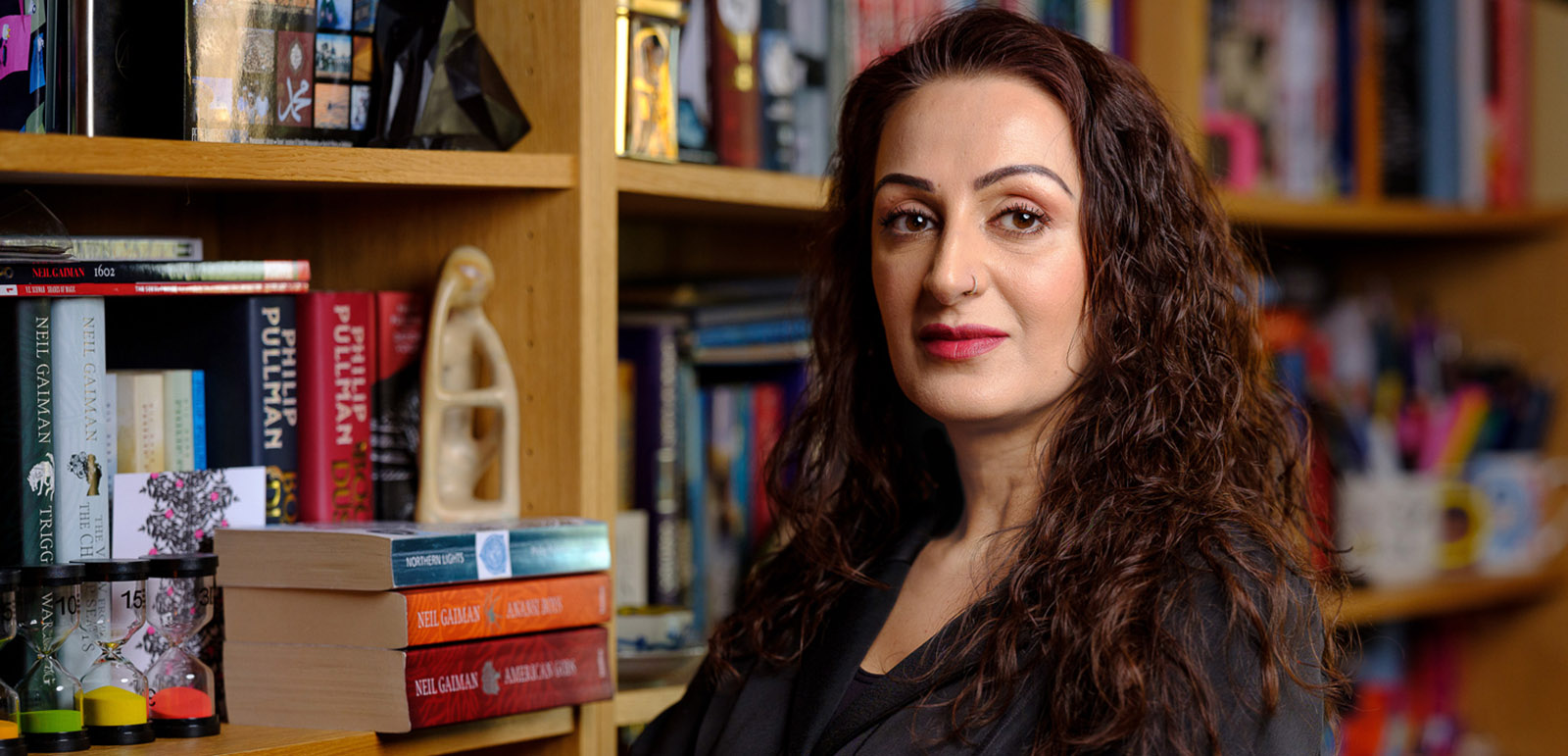 "I was taken religiously to the library by my mother and I became a complete bookworm," says Syima Aslam, co-founder of Bradford Literature Festival, of her childhood. "Looking back, I feel that without that push, I wouldn't be where I am now."
I interviewed Aslam ahead of the festival's ninth edition, which will bring an estimated 70,000 people to Bradford this summer. Audiences will enjoy a packed lineup of about 500 events between 23 June and 2 July, held at prominent venues across the city, including the local branch of Waterstones in the grand main hall of the Victorian Wool Exchange, Bradford Cathedral, and City Hall. This year's line-up will feature appearances by established UK-based authors, including Leila Aboulela, Kamila Shamsie and Tufayel Ahmed, and speakers from across Europe, the Middle East, Asia and the US.
Aslam said she is particularly keen to welcome Minnesota attorney general Keith Ellison, the first Muslim to be elected to Congress in the US, who also prosecuted Derek Chauvin for the murder of George Floyd.
"I'm always very excited about our world affairs and politics strands," said Aslam. "It's also the anniversary of the end of the Ottoman empire this year so we will have a few events tied to that, and events focusing on what's been going on in Iran in terms of freedom of choice for women in the country."
Founded in 2014 by Aslam and her friend Irna Qureshi, the festival's inaugural series of events took place over a single weekend with approximately 1,000 attendees. By 2019, it had expanded to 10 days and more than 69,000 attendees — 55% of whom were from ethnic minority backgrounds. Aslam, who is co-founder and director, told me this year's festival is expected to break this record.
Aslam grew up in the nearby West Yorkshire town of Halifax and her first introduction to Bradford came in 2005, when she opened a restaurant serving Indian and Arabic food in Centenary Square. Over the course of the next six years, she said she gained a deep appreciation of the city's diverse communities, which motivated her to create what she proudly describes as "the most diverse literature festival in Europe".
"We have a huge South Asian community," she said, "but in the past Bradford also had this big wave of Irish, Jewish German and Eastern European migration. It's a real mix and my thinking was that if you created a festival that talked to Bradford, it would automatically be nationally and internationally relevant."
As a child of first-generation Pakistani immigrants, Aslam was regularly "shuttled back and forth" from her parents' homeland. By the time the family settled in the UK for good, she was eight-years-old and her grasp of the English language had weakened. She credits those frequent trips to the library with her mother for helping her improve her English skills while developing an appreciation for literature.
In adulthood, Aslam regularly attended literary and cultural events around the UK and was often struck by the lack of diversity among attendees. One of her most memorable experiences was at an event with children's books author Jacqueline Wilson, which she attended with her daughter.
"I remember thinking that most of the children here, their parents are already engaged with reading and they are likely surrounded by books at home. But the kids that really need this experience, they aren't in the room," said Aslam.
Some of the Bradford Literature Festival's most important events are those aimed at younger readers. Children in Bradford fell slightly below the national average for reading in the year up to 2022. According to the latest figures from the Department of Education, 72% of Key Stage 2 pupils in the city met the expected level of reading, compared with 75% nationally.
Almost two-thirds of the festival's programme is aimed at children and young people, and attendance to those events is free. The festival, run by a team of 30 staff and 150 volunteers, is also the first of its kind to launch with an "ethical ticketing policy", allowing anyone who is claiming benefits or social housing, or is a refugee or asylum seeker to attend free of charge.
"The idea is to switch parents on to the importance of literacy, and for the children to come along to have fun and really enjoy themselves, so that when they come across literature at school, they feel excited about it," said Aslam.
In the early days of setting up the festival, which has been lauded as one of the key drivers behind Bradford's successful UK City of Culture bid for 2025, Aslam decided that it would not have a separate fringe with newly established authors not included in the official programme. Up-and-coming artists are scheduled to appear alongside already successful talent. This policy has helped launch the careers of a number of Muslim writers, such as British Sudanese poet Asma Elbadawi and Sairish Hussain, a Bradford-born author who has said she met her publisher at the festival.
The deliberate exclusion of a fringe has helped raise the festival's profile, according to Aslam. "I felt that the fringe was often where artists from working-class or diverse backgrounds tended to get stuck. For many of the artists we have programmed, it's the first time they have been given this kind of platform," she said.
"What's been interesting is not only seeing the development of these artists, but seeing the confidence this has created in the culture sector," she continued. "It's made people feel like they can do this too."
Topics
Selected stories
A new genre of writing is slowly establishing itself and painting a broader picture of what love can look like

The fashion influencer on faith, modesty and claiming a space for Black Muslim women

This week our panel assess what the Liberal Democrats offer Muslims and discuss the ongoing debate about definitions of Islamophobia. Plus, travel blogger Yara Abdelsamie on travelling solo and the best European destinations for Muslim women