Book clubs create a space to share stories
In real life and online, young Muslim readers are coming together and holding events that celebrate their love of literature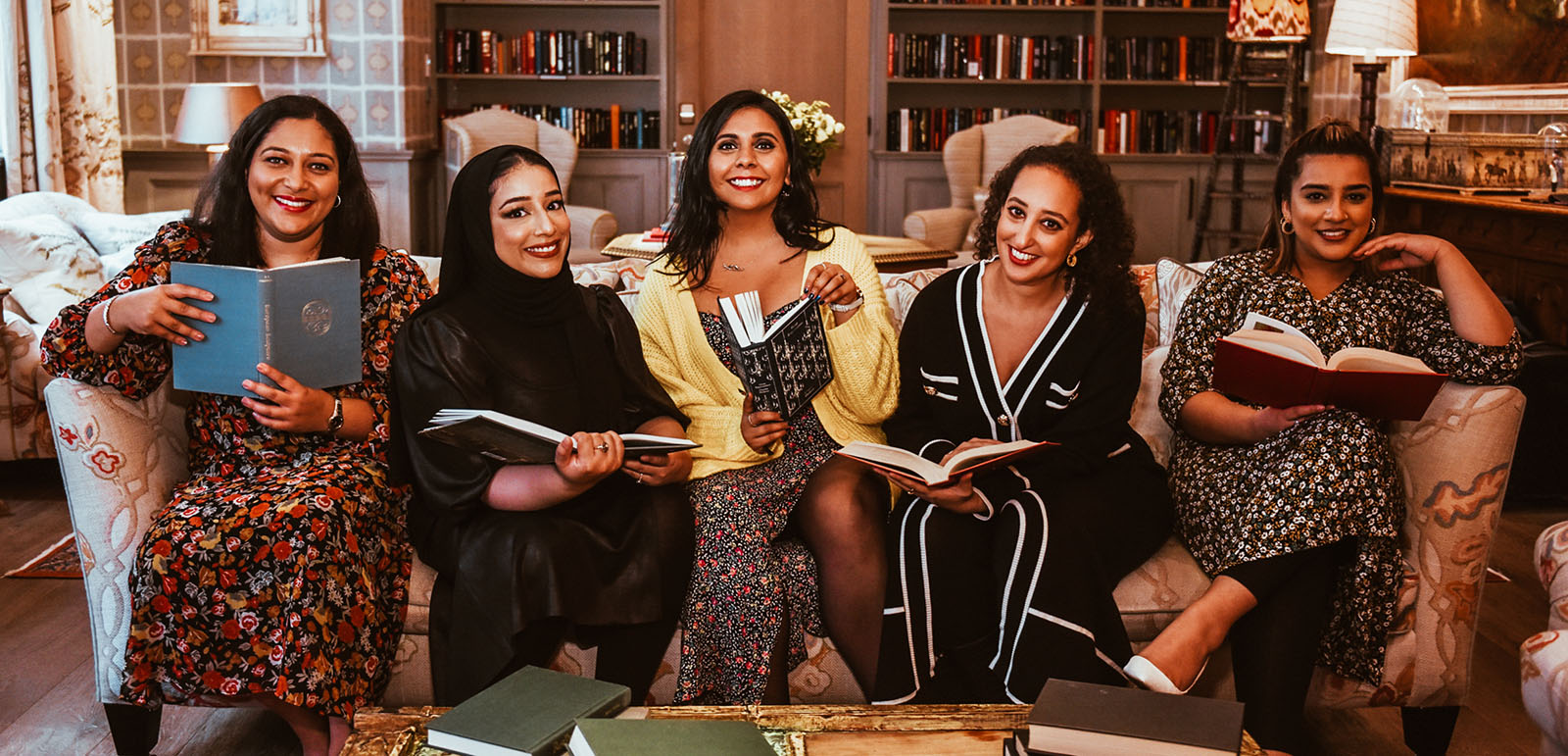 It was New Year's Day 2021 when Rabiah Tariq, 24, an immigration lawyer from Manchester, shared her first book review online. Her Instagram post was about Tehmina Durrani's award-winning 1991 memoir My Feudal Lord, a first-person account of the Pakistani author's allegedly abusive marriage and subsequent divorce, which stunned her country's elite classes on publication.
"It was the last book my father recommended I read," wrote Tariq. "When I started it he was still alive and by the end he wasn't."
Tariq and her father, who died in 2020, had often read the same books, following up with a discussion of their characters and themes. "After my dad died, I felt this void and longing for a space where I could talk about books, and that's when I came across Bookstagram," said Tariq, referring to the corner of the social media app populated by lovers of literature.
Tariq and her Instagram account, which has more than 1,300 followers, are part of a community of Muslim bloggers using digital platforms to share fiction and non-fiction reviews. TikTok also has its own thriving community, widely known as BookTok.
The popularity of such accounts has led some readers to launch their own online and in-person book clubs. The Croissant Club, launched in December 2020 by friends Zahra Beg, Maryam Al Mahtot and Zaima Islam, who are all in their mid-20s, is just one of a number of online spaces where young people discuss books and the complexities of being a person of colour, British and Muslim.
The club has around 100 members and meets over Zoom once a month. "Our goal was not only to spotlight Muslim authors and encourage more Muslims to read, but also for Muslims to critique the books they are consuming," said Beg, who is based in London.
Members recently read Zoulfa Katouh's As Long As The Lemon Trees Grow, which tells the story of the 2012 Syrian revolution through the eyes of a 19-year-old pharmacy student in Homs. "A lot of the conversations were drawing parallels between what the book tells us about what happened in Syria and what is currently happening in Gaza, and the impact of war on children," said Tariq, who is a member of the group.
While research on the influence of literature-focused social media accounts is limited, a November 2022 poll by the Publishers Association suggested that such networks are helping to diversify reading habits. Of the 2,000 16 to 25-year-olds surveyed, 68% said book influencers had inspired them to read a title that they never would have considered otherwise.
The London-based Candid Book Club, run by a group of Muslim and non-Muslim friends, aims to boost the visibility of up-and-coming writers. Established in 2016, the group has held monthly events at Waterstones in Piccadilly since December 2021.
Though the club has more than 20,000 followers on Instagram and TikTok, founders Linda Malek, 34, and Omma Ahmed, 35, said the live events, which include appearances by the authors of the books being discussed, are limited to 40 guests and typically cost between £8 and £15.
"We want them to be intimate and welcoming. In the past when we have had bigger events, we found that it was harder for everyone to get involved. Especially if people are coming by themselves, or if they are new — they might feel intimidated by a larger group," Ahmed said.
Research suggests that BAME writers remain significantly underrepresented in the publishing industry. A 2019 report by charity BookTrust found that fewer than 2% of children's authors and illustrators published in the UK are people of colour. Additionally, a 2020 study led by Goldsmiths, University of London, which surveyed more than 100 editors, managing directors, CEOs and agents in UK publishing, found that the core audience for books is assumed to be white and middle-class.
Agents participating in the study said they would like to publish more writers of colour, but "struggle to find them". Some also expressed concerns about the lack of "quality" in the work of BAME writers.
In recent months, the Candid Book Club has discussed a number of debut novels, such as Huma Qureshi's Playing Games, Rootless by Krystle Zara Appiah, and Maame by Jessica George. "Even though these are wildly talented authors, Muslim writers and writers of colour don't always get the amount of marketing they deserve," said Malek. "That's where clubs like ours are so important — we can make noise for those people."
All of the book club organisers interviewed by Hyphen said they made no income from their social media activity, but occasionally received complimentary books to review.
Many book influencers said BookTok and Bookstagram had provided a sense of community they would not have found elsewhere. Emon Miah, 26, from east London, used Instagram back in 2020 to meet other like-minded readers. "At the time I was reading so many books, but no one in my life really shared that passion," he said.
Fellow Muslim readers have welcomed Miah with open arms. "Before I joined Bookstagram, I thought I was the only Bengali male who reads, but now I know that's not true," he said.
Topics
Selected stories
Religious leaders from Spain, Germany and Sweden speak about events in the Middle East and the consequences for their communities

Is the Gaza truce a turning point in the Israel-Hamas war? Our panel discuss this and other topical issues. Plus, a look at the Muslim renters dealing with London's housing crisis

The filmmaker on her life, work and why telling women's stories is more important than ever