8 Muslim authors on their top summer reads
If you're looking to dive into a good book during your holidays, we've got everything from gripping crime writing to environmental manifestos and contemporary philosophy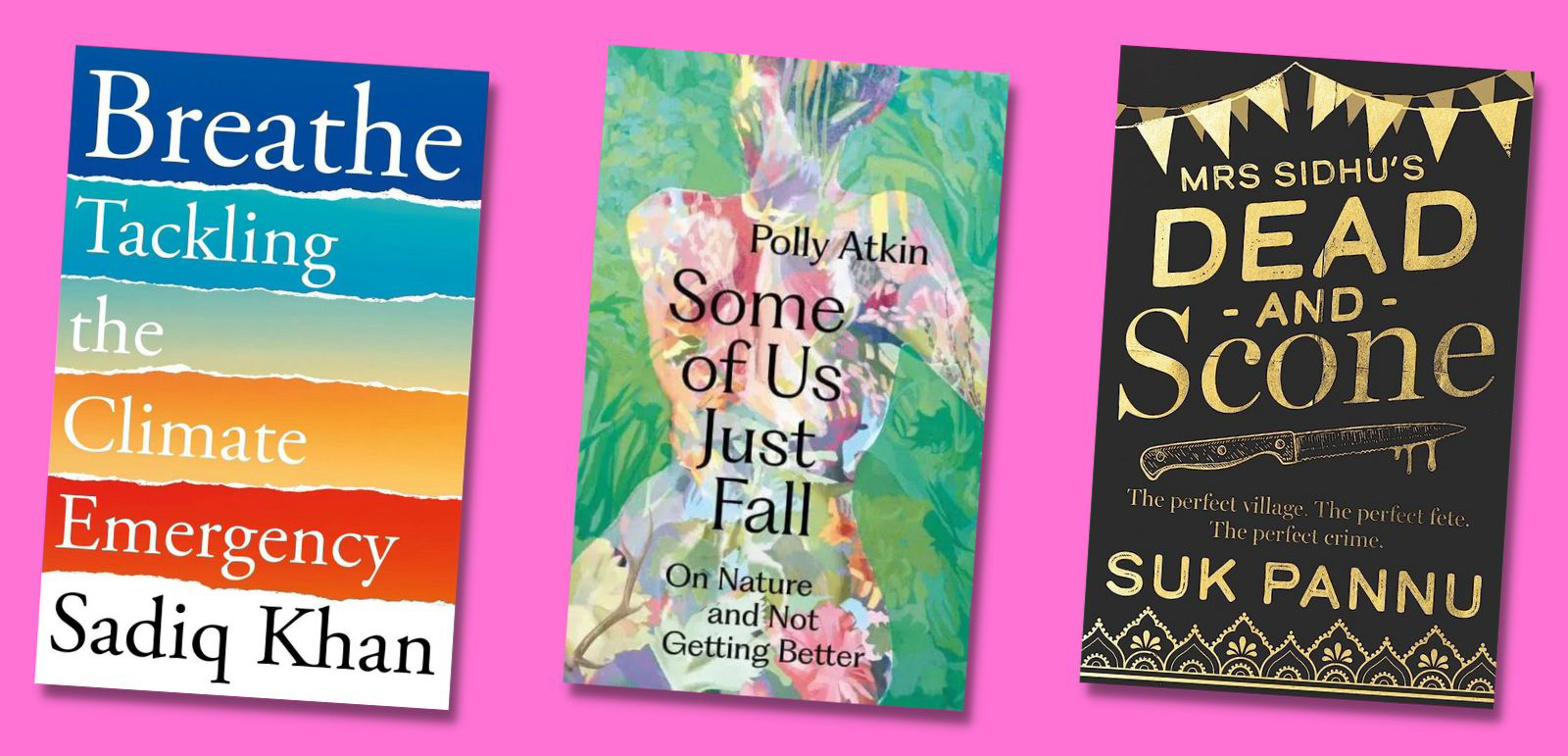 For many of us, the summer holidays offer a perfect opportunity to catch up on some reading, whether it's taking a trashy thriller to flick through by the pool or lugging a weighty historic tome to a pavement cafe. Here, eight Muslim authors and publishers tell us what's at the top of their pile.
Noreen Masud
Author of A Flat Place
I'm going up to Whitley Bay for a seaside cat-sitting gig/mini-break this month. In my to-be-read pile are Linda Cracknell's Writing Landscape, and Kirsty Loehr's A Short History of Queer Women. I'm doing events with both these wonderful authors soon and want to be ready. Also in the pile is Lori & Joe by Amy Arnold. I was drawn to it by Prototype Press's striking cover design, with one block of colour and one white block. It looks like the horizon of a flat landscape, which I love. My book A Flat Place is about the beauty of those environments. I've also just started a proof copy of Some of Us Just Fall by Polly Atkin. I'm only a few pages in, but I can already tell that this book participates in a really exciting new direction for nature writing — one that accommodates fatigue and illness as well as strong, striding bodies.
Farah Karim-Cooper
Author of The Great White Bard
This summer, I am reading or plan to read The Secret Diaries of Charles Ignatius Sancho by Paterson Joseph. It's a work of fiction that tells the story of a Black man who lived in Britain in the 18th century and is beautifully written, imaginative and thoroughly researched. In non-fiction, there's Empireland: How Imperialism Has Shaped Modern Britain by Sathnam Sanghera — a very informative read and necessary to anyone wanting to understand how Britain became the country it is today. Then there's The Wrath to Come: Gone with the Wind and the Lies America Tells by Sarah Churchwell, which details how one of the most popular films of all time is mired in pro-slavery sentiment and helped create the myth of southern white victimhood that still shapes racial division in America today.
Hafsa Zayyan
Author of We Are All Birds of Uganda
First up is Breathe: Tackling the Climate Emergency by Sadiq Khan. After he was diagnosed with adult-onset asthma as a result of breathing in pollutants from city vehicles, the mayor of London went on a mission to change emissions laws. This readable and accessible part-manifesto, part-memoir details what led to his green policies as mayor including the ultra-low-emission zone.
Second is Hush by Kate Maxwell. Maxwell is a freelance journalist and this is her debut novel, focusing on motherhood in a way we rarely hear about in fiction, telling the story of a woman who has a baby alone using a sperm donor and her failure to bond instantly with her child.
Third is The Overstory by Richard Powers, which is about trees. I started this novel back when it won the Pulitzer in 2019 but never finished it, which says less about the book than my ability to be distracted. Narrated from multiple perspectives, Powers draws together the lives of seemingly disparate protagonists into a crushing story on the critical and enduring wisdom of trees.
Vaseem Khan 
Author of The Lost Man of Bombay
"For me summer reading isn't always about the airport book. I want a read that is both well written and keeps the pages turning. So, what is turning up the heat for me? Mark Billingham's The Last Dance is a police procedural that sparkles with humour, interspersed with a brutal double murder and the grim realities of modern law enforcement. TV writer Suk Pannu, of The Kumars at No. 42 fame, has just penned his debut crime novel, Dead and Scone, featuring the irrepressible amateur sleuth Mrs Sidhu. I have just started it — a delicious first bite. I've also just finished Lessons in Chemistry by Bonnie Garmus, a book it seems that everyone is talking about right now. Combining wit, sass and great writing, it tells the story of a female scientist and her struggles in a male-dominated environment. My favourite read of 2023 so far.
Habiba Desai
Publishing and partnerships director at Fox & Windmill
Summer is that long-awaited spell of doing nothing and everything, whether that's lazy days of lounging in the garden, drink in hand and soaking up the sun, or weeks of meticulously scheduled activities, so as to not squander the good weather. For me, it's usually the former. Right now, my summer reading list comprises the foundational text of the dark academia genre, The Secret History by Donna Tartt; the Japanese novel All The Lovers In The Night by Mieko Kawakami; and the inspirational non-fiction collection How To Do Nothing: Resisting the Attention Economy by Jenny Odell. Then there's a little childhood whimsy from Brambly Hedge by Jill Barklem, and, to round off the list, the young adult fantasy The Language of Spells by Garret Weyr.
Mai Al-Nakib
Author of An Unlasting Home
To kick off my summer, I'm reading Mark Fisher's Ghosts of My Life: Writings on Depression, Hauntology and Lost Futures. I'm so blown away that I keep having to put it down to catch my breath. I've come late to this book, which was first published in 2014, but its cultural diagnosis remains as timely as ever. I adore the music he writes about — Joy Division, Japan, Talk Talk — and the theorists, such as Jacques Derrida, Gilles Deleuze and Fredric Jameson. We are haunted, Fisher argues, by futures that have failed to materialise as a result of neoliberal capitalism. To create anything culturally new "demands certain kinds of withdrawal", he writes. Doing that requires time, space, attention and energy, which are precisely the things our socially networked context makes purposely impossible. As a writer, I guard these elements fiercely for myself. To read Fisher's elegantly articulated analysis of why this is crucial moves me, confirming what I feel in my bones.
Ayaan Mohamud 
Author of You Think You Know Me
Yellowface by Rebecca F Kuang is unarguably one of the hottest books in publishing right now so, of course, it was impossible not to include it.
The book tells the story of authors Athena Liu, a literary darling, and June Hayward, a literal nobody. When Athena dies in a freak accident, June steals her unpublished manuscript and publishes it, parading it as her own. What ensues is an unbelievable story about just how far one person will go to claim what they think they're owed.
Kuang has penned a dark and magnetising satire that takes a magnifying glass to an industry that has always appeared amorphous and opaque to the majority but, in Yellowface, we see it all (though mostly the bad and ugly).
This book was such an interesting read. Fast-paced, scandalous, everything you would want in a satire and, also, in a summer read!
Aasmah Mir
Author of A Pebble In The Throat
As a single parent who works crazy hours, I won't really get much summer reading time but here is my fantasy list anyway. I want to properly read The Khan by Saima Mir. I started it, then my mum visited me, sneaked it off my bedside table and into her suitcase, and took it back to Glasgow. She only returned it recently. It's a seminal book and I can't wait to do it justice. I also love Maggie O'Farrell and have from the beginning. Her latest novel, The Marriage Portrait, is a must-read. I'm also very much into memoirs and am catching up on all the good ones, including Seamas O'Reilly's Did Ye Hear Mammy Died? And Christina Patterson's Outside the Sky is Blue. I've heard amazing things about These Impossible Things by Salma El-Wardany, so I want to read that too. Oh dear, this is all sounding very unmanageable already …
Topics
Selected stories
A new genre of writing is slowly establishing itself and painting a broader picture of what love can look like

The fashion influencer on faith, modesty and claiming a space for Black Muslim women

This week our panel assess what the Liberal Democrats offer Muslims and discuss the ongoing debate about definitions of Islamophobia. Plus, travel blogger Yara Abdelsamie on travelling solo and the best European destinations for Muslim women