Bradford Motor City
Modified cars are ever-present on the streets of West Yorkshire. Here we look under the hood of a thriving, creative culture with deep roots in the South Asian community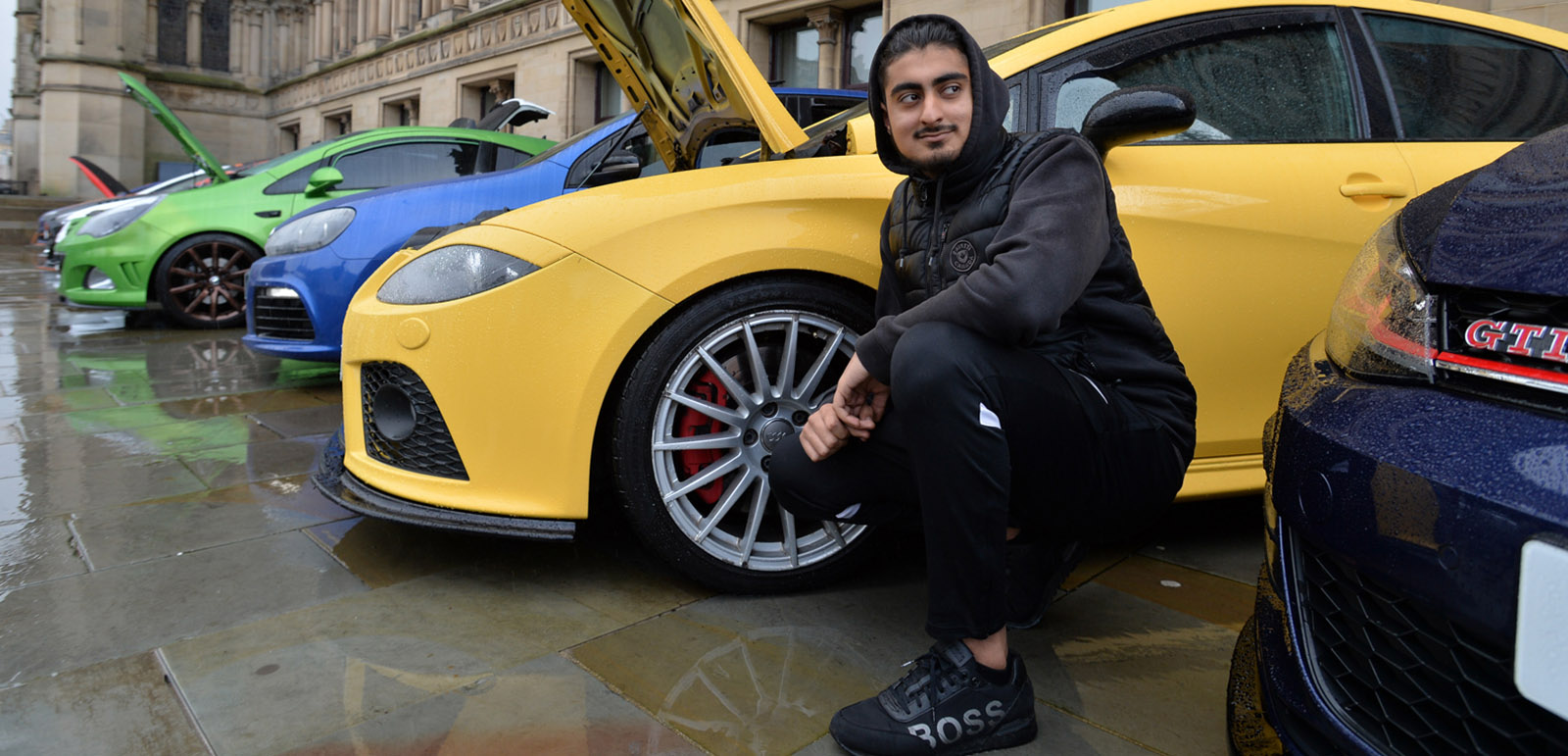 On a cold, wet Saturday afternoon in November, a rainbow of cars pulled up on the slick Yorkshire flagstones outside Bradford City Hall: blue BMWs, Volkswagen Golfs of different hues, bright yellow Seats, silver Ford Mustangs, purple Porsches.
Owners stood proudly beside their vehicles, bonnets open, speakers pumping music, eager to talk mechanics, interiors and horsepower. The air was filled with chat about spoilers, rims and how to achieve the perfect shine. Onlookers of all ages milled around admiring the rides, which ranged from the classic to the souped-up.
It's an eye-catching scene, but not entirely unusual. Customised cars are visible on almost every street in this city of more than 500,000 residents. According to Ali Yunis, one of the organisers of the Bradford Modified Car Club's (BMCC) final meeting of the year, they have also been part of British Asian culture for decades.
"In Bradford we have a wide community of South Asians who are into cars," he said. "But if you drive past the Saltaire and Shipley, you'll see that white people have highly modified performance cars in their driveways too."
Yunis's observation is borne out by the crowd that has gathered for the event. They're mostly young, working-class men and — in a city with a large Muslim population and often portrayed as segregated along racial lines — equal parts white and South Asian.
"I call this a show, because it's bigger than a meet now," Yunis explained. "It is bigger than just being about cars for me. I look at it as bringing people together. They come from all over the country — people of different skin tones and genders."
One such person is Jamie Chambers, 20, who runs a business fitting car alarms in Bradford. He had spent the morning polishing his bright green Vauxhall Corsa VXR Nurburgring to a sheen so high I could see my face in its paintwork and happily told me how he had modified the car's engine, added speakers and black alloy wheels.
"Everyone is down here," he said of the show. "We're all here for the same reason. It's a massive way to make friends. Most of the time I'm not working, I'm working on my car or am at a meet. The car community pulls so many things and so many people from all walks of life. You just give each other a hand, get together and hang out."
Yunis, 26, is a gas engineer and a youth worker by day. He has been running the BMCC since 2014 and views his role in the club as an extension of his community work. The organisation now has 15,000 followers on Instagram, TikTok and Facebook, and its events regularly attract visitors of all ages and backgrounds.
He describes the cars as labours of love that say something about their owners, be it through their booming speakers, candy-coloured paint jobs or low-riding suspension. "Some are into music, engine modification, the exterior look of the car, others the interior," he added. "It's all about personality and choice."
Yunis's big passion is Volkswagen Golfs. He owns five of them. "People often ask me why I do it," he said. "I tell them that in the same way Van Gogh painted sunflowers, this is my form of expression. It's not as famous, but it reflects me. When I have my paintwork, my private plates and music, it is my piece of art."
Bradford has an unenviable reputation when it comes to cars. Insurance premiums are high, owing to the prevalence of "cash for crash" scams, in which drivers orchestrate accidents to claim compensation for injuries such as whiplash, and high levels of unlicensed and reckless driving. The city has also had a problem with underground car meets and boy racer culture in general. This has led the council to install noise-sensitive cameras and issue fines to drivers revving their engines antisocially in public.
Yunis is well aware of the popular perception of car meets, and while unsanctioned events still take place in car parks across the country, he is doing his best to change things in West Yorkshire.
"We have strict rules around the events. We work with the local council, and police are in attendance," he said. "If I've spent £15,000 on a car, why am I going to drive down the road at 100 miles per hour? It sounds cheesy, but with great power comes great responsibility."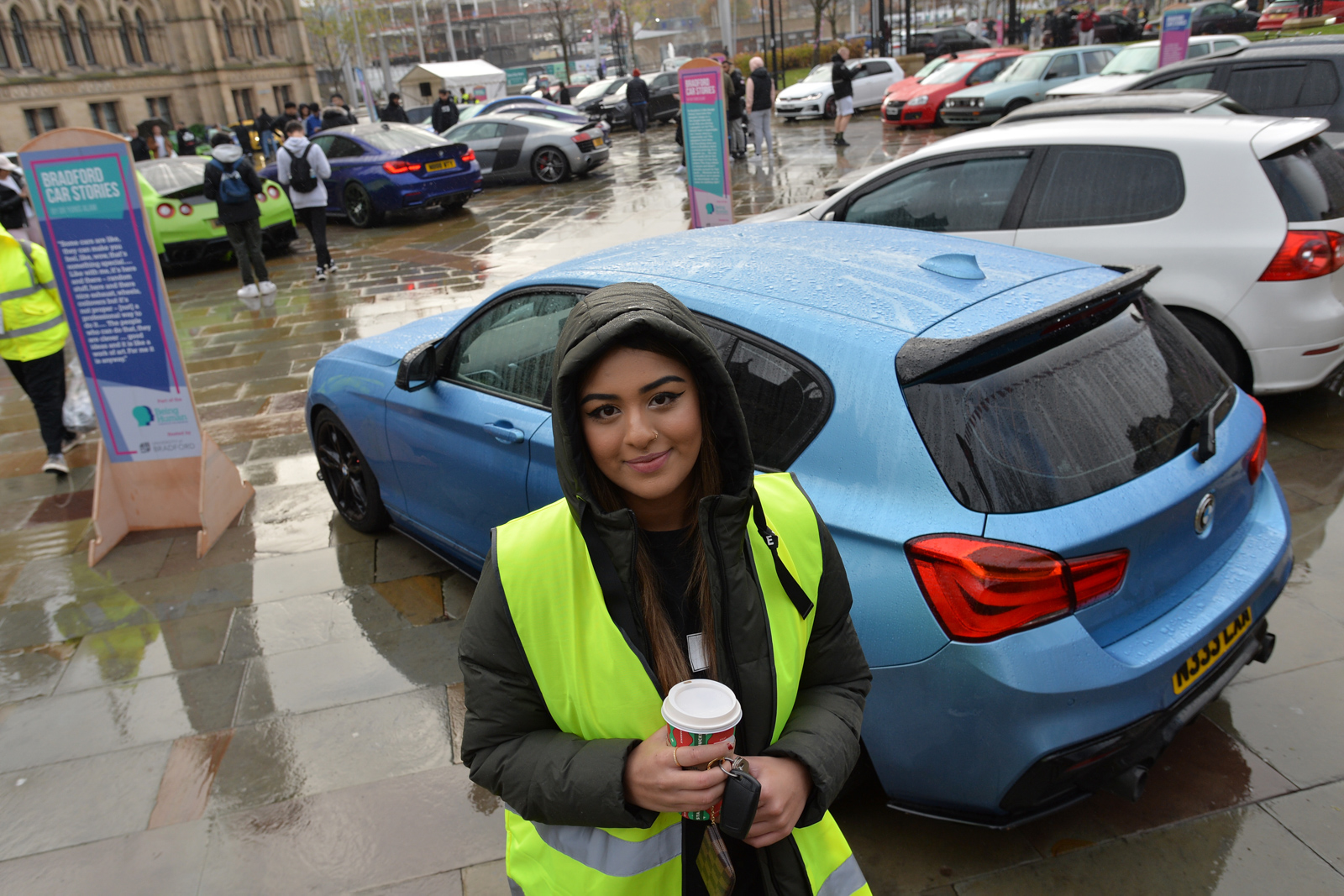 Aneela Ahmad, who co-organises BMCC events, stands out from the crowd — and not just because of her yellow high-vis jacket,. She is one of a few women at the City Hall car show. Aged 24 and from Huddersfield, she works in social services, but spends most of her free time working on her seaside blue BMW 1 Series. She can't recall how much she's spent on her vehicle, but she has changed the body shape for a sportier look, had the exhaust changed and added a custom interior.
"When I look at it and compare it to how it looked, there's nothing that feels as good," she said.
That feeling of do-it-yourself accomplishment, she says, is especially powerful in working-class communities, where opportunities for self-expression and imagination are often limited.
"For some people, their car is their coping mechanism. You go through low points in your life and sometimes your car is what sees you through," she told me.
Yunis and Ahmad are not the only people who are keen to draw attention to the grassroots creativity that drives West Yorkshire's thriving modified car scene. Thanks to Dr Yunis Alam, a senior sociology lecturer whose research has focused on car culture among British South Asians, today's event is being held in conjunction with the University of Bradford.
While some outsiders might view the neon colours, roaring engines and thunderous hi-fi systems on display as tacky and tasteless, Alam believes that they represent a vibrant artform that can build bridges between communities.
"One definition of art is that it evokes an emotional reaction. Car culture certainly does that," he told me, standing by a purple Porsche with black alloy wheels. "For years I've been telling police and the council that this is an open door and should be used to build community relations."
In his work, Alam has traced the links between South Asian involvement in modified car culture, migration and belonging. He explains that buying a car has been an important rite of passage for individuals who have moved to the UK from elsewhere, marking the transition from being new arrivals to settled and secure members of a wider society.
In the 1960s and 70s, that might have meant picking up a secondhand Nissan or Datsun. "Japanese cars were cheaper, which meant you got more bang for your buck," Alam explained.
For successive generations, however, elaborately personalised cars have become a potent symbol of aspiration and identity. They also give Bradford much of the unique sense of swagger that should be celebrated when it becomes UK City of Culture in 2025.
According to Alam, the only reason modified car culture is not afforded the respect given to graffiti and other art forms rooted in working-class street culture is that the art establishment does not understand it.
"All it would take is for Damien Hirst or Tracey Emin to mess about with a car, stick it in the Tate and, the next thing you know, it's art," he said.
For some enthusiasts, car modification can also be a lucrative pursuit. Nineteen-year-old Farhan Hussain and his brother have been working on a canary yellow Seat Leon Cupra for more than a year. "We bought it last year," he said. "It had been off the road for eight years, and we wanted to see if we could get it going. It took us three months to get back on the road."
The electrical engineering student from Dewsbury paid £1,200 for the vehicle and has spent £2,000 on modifications. After a painstaking strip-down and rebuild, which involved replacing the engine, respraying and adding alloy rims, it's now worth £9,000. Hussain, however, has no plans to resell just yet and is not in it for the profit.
"I just enjoy working on cars. This is how I have fun," he explained.
Some others have turned their passion into big businesses. Naveed Barugzai started the Bradford-based prestige car customisation company EnKahnz more than 20 years ago, while he was still a teenager.
Now, the company has a multimillion-pound turnover and creates bespoke body kits for customers across the country, including celebrities such as former boxer Amir Khan, Iraqi actor Omar Borkan Al Gala and the Dubai-based car collector Don Casanova.
"I bought my first car at 15 for £400," Barugzai said. "I wanted to put a body kit on it but I couldn't afford it. We were having plastic cladding put on our house and the builders were throwing bits away, so I moulded them into a body kit."
At the age of 18, Barugzai dropped out of a media studies diploma course at Bradford College and started another in motor vehicle body repair.
"My parents didn't want me to do it because they thought I'd be getting my hands dirty, and they wanted me to do something more academic — be a doctor, get a degree," he said. But as soon as he started working on cars, "it was just fireworks. I just connected with the work."
That sense of purpose is something that Barugzai is keen to pass on. To do this, he is setting up an academy to teach car modification skills to young people.
"We're hoping to give them an alternative way to get skills and find a career," he said. "They see flash cars and want one. This way, they will get to work on them."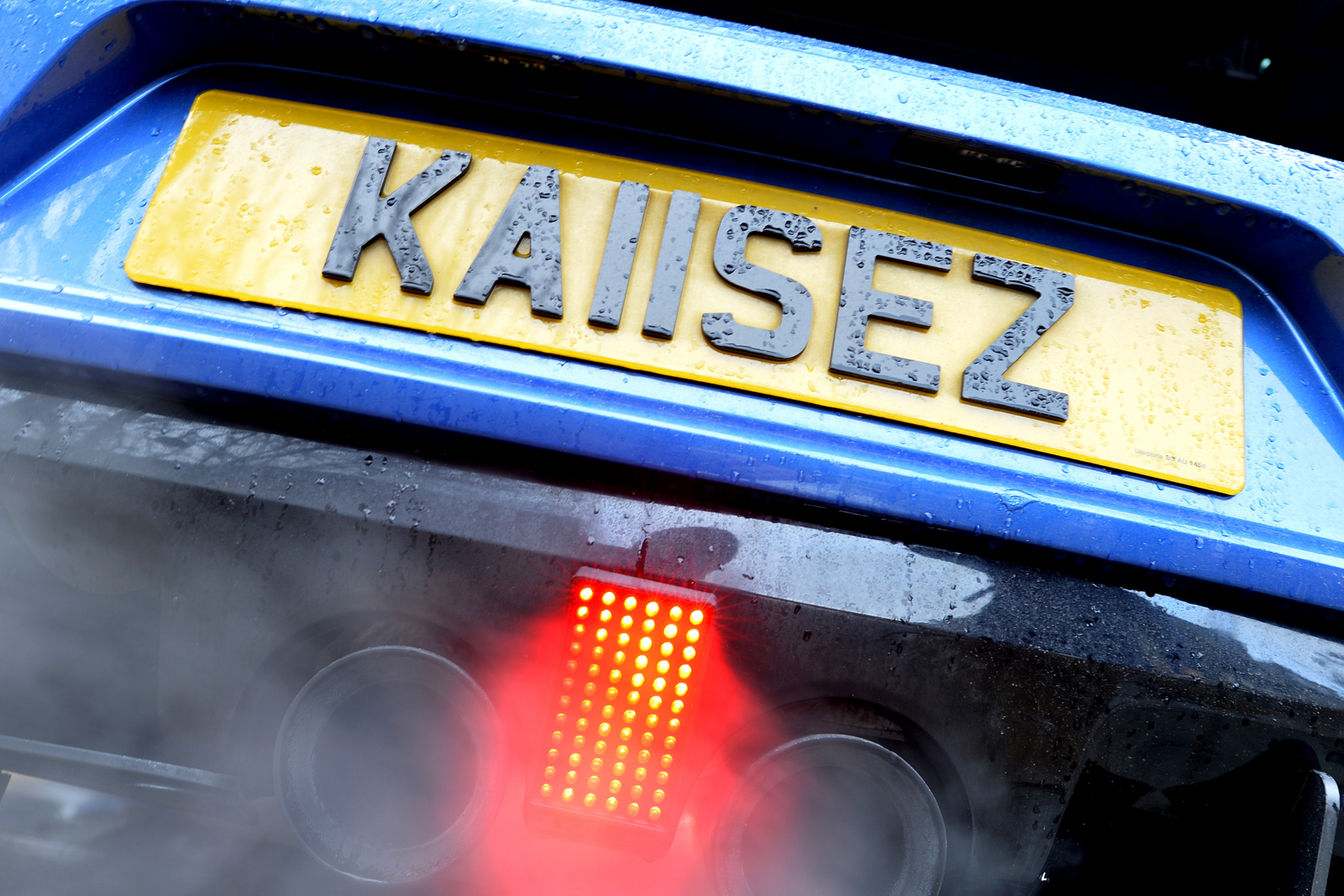 South Asian car modification culture is not limited to the north of England. Another person making a healthy living from the scene is Amir Chauhan, owner of Cars in Cloaks in Tooting, south London. The 30-year-old taught himself how to modify cars by watching hours of videos on YouTube and started his business after graduating from Surrey University with a degree in mechanical engineering.
"This was an adventure that turned into a business," he explained. "A lot of body shops would not touch cars that were too expensive or too new, but we never said no to any kind of car. We won customers' trust and confidence through skill and our personal interest."
The foundations of Chauhan's business are the car-mod basics of wrapping, window tints, wheel repair and body customisations. Occasionally, though, the company does something grander. In 2019, it put two million Swarovski crystals on a Lamborghini for Daria Radionova.
"We have customers ranging from ordinary people who have done well to models and footballers from Chelsea and Arsenal," he said. "We also have the boxer David Haye and a Hollywood A-lister."
Back at the Bradford City Hall show, the cars are stars. Kais Yaqoob, 24, a manager at McDonald's from nearby Heckmondwike, has brought his black Golf GTI. He's spent three years working on it, learning skills from his father, and adding powerful speakers, alloy wheels and a body kit.
"Here, I get to mix with people who are into the same kind of stuff as me," he said. "It's cool to be able to show off your car and not be misunderstood."
Topics
Selected stories
From pickles and ferments to jams and chutneys, conserving surplus produce allows us to enjoy fruits and vegetables grown in familiar earth, many thousands of miles away

The western world's largest mosque is a point of pride for the country's Muslims, but its impressive scale and ornate design do not reflect their position in the country as a whole

The challenge for Keir Starmer is to combine control and compassion in efforts to tackle dangerous boat crossings