A chai house revolution is brewing in Bradford
The West Yorkshire city's desi tea scene is booming, with new shops and cafes springing up all over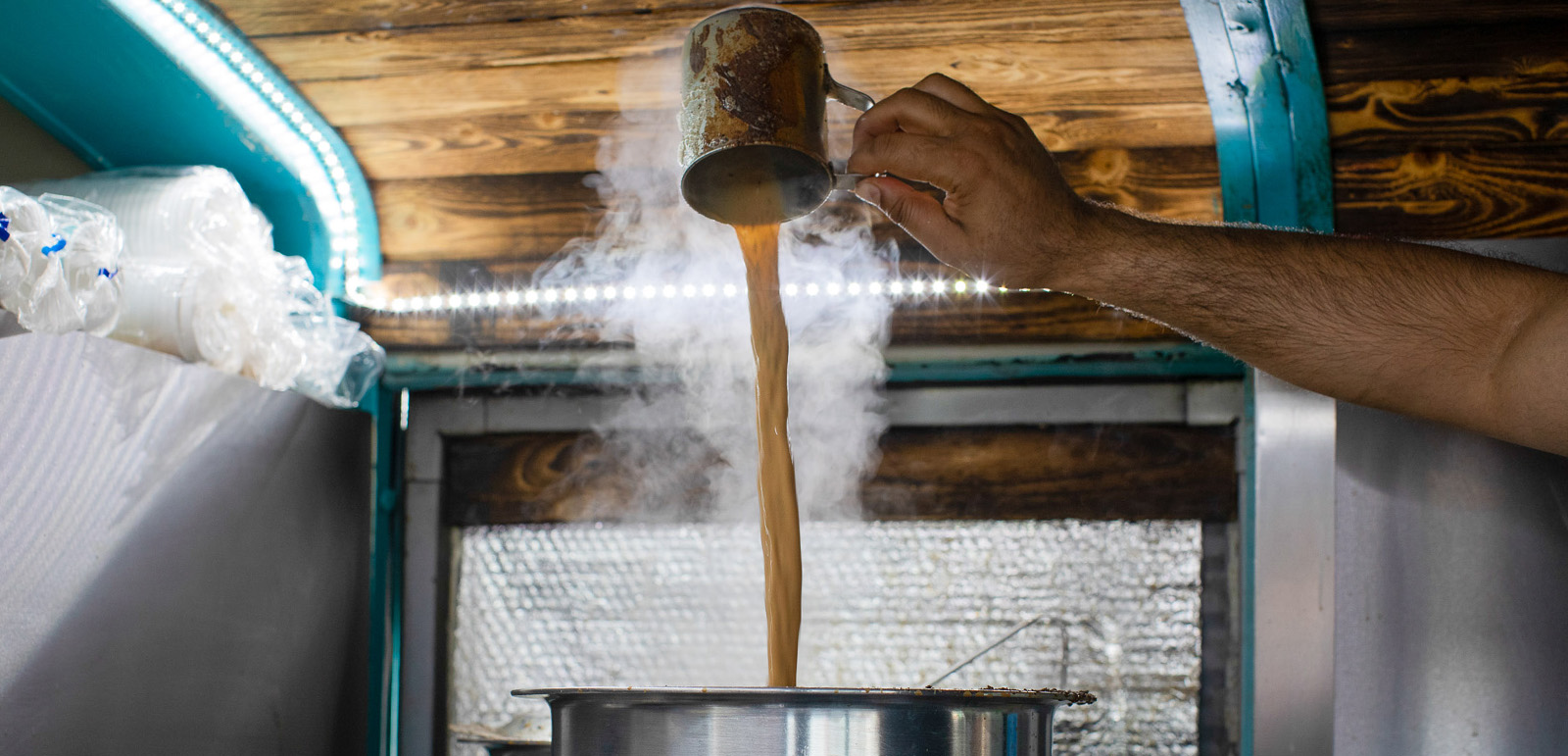 Whenever I return to my hometown of Bradford, West Yorkshire, it takes me a minute to catch up with the local food scene. It always seems that, in my time away, its rhythm has been sped up and remixed in new and surprising ways.
Back in the 80s and 90s, when I was a child, the city's restaurants were no-frills affairs: the food delicious; the decor dowdy. Today, streets are abundant with busy eateries, boasting slick branding and cosy booth seating. But, lately, a growing number of desi tea outlets, serving robust karak and traditional Kashmiri pink chai topped with slivers of green pistachios, have really caught my eye.
Many of these shops have similar names – Chayee Paani, Mi Chaii, Chaiiwali, Just Chai, Cha Cha Chai. Some of them have staff who will come to your car to take your order. Others sell South Asian snacks, including yellow Madeira cake and the crunchy round rusks my Pakistani grandma would dunk in her morning cuppa before lifting her kameez to inject herself with insulin.
Cha Cha Chai, housed in a black shipping container and located in the car park of an outdoor food court, has a makeshift drive-through down one side, fashioned from a trio of orange traffic cones. Just beside the entrance is a cart selling pani puri and behind it lie a pair of charpoy beds, weaved with strands of colourful rope, to sit on.
The shop was launched in 2018 by Bradford-born owner Nasar Nabi, 45, while he was still running an ice-cream business that he has owned for 20 years — unfortunately, not the fleet of vans I remember from my childhood that played Bollywood tunes to announce their arrival to customers. Off the back of Cha Cha Chai's success, he opened a glass-fronted doughnut cafe one year later in an adjacent shop front that, once upon a time, was the dining area of the local institution Mother Hubbard's Fish & Chips.
I visited during Ramadan. At the doughnut shop, songs praising the Prophet Muhammad — known as naats — played in the background and I could almost taste the powdery sweetness of icing sugar in the air. It was there that I asked Nabi what prompted him to start selling something as simple and homely as tea.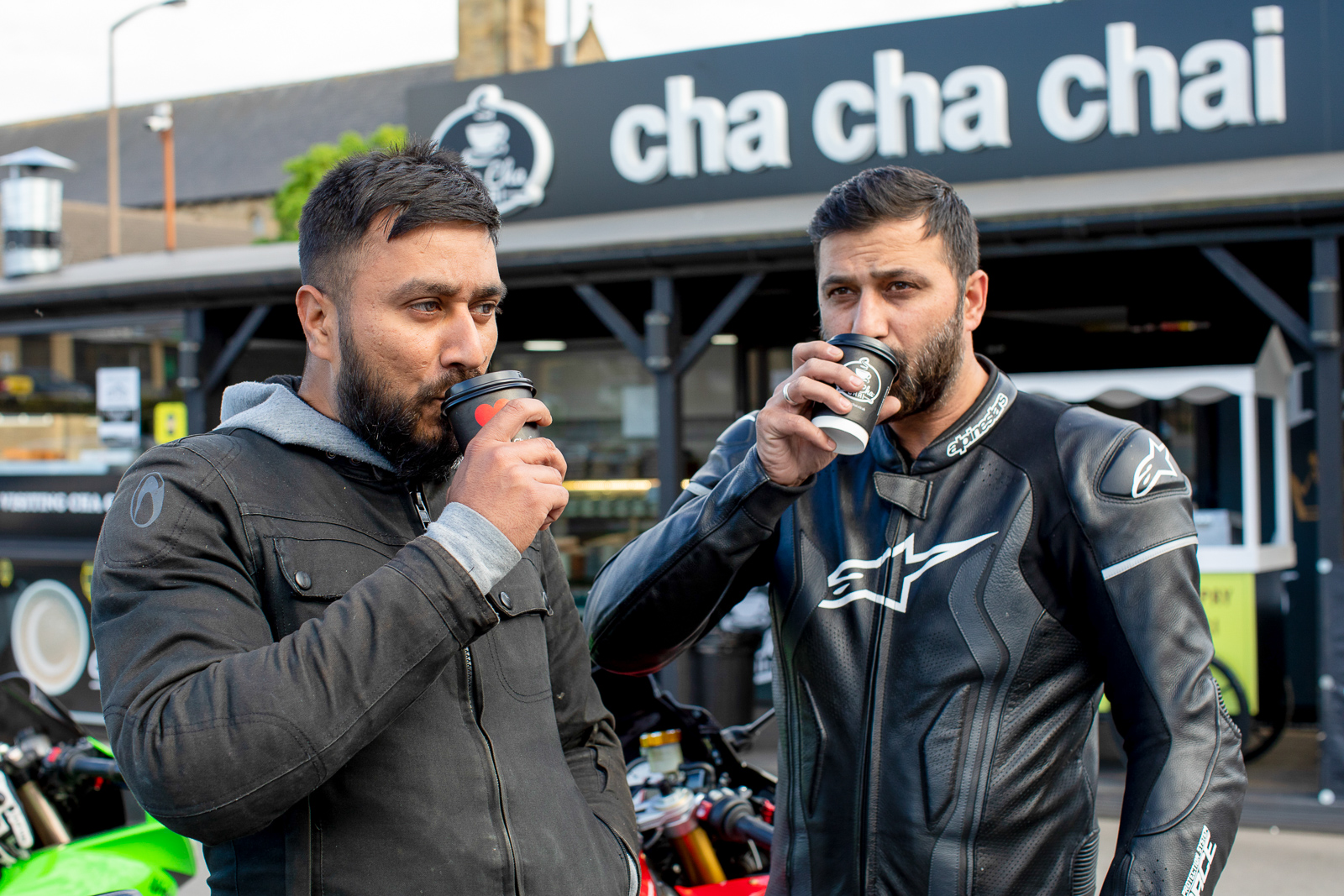 "Nobody was doing tea at the time that was readily available on tap," he explained. "If you go to a restaurant, you've had a meal and then you want a desi chai, you'll wait 15 minutes for it. There was nowhere where you could just go in and say, 'Can I have a Kashmiri pink tea?'"
Nabi agrees that someone else got there first. Chaiiwala, which opened its first store in Leicester in 2015, is now a thriving chain with 51 branches across the country. He does, however, note that the company's concept and aesthetic is cafe-based, while his leans more towards takeaway and drive-through.
Nabi's business is also expanding. Today, there are seven Cha Cha Chai branches in Bradford and a further 17 franchised locations across the north of England. Another 11 are scheduled to open this year. At first, the chai was made on site but, to meet surging demand, Nabi has opened a production facility in the city. There, his teas are prepared in large traditional pots, or deghs, from midnight to morning, before being blast chilled and shipped out to every store at 6am.
According to Nabi, his shops attract everyone from teenagers to pensioners, as well as taxi drivers and truckers — many of whom fill up flasks to help them through long shifts. And now, after a couple of knockbacks, the council has granted him a 24-hour licence.
During my visit, I spoke to Anju and May, both 25, through their rolled-down car window. "It's tea like your parents would make," May said. "The pink tea and karak chai are very authentic. You only get this in certain areas of the UK."
Andrew Broadbent, a 50-year-old local locksmith, told me that people who haven't tried Nabi's tea "don't know what they're missing out on".
"I don't drink normal tea, ever," he said. "No matter what time — even 12 o' clock at night — I can pop in for a cup. It's one of the nicer things in Bradford, traditional Asian things."
Before Cha Cha Chai opened, brothers Yaser Saleem, 36, and Amir Saleem, 32, set up The Chai Company as a Saturday and Sunday side hustle from their weekday jobs running a haulage company. In 2017, they began selling desi teas and paratha rolls from an old, white trailer towed by a car. Sometimes they gave away free tea, just to get people to come over and have a look.
"We didn't have anything to lose because we kept our nine to fives," Yaser told me.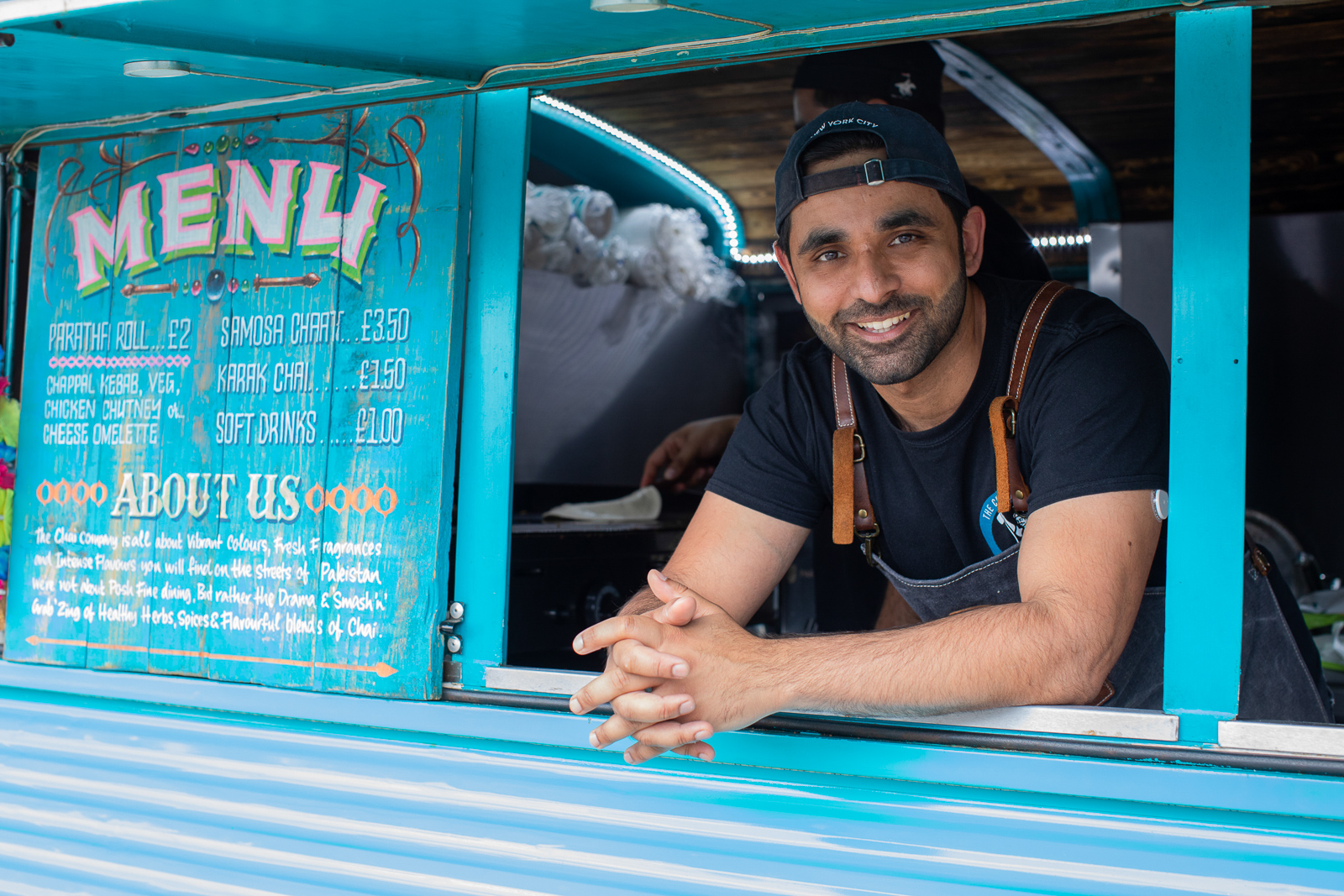 Through word of mouth, Yaser and Amir made enough money to invest in a food truck by 2020, which they had painted in teal and adorned with traditional Islamic motifs, reinterpreting Pakistani street style for the British market. The colourful design caught people's eyes immediately. The first day they took it out for a spin, Yaser landed a booking for an Asian wedding in nearby Batley. Now, they serve "in excess of 350 to 400 customers" on the two days they are open for business.
"We've grown up with tea," Yaser said. "It's in our culture. After school, it was a cup of tea on the table, dip in a few cake rusks and off to the mosque. And it's not just about the product we sell. It's about nostalgia and the link with our homeland. In Pakistan and Bangladesh, dining is informal. Gastronomy is happening on the streets. We yearn for that but it's missing here. We thought, 'There's a massive south Asian community in Bradford. Why are we not serving them?'"
Parked outside a former pub that now houses a shisha bar, Yaser encouraged non-Asian Bradford City fans to try his karak tea as they walked to the football ground. Now, many have become regulars and he hopes to open a cafe that will be open seven days a week.
Adnaan Awan, 41, the owner of another chai shop called Karak and Co, told me that rather than pour-over coffee and flat whites, older South Asians in Bradford want food and drinks that cater to their tastes. "They want their cup of tea. But they've never been able to get one. For 50, 60 years our parents have been in this city, in this country, and they've never been able to walk into a shop and actually get a cup of tea properly. We're from the tea-making part of the world. We're not from the coffee part."
As well as chai, Awan sells churros and litres of nimbu paani, a South Asian limeade prepared with black salt. His cafe, which also features a drive-through, is located seconds away from Lister's Mill, once the largest silk factory in the world. In the 1950s and 60s Bradford's textile mills drew in thousands of South Asian migrants from the Commonwealth, who came to fill postwar labour shortages in the UK. Now those jobs are gone and the building has been turned into loft-style apartments. I remember walking past it every day as a child, on my way home from the Catholic girls' school I attended. Occasionally I'd stop to grab a bag of salty chips to share with my friend Jenny after pooling together the change in our blazer pockets.
Manningham police headquarters opened across the road, following the 2001 Bradford riots, which were triggered by rising tensions between the Asian community and far-right groups that had announced plans to march through the city.
I asked Awan why Bradford's chai shops are booming. He puts their rise down to economic circumstances and a deep-rooted self-sufficiency within the South Asian community. Following the collapse of the textile industry in the 1970s and 80s, opportunities in this city of just over half a million people remain limited. The unemployment rate stands at 7.2% — 3% above the UK national average — and, while Bradford has one of the youngest populations in the UK, of the approximate 25,000 people receiving unemployment benefit there are more aged 50 and over than those between 18 and 24.
"Jobs are not there," he said. "So what do you do? You become an entrepreneur."
Awan described Bradford, which recently won the competition to be named the UK's City of Culture for 2025, as the "Silicon Valley of the UK". He said it has "a hundred start-ups of absolutely everything", citing an abundance of new businesses from shisha lounges and chai vendors to burger bars and dessert parlours.
On my train back to London I found myself thinking about my own relationship with chai. It's what I look forward to after my kids have gone to bed or after a long day at work, a drink for both celebration and consolation, a small indulgence and a salve for everyday stresses. Along with a particular sense of tenacity, it runs through the veins of the children and grandchildren of Bradford's South Asian immigrants — people who, even when denied a seat at the table, have built their own, brewed up a cuppa and invited everyone to join them.
Topics
Selected stories
Is the Gaza truce a turning point in the Israel-Hamas war? Our panel discuss this and other topical issues. Plus, a look at the Muslim renters dealing with London's housing crisis

The filmmaker on her life, work and why telling women's stories is more important than ever

From Ramadan dates to Christmas pudding, food can encapsulate specific times of year and remind us of the circular rhythms of life