'To me, the essence of Islam is to empower each other'
One British couple overcame prejudice and have been together for the past 31 years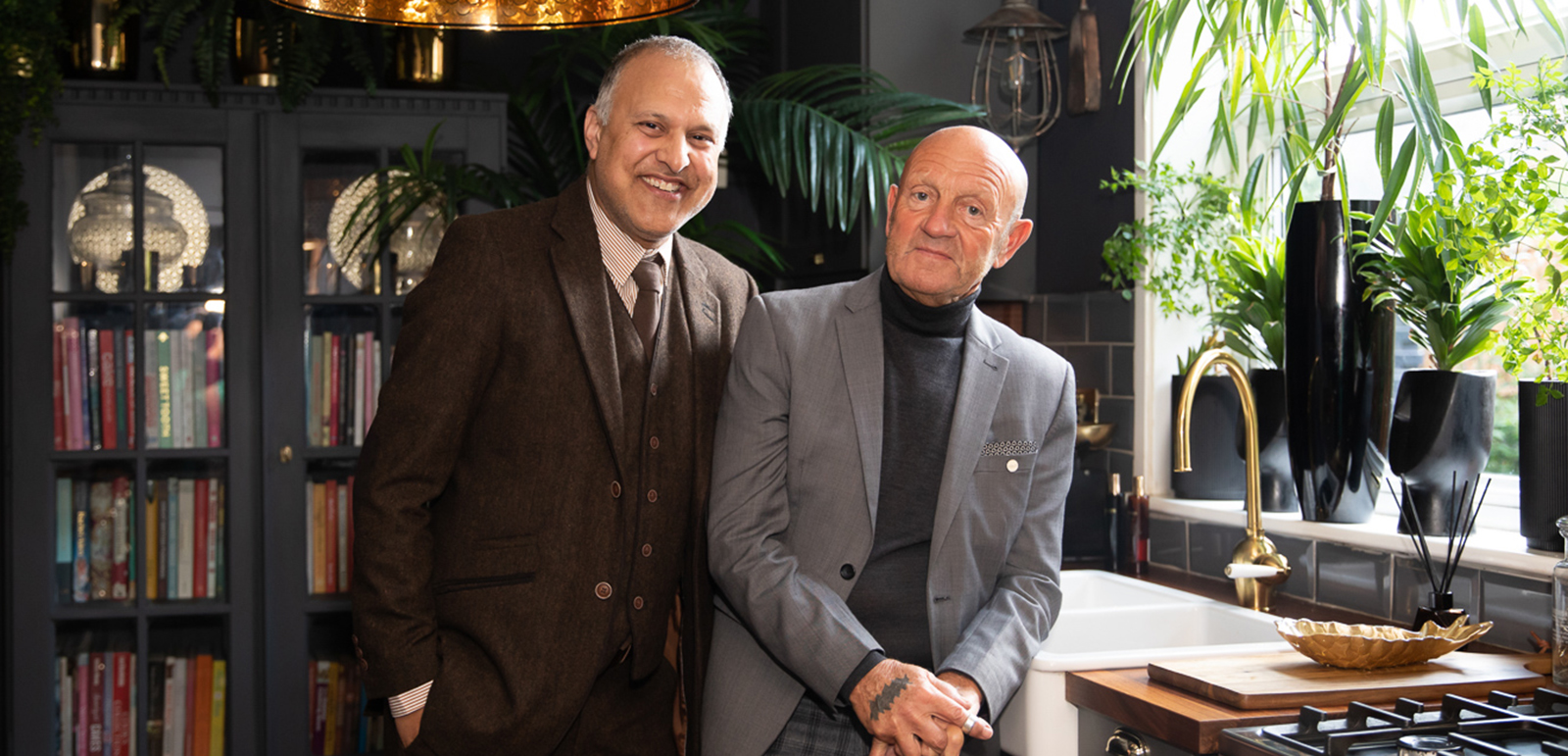 Thirty-one years ago, Khakan Qureshi met Trevor Green through a mutual friend on a Sunday afternoon in Birmingham. At first, Trevor thought Khakan was far too young for him — Khakan was 22 and still living with his family, while Trevor was 43.
Every day, they got a little closer, spending long hours together in Trevor's flat, and eventually they became inseparable. Coming to terms with his sexual orientation inspired Khakan, now 53, to become an advocate for LGBTQ South Asian Muslims like himself. In 2014, he started Finding a Voice, a volunteer-led multi-faith South Asian LGBT support group, to provide a space for others to have meaningful discussions about their identity, and not be as isolated as he once felt.
Trevor, now 73, credits Khakan with helping him to "come out of his shell" and be more sociable in his retirement. Meanwhile, Khakan says that Trevor gave him the confidence to live in a way that is true to himself. The couple live together in Birmingham, with their beloved cat, Peewee.
This interview has been edited for length and clarity.
Trevor: Where has the time gone? We met on a Sunday afternoon, and we just clicked. I thought he was far too young for me. But we were friends after six months and he used to come around every night. We just grew really close to each other, and that's how it all started.
One day he came around and told me, "I've told my parents I'm gay". I said, "You've done what?"— because I knew that being Asian it was really taboo, and that he could have a lot of problems. We did have a lot of trouble at the time — I was abused, called a "Paki lover" and all that kind of thing. It was awful, but we rose above it.
To be honest, I was ashamed to be gay, because I'm old-school. I grew up at a time when you went to prison if you were a homosexual. So I lived in a bubble. I didn't tell anyone until 10 years ago. Khakan doing everything that he does for gay rights brought me out of my shell. I thought, "I've got to be myself, I've got to tell people".
Now I just tell people that I have a partner and that he's lovely. Sometimes they're a bit shocked that he's a man, but then I tell them that we've been together for 31 years, and they're baffled by that. We haven't stopped talking for all that time and haven't spent more than two days apart.
Most of the time I don't really like to leave the house, but last year he invited me to Buckingham Palace, where he was being honoured with the British Empire medal. It was amazing. I am so proud of him. The only thing is, sometimes he gets threats because of his work. I just tell him to be careful because I really don't know what I would do without him.
If I could do it over, I would come out sooner, but I've had a wonderful life. I have Khakan, and we have a wonderful house, and love being at home with our cats. It's quite nice to be recognised as just an ordinary couple. I don't think it matters what faith or culture you're from, because we've proven that anyone can come together as human beings. We only have one God. I don't go to church, and he doesn't go to the mosque, but we are believing nevertheless.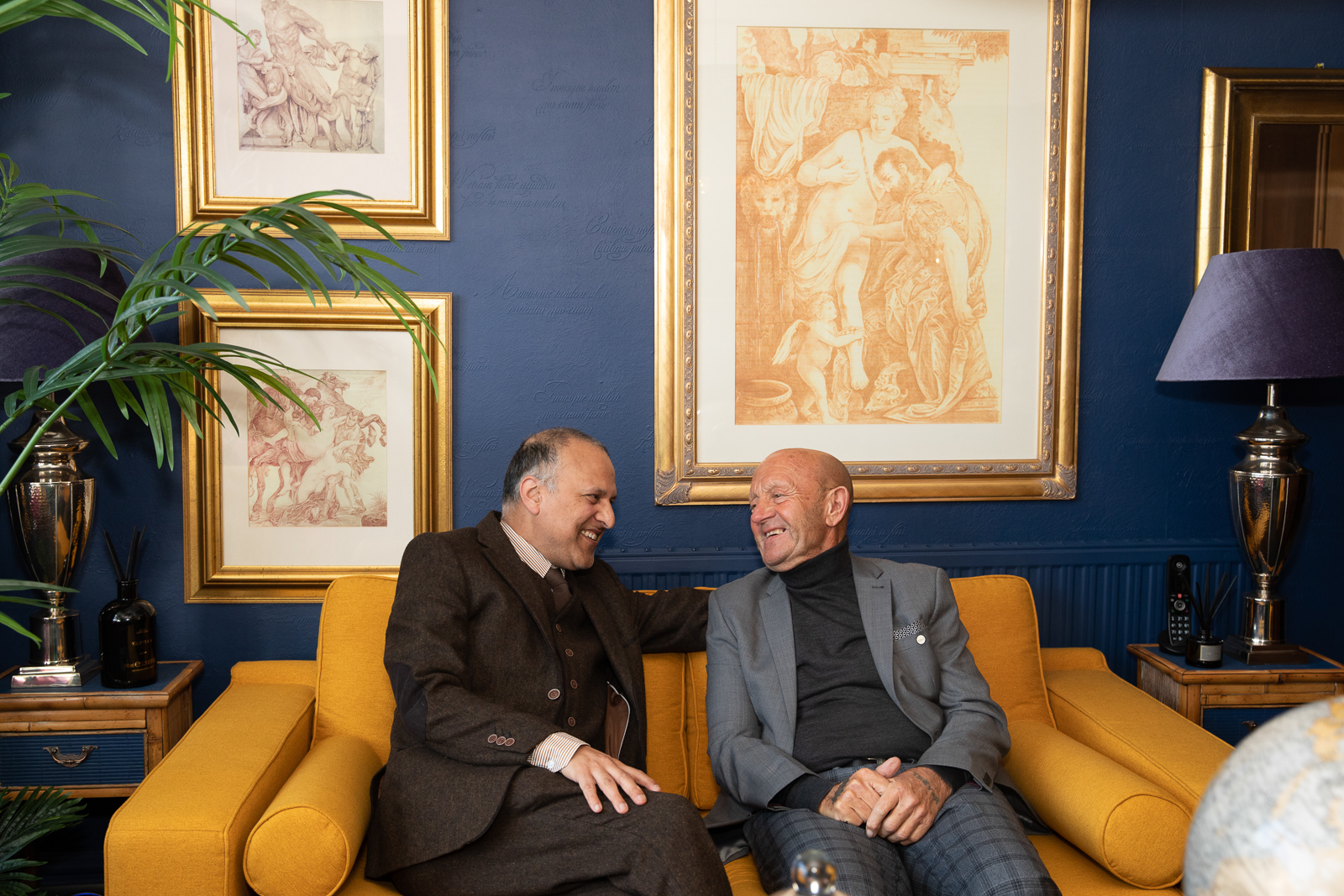 Khakan: When I first met Trevor, I just found him fascinating. Sometimes we would talk for hours. Other times we would just sit in silence and enjoy each other's company. As time went on, we had to think about things like faith, culture and race. Trevor is very proud of his working-class background and he saw me as very middle-class. To be honest, it was our differences that brought us together rather than the similarities.
I've always had strong faith. I used to go to the mosque and observe Ramadan. When I was coming to terms with my sexual orientation, I went through a lot of negativity. I had to wade through anxiety, depression and even felt suicidal. I had a lot of religious guilt because I thought, "What would the Qur'an say? What would Allah say?"
Trevor really gave me the confidence to say I am a gay person. I began to acknowledge it and recognise it and my feelings for him got stronger each time I met him.
After 9/11, I stepped away from Islam for a period of time. The stigma was so strong against Muslims that I was afraid to say I was Muslim. But as the years have gone on, I've realised that I can be both gay and Muslim. I don't have to separate these identities.
Now, we don't go to a place of worship but we both have a strong spiritual faith within ourselves. He will talk about Christianity and the Church of England, and I will talk about the Qur'an. We never focus on the negative aspects of religion. We just look at the positives and we see it as a way to navigate life and support not only each other but also the other people around us.
I know people say that being a homosexual in Islam is haram, but for me it doesn't stipulate that anywhere in the Qur'an. Even my parents, who are very devout, said that of all their children's relationships, ours is the most progressive and positive. They're really proud of what we have achieved over the years as a couple. To me, that is the essence of Islam: you empower each other.
I think any parent experiences a bit of shock and emotion when they find out that their child is gay. I had to learn that they had to learn to come to terms with the reality of the situation. I had been the darling baby of the family, and now I was telling them that I had met somebody, and that it happened to be someone of the same sex.
Initially, my mum reserved judgement, but then she got to see us and saw Trevor's personality. She got to see what he is really like, as opposed to his outer shell. My father had a lot of foresight for someone of his age. He asked us why we didn't adopt a child. We were quite taken aback, because it was illegal for LGBT couples to adopt at the time, and initially my dad was quite homophobic, so for him to turn around and encourage us to have a child was really special.
To me, that is what being Muslim is all about. We have got to learn to accept and empower everybody, no matter where they come from, and that is what my parents did.
Topics
Selected stories
A new genre of writing is slowly establishing itself and painting a broader picture of what love can look like

The fashion influencer on faith, modesty and claiming a space for Black Muslim women

This week our panel assess what the Liberal Democrats offer Muslims and discuss the ongoing debate about definitions of Islamophobia. Plus, travel blogger Yara Abdelsamie on travelling solo and the best European destinations for Muslim women