'You just have to go where the love is'
For Black Muslims in the UK, halal dating presents unique challenges.  Now specially tailored online platforms and in-person events are springing up to help single people find the one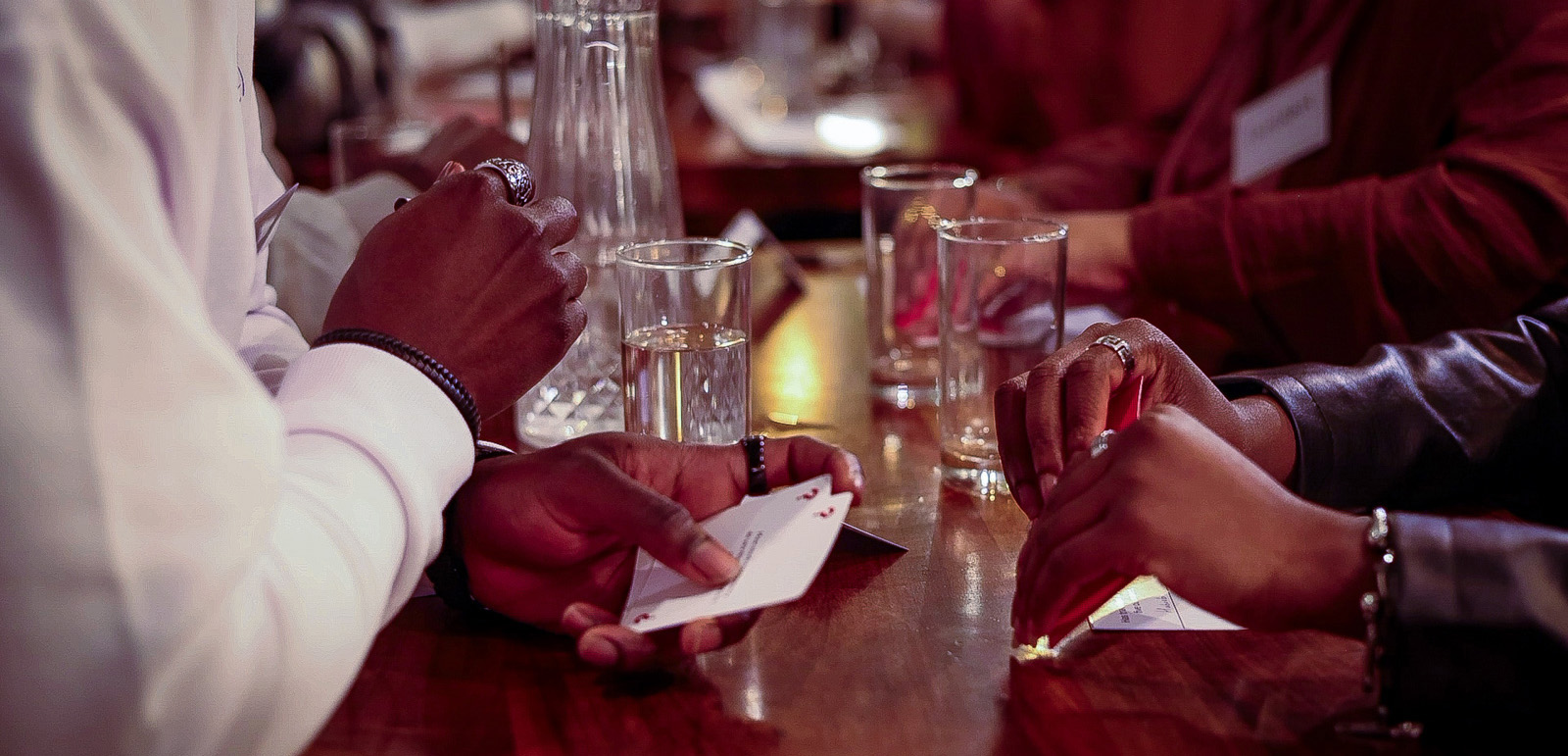 On a grey October evening, a group of single Black Muslims gathered in a private room in the Afrikana restaurant in Dalston, east London. Stepping off the bustling high street, they entered the warmth of the venue to a soundtrack of Afrobeats hits.
Some attendees instantly began chatting with one another, while others nervously took to the seats where their name tags were placed. Defying stereotypes, most of the women arrived on time, while many men came fashionably late. Regardless of when they turned up, everyone was united in their desire to find love.
The event broke new ground for Nikkah Noir, the world's first matchmaking app exclusively for Black Muslims. The guest list included people from across the capital and even a few visitors from the United States, curious to see whether London offered better marital prospects than their own towns and cities. Some arrived alone, while others brought friends for moral support.
The night began with a bingo-style icebreaker, encouraging men and women to mingle and helping their initial reserved introductions to flow into livelier and more comfortable conversations. The evening progressed to speed dating, then ended with dinner and the chance for guests to "shoot their shot", talking to anyone they wanted to get to know better. In the end, though, it seemed like the evening facilitated more friendships than lasting romances.
Nikkah Noir was launched in October 2022 by software engineer Kamilah Agbaje to address the unique difficulties many Black Muslims face when looking for a spouse.
"Looking at the experiences of the people around me and my own personal experiences, I did feel like Black Muslims were that one demographic that was quite literally at risk of losing out on one of the key parts of our religion," Agbaje, 24, told me, speaking of the importance of marriage to most Muslims and the obstacles many encounter when looking for a spouse. "We face more struggles than the average Muslim and this felt like an obvious solution."
Many of the women at the meet-up shared similar stories of halal dating as a Black Muslim, from outright racism to the feeling of being sexually fetishised by some men from other backgrounds. The opportunity to be around people who shared and understood their experiences and identities was widely cited as the main reason for attending the event.
"Even though you can select your ethnicities of preference on all the dating apps, this just feels like something different," said Lamisah, 29, a civil servant from London. "I'm generally not someone who's bothered about where someone is from, but living in the world as a dark-skinned Black woman, a lot of other people are, so I've learnt that you just have to go where the love is."
Some attendees, including Zakaria Abdi, a 30-year-old engineer from London, said they had taken part in other Muslim singles events before, but often felt out of place.
"As a Muslim, race doesn't matter, but you still want to be with someone that feels like you're at home," he said. "It is important for me to find a Black Muslim woman as I eventually want to go back to Africa — maybe Somaliland, Kenya or Djibouti — so I would rather be with someone from a similar background."
Sharing a similar culture with her future husband is also important to Atinuke Osho, 30, who is of Yoruba Nigerian heritage. Additionally, she had felt outnumbered by Muslims from other backgrounds on Muslim matchmaking platforms.
"Black Muslim women are probably the least preferred in terms of romantic desirability," the Essex-based lawyer explained. "I hate saying it because I don't believe that is the truth, but that is what you experience."
While many single women lament their online dating experiences, the search for a life partner can be even more difficult for Black Muslims. Making up just 10% of the UK Muslim population, according to a Muslim Council of Britain study, the group is very much a minority within a minority.
"I've tried to broaden my options to other Nigerian men or other Black people of a West African background," Osho said. "But then you start finding there's also a difficulty in that because some have a preference for women from other cultures."
The feeling of being outnumbered is reflected in new research carried out by the Muslim marriage app Muzz. With eight million users across the globe, Muzz is the biggest platform of its kind and has facilitated 400,000 marriages worldwide.
In September, the company conducted a survey to find out more about the experiences of looking for a spouse as a Black Muslim woman, both on and off the app. The response was overwhelming. Many said that they felt under-represented on both the digital platform and at real-life events. Some — especially converts — also felt that they had to somehow prove their commitment to their faith to people they communicated with.
"The problem isn't that these women aren't receiving matches or likes," said Sofie Ahmed, communications manager for Muzz. "There is interest there, but many have felt that a lot of it was coming from men who are only interested in casually speaking to a Black woman.
"A lot of the women would be quite disheartened because they felt it was only a matter of time before they found out that the man's family might not accept them, purely because of their race."
Those fears were echoed by Maryam, a 29-year-old nurse from London whom I met at the Nikkah Noir event.
"I would feel happier being with someone from an African background as I would be able to connect with them better and they understand your culture," she said. "You don't have to keep explaining or convincing them to accept you. There are a lot of men who want to be with a Black woman, but their family may not approve."
Muzz also found that many Black Muslim women experienced difficulties fitting in at live events. Some felt that Muslim environments were often not Black-friendly and that Black events were not usually halal.
According to Muzz's survey, 66% of respondents had never attended the platform's events because they considered it unlikely that they would meet someone of their own ethnicity and because they believed that a certain level of racism existed within the wider Muslim community. However, many said they would be more inclined to take part in events tailored to Black Muslims.
In October 2022, Muzz held its first singles event exclusively for Black Muslims. It brought about 150 people together at Pizza Pilgrims in Canary Wharf, east London, and was such a success that, after a lengthy hiatus and positive feedback, the platform now plans to hold Black singles events every three months.
For Agbaje, the support that Nikkah Noir has received, both for its recent event and the app itself, proves the importance of the work she is doing.
"People who aren't ignorant of the problem understand why spaces like ours are needed," she said. "In an ideal world, there is no reason for Nikkah Noir to exist. In an ideal world, we should be one ummah but, unfortunately, we're not."
Some names have been changed
Topics
Selected stories
Religious leaders from Spain, Germany and Sweden speak about events in the Middle East and the consequences for their communities

Is the Gaza truce a turning point in the Israel-Hamas war? Our panel discuss this and other topical issues. Plus, a look at the Muslim renters dealing with London's housing crisis

The filmmaker on her life, work and why telling women's stories is more important than ever