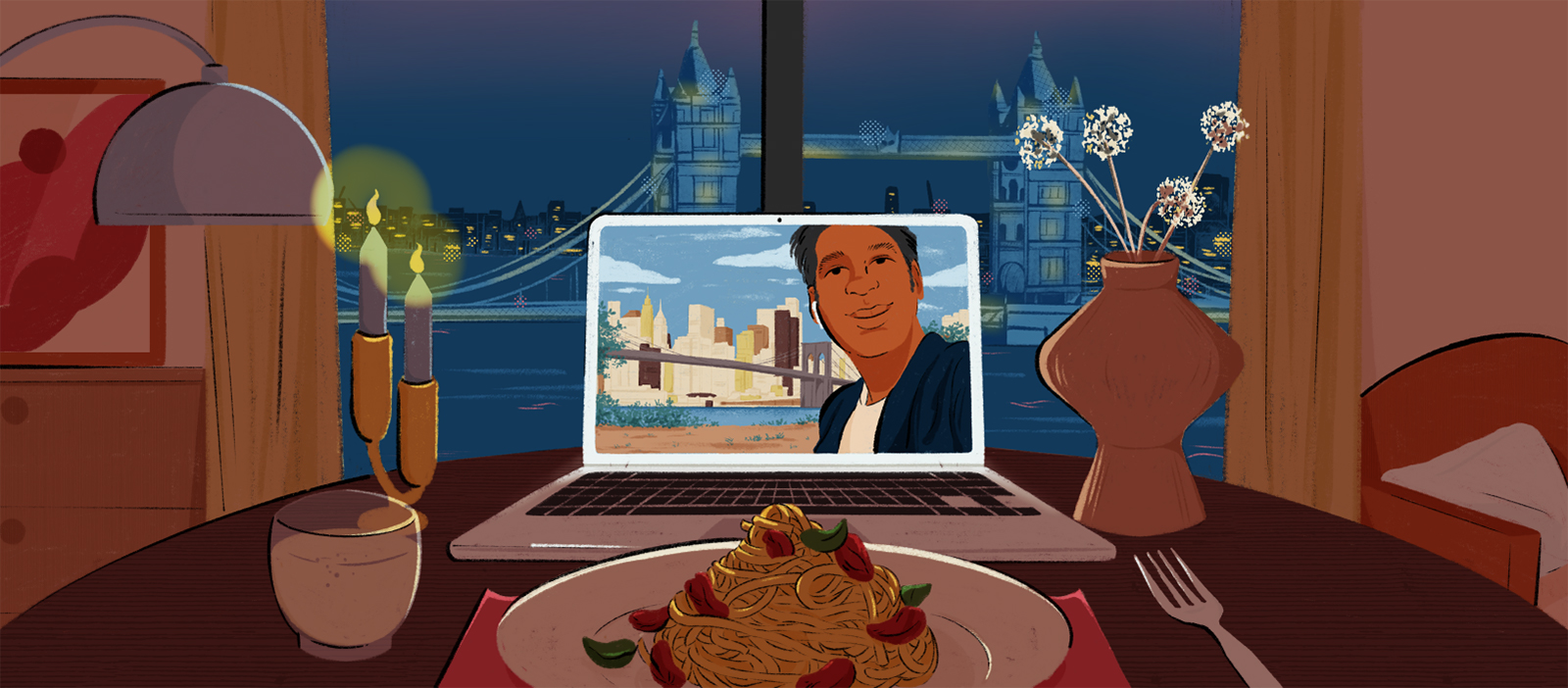 When it comes to love, it's worth going the distance
Long distance relationships have a bad reputation – but with the right person, it can be more special
I've been in New York for six weeks. In that time, I've braved rainstorms, figured out how the Subway works, attended film festivals and zipped through a packed tourist itinerary. It's been an amazing and clarifying experience. This city is the first place where I have felt truly accepted and seen. While I will always love my home city of London, it has been surprising to me that, despite being in a new environment, surrounded by people I don't know, I've never once felt out of place.

One of my favourite things about New York is how easily you can make new friends, especially through last-minute party invites. Though I arrived knowing few people, my nights have often ended at an afters event on a Manhattan rooftop, listening to drunken strangers reveal all their woes, or in a dimly lit loft with the perfect view of the Brooklyn Bridge, celebrating the launch of a terrible podcast.

It was on one of those nights, at a low-key gathering of friends of friends, that I met the man that I am now infatuated with. Tall and classically handsome, he has a natural, easy charm that makes it seem like he's known me my whole life.
In our first conversation, in the plush, sixth-floor apartment where we met, he told me about Harlem, where he's from. I told him that I hadn't been there yet. So, he drew out a map in the air, showing where the area sits in relation to Manhattan. Given how lost I get in this city, his explanations made it seem easy, like his neighbourhood was my own. I loved how passionately he spoke about Harlem, his favourite place in the world. I told him that I'm an author and he responded that he loves to read. It felt like a scene from a romantic comedy and he said all the right things.

As a man with an equal appreciation of Illmatic by Nas and Tolstoy's War and Peace, he's everything I've ever wanted wrapped up in one person. I'm totally smitten. This beautiful, if unannounced, interruption to my promise to stay single while in New York came as a huge surprise. He asked me how long I was in town for and I told him two weeks. We swapped numbers and he said he'd message me. In complete violation of my trust issues, I actually believed him. A couple days later, he sent me a text.
Fast forward a few weeks, and I now have a boyfriend.
Exciting as entering a new relationship is, both of us know the challenges that lie ahead. After all, nearly every dating advice column discourages long-distance relationships — and not without reason. Nearly half end within six months, with many citing the lack of physical intimacy and the difficulties of arranging conversations around large time differences as the main causes.

I, however, am looking at going long-distance more optimistically. First, such a relationship can be better suited to people like me, who value space and time to be by ourselves, not to mention working unpredictable hours, often on the road. Second, the technology required to stay in contact has grown substantially in recent years. Long gone are the days of waiting by the phone for your partner to pick up. WhatsApp, Facetime and Zoom make it easier than ever to make calls overseas, while services such as Watchparty — which allows two people to watch and comment on the same Netflix show remotely — are almost as good as a cosy night together.
More importantly, the distance provides opportunities to build a relationship that is not so focused on the physical. Strengthening the connection between us will require effective communication, which is refreshing to me. In past relationships, it has been tough to know how to come across, for fear of either scaring a partner away by being too forthright, or being seen as too nonchalant. The thousands of miles between us mean that we will have to make a special effort to keep in touch and encourage us to be sincere in our conversations. That honesty and commitment will form our bridge between London and New York.
We've worked out a schedule for our conversations once I leave. Already, when we've been apart in the US, we've texted every day and talked about our days, the films and TV shows we want to watch with each other, and shared music we love. Today, he sent me Find Someone Like You by Snoh Aalegra, a song that's as romantic as it is a great tune.
While embarking on a long-distance relationship is intimidating, I believe that it can be worth the effort — especially if you've found the right person, who is equally dedicated to making it work. At a time when it can be just as difficult to date locally as it is to do with a few thousand miles between you and your partner, it could be worth expanding your horizons. It may just be that the route to meeting that special someone isn't through a matchmaker or an app, but a travel agent.
Topics
Selected stories
Religious leaders from Spain, Germany and Sweden speak about events in the Middle East and the consequences for their communities

Is the Gaza truce a turning point in the Israel-Hamas war? Our panel discuss this and other topical issues. Plus, a look at the Muslim renters dealing with London's housing crisis

The filmmaker on her life, work and why telling women's stories is more important than ever