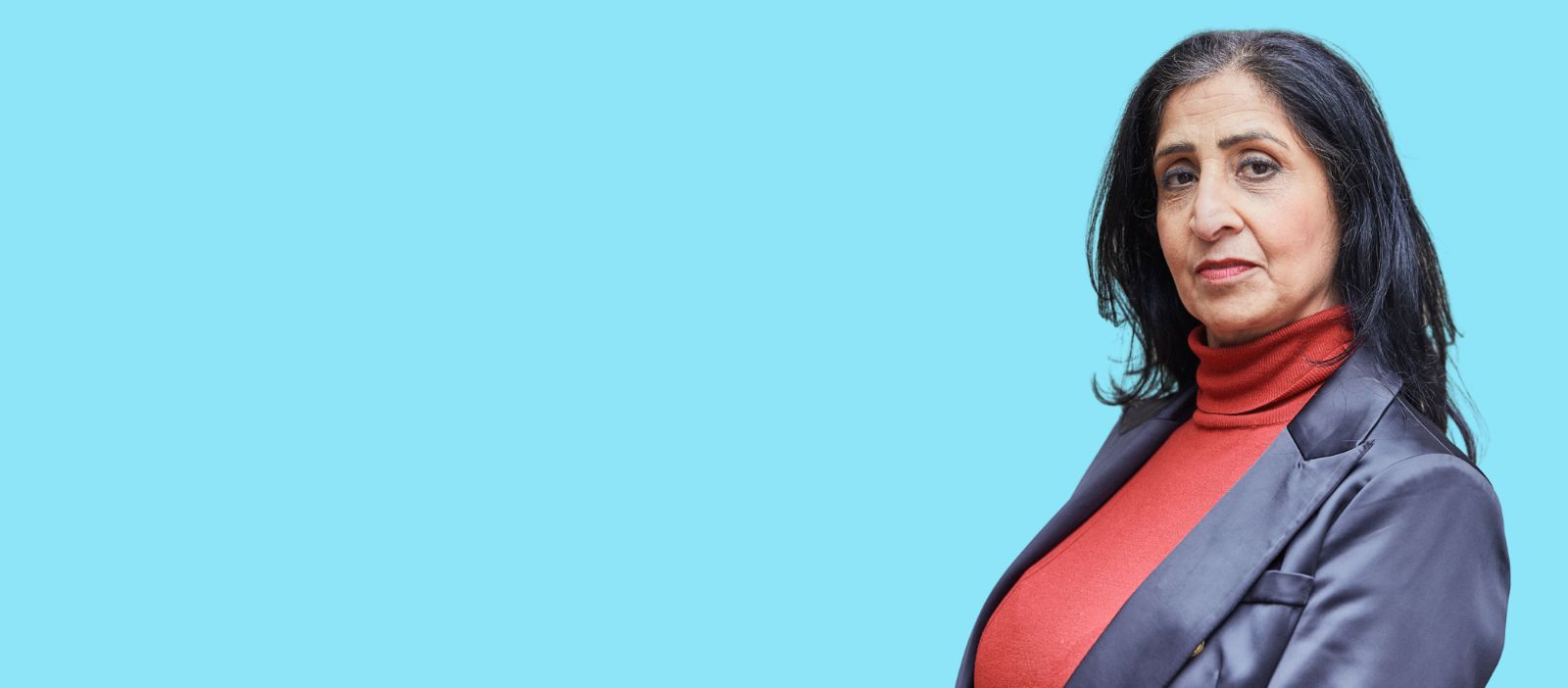 Shabnam Chaudhri Q&A: 'We're allowing racist, sexist and homophobic officers to slip through the net'
The first Muslim woman to serve as detective superintendent in the Metropolitan police talks about institutional corruption, tackling Islamophobia and the role the police should play in modern society
Shabnam Chaudhri is the first Muslim woman to serve as detective superintendent in the Metropolitan police. Chaudhri, 58, joined the Met in 1989 against the wishes of her Pakistani parents, who felt that the police service was not an appropriate career for a young South Asian woman.
Chaudhri won numerous accolades during her 30-year career. In 2012 she was recognised by the British Association for Women in Policing for her work in preventing forced marriages and promoting diversity within the Met. Later, in 2017, she won the "Outstanding Contribution" category at the No2H8 Crime Awards — an annual event organised by a coalition of organisations tackling hate and prejudice — for her work against hate crime in London.
Chaudhri has also been vocal about the discrimination and Islamophobia she experienced while in service. She says this included racist slurs disguised as "banter" to overhearing a colleague describe the hijab as a "tea cosy". Chaudri retired from her role at the Met in 2019. She currently sits as the chair of the London advisory board for anti-Muslim hate charity Tell Mama.
This article has been edited for length and clarity.
You've been very outspoken about the racism and discrimination you faced during your time at the Met. What kept you going?
When I went for promotion to become a detective superintendent, I noticed a lot of people's behaviour toward me changed. Suddenly I found I was being reported for really minor mistakes, I was being accused of underperforming, or told I wasn't doing a good job.
My race and gender definitely played a part in that. Being an Asian, Muslim woman in the force is OK if you're at the ground level, but it's when you start working your way up the ladder that people don't want to be taking orders from you.
What made me determined was knowing that I hadn't done anything wrong. I knew I was competent, that I was a good investigator and that I would make a strong leader.
In January, former Met police officer David Carrick pleaded guilty to 49 sexual offences against 12 women over a period of two decades. The force has since revealed it is investigating 800 officers over sexual and domestic abuse claims. As a former senior officer on the same force, how did you feel to hear the news?
For the first time in my life, I felt ashamed that I had been a police officer. I couldn't comprehend how policing had let the public down so badly. I found it hard to believe that I worked in an organisation where this behaviour was allowed to happen. I kept thinking to myself, did this kind of stuff exist when I was there?
Research by the charity End Violence Against Women Coalition found that 47% of women had less trust in the police after the murder of Sarah Everard. Are you worried about how this will impact Muslim communities?
We know that Muslim women are less likely to report abuse. Women from marginalised backgrounds face their own challenges from within their communities when it comes to reporting allegations of abuse. They are less likely to have the support of their families if they report abuse, they may feel isolated, and they may worry about the threats that could be made against their family members.
It's imperative that we see positive change so that Muslim women and girls feel comfortable, safe and listened to when they take that step to report a crime.
What kind of reforms do you think policing needs to weed out corrupt officers?
I think it's wrong that an officer could be accused of violence against a woman and be allowed to stay in their post, to continue working with members of the public and have access to intelligence and information about what is going on within policing.
When I joined the police, an officer came to my home. All potential new recruits had a visit from a local inspector or sergeant who would speak to you and your family. They would find out who your neighbours were, and check if you were associated with any criminals.
The vetting processes within policing are appalling. There are no face-to-face interviews for vetting any more. Police officers are required to fill out a form online, and if they choose not to declare something there's no adequate process to scrutinise that.
We know we have a significant number of corrupt officers within the system already but, with fewer checks, we're allowing lots of new officers — officers who are racist, sexist and homophobic — to slip through the net.
What did you love most about policing? Is there a case you are particularly proud of?
I joined the police to make a difference. I led the very first successful resolution within the Met, where we prevented a forced marriage of a young Indian girl who was taken to India against her will. I was able to do that not only because I was a credible and experienced investigator, but also because I had the cultural competence and I was able to spot signs before my colleagues.
Can you tell me more about your work with Tell Mama?
What I do now is an extension of what I did in policing. Tell Mama's work is especially important right now. After the murder of Sarah Everard, reports of racial violence coming into Tell Mama increased by a third because women didn't trust the police. Tell Mama worked with organisations across the UK to make sure the victims had the support they needed, and that their allegations were properly investigated.
We also give advice to mosques. Following the terrorist attack in Christchurch, New Zealand, we sent out safety plans that mosques here in the UK could implement and made sure they had contacts within their local police force if they needed support.
What's the best piece of advice you have received?
The best advice I got was from another senior officer, who told me: "Give yourself more credit."
When people are constantly beating you down, it knocks your confidence. Women, particularly from a Pakistani culture, are always considered to be subservient and told to "know our place".
When you go into policing there are people who want you to know your place, and over the years you start to doubt yourself. Look at your track record, look at what you've achieved and have more faith in yourself.
Topics
Selected stories
From pickles and ferments to jams and chutneys, conserving surplus produce allows us to enjoy fruits and vegetables grown in familiar earth, many thousands of miles away

The western world's largest mosque is a point of pride for the country's Muslims, but its impressive scale and ornate design do not reflect their position in the country as a whole

The challenge for Keir Starmer is to combine control and compassion in efforts to tackle dangerous boat crossings