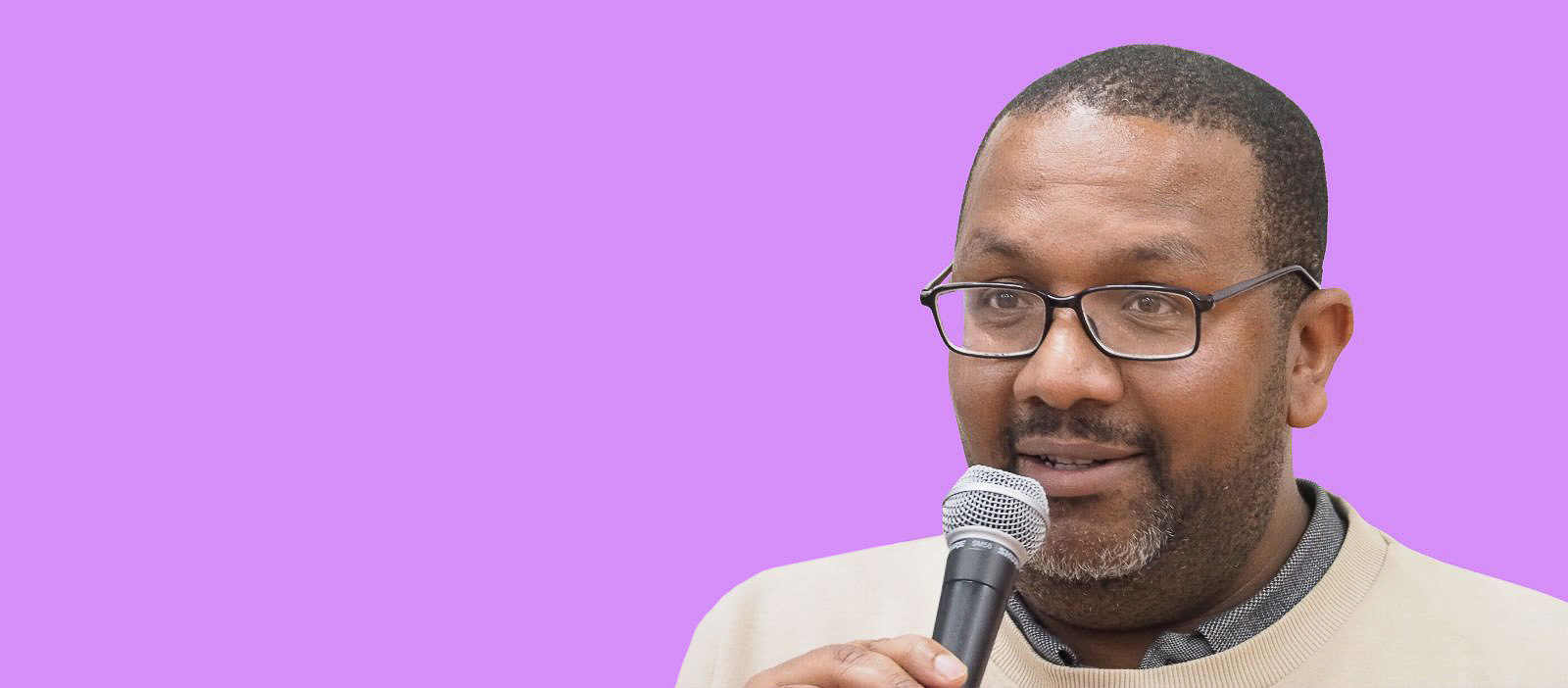 Ismael Lea South Q&A: 'Hip-hop started my journey to Islam'
Ismael Lea South wants to encourage more rappers to write and perform lyrics about culture, identity and aspiration. Photograph courtesy of Ismael Lea South
The director of the Salam Project talks about old-school rap, youth work and the power of positivity
Ismael Lea South is a rapper from Willesden, north-west London, and director of the Salam Project, a youth outreach enterprise that aims to challenge Islamophobia. Born into a Jamaican Christian family, he has loved hip-hop culture since he was a teenager. Now 50 years old, he converted to Islam aged 20, inspired to explore the faith by references to figures such as Malcolm X and Arabic words in his favourite rap lyrics.
Since then, he has used his musical background as a springboard into youth work, working with young people in gangs, with a history of offending and experiencing problems within the education system. As a community consultant, he facilitates workshops in schools and prisons, focusing on employment and business skills.
This interview has been edited for length and clarity.
What got you into hip-hop?

It all started when I was at school. I went to South Kilburn High School, which was predominantly Afro-Caribbean. We loved listening to old sound system and reggae music — things like Saxon, Coxsone and Unity. It was a reggae form of rapping. One of the most famous songs from that era was Cockney Translation by Smiley Culture. What was great about him was that he incorporated Cockney words with Jamaican words. That's what got me involved in reggae rapping. Then I started to hear hip-hop rapping — one of my best friends, called Alex, used to play me things like Planet Rock and Eric B and Rakim.
In the past, you have said that hip-hop brought you closer to Islam and is one of the reasons you converted. Can you tell us more about that?
The rap music I used to listen to, from artists like King Shabazz or A Tribe Called Quest, incorporated a few Arabic words, like "Asalaam Alaikum". At first, when I was listening to music as a young person I didn't really care much about the words. But when I started to rap along with the lyrics I thought, "What does this word mean?" Thankfully, I had a Muslim friend who was also a rapper, who explained to me what they meant. After a while, some songs inspired me to read about people like Malcolm X and Muhammad Ali. That was my journey to Islam.
Your family are Christian. What was their reaction to your conversion?
They didn't like it at all. They were disgusted and upset. Luckily, I had a very good mentor, who told me not to take it personally if they said anything rude or disrespectful and to make sure I acted respectfully at all times. It was only when I mentioned that I wanted to settle down and get married that they were OK with it. They saw that I wanted to be a law-abiding person and do positive things. My actions spoke louder than my words.
Name me your top five albums of all time.
First, it's Will it Make My Brown Eyes Blue? by Cash Crew — they were one of the first UK hip-hop groups to incorporate Arabic words in a song called The Provider. Then there's It Takes a Nation of Millions to Hold Us Back by Public Enemy, Follow The Leader and Paid In Full by Eric B and Rakim, and Beats, Rhymes and Life by A Tribe Called Quest.
What is your favourite hip-hop song?
I actually have two: My Philosophy by Boogie Down Productions and Dear Mama by Tupac.
What is your favourite bar from a hip-hop song and why?
"But now I learnt to earn 'cause I'm righteous
I feel great, so maybe I might just
Search for a 9 to 5, if I strive
Then maybe I'll stay alive."
That's from Paid in Full by Eric B & Rakim. It's about a person who used to live on the wrong side of life but they learnt that's not the way to be. Now they want to be righteous by looking for a job, trying to get a trade, trying to learn a skill. When you're a young teenager you don't really think like this, but this song is showing you that even though it is a struggle, it's better to earn money the legal way.
What inspires you today?
If I hear a rapper using intelligence, lyricism and cadence in their lyrics and not being too preachy, that really inspires me. Another thing is if I know someone used to rap a lot of ignorance and now they're using positive lyrics. Of course, faith does, too — when I meet someone of any faith, whether they're Christian, Muslim, Jewish, and they're positive, their positivity comes upon me. Lastly, when I meet someone who maybe used to live on the wrong side of life and now they're doing something positive and good in the community.
What role does music play in your life now?
I do music workshops in schools and I've got some projects in prisons too. I also show young people how they can generate an income from music and how to be more intelligent with their lyrics. They don't just have to be swearing or talking about half-naked girls or their designer clothes.
How did you become the director of the Salam Project?
I got sick and tired of seeing friends and family getting involved in gangs, extremist groups and county lines. My nephew got involved in a gang and a person I used to know got groomed into an extremist group and ended up on the front pages of the newspapers. That's when I said, "No, I want to set up this thing and get into youth work".
What are your goals for the Salam Project?
My main aim is to build a strong network of independent youth workers around England to find productive ways of challenging knife crime, county lines, extremism, radicalisation, offending and reoffending among young people. Another is to encourage more rappers to write and perform lyrics about culture, identity and aspiration. I want to help new artists to be more original and make positive music, because there's a big lack of that.
Topics
Selected stories
A new genre of writing is slowly establishing itself and painting a broader picture of what love can look like

The fashion influencer on faith, modesty and claiming a space for Black Muslim women

This week our panel assess what the Liberal Democrats offer Muslims and discuss the ongoing debate about definitions of Islamophobia. Plus, travel blogger Yara Abdelsamie on travelling solo and the best European destinations for Muslim women