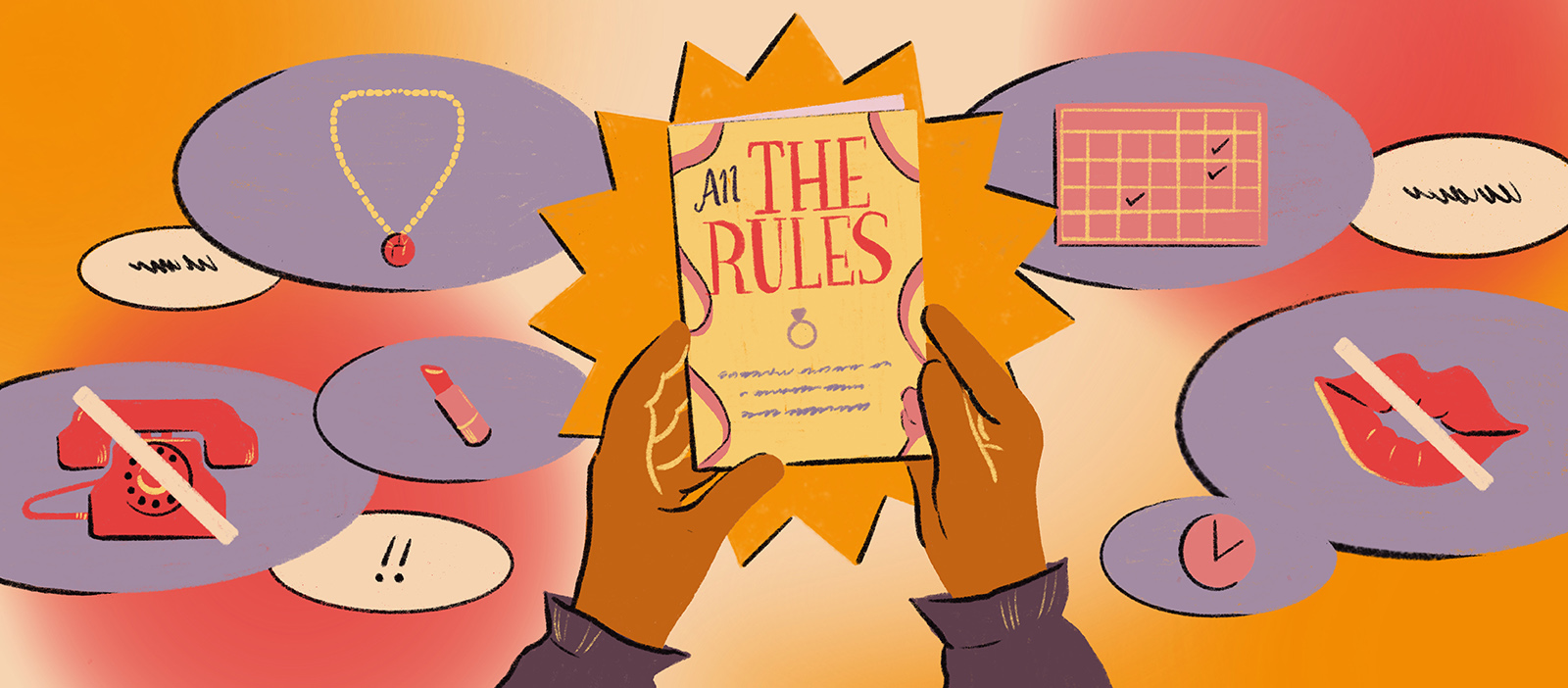 The Rules is not for fools
Back in the mid-1990s, Ellen Fein and Sherrie Schneider's dating and relationship guide took the world by storm and infuriated critics, but there are still lessons to learn from it
As a standup comedian, I often talk about sex, love and relationships. Because it's so rare to hear British Asians talk — let alone joke about — these matters, I tend to meet plenty of women after my shows who are keen to share their stories. Some want to confide in me, unsure as to whether they want to marry their partners, while others say that they've given up on love entirely.

They are usually in their 30s, amazing, beautiful and successful. That leads me to ask myself two questions: why, when they have their whole lives ahead of them, have these women become so disillusioned with romance? And, why do they feel that they have no control over their love lives?
It turns out that such feelings are nothing new. In 1995, Ellen Fein and Sherrie Schneider wanted to make dating easier for women who felt they were not in control of their romantic lives and were tired of casual relationships and one-night stands. They came up with a now (in)famous book titled The Rules: Time-tested Secrets for Capturing the Heart of Mr Right. In it, they put forward the idea that to find lasting love, women should stop being so emotionally available and, instead, play hard to get.
I first came across The Rules through references on Sex and the City and the way it became part of popular culture. The book was featured on every US morning talk show and others further afield. It remains the subject of countless podcasts and has gone on to even receive endorsements from celebrities such as Beyoncé and Blake Lively. I believe that it's had such a lasting impact because it allowed women to view dating in a completely different way from how we had before.
The book, which has sold millions of copies worldwide, includes a range of simple advice, from "don't talk to a man first (and don't ask him to dance)" to "don't see him more than once or twice a week" and "don't casually kiss on the first date".
As a foolhardy romantic, I welcomed that kind of guidance. To someone who tends to jump into relationships headfirst, it provided perspective and highlighted the importance of acting as if I had some self-worth.
Fein and Schneider's ideas may seem rigid at times, but they continue to resonate with a large number of women. Since the publication of the original version of The Rules, they have written five sequels, including one focused on online dating. The legacy of The Rules can also be found in the popular Female Dating Strategy subreddit, which applies the principles of the book to modern-day dating.

Its forthcoming reprisal, The Rules Handbook: A Guide to Creating Loving and Lasting Relationships, focuses on how to keep your husband. According to the Daily Mail, it's set to cause a stir this time around too. The authors maintain their honest and direct approach with advice such as "always put your husband first". Those words have already riled critics, but surely what the authors are proposing is just a matter of give and you shall receive, right? Fein and Schneider also maintain that "women should in no way attempt to change or control a man". This feels quite liberating as for many of us, having to try and do this is actually the opposite of what we feel should be expected of us as a partner.

When it was first published, The Rules was wildly popular, but it also attracted criticism from women who saw its ideas as backward-looking and outdated. For some feminists, its advice — from encouraging women to make sure they cooked dinner for their partners to avoiding behaviour that could be seen as "bossy" or "overbearing" — went against recently established western norms, particularly as more women were prioritising their careers and pursuing higher education. The same accusations are levelled against the authors to this day.

But I believe such criticism to be misguided.

The Rules and its sequels distil the extensive personal experience of both Fein and Schneider, including marriages and divorces.
For example, being told to "pick your battles" is a reminder that, while it might be easy to be emotional and get stuck in your feelings, a relationship is as much about the other person as you. Thinking of your partner's needs and wants is vital and, if you do so, it's more likely that they'll return the sentiment.

Another nugget of wisdom — "make an effort" — addresses the fact that in relationships it's easy to fall into routines, grow bored and even become resentful of your partner. It's a welcome acknowledgement that both parties are responsible for keeping alive and, when necessary, reinvigorating the spark that brought them together in the first place.

To me, much of this is common sense. But I feel that modern discourse around what it means to be empowered as a woman has made many of these issues prickly. Some women who identify as feminists tend to forget that, as human beings, we all need each other to survive. It's unfortunate that they tend to be the ones who control the narrative of what modern womanhood should look like. To me, The Rules is a practical handbook that can help us move past some of the friction that exists in heterosexual relationships.
I am a strong and independent woman who loves to learn from other people. Sometimes that means listening to men — particularly if we want to be in a relationship with them. It's part of the effort required to create something healthy and lasting.
Relationships are sacred, but they also take work. A successful one requires knowing when to give, as well as when to take. When to listen, and when you need to speak up. All of that can be difficult, which is why guides such as The Rules, while far from perfect, offer opportunities to think about what makes our relationships work and why we want to be in them to begin with.
Topics
Selected stories
A new genre of writing is slowly establishing itself and painting a broader picture of what love can look like

The fashion influencer on faith, modesty and claiming a space for Black Muslim women

This week our panel assess what the Liberal Democrats offer Muslims and discuss the ongoing debate about definitions of Islamophobia. Plus, travel blogger Yara Abdelsamie on travelling solo and the best European destinations for Muslim women