Why too many refugees in the UK are lost for words
To integrate into new communities and find employment in the UK, new arrivals need to learn English. But lack of provision is creating problems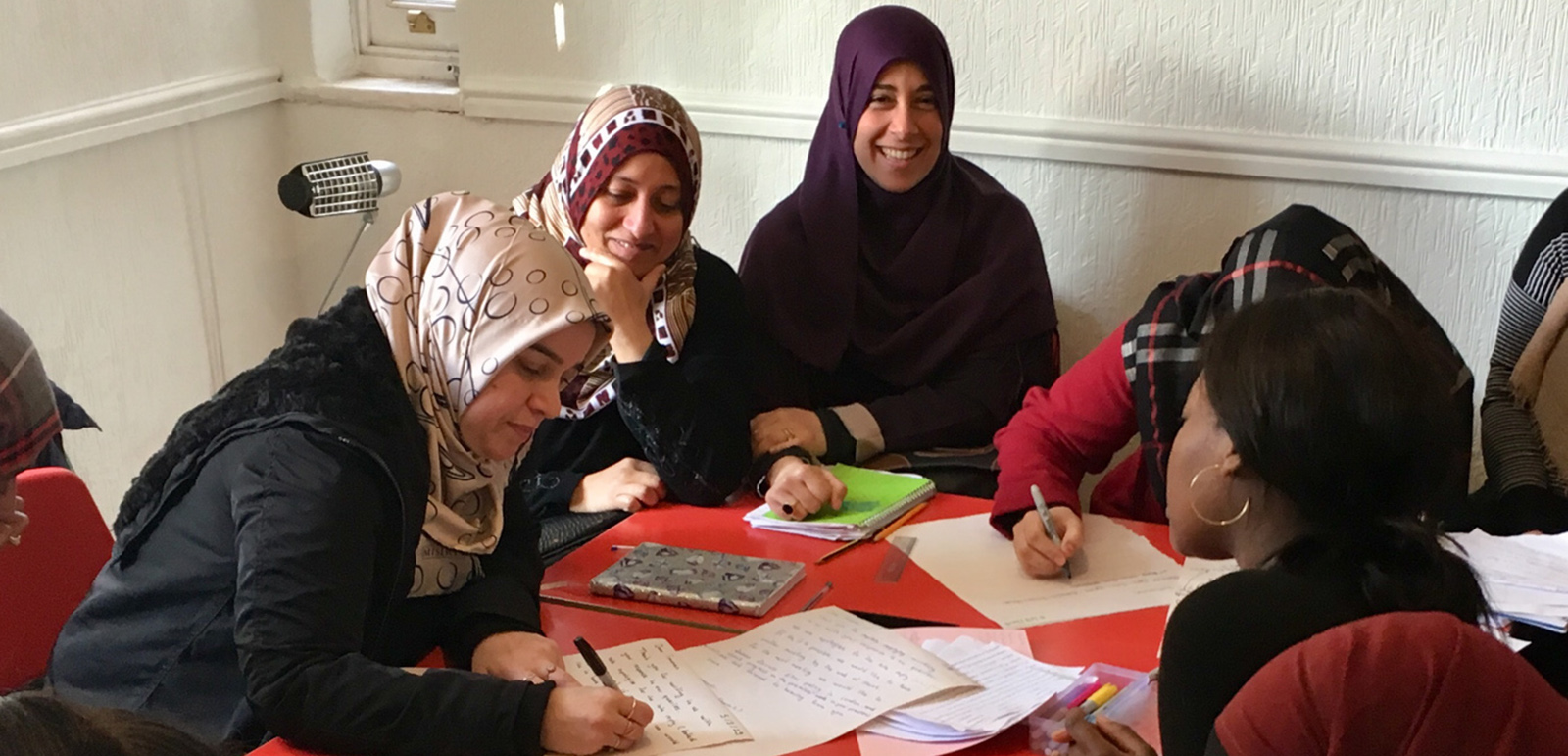 Sivar, 23, moved to the UK alone from Iraq during the first national Covid-19 lockdown in April 2020. He recalls going shopping in Leicester on the day he arrived and being unable to communicate what he was looking for. "I couldn't speak to anyone and I felt isolated," said Sivar, who did not wish to share his surname.
"It wasn't just the everyday tasks that became difficult. I had important paperwork to fill out, but I didn't have the language skills to be able to do it," he added.
Almost three years on, Sivar is working part-time in retail and is completing a Level 2 ESOL (English Speakers of Other Languages) qualification — similar to a GCSE in English language. His teacher, Danuta Jeeves, said Sivar's confidence has increased tenfold in the two years she has taught him: "There's been a huge improvement in his speaking and comprehension, and his writing is quite detailed. Students come here very timid, and they leave a lot more outgoing. It's lovely to see them flourish."
Sivar is one of about 365,000 refugees, asylum seekers or stateless persons in the UK. Campaigners, language experts and community workers have long agreed that access to English language classes is key to refugees finding employment and being able to integrate into their new communities. According to the latest figures from the Office of National Statistics, fewer than half (48%) of people in England and Wales who are non-proficient in English are employed, compared with 72% of English speakers.
Public opinion is also in favour: a 2019 poll by YouGov, which surveyed a cross-section of people across the political sphere, found that 91% believe learning English is important for refugees.
While the government does fund ESOL classes for those settling in the UK, the availability of this provision has been dwindling in recent years. In December, the Institute for Fiscal Studies found that even though government spending on adult skills in England is likely to increase by 22% by 2024-25, this will only reverse "a fraction of past cuts". By 2025, spending on classroom-based adult education is projected to be £1.87 billion — 40% below the £3.1 billion spent in 2009-2010.
Meanwhile, in a report published by the Department of Education in 2019, 73% of ESOL providers — from both state-funded colleges and non-profit organisations — said there was a "significant demand" for learning English and that the current level of funding was "insufficient" to meet that demand.
Following the influx of people arriving from Ukraine and Afghanistan, the government gave local councils a stipend of £850 per refugee for ESOL learning. However, community groups say this funding has been "slow to arrive" and has created long waiting lists.
Stephanie Habib, a senior fundraising officer at the charity English for Action, said: "We've found that the biggest problem with access is that there aren't enough state-funded classes. "In the boroughs we operate in — Greenwich, Tower Hamlets, Brent, Hackney, Lambeth, Southwark and Wandsworth — the number of people on our waiting lists can sometimes be in the hundreds."
Groups calling for improved English language learning for refugees have highlighted the need for a comprehensive ESOL strategy for England. In 2019, the government pledged that it would create a national strategy that would address key barriers, such as increasing accessibility to courses and making provision more flexible to meet the needs of refugees. As of January 2023, the strategy has still not been published.
Jacqueline Broadhead, director of the Global Exchange on Migration and Diversity at Oxford University, said: "If the next global crisis meant a lot of people had to come to the UK, and that group of people didn't have English language skills, we wouldn't have the capacity to be able to teach them. If we don't mobilise on this now, and find a system to equip people with language skills that works, we're storing up problems for the future."
Parisa, 43, moved to Glasgow from Iran in 2018. She rarely ventured outside because she felt "embarrassed" about not being able to speak English, and spent every day at home with her daughter.
"It was an extremely lonely experience. People here in Glasgow are very friendly, but it was really difficult not being able to answer their questions," said Parisa. She only began taking ESOL classes more than a year after moving to Scotland because she didn't know she was eligible. Following a chance meeting with a representative from an adult education charity, the Workers' Educational Association (WEA), she is now enrolled in college and works part time at her local IKEA. "Now I know how to speak English. I feel like, 'OK I can do more'," Parisa said. "My plan is to go to university, get a degree and go into nursing."
While cases like Parisa's aren't uncommon, when refugees do seek help it can be difficult for service workers to know how to assist them. Under current government guidelines, whether or not someone can take state-funded classes at a college depends on wide-ranging criteria. Free classes are available to those who have refugee status and are in receipt of benefits, or earn less than £18,525 (£21,547 in London). Meanwhile, asylum seekers can enrol in free classes only after they have been in the country for longer than six months.
Nusrat Hiathari, a senior area education manager for the WEA in Leicester, said policy on who is eligible for free classes is complicated. "We are so stretched as a result of being under-resourced, and we're having to crawl through pages and pages of government documents to find the correct information for every student. Our co-ordinators really struggle when it comes to this as it's extremely time-consuming and makes the process even longer."
There are also gaps in childcare provision, which prevents many refugee women from attending English lessons. In the Department of Education's 2019 report, 71% of ESOL providers identified childcare commitments as the most significant barrier to adult education. Where these barriers aren't being addressed by government initiatives, local groups are stepping in. Welcome to the UK, a charity based in Southend-on-Sea, Essex, provides a free crèche for women to leave young children while they attend lessons.
Ilda Stafa, founder of the charity, said: "We want women to have the freedom and the capacity to do things for themselves and their children on their own. They should feel confident when it comes to matters of housing, schooling, and talking to the doctor about your child. Refugees deserve to be able to live with dignity in this country and take part in British culture, but they will only do this if they learn English.
Lida, a mother of three from Afghanistan, said she wouldn't have been able to attend lessons had it not been for the crèche. "My husband started working straight away after we moved here. But I've never read or studied English before, which made simple tasks like getting food for my children very difficult," she explained. While Lida is taking part in Welcome to the UK's non-accredited beginner class, she hopes one day to pursue a career in pharmacy.
"I always wanted to be able to study and get an education in Afghanistan but I wasn't able to," she added. "I need to learn to speak and write the language, so that I can go to work."
Topics
Selected stories
Is the Gaza truce a turning point in the Israel-Hamas war? Our panel discuss this and other topical issues. Plus, a look at the Muslim renters dealing with London's housing crisis

The filmmaker on her life, work and why telling women's stories is more important than ever

From Ramadan dates to Christmas pudding, food can encapsulate specific times of year and remind us of the circular rhythms of life