Refugee entrepreneurs in Bradford look forward to a New Dawn
Local businesspeople are mentoring the next generation of startups, helping them to adapt, thrive and compete for a £60,000 prize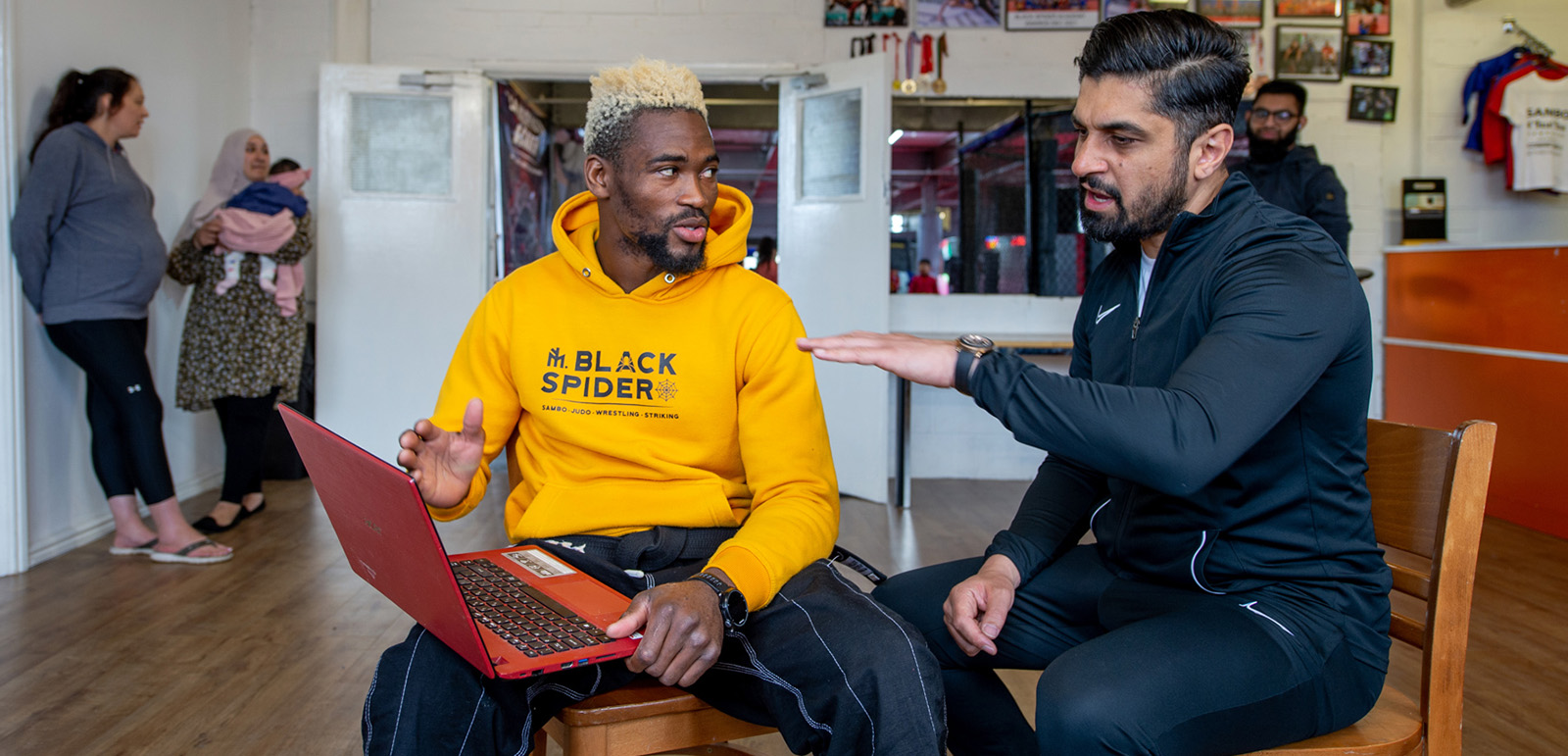 Yanick Nnouka is lifting weights in his gym, the Blackspider Academy in Bradford, West Yorkshire. He spends all day here, working out, running and training. Nnouka is a welterweight mixed martial arts fighter, but nowadays it's not the accolades he's after. The 26-year-old is fighting for a better life — and teaching others how to do it, too.
"Our goal is to bring more value into the lives of children and adults, more discipline, health and respect for a better life in our community," he told me.
Nnouka came to the UK from Cameroon in 2018 on an international sportsperson's visa. When political unrest in his homeland made it difficult for him to return, he was granted asylum. Like many others in his position, he is reluctant to discuss the details of his case, choosing instead to look to the future. He set up the Blackspider Academy in 2021 and is eager to make the venture a success.
Nnouka is one of 12 people who have taken part in New Dawn, an ambitious entrepreneurship programme offering refugees and people seeking asylum a chance to win £60,000 in seed funding for Bradford-based projects. The initiative is a partnership between the charity Mercy Mission, the University of Bradford and National Zakat Foundation, a nationwide platform that receives and distributes charitable donations to disadvantaged Muslims throughout the UK.
New Dawn will announce its winner later in August. Participants have already taken part in a Dragon's Den-style event, pitching their business plans to a panel of experts. They have also attended workshops at Bradford University to help hone their entrepreneurial and presentation skills, and are receiving ongoing mentoring from established business owners.
The projects competing in New Dawn range from a subscription sewing service to artisanal spice shops and a multilingual driving school.
Professor Paul Thorning, who is the director of Open Innovation at Bradford University and runs New Dawn's accelerated entrepreneurship week, has spent three years working with refugees in Tanzania for the UN Refugee Agency.
"I'd underestimated how bruised people are from being refugees. Most people don't realise how hard it is for people to come to this country and live on benefits," he said.
"We're not expecting everyone to be Jeff Bezos, but I'm learning that if we can help someone get out of bed in the morning and set up a tailoring business to earn £500 a week, then that's progress."
The participants in the programme come from a number of countries, including Afghanistan, Syria, Libya and Cameroon. Their backgrounds are diverse, and some have already had careers in engineering, pharmacology, teaching, law and athletics.
According to Ayesha Javaid, head of finance and development at Mercy Mission UK and the lead coordinator of the New Dawn programme: "Refugees used to come to us for crisis support, and we realised that they were struggling to find a job because of cultural differences. So we set up this project. If you have passion and drive, we will help you."
Nnouka is being mentored by Naveed Barugzai, a Bradford businessman who started his prestige car customisation company, Enkahnz, in his front garden more than 20 years ago.
As a youngster, Barugzai struggled at school, but he came into his own when he discovered a passion for cars at college. Enkahnz now has a multimillion-pound turnover and creates bespoke body kits for customers across the country, including celebrities such as the former boxer Amir Khan.
Known in the city for his philanthropy, Barugzai said: "Yanick is an African champion and has a hunger. That's the main thing I look for in people — a hunger to succeed and a passion for what they do. He wants to run a martial arts academy, and we need that here."
Nnouka has plans to offer female-only classes at his gym and is hoping the funding will help him expand. "We want to help out Muslim women who struggle to go to the normal gym," he said.
Marim Mustafa, who came to the UK from Sudan in 2013, is also taking part in New Dawn. The 37-year-old originally trained to be a solicitor in Sudan. The Darfur region, where she is from, is predominantly Muslim but tribal and ethnic clashes in 2003 led the government to arm ethnic Arab militias, encouraging them to attack the African groups that she belongs to. In the genocide that followed, more than 480,000 people were killed and 2.8 million displaced. Mustafa fled to Khartoum and found herself discriminated against as a result of her heritage.
"I passed all my judiciary exams, but I couldn't get a job because I am from Darfur," she said. "Five thousand people took the legal exams and only 200 passed. I was one of them, but still I couldn't find work."
The violence also affected other members of her family. Mustafa explained that her husband was a political prisoner in Sudan until 2008. "He was kept in irons for three years. My husband is broken because of what happened to him," she said.
Mustafa's life changed when she applied to speak about the mistreatment of her people at a human rights conference in Germany in 2013. Once there, she realised she couldn't go back to Sudan.
"If the government found out that I'd been at the conference, they would have arrested me when I returned home. So, I came to the UK."
Travelling alone, she took a train to Paris and crossed the channel to London, where she applied for asylum. Once here, she studied English and became an interpreter. Her asylum application was granted and, two years later, she was joined by her husband.
Now a mother of two children, Mustafa plans to become a driving instructor and hopes to find a way to convert her legal qualifications, so she can work as an immigration lawyer.
"When I came here, I couldn't find anyone to help me, and it was hard. But sometimes you don't know what you're doing, and help comes from above."
Mustafa is receiving guidance from solicitor Asma Iqbal. The 48-year-old is a partner at the local law firm Chadwick Lawrence. A second-generation British Pakistani, Iqbal knows the challenges of building a business without a network.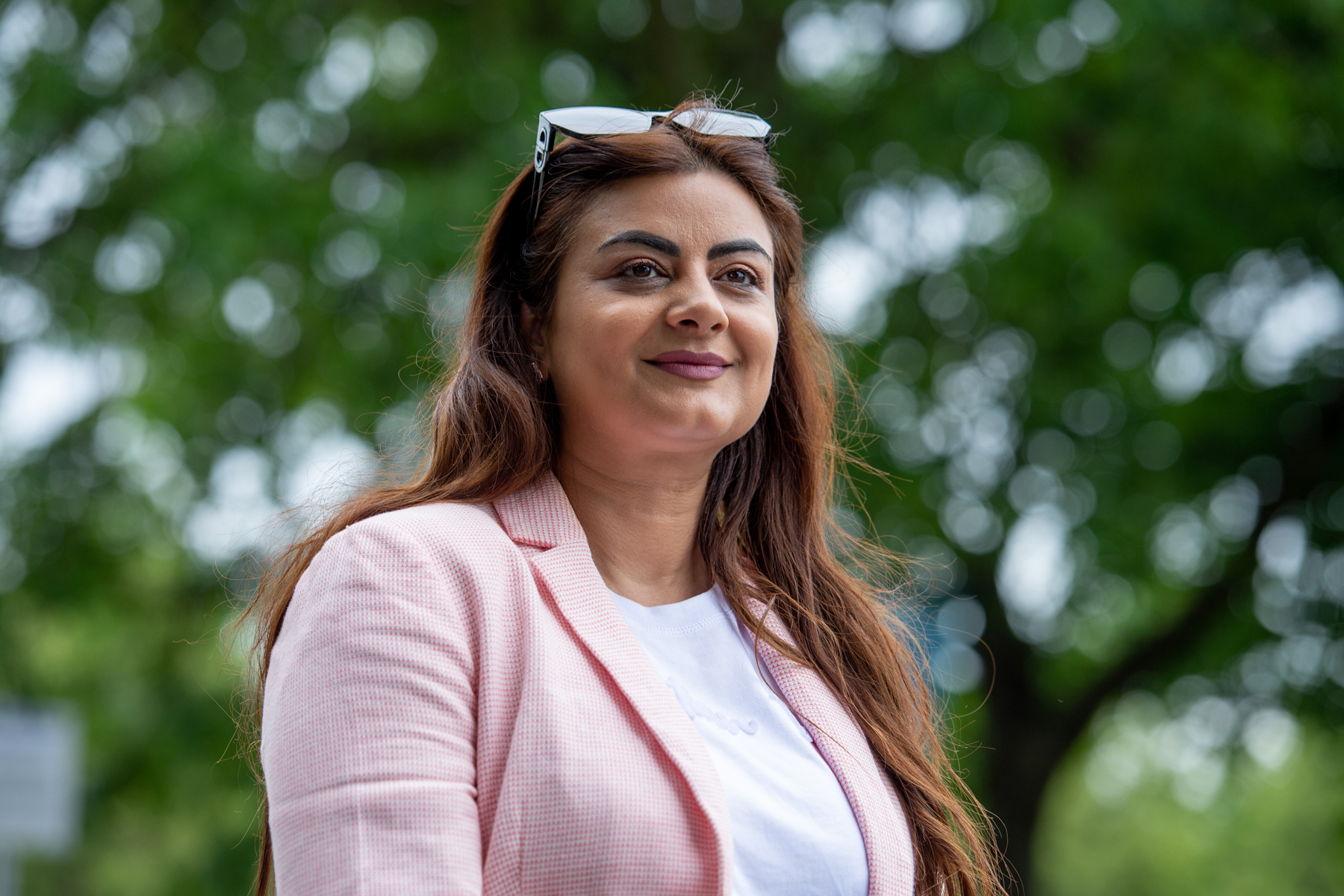 "Even though I was born and bred in the UK, it was all about who you knew, and I didn't know anyone in law," she said. "I was in the right place at the right time and was mentored by a partner at the law firm where I worked. It has made all the difference."
Former refugee and Bradford-based interpreter Maryam Dridi is leading one of the more distinctive start-ups taking part in New Dawn. Dridi, 36, came to the UK from Tunisia in 2011. If her presentation is successful, she plans on using the £60,000 of seed funding to open a cafe and offer freshly ground, organic spices to customers.
"My passion is the health benefits of food and that's where my business idea came from," she said.
Working as an interpreter for newly arrived families, Dridi spotted a gap in the market. "I thought a place where people can come and get spices that are ground on the spot in front of them would be a good idea."
Local lawyer Sarah Khan Bashir has been helping her to build a business plan, register her company and navigate the world of entrepreneurship. Bashir has been running her business in matrimonial law since 2017. She has also been a mentor for many years.
"I was living in the community that I was serving, and I felt there needed to be some give-back," Bashir said. "On the days I've mentored, I've felt more fulfilled that I'd done some good."
Topics
Selected stories
A new genre of writing is slowly establishing itself and painting a broader picture of what love can look like

The fashion influencer on faith, modesty and claiming a space for Black Muslim women

This week our panel assess what the Liberal Democrats offer Muslims and discuss the ongoing debate about definitions of Islamophobia. Plus, travel blogger Yara Abdelsamie on travelling solo and the best European destinations for Muslim women