How the UK's 'Warm Welcome' to displaced Afghans turned cold
Thousands of refugees remain trapped in temporary accommodation, unable to rebuild their lives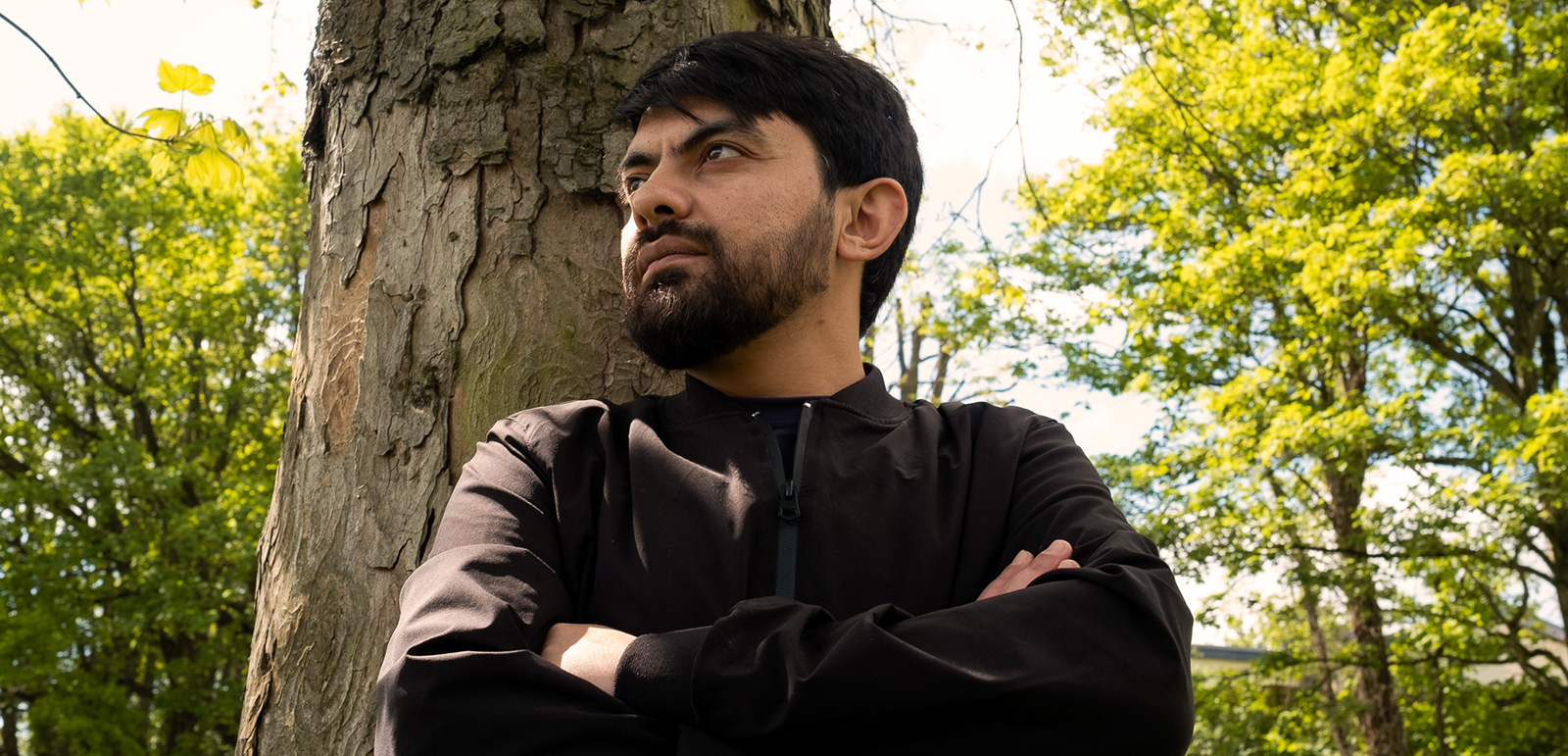 Faiz Seddeqi was working at the British Embassy in Kabul when the Taliban entered the Afghan capital in August last year. British staff had already fled the city. Seddeqi and his colleagues closed the doors and hid. Already the subject of death and kidnapping threats for working with the British Foreign Office, he escaped the building and spent three days at the home of a relative. Seddeqi then called his father and told him to bring his family — including his wife and his newborn son — to meet him at the gates of Kabul airport.
"My father, mother, wife, brother and sister and I tried very hard to enter, but the Taliban did not allow it," Seddeqi recalled, sharing his story via WhatsApp.
Outside the airport, crowds were massing in a desperate and chaotic attempt to leave the country. Taliban gunmen started shooting to drive people away. Amid the turmoil, a member of his extended family sustained a gunshot wound to the head. Noticing the danger, British forces allowed Seddiqi, his wife and baby through. They crossed into the airport, boarded a flight out of Afghanistan and, on 24 August 2021, started the next chapter of their life — as refugees in the UK.
The family spent their first 11 days in England isolated in a Covid-19 quarantine hotel at Heathrow airport, then were transferred to a reception hotel in Croydon, where they spent the next month and a half. "Then we were moved to Watford and we're still there," he told me. Like thousands more Afghan refugees promised safety in the UK, 30-year-old Seddiqi, his now 11-month-old son and his pregnant wife are living in one hotel room.
Operation Warm Welcome, the UK government's emergency response to the Taliban insurgency, not only promised to evacuate Afghan civilians who had worked with British forces, but to support them and their families in building new lives. The resettlement plan also promised to find them secure housing within weeks of arrival.
Yet, months on, at least 12,000 of the 20,000 people promised safety in Britain are still languishing in temporary hotel accommodation. The estimated cost to the public purse of keeping individuals seeking asylum in hotels stands at £1.2m per day. Placing refugees in hotels was only supposed to be a stop-gap measure, an easy way to house such a large group of new arrivals, especially during a pandemic when travel and hospitality companies were keen to offer rooms cheaply.
Despite the Home Office promising to resettle every family into a stable home with its own front door, nine months later Seddiqi has received only one offer of permanent accommodation: a flat in a tower block with no lift, rejected by his family's caseworkers because it would be impractical to live there with two young children.
Life in the hotels is hard. Entrances and exits are monitored to keep children and vulnerable adults safe. Visitors are banned and residents have been told by their support teams that they are not allowed to take or share photographs of their surroundings.
There is no space for children to play, for communities to meet or for people to cook. Instead, hotel staff distribute unfamiliar meals to residents at set times. Residents describe the experience as restrictive and disempowering. Afghans from different cultural backgrounds are housed alongside each other, sometimes causing conflict and anxiety. Women have reported feeling unsafe living in such close proximity to men they don't know. Meanwhile, the isolation of hotel accommodation has made it more difficult for refugees to begin making connections within the local community and take steps towards integrating into British life.
"Everyone is tired," Seddeqi said. "We've been waiting for nine months. If you apply for a job, the employer will ask you if you have a permanent address and we have to say no, so they won't let us work."
Living in temporary accommodation is having a damaging effect on the mental health of recently arrived Afghans, many of whom are already consumed by fear for the safety of the family and friends they have left behind. When Seddiqi and his family left Kabul, the Taliban beat and imprisoned his father. Many report similar experiences.
Nooralhaq Nasimi, founder and director of the Afghanistan and Central Asian Association, a charity that provides support services including language classes and employment advice for refugees in the UK, spent time inside a reception hotel in Southampton. Residents told him of three suspected suicide attempts at that one site. He also witnessed overcrowding, conflict between residents, domestic violence and children struggling to settle back into education.
"It's like a prison," Nasimi said. "A hotel is good for one week, two weeks. Not for nine months."
So, why has Operation Warm Welcome fallen so short of its early aims to provide secure homes for newly arrived Afghan refugees? According to Sara Nathan, co-founder and trustee of Refugees at Home, which pairs refugees with families willing to host them in their own homes, the failures began with far too little planning.
"The Home Office is not always very well organised and it doesn't do anything until it's a crisis," she said.
Nathan added that, at the point the scheme was announced, the department had not considered alternatives, such as private hosting, despite the high cost of using hotels to house people.
"It's a terrible waste of money. It's very isolating and it's completely non-integrating. It's rather like putting people up in barracks — you're unable to function."
The Home Office does appear to have learnt this lesson, given that its Ukraine support scheme relies almost entirely on individuals being hosted in family homes — though there have been widespread concerns about safeguarding related to that programme too.
At the outset of the Operation Warm Welcome, Nathan was invited to attend a series of meetings along with other housing providers, but those discussions were aimed at longer-term, secure accommodation, rather than crisis support.
"We kept thinking, 'We'll be able to host at least some people,' but we literally have not hosted anyone that came out on that airlift," she explained.
Nathan was warned by Home Office officials that if Afghans were housed in individual homes, it would be harder for the government to provide personal support and advice -— each Afghan refugee is entitled to £20,000 of support to help them resettle — and that they may be lost to the system.
The Russian invasion of Ukraine, which began in February and has led to the arrival of 46,000 new refugees, has further stretched Home Office and local council resources. Since then, Nathan and her team have had no contact with the department at all.
Housing experts have also stated that the Home Office created problems with resettlement by failing to inform recently arrived Afghans that they may not be able to choose where they live — particularly those who would prefer to stay in London.
Large family groups were also promised that they would be housed together, even though there are not enough properties of a suitable size available to accommodate them. Some of those still living in hotels have been offered homes in cities miles from the area they are currently settled in and with which they have no connection at all. Many have turned those offers down.
Fazel Rabi, a member of the community advocacy team at the north-west London refugee charity Paiwand, has seen councils working hard to allocate permanent homes, but struggling to deliver on the government's pledges.
"There isn't much accommodation to begin with, there aren't many houses to suit someone and, if you're looking in a particular area, it may be difficult to find something for someone," he said, adding that many refugees are sticking to the boroughs they are now in, because they have at least grown used to them and, in some cases, have family or friends there.
The Home Office states that it will make a maximum of two "appropriate offers" to recently arrived Afghans, with the expectation that they will accept the first unless there is a "good reason" for refusal — criteria on which the department itself stands as arbiter. If a second offer is turned down, the family will be given notice to leave their hotel, leaving them to find their own accommodation or for caseworkers to refer them to homelessness services.
A spokesperson for the Home Office said the department is working "as fast as possible to support Afghan families into homes of their own, so that they can settle into their local communities, feel safe and independent and rebuild their lives in the UK. For that reason, we would encourage families to accept appropriate properties as quickly as possible, and urge local authorities to continue to do all they can to help house people."
Campaigners describe the Home Office's work with Afghan refugees rather differently, though. Tim Naor Hilton, chief executive of Refugee Action, said that the root cause of long hotel stays is "the government's decision to run its refugee resettlement programme into the ground". The lack of decent, large social and private rented housing available to benefit claimants has also made it very difficult to find appropriate accommodation at speed. As a result, the government is having to spend time courting landlords and housing providers to meet demand.
"Delays by the Home Office to take an effective casework approach to managing refugees immediately after the evacuation has simply compounded the backlog and institutionalised people stuck in hotels," Hilton said.
At the end of March, in response to these concerns, the thinktank More in Common published eight demands for the government to improve the lives of Afghan refugees. They included the creation of a new taskforce, chaired by a secretary of state and dedicated to moving the remaining 12,000 refugees into stable housing, and allowing councils to become "super sponsors" of refugees by taking in groups of eight or 10 families and housing them together as an established community group.
Sunder Katwala, director of British Future, is a co-signatory of that letter. He believes something radical has to change inside the government, if it wants to avoid leaving refugees cast adrift in hotels for years.
"The reason we proposed a ministerial taskforce is because there is lots of incremental detail on things getting stuck. Another problem that you run into is that the asylum system generally has slowed down a lot during the pandemic," he said.
Katwala believes that the new Department of Levelling Up would be in a better position to manage the conclusion of the Warm Welcome scheme than the Home Office, which is now bogged down in the Ukraine crisis.
Meanwhile, Seddiqi and his family wait in their hotel for the next offer of somewhere to call home. Does he have a message for Boris Johnson?
"My message is thank you for not leaving my family among savages like the Taliban. Thank you for preparing all these services for us," he said. "But, please, pay more attention and decide the fate of these people soon. They are very tired and they have lost everything."
Topics
Selected stories
From pickles and ferments to jams and chutneys, conserving surplus produce allows us to enjoy fruits and vegetables grown in familiar earth, many thousands of miles away

The western world's largest mosque is a point of pride for the country's Muslims, but its impressive scale and ornate design do not reflect their position in the country as a whole

The challenge for Keir Starmer is to combine control and compassion in efforts to tackle dangerous boat crossings