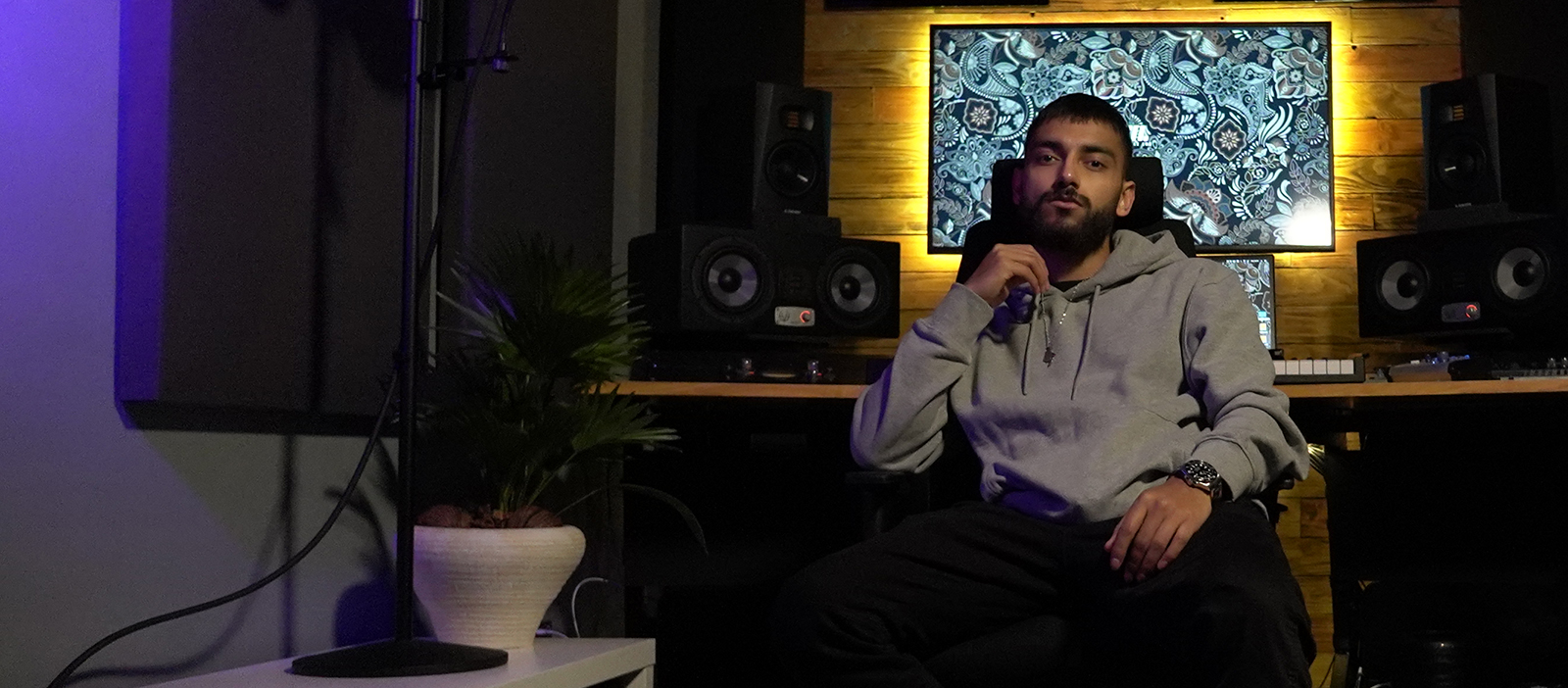 Nish Q&A: 'My music brings two worlds together'
Photograph courtesy of Nish
The British-Bengali rapper talks about breaking boundaries and making it big on Spotify
Few people embody the idea of cultural fusion better than the British-Bengali singer and rapper Nish. Born in London as Nishat Monsur, the 27-year-old performer has carved out a unique place in the music industry, blending his Bangladeshi heritage with cutting-edge, soulful sounds.
Thanks to artists including Mumzy Stranger and Joy Crooks, British-Bengali musicians have become increasingly visible over the past few years, but most have chosen not to sing in their own language. Nish, however, proudly places Bengali lyrics at the front and centre of his songs.
We caught up with Nish to talk about his biggest inspirations, why a nine-to-five life is not for him and his ongoing fight against leukaemia.
This conversation has been edited for length and clarity.
Hyphen: What made you want to be a performer?
Nish: I've been singing since I was five years old and I've always been involved in music and playing instruments. I did music at A-level. It was a passion that I ended up making into a career. A lot of people don't actually know that I have a masters degree in computer science. By the time I finished my degree, I thought to myself, 'Do I go into full-time employment, which would be the secure thing to do, right?' I was never a normal person. I didn't see myself behind a desk, nine to five.
What did you listen to when you were growing up?
I started off as a child singing Bengali songs, going to traditional Bengali music classes and learning the harmonium. When I reached the age of 12 or 13, I thought that wasn't cool any more, especially being a boy, when your voice starts to break and change. That transition from singing as a boy to a young adult was difficult. I then grew up on grime music, with the likes of Ghetts, Kano, Bashy, D Double E, Wretch 32. I always had influences from the cultures I grew up around. A lot of my friends were from the Afro-Caribbean community and from different diasporas in the Asian community. You can hear that through my music. I'm playing those two worlds together.
What are your two favourite albums?
Thank Me Later by Drake and Friday Night Lights by J. Cole, but I also have to give a special mention to Ryan Leslie, because he's a singer, rapper and producer. Coming through as a musician, I always wanted to be like him, because I did all three myself, too. I would sit and watch YouTube videos of him making beats and working with other artists. That was super important. It made me believe that I didn't have to just do one thing.
Tell us about your inspirations and people you look up to?
Mumzy Stranger is up there, even though I work with him now. I never really listened to Mumzy when I was growing up, but he was the first Bengali to go out there and make a name for himself in the music scene. He brought through so many people and broke open doors. We come from very similar Bengali, Sylheti backgrounds, and for him to do what he's done was almost unheard of. I'm also very lucky that my family has always supported and inspired me.
You've made a real point of singing in Bengali, which not many artists do. Why?
There were not many people that were really crossing the bridge between urban music and Bangla music. When it came to Bengali artists singing in Bangla, it was almost unheard of. I went on a mission to take influences from the music I listen to — hip-hop, Punjabi music, grime — put it all in my formula and give listeners something they can relate to. I never really had anyone to show me how to do it, I've had to build my own way.
You were recently diagnosed with leukaemia, which took you out of the game for a while. What have you learnt from that experience and what's your situation now?
It's a setback. The diagnosis made me take a step back and appreciate the things that are important in life, like family and looking after your health. That's something that as a young Brown man, especially in our community, we overlook. You're often told that you're too strong to be vulnerable. It made me accept my vulnerability and use it in a good way. I'm not in remission and there's no goal as to when I will be, but that's something I've got to live with. I take chemotherapy medication every day. As long as I'm on top of that, it's stable. I can still do what I'm doing, but with limits.
How many streams did you have last year, and what's the goal you want to reach in 2022?
My Spotify stream last year was 6.6 million. I feel like that's an OK number and a good place to start with, but I want to increase it. I want to have half a million monthly listeners on Spotify. That's a realistic target, because at one point I was on 400k, but, with the pandemic and everything else that happened with me, it went down. I'm setting my sights and not being overambitious, just realistic.
If you could change one thing about the music industry, what would it be?
There needs to be more acceptance of different languages, especially Bangla. I feel that not many people understand it or get it. Another thing I'd say is that the education of upcoming artists needs to be on point. When you gain followers and get money, you become an example to people who are coming through. Sometimes people who become famous quickly don't know how to act. We need a bit more importance to be attached to that.
What's your favourite lyric from one of your songs?
"Shongjug ta charbona purbopurusher bhumite jai," from my song Homecoming. It basically means: "I'm not going to let go of my roots, let's go and explore what our ancestors gave us." That song means a lot in terms of what my career is and what my path and my vision is.
So, what's next for you?
I have a couple UK collabs. I'm not going to name names because I'm just going to surprise everyone. I'm also going to be more consistent with my release plan, so expect more music, more videos. I can give you one thing, I'm doing a song with D8, who's a British-Bengali artist from Manchester. He's got a sound that's interesting, so it should be good. It's coming out soon.
Topics
---
Get the Hyphen weekly
Subscribe to Hyphen's weekly round-up for insightful reportage, commentary and the latest arts and lifestyle coverage, from across the UK and Europe
---