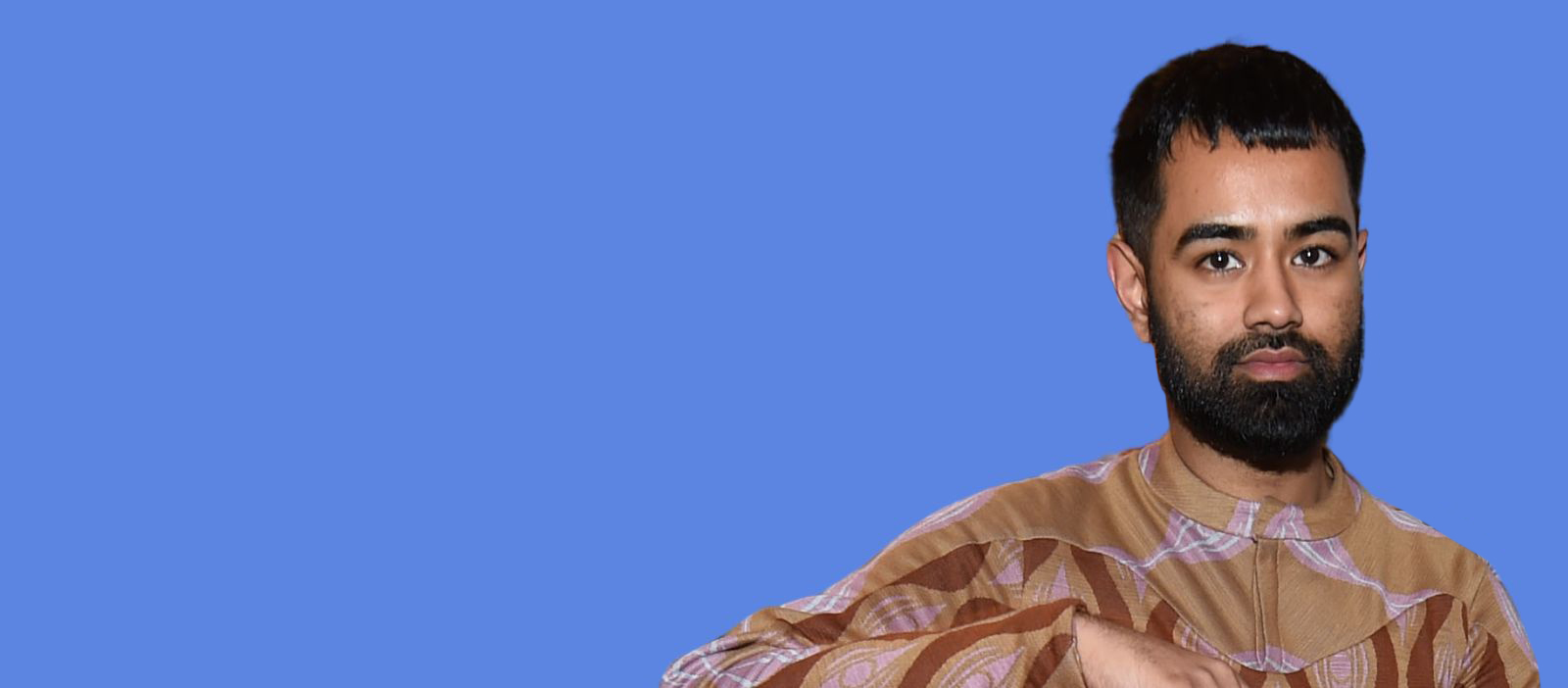 Rahemur Rahman Q&A: "There aren't enough hijabi Muslim women in fashion"
Photograph by Stuart C. Wilson/Getty Images
The London-based designer, who was the first Bangladeshi to showcase at London Fashion Week, on artisanship and sustainability in an era of fast fashion
Rahemur Rahman, 32, is a London-based fashion designer and film director. In 2019, he became the first Bangladeshi to show at London Fashion Week with his debut collection, "For the people who dream in colour".
Rahman's work is largely inspired by his Bangladeshi heritage and his father's work as a tailor in East London's rag trade. Each item is crafted from fabric made in Bangladesh, which is then dyed by artisans at Aranya – a Dhaka-based collective of craftspeople who are dedicated to preserving traditional South Asian dyeing techniques.
For the past five years Rahman has been working as a co-director on a documentary feature film, Body of Our Own. The film, which was recently picked up by the Finnish production company Onerva Pictures, tells the story of four hijra women living in Dhaka.
This article has been edited for length and clarity.
You grew up in Tower Hamlets. When was the first time you made something related to fashion?
When I was growing up, my dad had a big industrial sewing machine in the house and I was always curious about it. He taught me how to use it when I was nine, and the first thing I made was a little coin purse using scraps of fabric I found lying around the house.
Your first collection was inspired by your father's work and your mother's love of traditional Bangladeshi designs. How did they react?
I came out when I was 25, and my parents haven't been a part of my life since. They haven't seen the collection, and I'm not sure they know much about my work, but I still reference them all the time because my dad is the reason I work in fashion.
My dad always encouraged us to be creative. When we were children, he would take me and my siblings to art galleries even when he didn't know anything about the artist. We would just jump on a bus from East London and go all the way to Trafalgar Square to go to free exhibitions, because he knew it would help us.
Why did you choose an all-male South Asian cast to model your first collection?
I'd worked in fashion for a number of years, but had never been part of a team where everyone was brown. I wanted my show to be everything that I had never seen, so I could look back on it and know I had made an impact.
Even with the location, London Fashion Week was being held at Truman Brewery in Brick Lane but my show took place on the other side of the road, because I wanted everyone to come and experience the Bangladeshi side.
Earlier this month, new research by Aberdeen University and the charity Transform Trade shed new light on how the UK's fast fashion industry is exploiting workers in Bangladesh. Why did you choose to work with craftspeople in Bangladesh for your brand?
Whenever anyone speaks about Bangladesh and fashion, it's always about a high-street retailer. They are horrible for the world, but it's also what has allowed Bangladesh to emancipate itself and become a successful country, so it's kind of like a rock in a hard place. But because so many are mass-producing clothing, the conversation around the artisanal craft that comes from Bangladesh has disappeared.
I wanted people to know that the fashion space in Bangladesh is not all ready-made garment factories. There is craftsmanship, and there are artisanal people who are masters at what they do. By employing them, it helps put Bangladesh back on the map.
You have now put out two collections. What's your favourite piece?
It's a tailored suit jacket from my 2019 collection, "For the people who dream in colour". I wanted to make something that me and my friends would wear. It's made from a stretchy jersey fabric, and it's really colourful.
The US rapper Anik Khan recently wore it at one of his shows. I styled it with a shirt underneath but he chose to go topless and wore it with trainers. It's been worn by so many people over the years and people still ask for it even though it's years old.
You're well known for sowing a seed into the lapel or waistband of each item you make. Why do you do that?
It's a small thing I've done for myself, because I feel bad making clothes. We are consuming animals and resources at a crazy level. The idea is that when someone throws my clothes away, they will biodegrade and that seed will crack open and a tree will grow.
Why did you choose a poplar seed?
It's a very resilient tree and it gives a lot of shade. Also I grew up in Poplar, so I just found that quite funny.
How did you come to be part of Body of Our Own, which includes hijras, South Asian biological males who identify as women?
In 2018 I was in Bangladesh making textiles for my fashion brand, and I was celebrating Bangladesh New Year in a park. The girls in Bangladesh wear jasmine flowers in their hair and on their arms, and I was wearing all of that too. But while I was there I was attacked by a group of hijra girls after one of them tried to take my bag, which was a really difficult interaction.
It left me gobsmacked and even after I left Bangladesh, I kept thinking about this group of people who were ostracised and really needed help, and what I could do with the privilege that I have to make their lives easier.
I sat down with my friend, Lily Vetch, who is a filmmaker, and we decided to make a documentary to share their stories.
I have this vision of one day doing a screening in Bangladesh and having these four hijra girls come up on stage.
Your work was recently exhibited at the Victoria & Albert Museum. How do you hope your success will inspire others?
I've had the privilege of being able to break into and navigate the industry, but I want to open it up to the people who are most marginalised. In my opinion, there aren't enough hijabi Muslim women being given opportunities, so I want to help them as much as possible.
What are your plans for the future?
I'm currently working on a new collection that will come out at the end of this year.
Rather than focusing here in the UK, I'm going to launch in South Asia. I've had so much love from the fashion industry in Mumbai, which I wasn't expecting because I still think of myself as a small-time guy from East London.
Once the collection launches I would love to do road trips and host pop-ups in cities across India and Bangladesh.
Topics
Selected stories
Is the Gaza truce a turning point in the Israel-Hamas war? Our panel discuss this and other topical issues. Plus, a look at the Muslim renters dealing with London's housing crisis

The filmmaker on her life, work and why telling women's stories is more important than ever

From Ramadan dates to Christmas pudding, food can encapsulate specific times of year and remind us of the circular rhythms of life