Inside the world of the Muslim K-pop stans
For many young people, the unstoppable rise of Korean groups including Blackpink and BTS has created a sense of community and belonging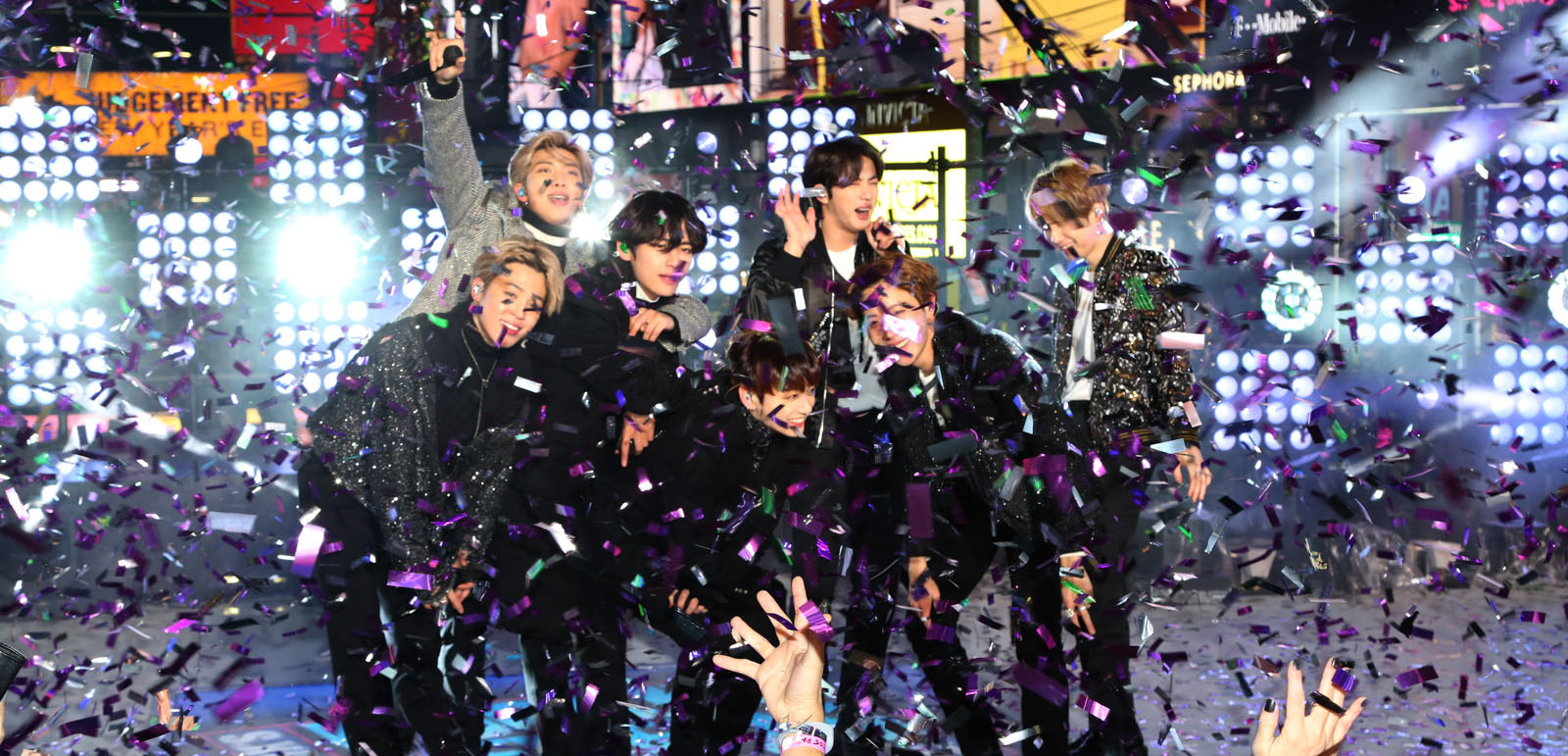 The first time I came across K-pop was through a satirical social media video.

While aimlessly scrolling through YouTube in 2016, I stumbled upon the popular Asian-American creator Ryan Higa. In one posting, Higa and a group of fellow YouTubers had created a K-pop parody group called Boy Generally Asian and produced a video for a song titled Dong Saya Dae, or, in English, I Have to Take a Poop. His stunt satirised the tidal wave of Korean groups — including BTS, NCT and Blackpink — gaining huge popularity among western audiences.
Contrary to its aims, Higa's mockery led me directly to the first real K-pop song I had ever heard — Blood, Sweat and Tears by BTS — and sparked a growing passion. Now, the genre makes up most of the music I listen to. I have also made what I hope will be lifelong friends through social media fan groups, and in 2019, while on holiday in South Korea, I hung out and sang with hundreds of BTS fans outside a venue where the group were playing.

K-pop and the broader Korean wave of streaming dramas, movies, online games and cuisine, also known as Hallyu, has become a truly worldwide cultural phenomenon. The music's addictive melodies, influenced by everything from Japanese hyper-pop to US rap, picture-perfect performers and entrancing choreography, have shaped popular culture across the globe and created an economy worth close to $20 billion.
In just a few years, groups including BTS, BlackPink and EXO have become mainstays of the Billboard Hot 100 and feature regularly in the listener charts of platforms such as Spotify and Apple Music. Meanwhile, a rash of western stars including Dua Lipa, Nicki Minaj and Megan Thee Stallion have all released collaborations with their K-pop peers.

In part, the rush to join forces with Korean artists has been fuelled by the massive and deeply devoted followings they command. While there are no official figures, social media analysts suggest that the BTS fanbase, known as the ARMY, is well into the hundreds of thousands – possibly even millions.
Within this thriving community, largely made up of girls and young women, are many Muslims. In religiously conservative countries such as Malaysia and Indonesia, K-pop fans tend to express their devotion through online platforms, mainly by making and sharing videos. Other nations, however, have embraced the genre in much more public ways.
In September 2022, as part of its ongoing programme of cultural liberalisation, Saudi Arabia hosted K-Con, an annual Korean music festival, at which idols including New Jeans, ATEEZ, STAYC and The Boyz all performed. Just a few months later, in January 2023, the nation's Public Investment Fund pumped $500 million into Kakao Talk, a conglomerate that manages K-pop idols and owns Korea's leading music streamer, Melon. Meanwhile, in 2022, BTS member Jungkoo made history as the first Korean artist to perform at the FIFA Football World Cup opening ceremony, held in Qatar.

That popularity also extends to Muslim communities in the UK and Europe. For me and many other Muslim fans, K-pop songs resonate on a personal level, in a way that western pop music just doesn't.
Raquia Abdikadir, 21, from London, discovered the genre in 2013 by way of the video for the Girls' Generation song I Got a Boy. As a fan of western pop bands such as One Direction and Little Mix, she got it immediately, but didn't fully immerse herself in K-pop. That happened a year later, when a friend shared a playlist of hits with her. Now an avid fan, she has attended several concerts, including shows by BlackPink and Loona.

For Abdikadir, the music is only part of K-pop's appeal. Like many other enthusiasts, she values the globe-spanning friendships and social connections that the culture allows her to build.

"I believe you gravitate towards people who are like you," she says. Seeing people with the same faith as her sharing an obsession with K-pop minutiae gave her an enhanced sense of community that she hadn't felt elsewhere. "When you see they are the same age and Muslim you gravitate towards them even more."
Members of the K-pop fandom routinely spend hours circulating and fact-checking stories about their favourite groups, writing elaborate fan fiction, mass buying and streaming albums to keep them at the top of international charts and translating Korean lyrics into dozens of languages.
They have also proved a powerful source of activism. In 2021, the BTS ARMY raised more than $1 million for the Black Lives Matter movement. The ARMY is also well known for its online activism, such as using the mass posting of "fancams" — short, edited videos of their favourite songs — to drown out far-right social media content.
These are just some of the tactics developed by modern-day fans to exert cultural influence. Fandom experts such as Hannah Ewens, author of Fangirls: Scenes from Modern Music Culture, notes that being a fan of an artist is no longer driven by simply being besotted with a given artist. Now, they can use the internet to foster a sense of camaraderie and community that has real-world power, from determining when and how a record label releases an album to increasing voter turnout in elections.

For Muslim audiences, part of K-pop's charm may lie in its relative conservatism, compared with western pop music.
"K-pop idols do things that western artists don't do. They aren't drinking or smoking or touching people of the opposite gender," says 21-year-old Salma Ahmed, a self-described K-pop "multistan" aligned with several different groups. "I feel like that's what keeps Muslim girls engaged, because they aren't constantly exposed to things deemed sinful in Islam."
The South Korean government, which has long provided state funding to develop and promote K-pop culture, has clearly noticed the genre's Muslim following. Visit Korea, the country's official tourism website, has a whole section dedicated to Muslim travellers, offering guidance on prayer spaces and halal restaurants.

Influencers such as Malaysia-based Sabrina Azhar have been instrumental in the promotion of K-pop to Muslim audiences. She has earned millions of views on TikTok by posting interviews with the genre's brightest stars. Her fame is now so great that she has acted in the recent K-drama Girl in the Mirror and worked with the South Korean tourist board to encourage Malaysians to visit the country.
Like most fans, Muslim devotees generally engage with K-pop through social media. TikTok, where songs and dance routines routinely go viral, is by far the most important platform.
Learning the dance routine of the BTS hit Save Me was what got Ilhan Ibrahim hooked. The 23-year-old, who divides her time between London and Sweden, recalls being taught the moves by the Norwegian-Pakistani dance group Quick Style when they visited her school. Seeing how much time and effort goes into the choreography alone, she says, felt like "looking behind the scenes of Kpop".
The sense of community within the K-pop fandom has also helped Ibrahim deal with difficult times in her life. "Last year I was going through a lot. I found comfort in the songs when I was struggling with school or being the older daughter in the house," she says. "The community is what keeps me in it."
That sense of borderless friendship defines my own relationship with K-pop — and it's not just an online thing. On my 2019 trip to South Korea, a customs officer noticed a tag on my bag saying ARMY, prompting a happy conversation about BTS and making an experience that is often anxiety-inducing for hijabi women surprisingly enjoyable.

K-pop has provided a unique way for me as a Muslim woman to move through the world and connect with other people. That so many K-pop groups openly support progressive causes — promoting racial justice, highlighting the plight of refugees and espousing calls for greater inclusion of sexual minorities — provides a great deal of solace, especially at a time when violence against marginalised people is increasing. For me and many others, attitudes to K-pop also serve as a litmus test of a person's values and openness to diversity.
More than that, though, K-pop fandom has created spaces, both online and in the physical world, where I have felt safe, secure and not solely defined by my religious identity. As Abdikadir puts it, "K-pop fans accept everything about you."
Topics
Selected stories
Is the Gaza truce a turning point in the Israel-Hamas war? Our panel discuss this and other topical issues. Plus, a look at the Muslim renters dealing with London's housing crisis

The filmmaker on her life, work and why telling women's stories is more important than ever

From Ramadan dates to Christmas pudding, food can encapsulate specific times of year and remind us of the circular rhythms of life