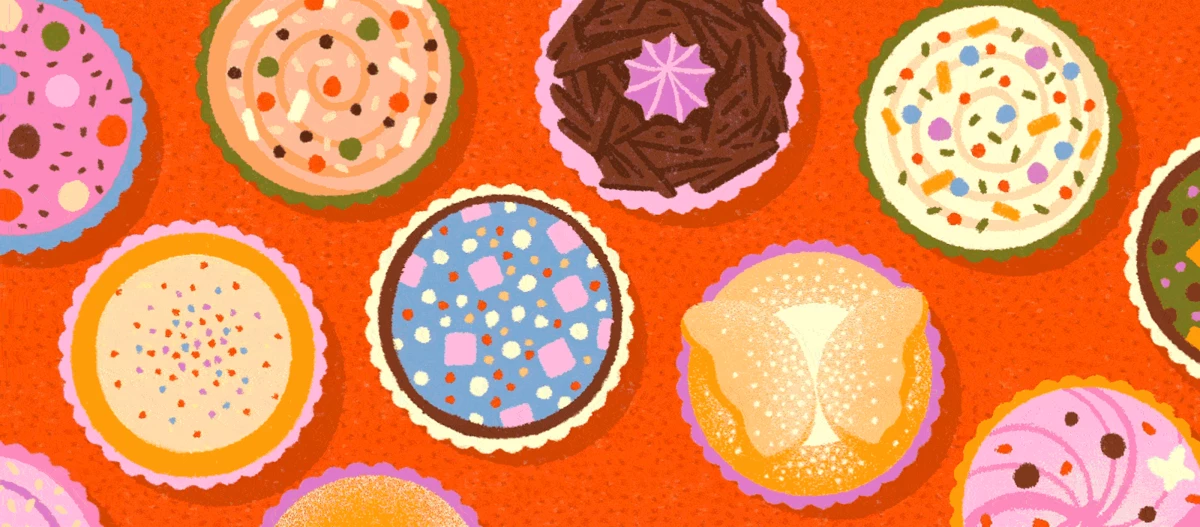 Bake Off's unstoppable rise and the nostalgia of imperfection
The hit TV show has inspired an avalanche of elaborate sponges and glossy ganaches, but there's still an appetite for more homely treats
The new season of The Great British Bake Off hit our screens at the end of September, greeted with all the usual anticipation. Now in its 14th run, the hugely popular show has survived two channels and multiple changes of hosts, capturing hearts and bringing the ultimate in comfort viewing to millions around the globe.
Over the years, a number of contestants have become stars in their own right — none more so than the 2015 winner, British-Bangladeshi Nadiya Hussain, now one of the UK's most visible and beloved Muslim women. Other contestants whose careers were launched by the show include food writer Ruby Tandoh and TV personality and chef John Whaite. And let's not forget Bake Off's most unexpected offering: propelling the words "soggy bottom" into common parlance.
More than anything else, though, the show has revived public interest in the art of home baking, with perfectly iced and decorated bakes popping up all over social media. The expanding range and improved quality of amateur baking has also prompted many more entrepreneurial enthusiasts to monetise their hobby — a phenomenon reflected in Muslim communities too.
Research shows that the number of home baking businesses in the UK increased by 230% between 2019 and 2021, a rise attributed to both the show's popularity and the Covid-19 lockdowns. During the pandemic hundreds of bakers established a thriving cottage industry offering home-baked goods, such as letterbox brownies and treats for afternoon tea, by local delivery and post.
I became acutely aware of the rising standard of home baking a couple of weeks ago, when I found myself making two dozen mini cakes for my son's third birthday party. I am fully aware of my own limitations as a baker. I have neither the patience nor the will to craft edible works of art. I do not own icing bags or nozzles, do not know how to make a sugar paste flower and have never rolled out royal icing or shaped fondant. The day before entertaining a bunch of toddlers and their parents was not the time to start experimenting, either.
Instead, I trawled my memory for the type of baking I enjoyed as a child. I had flashbacks to drizzling runny, white icing over little fairy cakes, waiting for it to set and shaking containers of brightly coloured hundreds and thousands onto it. Reminded of these retro bakes, I had great fun with my son spreading our offerings with blobs of icing and decorating them with sprinkles, jelly sweets and Smarties.
They were smaller than the cupcakes of today and a world away from those sold by high-end bakeries such as Hummingbird, where you can expect to pay £4 for "authentic American" confections, piled high with frosting that gets smushed up your nostrils when you try to bite into them. But judging by how quickly these humble cakes were gobbled up by kids and parents alike, they were clearly a hit, much to my relief.
The whole experience of baking with my son made me reminisce about other nostalgic treats from my childhood. Among them were iconic designs, such as the one where a Barbie doll was stuffed into the middle of a birthday cake ostentatiously decorated to form her dress, and another shaped like a fairytale castle, with turrets and spires made from Swiss rolls and ice cream cones. I never encountered that one as a child, but my wonderful friends did make me one in the kitchen of our university halls for my 21st birthday.
Then there were the lower-concept but high-reward goodies often found at school bake sales. Easter chocolate nests were a favourite of mine, made from melted chocolate and Shredded Wheat or cornflakes, stuffed into cupcake cases and decorated with pastel-coloured Cadbury's Mini Eggs and — if your mum was really fancy — fluffy yellow chicks. Another common variation on the fairy cake was the butterfly bun, for which a segment of cake is cut out and the hole it leaves behind is filled with jam and maybe a bit of whipped cream. The cake pieces are then stuck back on to represent wings.
These bakes were a long way from the intricately decorated, multi-tiered creations that flood Instagram today. But they were wholesome, delicious and often created together at the family kitchen table. The absence of glossy professionalism was central to the charm of the baking I remember. Back then, school and village halls were places where home bakers showed off their skills with no expectation of absolute perfection. The word "homemade" came with an assumption of certain flaws that were, themselves, part of the attraction. While I'm all for creativity and entrepreneurship, part of me mourns the loss of acceptable imperfection and I'm a little sceptical of a creeping imbalance where aesthetics can sometimes compromise taste.
Some of today's more extreme baking trends have tipped into the grotesque. Take US game shows such as Is it Cake?, in which contestants have to guess whether everyday items, from shoes to bowls of crisps, are real or made out of sponge and icing, and Cake Wars, in which bakers are challenged to come up with creations so elaborate that they are clearly made to be seen rather than eaten and enjoyed.
The good news is that, based on how well the fairy cakes went down at my son's party, it appears the timeless classics many of us grew up with still have just as much appeal to a new generation. An added bonus is that the kids were able to actually eat them, rather than just licking off half a pound of frosting.
Topics
Selected stories
Is the Gaza truce a turning point in the Israel-Hamas war? Our panel discuss this and other topical issues. Plus, a look at the Muslim renters dealing with London's housing crisis

The filmmaker on her life, work and why telling women's stories is more important than ever

From Ramadan dates to Christmas pudding, food can encapsulate specific times of year and remind us of the circular rhythms of life