'You get art but then you also get something edible'
Young Muslim bakers have turned their lockdown hobby into decorative cake making start-ups with the help of Instagram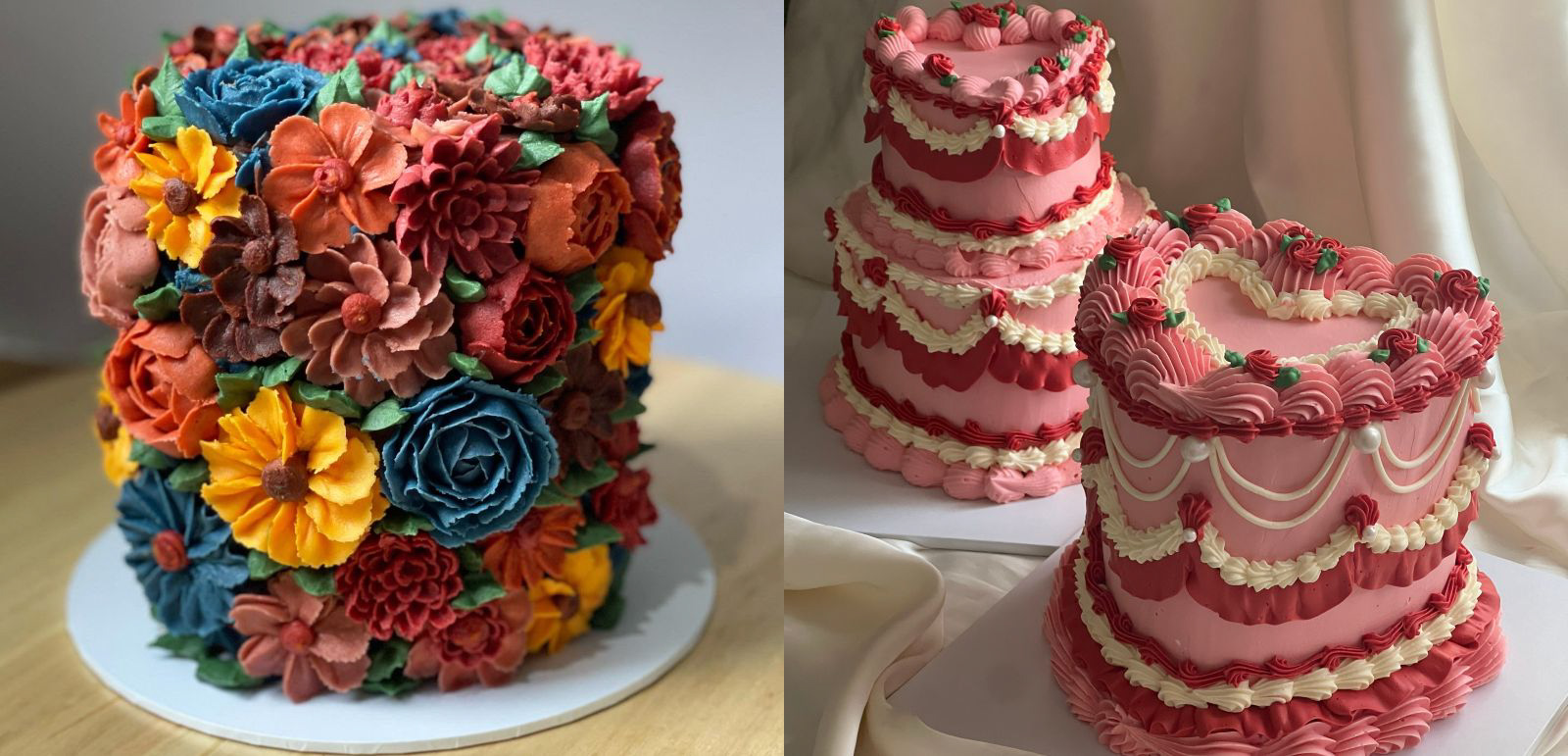 A new generation of Muslim bakers are giving an elaborately personal touch to special occasions, creating intricately decorated cakes. This new wave of patisserie artists are also setting social media trends, using platforms such as Instagram and TikTok to showcase their work, filling their feeds with innovative showstoppers.
As in many other cultures, cakes and desserts are often used to celebrate milestones and significant dates, including religious occasions such as Eid al-Fitr — sometimes also referred to as the Festival of Sweets.
For east London-based Chaimaa El, 27, a former paralegal who now runs a cake-making and decorating business from home, being part of such events is one of the best parts of her new career.
"A lot of people purchase cakes from me," she said. "They say it's my sister's nikah, it's her wedding day or my mum came back from umrah. It makes me feel really happy and purposeful that I can be part of people's happy memories."
El got into cake making during the home baking boom that took place during the first Covid-19 lockdown in 2020. After creating a special floral cake for her own 24th birthday, she bought equipment and learned all she could from YouTube tutorials and blogs. The following year, she was ready to turn her hobby into a full-time business named Chaimaa Creates.
"I loved that I could paint something on a cake, then eat it. You get art but then you also get something edible. There are never-ending design possibilities with flowers. I get lost in them," she said.
Others have followed a similar path. Home baking was the eighth-fastest-growing small business sector in the UK coming out of the pandemic, according to the SME Insights Report 2022 published by Simply Business.
Noor Ul-Ain, 20, from Birmingham, was in her final year of sixth form when lockdowns left her stuck at home. She had been baking for family and friends since she was 11, and given the years of experience she already had, decided to start her own cake business.
Growing up as a British Pakistani Muslim, desserts have always played a prominent role for Ul-Ain and her family. "When Ramadan comes around or Eid comes around the food is the centrepiece," she said.
She launched Nenis Cakery in 2021, featuring a range of minimalist and vintage designs, drawing inspiration from the likes of the vintage cake makers Roxy and Corinne Mankoo at April's Baker.
"There's a lot of subcategories with vintage cakes," Ul-Ain said. "You have the typical retro-style cake, which was popular around the 70s and 80s, then you have the Lambeth-style cakes which were around the 30s, requiring intricate and finer piping. With my work, I'm just using these two styles and adding a more modern twist."
For home-based entrepreneurs like El and Ul-Ain, strong marketing and the ability to make a visual impact is vital to their businesses. That's where Instagram and TikTok come in.
El's Instagram page, Chaimaa Creates, has more than 44,000 followers, reaching people worldwide through vibrant posts illustrating her floral designs, which can take up to 10 hours to complete.
"The last video I filmed, my tripod fell, my piping bag burst in the midst of piping a flower on a cupcake. Things like this happen a lot behind the scenes, which we don't really show on our Insta page. Having said how difficult it can be creating content, it brings me so much joy creating reels and videos on my page," she said.
Ul-Ain added: "The cake industry is very saturated, even in my area in Birmingham, there are hundreds of bakers. In 2023, to become visible and to have your presence on social media as a cake business, you have to have something different."
Social media platforms are also a vital tool for trendspotting. For instance, Pinterest's latest dessert trends forecast, based on search-traffic analysis, suggests that the herbal apothecary aesthetic — think all things floral, whimsical and vintage —is on the rise this year.
Specialising in floral buttercream cakes, Maimoonah Tariq, 27, a radiographer from Sheffield, promotes her home baking business Moonah Bakes via the platform. She also turned her hobby into a successful side hustle during the pandemic.
"I was working in the NHS and it was really draining. I just needed an escape from all that so I decided to start Moonah Bakes. I love my job, but baking and making cakes is my pure passion. One day I hope I can make it my full-time job," she said.
Social media has opened doors for her to connect with a growing community of customers — so big, in fact, that she now wants to start a nationwide postal bakes service.
"It's such a big thing," Tariq said. "The market for my cakes can be small locally. Recording and making the reels, taking the pictures, and getting the right lighting for the cake, it's quite a long process, but it does pay off."
She added that although the process of baking and elaborately decorating cakes is painstaking and time consuming, the end result makes it all worthwhile.
"For me it's the fact that I enjoy putting a smile on someone's face. Sometimes you have that sense of self-doubt, so when customers give you positive feedback, it reinforces that actually I am good at what I do and pushes me to do better."
Topics
Selected stories
From pickles and ferments to jams and chutneys, conserving surplus produce allows us to enjoy fruits and vegetables grown in familiar earth, many thousands of miles away

The western world's largest mosque is a point of pride for the country's Muslims, but its impressive scale and ornate design do not reflect their position in the country as a whole

The challenge for Keir Starmer is to combine control and compassion in efforts to tackle dangerous boat crossings