UK Muslim charities mobilise to provide relief in earthquake-stricken Morocco
Organisations describe urgent need after a 6.8-magnitude quake rocked the country, killing more than 2,000 people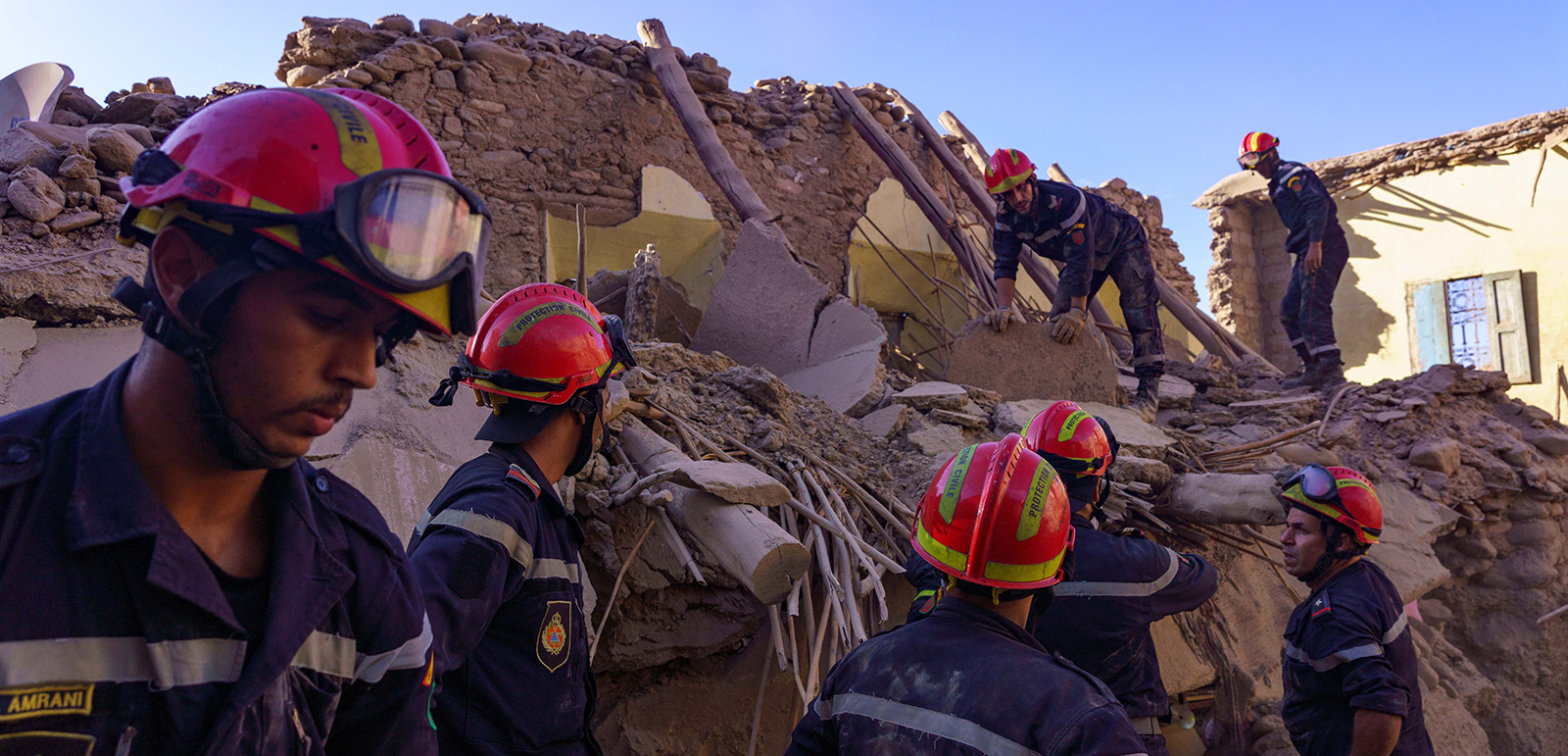 Local charities and community groups in London have organised urgent appeals to raise money for Morocco after a deadly earthquake killed more than 2,400 people.
The 6.8 magnitude quake hit just after 10 PM GMT on Friday 8 September, according to the British Geological Survey. Its epicentre was in the High Atlas Mountains, around 44 miles south-west of Marrakesh.
The World Health Organisation has estimated that more than 380,000 people in Morocco will be affected by the disaster, the deadliest of its kind since a 5.9 magnitude earthquake struck Agadir in 1960.
Members of the British Moroccan Society (BMS), based in London, have already arrived in the country to provide critical aid to victims, working with a team of more than 100 local volunteers.
The BMS has launched an online appeal to raise emergency relief funds for communities in the High Atlas mountains. At the time of writing, the team had raised £62,000.
Ella Williams, administrator of the BMS, is a resident of Talat N'Yaaqoub, a small town around 55 miles south of Marrakesh. She had travelled back to the UK on September 8, the morning of the earthquake.
"The support has been overwhelming. Most of our donors are UK based, either from the British Moroccan community, or British people with a connection to Morocco," said Williams, who will join her colleagues in Morocco on 11 September.
Rockfalls and landslides resulting from the quake have also blocked roads leading to rural villages, meaning that survivors being pulled from the rubble have been unable to receive urgent medical care. The Moroccan government has since made efforts to clear access.
"As soon as that access was there, we had volunteers going up into the villages to assess the situation and the immediate needs of communities," Williams added.
The BMS has identified villages in the Atlas Mountains that are in critical need of supplies, including Imlil, Mouldikht and Tazalt.
"Right now, our team is in Marrakech purchasing materials, such as drinking water, food, blankets, shelter equipment, powdered milk for babies, and first aid materials," Williams added.
Morocco's government has accepted aid from the UK, Spain, Qatar and the United Arab Emirates. On 10 September, the UK government sent a team of 60 search and rescue specialists to assist emergency response teams in the country.
The Moroccan Children's Trust (MCT), is a UK-based charity that provides social and welfare care for children in Taroudant, a city in the Sous Valley that was badly affected by the earthquake.
A group of 25 team members from the trust and 30 local volunteers are now in Morocco, organising for food and medical supplies to be shipped from Casablanca and other northern areas. The team is also providing transport for people to and from hospitals.
Oliver Roy, trustee of the MCT said: "We are expecting a huge increase of referrals to our social work team, particularly because of the shock people have gone through and the children who have lost family members or primary caregivers.
The charity is appealing for financial donations and has, so far, raised £4,000.
"We're not asking for donations of foodstuffs and other equipment, as it is costly and takes time to transport. At the moment, the best way to help is to donate funds that can be mobilised within hours on the ground," Roy said.
Meanwhile, in Kensington and Chelsea, Al-Hasaniya Moroccan Women's Centre is raising money for the long-term support of people affected by the disaster.
The charity, which aims to improve the health, education and welfare of Arabic-speaking women in the city, is raising £10,000.
Souad Talsi MBE, founder of the centre, said: "We know that schools have been destroyed, and that a lot of women will be widowed. There is also a high rate of diabetes in Morocco and people in rural areas will need medical support.
"We are also coming up to autumn and winter, which means there is an urgent need for temporary homes. The winter months are extremely harsh in the Atlas mountains and the nights are very cold."
Al-Hasaniya will use donations to partner with local charities in Morocco that support women and children. One such organisation is Atlas Kinder, which provides foster homes for abandoned and orphaned children.
Other charities that have launched emergency appeals include
Topics
Selected stories
A new genre of writing is slowly establishing itself and painting a broader picture of what love can look like

The fashion influencer on faith, modesty and claiming a space for Black Muslim women

This week our panel assess what the Liberal Democrats offer Muslims and discuss the ongoing debate about definitions of Islamophobia. Plus, travel blogger Yara Abdelsamie on travelling solo and the best European destinations for Muslim women