The Muslim Sisters of Eire take their mission to the streets
A Dublin-based women's group is changing Ireland's perception of Islam by helping some of Ireland's most vulnerable people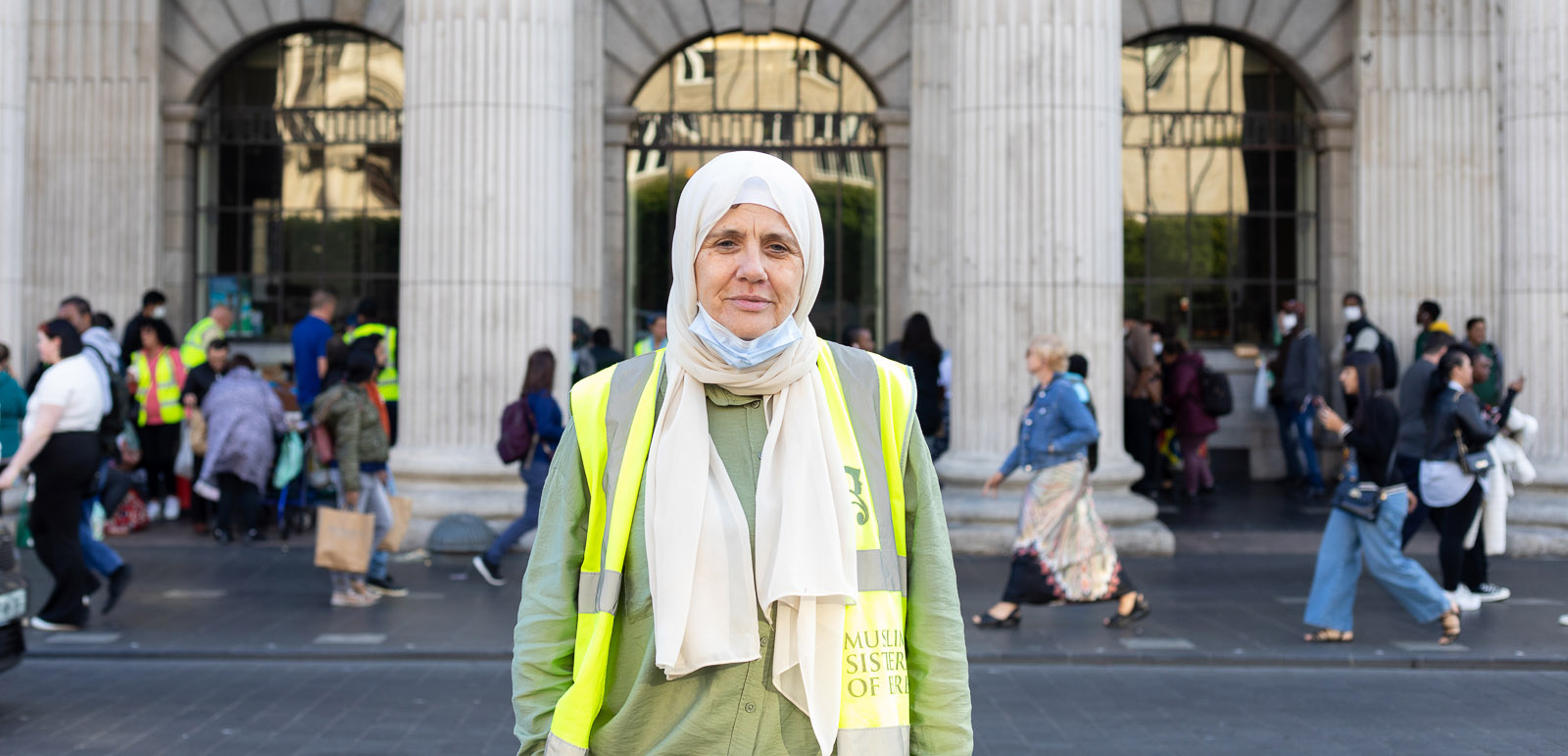 Every Friday evening, a group of women in hijabs arrive outside the General Post Office on O'Connell Street in Dublin. They unfold trestle tables and unpack food from a van parked on a nearby side street. As they go about their work, a queue forms.
The women are members of the Muslims Sisters of Eire, who congregate there once a week to provide food to people who are unhoused, live with substance abuse issues or are otherwise in need. With more than 12,000 people in Ireland now without permanent accommodation, there is significant demand.
The General Post Office is more than its name suggests. Its portico and six Ionic columns form part of a historical landmark. On Easter Monday 1916, a small group walked down Sackville Street, as O'Connell Street was then known, and entered the building. They were taking part in what became known as the Easter Rising — an armed rebellion against British rule that began with the seizing of the GPO. The building served as the headquarters for the Rising and it was outside it that Pádraig Pearse, a leader of the revolt, read the Proclamation of the Republic.
Included in the document was a promise: "The Republic guarantees religious and civil liberty, equal rights and equal opportunities to all its citizens, and declares its resolve to pursue the happiness and prosperity of the whole nation and of all its parts, cherishing all the children of the nation equally, and oblivious of the differences carefully fostered by an alien government, which have divided a minority from the majority in the past."
But Ireland developed along very different lines. The seven signatories of the proclamation were among 15 executed by the British government after it suppressed the Easter Rising, while another, Roger Casement, was later hanged in England.
Irish public opinion, which had been hostile to the Rising, changed as the executions took place following trials by courts martial conducted in secret and without defence. James Connolly, one of the signatories of the proclamation, was so badly injured in the fighting that he was strapped to a chair before facing a firing squad. Several hundred others were sent to an internment camp in North Wales, and Ireland became a country shaped not by the principles of the proclamation but by the Catholic Church.
In 1916, Lorraine O'Connor's grandfather was one of a couple of hundred men in that North Wales internment camp. Seventy years later, his granddaughter, from the working-class suburb of Coolock on the northside of Dublin, married a Muslim man from Libya. In 2005, after 19 years together, she decided to convert to Islam.
"I had to become a Muslim for me and not for anybody else," she explained.
When she did, she found that the world — and the country around her — viewed her in a starkly different way.
O'Connor went to college, took a course in women's studies and continued to look at Ireland in a new light. "I realised what it was like to have the shoes of an immigrant. Never in my life did I feel so isolated — and I felt fear."
Data from the 2022 census of Ireland shows that nearly 250,000 people who live in the country have arrived in the past five years and that 183,000 of them were born elsewhere. It also shows that the nation has a Muslim population of almost 82,000 people, 54% of whom are Irish citizens.
In 2010, O'Connor decided to act on her experience, founding the Muslim Sisters of Eire with the help of a Muslim named Jasmina Kid. Her aim at that stage was simply to have an independent Muslim women's organisation. Today, it is a registered charity with three permanent staff, all of whom are non-Muslims, as well as a mixture of Muslim and non-Muslim volunteers.
The Muslim Sisters are known most widely for their Friday-night food distribution at GPO, but that is only one aspect of their work. The organisation is a partner of Gaisce — the President's Award programme, Ireland's version of the Duke of Edinburgh awards, offering volunteering experience to young people taking part in the scheme. The group also runs helplines for Muslim and migrant women, provides court and family support, youth clubs and visits schools across Ireland to talk about Islam. O'Connor admits it's a lot of work.
"My husband said to me the other day, 'You're not married to me anymore. This is 24 hours a day for you'," she added.
The idea for the Muslim Sisters began to take shape when O'Connor was driving home one night in 2016 and saw people queuing for food donations outside the GPO. She stopped the car and discovered that groups of volunteers from various organisations were running food banks. There was an opportunity to join them on Fridays and she took it. Every week since, O'Connor and a growing number of volunteers have set up shop on the steps of the GPO.
"I started with one table, one flask, a couple of packets of biscuits and a pot of stew and went down there into a hostile situation," she said. "You're Muslim, very visible, veiled women going down and feeding the homeless outside the GPO with no men? That in itself was a huge risk."
O'Connor believes that most people in Ireland have little understanding of Islam and there is a widespread assumption that Muslim women are kept behind closed doors — a misconception she has long been keen to disprove.
"It was an independent stand that we were taking as an organisation and because I was a girl from the northside of Dublin, I was able to gain people's trust," she said of the reception that the group's volunteers received.
"We are non-affiliated, a registered charity and we are independent. I really wanted that because when you're affiliated to a mosque you're being controlled. If one of the women came to me and said, for example, 'Let's do a sponsored skydive', we'd have to apply through the mosque for a man to tell us yes or no."
Many people from all sorts of backgrounds have come to rely on the Muslim Sisters. That becomes particularly clear at around 5pm every Friday, when a queue starts to form outside the GPO and quickly extends into the neighbouring Henry Street. Most nights, this routine is calm and orderly, but volunteers recently had to stop serving as the scene had become chaotic, with some people accusing others of queue jumping.
"People were agitated," O'Connor said. "They were tired and fed up."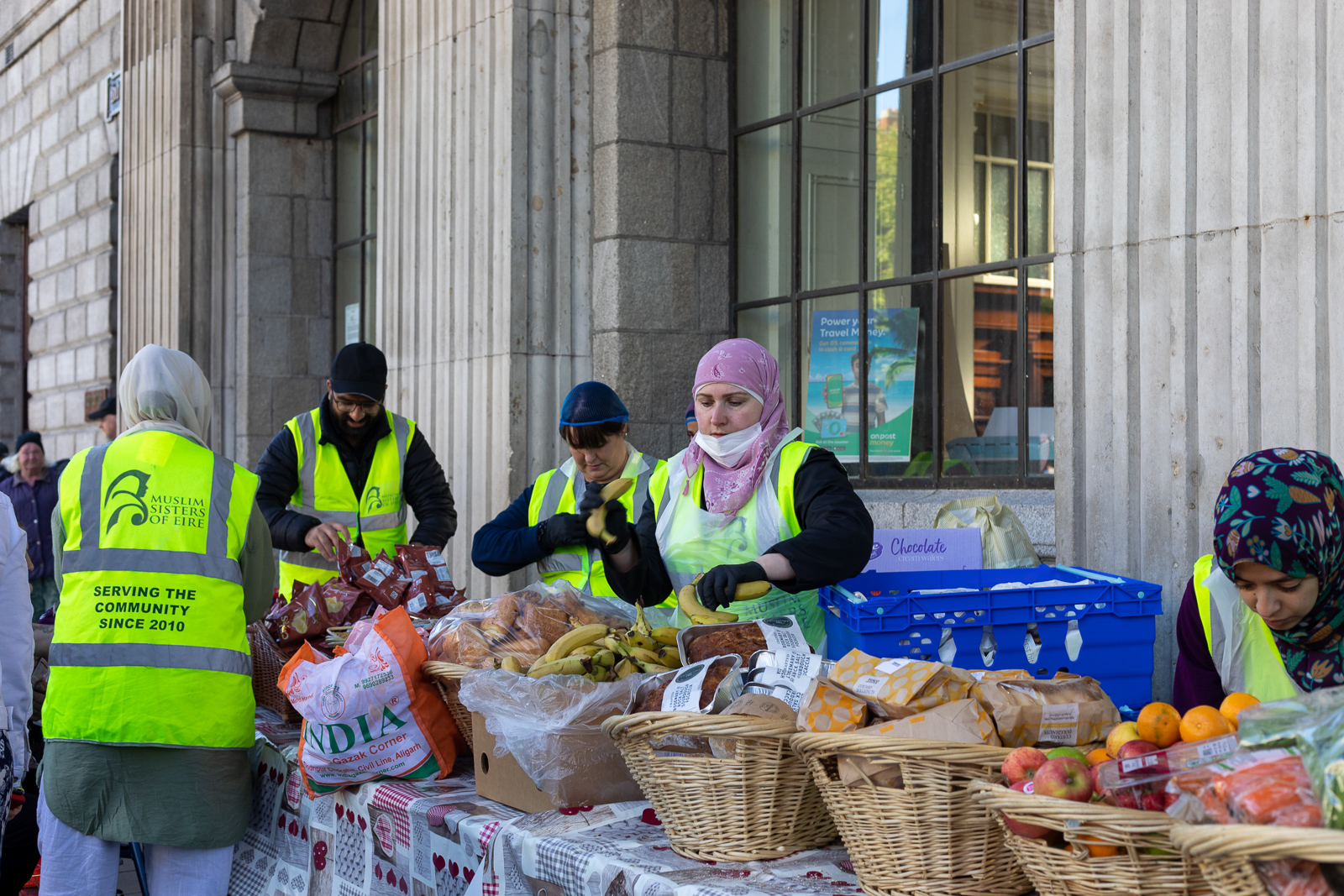 On the last Friday in May, as the team set up their table and unpacked the food they planned to hand out, passersby stopped to watch. One couple on holiday from England expressed surprise that a food bank was allowed in such a prominent spot, while some Australian backpackers rushed up to donate a sandwich. Occasionally, people too frail to queue were ushered to the front of the line.
Then, as one man on crutches, who turned out to be Greek, attempted to put a bottle of Coke into his bag, another barged ahead of him and snatched a bag of crisps. "Feed the Irish first," he said, then walked away. It was a rare incidence of what O'Connor describes as the "venom" of racism in Ireland.
In May, Garda Commissioner Drew Harris, said the far right was not growing in Ireland as it has in many other countries. He was defending the policing of a protest that had blockaded a hotel in County Clare housing asylum seekers with tractors and hay bales.
Many of the individuals involved said they were simply concerned locals, although it was reported that known far-right activists were also present. Other recent incidents challenge Harris' position. In May tents belonging to asylum seekers who had been sleeping rough in Dublin's Sandwith Street were set alight, prompting an investigation by the gardai.
A May opinion poll in the Business Post newspaper found that 75% of people feel that Ireland is taking in too many refugees and a similar percentage said they could appreciate "some of the anger" felt about asylum seekers. Even so, O'Connor believes that public attitudes on the whole are changing for the better. So far, her organisation hasn't been seriously affected.
"When the far right are doing their protests, they do mention the Muslim Sisters of Eire, saying who do they think they are saying 'Eire'," she said.
"It's all about this patriotic bullshit, My own grandfather was in Wales in prison with Michael Collins when they shipped them all over there and came back and did six years in Kilmainham Gaol. My great grandfather was hung in Limerick prison. So, if you want to go patriotic, I can go down that road with you."
Most of the attention paid to the Muslim Sisters has been overwhelmingly positive. O'Connor will be the focus of a television documentary on the national broadcaster, RTE in the summer. "I asked the producer, 'Why me?' and he said, 'Just the achievement — being a Muslim from the northside of Dublin and not bowing down to what society expected. Saying 'No this is who we are, accept it'."
For O'Connor, this spirit of independence forms the heart of her mission. "These Muslim women are out there, proactive in every way possible, saying, 'No this is who we are' — and they're being led by a girl from Coolock," she said.
Topics
Selected stories
A new genre of writing is slowly establishing itself and painting a broader picture of what love can look like

The fashion influencer on faith, modesty and claiming a space for Black Muslim women

This week our panel assess what the Liberal Democrats offer Muslims and discuss the ongoing debate about definitions of Islamophobia. Plus, travel blogger Yara Abdelsamie on travelling solo and the best European destinations for Muslim women