Greece election pushes back migrant hopes
The rightwing government of PM Kyriakos Misotakis has been rewarded with another term and a huge majority by Greek voters despite allegations of illegal returns on its borders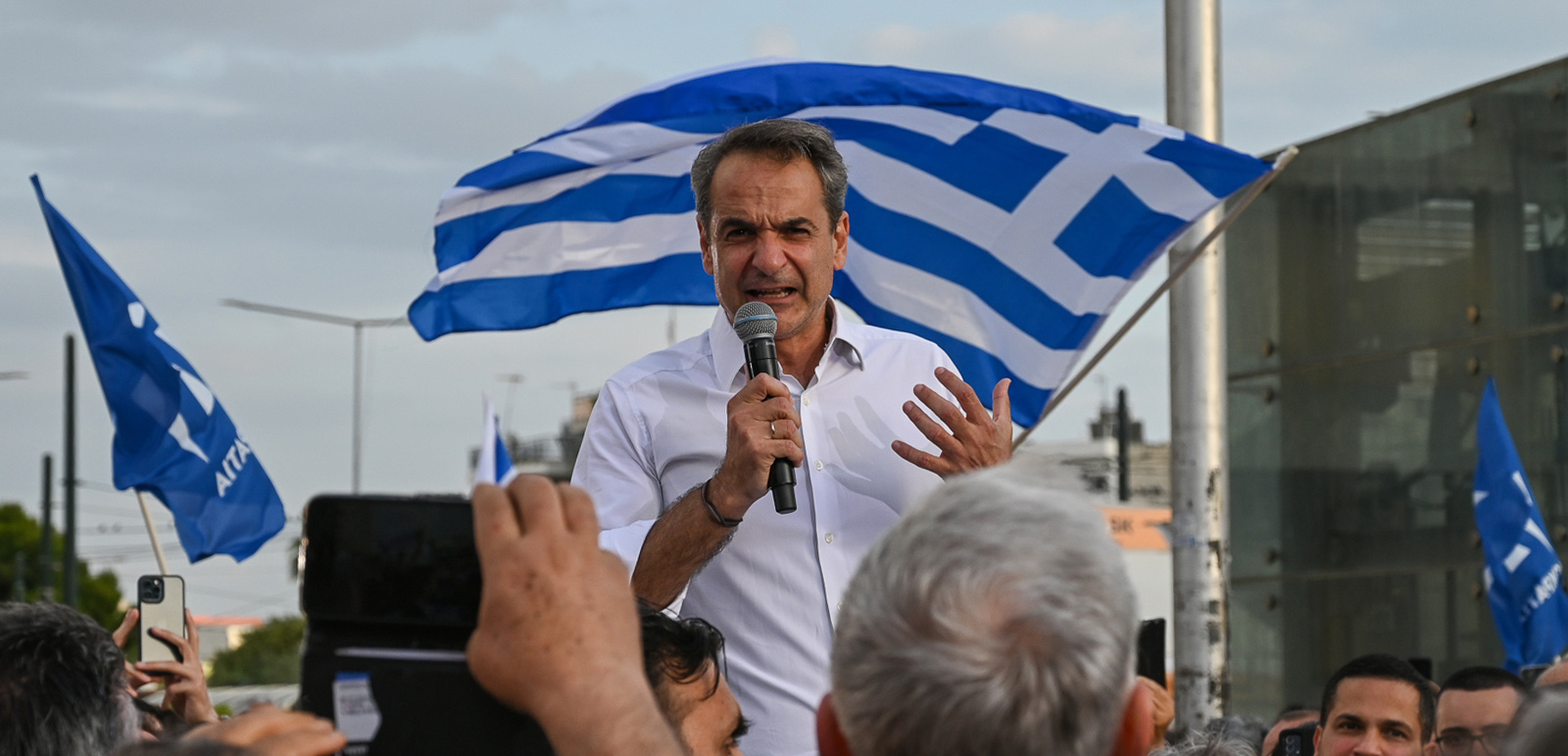 On 21 May, Greek voters went to the polls in a legislative election, in which the nation's 300 parliamentary seats were contested. The ballot returned to power the New Democracy party with such an enlarged majority that the only province not to be coloured in its traditional light blue were the mountains of the Muslim-majority region of north-eastern Rhodope.
This victory was delivered to prime minister Kyriakos Mitsotakis, despite four years of successive financial scandals, revelations of a massive intelligence eavesdropping network believed to have been orchestrated by his government, and the death of 57 people in a train crash blamed on negligence. The persistent allegations of refugees being pushed back at Greek borders — and the government's recruitment of security workers to facilitate these illegal expulsions — wasn't a talking point.
"Greek society did not bat an eyelid over the pushbacks, which are a non-issue for the overwhelming majority of the public," said Sotiris Roussos, professor of international relations and religion at the University of the Peloponnese. "If anything, they're credited as positive."
Fayad Mulla, a 42-year-old Austrian political activist, arrived on the Greek island of Lesbos shortly after the Moria refugee camp — Europe's largest facility of its kind — burned down in 2020. Through his work with an NGO, he discovered Greek security forces were detaining new arrivals, then rather affording them the right to apply for asylum, returning them by force to Turkish territorial waters. Two days before Greece's 21 May elections, the New York Times published a video Mulla filmed that captured just such an incident.
"Normally when you see a crime you call for the police, but there is no sense in doing that if they are the ones committing the crime," Mulla said, by telephone from Vienna. "It became clear that the only way of uncovering these crimes was by filming and showing them to a broader public on a European and international level."
That was a risky undertaking. Greek authorities have already prosecuted 24 NGO staff working on the island on charges relating to espionage, money laundering and assisting smuggling networks in a trial described by the European Parliament as "the largest case of criminalisation of solidarity in Europe" Those charges were thrown out by judges, but that decision is now being appealed and the defendants still face more serious charges such as fraud and participation in a criminal group, which could carry sentences of up to 25 years.
Mulla gave the footage, filmed with a telephoto lens, to the New York Times, whose journalists identified the expelled Somali family captured in the footage and interviewed them in Turkey. After years of government denials in the face of allegations, it was the first time that video proof had been released publicly. But, rather than spark a political crisis for the Greek government, the nation's media ignored the story and the election delivered a marked swing to the right. Two new political parties, Niki (Victory) and iPlefsi Eleftherias (Course of Freedom), also emerged, buoyed by strong support in the conservative Greek North.
"Things will likely harden on the migration agenda," said Roussos. "There will be little progress on immigrant rights or offering citizenship to the second generation already here."
There is anxiety too among indigenous Muslims in Greece over the deteriorating relations between Athens and Ankara in recent years over a migration-related confrontation and oil-drilling in disputed areas of the Aegean.
Rhodope is one of three Greek counties of Thrace, the Aegean-facing plain that connects Europe to Asia. Ottoman-era Muslim populations were allowed to remain there during the population exchange agreed in 1923 between successor nation states Greece and Turkey. Until 1995, access to rural Rhodope was regulated by a military pass system. Today, some 140,000 Turkish-speaking Muslims live in its minaret-studded towns and villages. 
"We're one of the least-developed areas in Europe with weak education, youth emigrating to the Netherlands to work in the greenhouses there, villages emptying out and families being split up," first-time candidate Ali Bülbül, 29, said of his decision to run for former Greek economy minister Yanis Varoufakis' left-wing Mera 25 party in Rhodope.
"Even though there are no longer issues of state pressure, such as not receiving driving licences or construction permits, our cultural minority is still under-represented in public-sector jobs and especially the police and army."
The community's history of marginalisation, Bülbül said, has resulted in "needing to try twice as hard and be twice as good as the others in order to achieve things in business and elsewhere".
"I'd like to be the minority's voice in parliament on human rights and economic issues because, even though we have Turkey and Bulgaria in our immediate vicinity, there is little trade or tourism infrastructure," he said.
But while Bülbül topped the Mera 25 candidate list in votes, his party failed to cross the 3% threshold and enter parliament on 21 May. The elections marked a crushing blow for the Greek left, punished by a majority that perceived the left-wing opposition party Syriza as ruling incompetently during its 2015-2019 term.
Rhodope was the only province where Syriza came first. Many Greek analysts believe this collapse of the left in Greek politics will clear the way for an aggressive pursuit of privatisation policies and crony deals, particularly in governance and finance.
"The Mitsotakis government has been the product of extreme neoliberalism on economic issues and the alt-right in state structures," said Eleni Perdikouri, an associate professor at Athens University's department of philosophy. "We've already witnessed in the US how the nature of a state changes through interventions in the judiciary."
New Democracy stands accused of having unduly influenced the judiciary during its term, with critics pointing to examples during the eavesdropping scandal or the enabling of Greek entities to represent foreign funds in pursuing the auctioning-off of properties put up as collateral for non-performing loans, where judges or prosecutors served up decisions convenient to the ruling party.
In its previous term in power, New Democracy changed the country's migration policy to offer residency to a range of high-income groups, including so-called "golden visa" investors, digital nomads and tax exiles.
It also overrode legislation protecting the Greek coastline from construction by labelling several hotel projects as "strategic investments". A booming tourism sector will likely result in the Greek government importing migrant workers on flexible, low-income and time-limited contracts.
"Instead of legalising already-present Egyptians and Pakistanis, who know the language and culture, they bring people from outside on contracts that don't offer the right to apply for residency," said Adla Shashati, the director of the Greek Forum of Migrants. "Immigrants are dealt with as something temporary."
Shortly after the New York Times published Mulla's video, Mitsotakis appeared on CNN to respond to allegations that the film was proof his border forces were illegally pushing back asylum seekers in the Mediterranean. Mitsotakis replied that any pushbacks were not centrally directed and that his government followed a "tough but fair" border policy that has "killed the business model of the smugglers".
Mulla is watching developments closely. The European Commission has called on the Greek government- to investigate the Lesbos pushback incident, which Mulla dismisses as equivalent to "asking the thief to investigate the theft".
A correction was made to this article on 6 June, owing to an editorial error concerning the 1923 population exchange between Greece and Turkey.
Topics
Selected stories
A new genre of writing is slowly establishing itself and painting a broader picture of what love can look like

The fashion influencer on faith, modesty and claiming a space for Black Muslim women

This week our panel assess what the Liberal Democrats offer Muslims and discuss the ongoing debate about definitions of Islamophobia. Plus, travel blogger Yara Abdelsamie on travelling solo and the best European destinations for Muslim women