The far right is saying: 'We are here and we will do what we want'
The president of the Pakistani community in Greece warns that immigrants need public support to fight rising tide of violence against them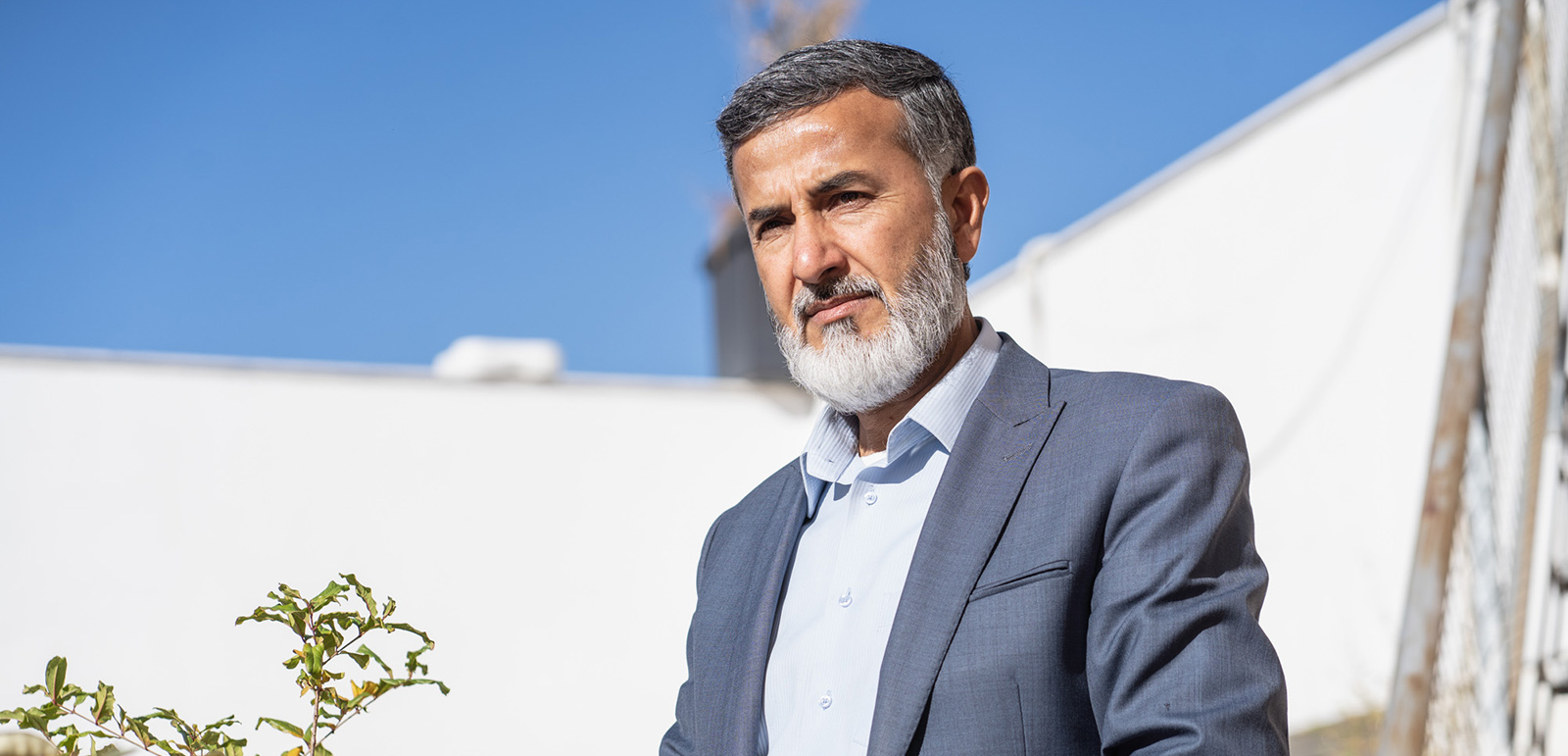 In the six weeks that followed the national elections in Greece in June, Javed Aslam, president of the Pakistani Community of Greece, recorded more than a dozen attacks against Pakistani workers. By his count, this is an alarming increase. "We are worried," he admitted. "We can feel the change. Once again, the far right is saying, 'We are here, and we will do what we want'."
During his two decades as president of the Pakistani migrant community, Athens-based Aslam has developed a routine for responding to hate crimes. Each time he receives a phone call about a new attack on a member of the Pakistani community, he heads directly to the crime scene or the police station to document the details of the violence: where the assault occurred, what the attackers said, whether weapons were used. He then puts out a press release; public awareness is crucial. If police are discouraging victims from filing a complaint, or threaten to detain them for not having the correct residency documents, Aslam reports the crime on their behalf.
The 56-year-old, dressed, as always, in a shirt and jacket, his salt-and-pepper beard neatly groomed, explains that campaigning against far-right violence is a crucial part of his job, but not all of it. The Pakistani Community of Greece holds cultural celebrations for the diaspora, mediates between migrant workers and bosses in pay disputes, and provides legal support to migrants applying for residency documents or appealing deportation orders. When a migrant boat sank off the coast of Greece in June, leaving hundreds dead or missing, Aslam acted as a liaison between Pakistanis who couldn't find their loved ones and the Greek authorities.
In recent months, however, hate crimes have increasingly occupied Aslam's attention. In June, Greece voted the right-wing New Democracy party, which has championed its crackdown on migration, back to power with an overwhelming majority. It also delivered three anti-migrant, far-right parties to parliament: the hardline Orthodox Christian Niki party, the ultra-nationalist Greek Solution and Spartans, backed by former Golden Dawn parliamentarian Ilias Kasidiaris. There followed a sharp increase in calls from Pakistanis who had been beaten, stabbed or otherwise physically attacked.
On a hot afternoon in early August, Aslam sits behind a desk stacked with towers of notebooks filled with the details of hate crimes he has documented over the years. Waleed Rasool, a 25-year-old welder, has arrived to discuss his residency documents with Aslam. Rasool came to Greece at 17 from Sialkot in Punjab, hoping to work and help support his family back home. During his first six years in the country, he heard stories about attacks on Pakistanis but was never assaulted himself. "I considered myself lucky," he said.
Then, one day in June 2022, a car pulled up and followed him closely as he rode his bicycle home from work. The two men inside yelled "Dirty Pakistani! Leave our country, asshole," he recalled, before the driver rammed the car into him. Rasool fell off his bicycle and broke his wrist.
More than a year later, in Aslam's office, he lifts his right arm to show a bulge on his wrist joint, explaining that the injury still hasn't healed properly. Rasool initially tried to file a police report but the officers told him he would have to sit in a holding cell while they investigated the incident. Instead he called Aslam, who filed the report on his behalf. There have been no arrests in his case; very few of the cases Aslam assists with result in arrests, let alone prosecutions.
The attack left Rasool unable to work for three months. He can now work again but his arm still hurts at times. Worse still, he no longer feels safe in public. "Now, whenever I go outside, I fear that maybe somebody will do this again," he added. "I'm always careful."
When Aslam came to Greece in 1996 from his home in Lalamusa, Punjab, he worked in plastics factories for low pay for several years while attending night classes to learn Greek and English. From this period he experienced racism, exploitation and the often dizzying bureaucratic struggle to obtain legal residency documents. By the time he was elected president of the Pakistani Community in 2001, he believed he understood the struggles Pakistani migrants face, but worse was to come.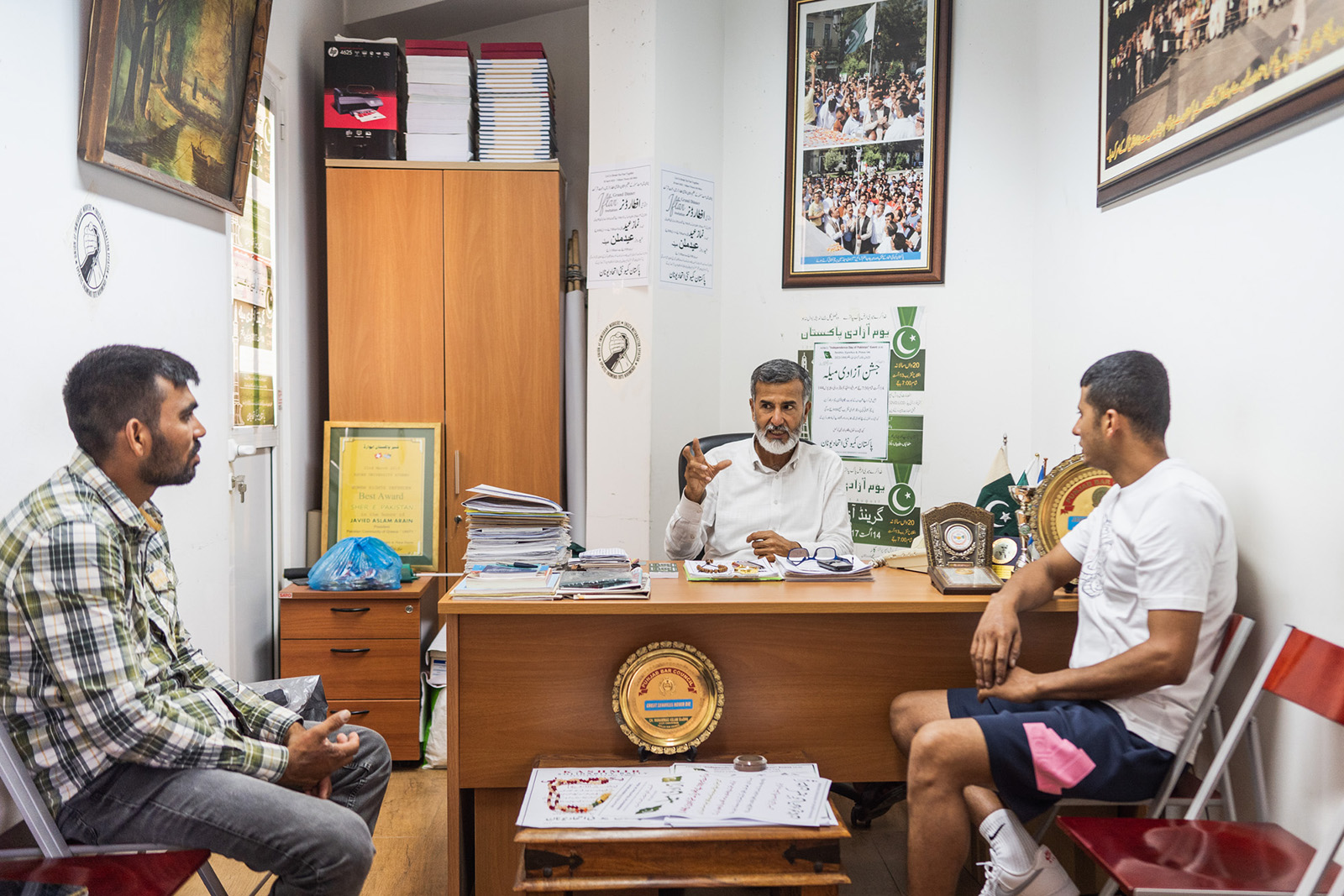 In 2012, the neo-Nazi Golden Dawn party rode a wave of anger over the country's economic crisis and entered parliament with 18 seats. Founded in the 1980s, the party trafficked in Islamophobia, spread anti-Semitic conspiracy theories and vowed to expel both undocumented and legal migrants from Greece. Emboldened by the party's electoral success, far-right mobs hunted down and attacked refugees and migrants in cities and towns across the country. Victims were beaten with wooden poles, knifed or hit with broken bottles.
"Every day, we had incidents," Aslam recalled. "Sometimes we had dozens of people with broken arms or broken legs in one day." During this period, he would arrive at his office sometimes to find racist threats posted to his door warning him to leave the country. On the bus and the metro, he was threatened with assault.
In 2013, the Racist Violence Recording Network (RVRN) documented 166 hate crimes with more than 320 victims, 86% of whom were refugees or migrants. In January of that year, two Golden Dawn supporters stabbed and killed a Pakistani migrant named Shahzad Luqman. However, it was only nine months later, when a Golden Dawn member fatally stabbed anti-fascist Greek rapper Pavlos Fyssas, that the Greek authorities cracked down on the neo-Nazi party. Dozens of high-ranking members were arrested and put on trial for operating a criminal organisation. But even amid this legal battle, Golden Dawn was re-elected to parliament in January 2015 as the third largest party in the country.
In October 2020, after a five-year trial, Golden Dawn was designated a criminal organisation and 68 party members were convicted of crimes including racist assaults and weapon-related offences. "This was historic justice, thank God," Aslam said. Hate crimes slumped throughout the trial and afterwards, but the assaults didn't stop altogether. Between 2016 and 2022, RVRN reported an average of around 95 a year.
A new wave of attacks on refugees and migrants in the summer has concerned rights groups and watchdogs. No group or party has claimed credit for the violence but, as Aslam sees it, the people who carry out assaults have the "same ideas" as the neo-Nazis who fuelled the violence a decade ago. Golden Dawn's downfall was possible only thanks to widespread support for migrant groups among anti-racist Greeks, Aslam explained, and he worries that solidarity has decreased in recent years. "The opposition is weak right now, and fascist parties are inside [the parliament]," he said.
Aslam is not the only one sounding the alarm on racist violence. In late August, RVRN warned of a "deteriorating climate against refugees and migrants in the political and public discourse", a trend that could "sometimes result in attacks on the street".
The warning has been borne out. Last month, a self-styled militia group detained 13 Syrians and Pakistanis in a truck trailer near the Turkish border as wildfires ripped across the region. In a video of the incident, an assailant blamed the detainees for starting fires and urged civilians to round up more migrants. Authorities arrested the apparent vigilantes but also charged the migrants with illegal entry and arson-related crimes.
The Hellenic police released a statement declaring that "vigilante justice remains unequivocally unacceptable", but several parliamentarians took a different view. Kyriakos Velopoulos, leader of the Greek Solution party, praised the men accused of hunting migrants. Paris Papadakis, another Greek Solution parliamentarian, accused migrants of "obstructing" fire-fighting planes and urged more civilians to "take measures" against migrants. "We are at war," he wrote on Facebook.
While prime minister Kyriakos Mitsotakis condemned the vigilante violence, he too implied that refugees and migrants might be to blame for the blazes, telling parliament, without providing any evidence: "It is also almost certain that this fire started on routes that are often used by illegal migrants who have entered our country."
Thanasis Kampagiannis, a lawyer who represented Egyptian fishermen brutally beaten by Golden Dawn members in 2012, blames "direct incitement" by politicians for placing refugees and migrants at ever greater risk. "These statements legitimise violence," he said.
Aslam himself has not escaped the recent escalation. In June, an anonymous Twitter account expressing support for far-right parties called for the "blessed hand of a sniper" to "put an end" to Aslam and other anti-racist activists. Threats like these are frightening, he admitted, but only serve to strengthen his resolve. "They are trying to make us afraid. That's why I say we have to speak out." In his 27 years in Greece, Aslam has learnt, however, that as outspoken as the migrant community might be, they cannot fight rising tides of racist violence without the support of Greeks. "This is our biggest hope: solidarity and anti-racism," he said.
Topics
Selected stories
Religious leaders from Spain, Germany and Sweden speak about events in the Middle East and the consequences for their communities

Is the Gaza truce a turning point in the Israel-Hamas war? Our panel discuss this and other topical issues. Plus, a look at the Muslim renters dealing with London's housing crisis

The filmmaker on her life, work and why telling women's stories is more important than ever