The baby boomers donating their time and money to charitable causes
Older UK Muslims are finding fulfilment by volunteering to help some of society's most vulnerable people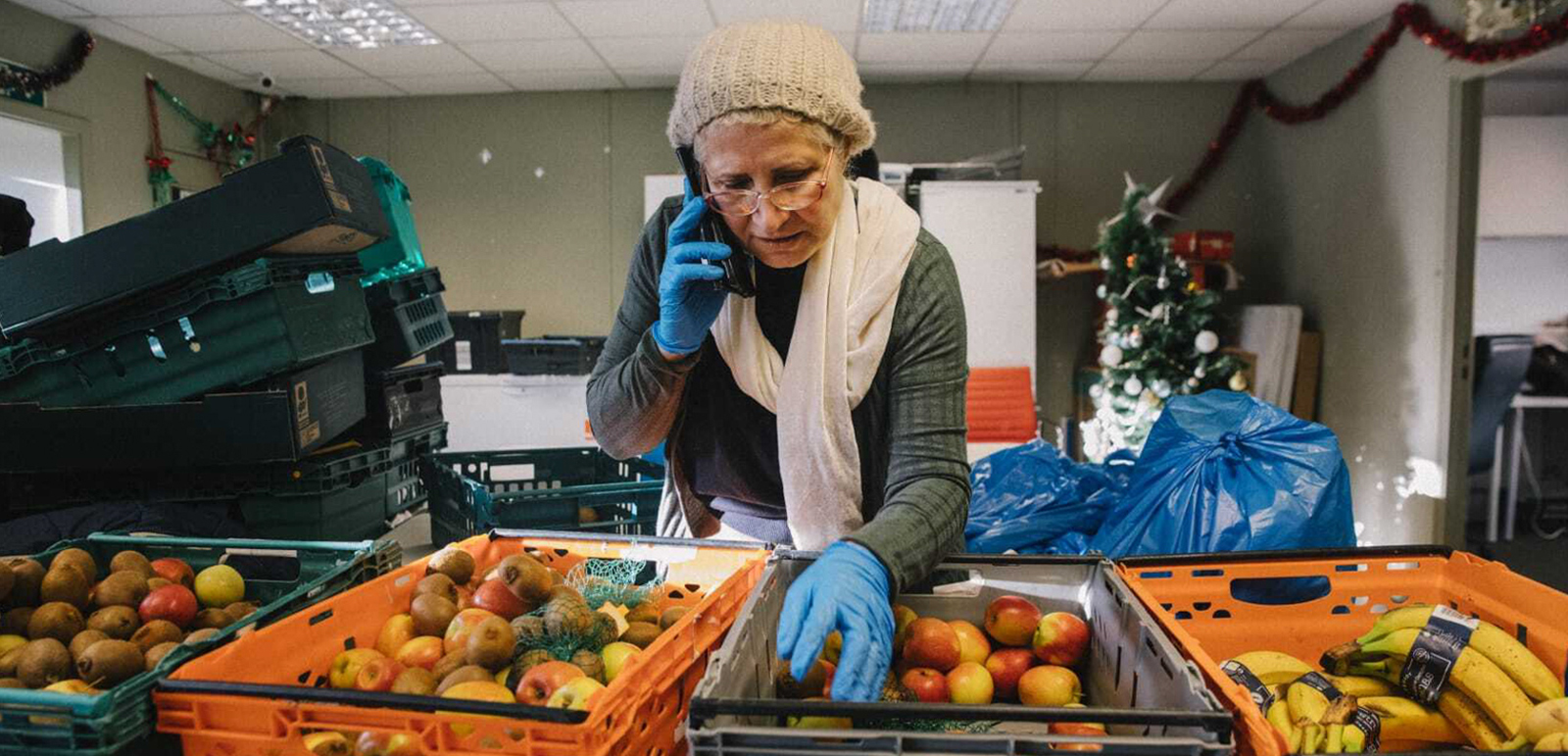 Every Tuesday, Mahnaz Behagi, 66, can be found making up food packages of pasta, sugar, rice, fresh fruit and vegetables and other essential ingredients at Sufra, a food bank and kitchen in north London.
Behagi has been volunteering at the food bank in Brent — it distributes almost 300 food parcels a week — two days a week since 2015. Aside from working three-hour shifts at Sufra, she also does weekly grocery runs for two elderly neighbours, aged 80 and 92.
A retired mother of seven, Behagi moved to the UK from Iran in the 1980s, where she grew up in a wealthy family with parents who contributed regularly to charitable causes. "We often used to throw big parties to feed people. If we knew people were in need we would find reasons to invite them over, such as a birthday, and give them money as a gift," said Behagi.
Behagi felt motivated to return to her parents' example of cultivating community through helping others as each of her children married and left home. "Volunteering is a very soothing experience. To me, the whole meaning of life is to lend a hand to your fellow human. That's what keeps me going, and as long as I have my health, I don't think I will stop."
She is one of 6 million people in England and Wales currently volunteering with a registered charity. According to the latest figures from the Charity Commission, those aged between 65 and 74 years-old are most likely to volunteer — with 52% reporting they had volunteered at least once in 2022. By comparison, 38% of 16-24-year-olds and 42% of 25-34-year-olds had volunteered.
The health benefits of volunteer work are well documented. A study published by University College London in January 2022 examined data on 11,000 people and concluded that those who volunteer experienced lower levels of mental distress and a greater quality of life. This was particularly true for anyone born in 1964 and earlier – the baby boomer generation. 
While there is no data available about the number of Muslims who have volunteered in the past year by age group, figures from the Office for National Statistics show that 12% of the UK's 3.9 million Muslims undertook some form of charitable work in the 12 months up to February 2020.
Behagi believes helping out at Sufra has brought her greater perspective. "Through your charity work, your eyes are opened and you see that you are not the only person with trials and tribulations," she said. "I would like to urge the younger generation to bring some form of charity work into their lives. It brings a lot of blessings; I'm not talking about money or finances, it brings happiness."
British Muslims donate considerable time and money to charitable causes. A February 2023 report by the London-based Muslim think tank Ayaan Institute analysed the income of 1,206 Muslim charities in the UK, finding that 73% (£517m) of the total £708m figure came from donations. The report also found that the charities collectively had more than 10,000 registered volunteers. The authors estimated that combined with donations to mosques and community charities, "Muslim giving in the UK would easily exceed £1bn a year".
Zeenat Arif, an integrative counsellor from Blackburn, says volunteering can help elderly Muslims live more fulfilling lives. "Something that is not talked about enough about the mental health of elder Muslims is who they are and what they had hoped for themselves," said Arif.
In counselling sessions, Arif said her patients often express regret at spending the majority of their adult years focusing on family duties and other responsibilities. According to her, this is particularly true of first generation immigrants to the UK. "There are so many labels, roles, expectations, ways of presenting oneself that the elders have had to cling to, to survive that their identity became lost. In volunteer work I think they begin to find their own identities away from expectations and roles."
Older, religious people are the most charitable demographic in the UK, said Mark Greer, managing director for philanthropy services at the Charities Aid Foundation. "In the UK, religious organisations continue to receive by far the largest donations with an average of £80 given, according to our most recent research. Around 9% of people who donated say that they gave to charity in the last year because their religion encourages giving."
For Ziaudeen Abdul-Cader, a 77-year old retired neuropharmacologist and school teacher from London, fulfilling his religious obligation is the primary motivation behind his volunteer work. Abdul-Cader has volunteered at a number of organisations in the last decade, including as a caseworker at the National Zakat Foundation (NZF), a charity that provides financial aid to Muslims in poverty in the UK, which he joined in 2013.
He is also a volunteer at Soul Kitchen, a free meal service that operates out of Harrow Mosque every Sunday. Abdul-Cader said the charity serves up to 40 guests, both Muslim and non-Muslim, from the local community.
"Even though I feel I have helped mankind through my contribution to science, I wish I had spent more time working for my hereafter," Abdul-Cader said.
"As a Muslim, it's part of my faith to help people. This life is our temporary abode, but the hereafter is permanent."
Topics
---
Get the Hyphen weekly
Subscribe to Hyphen's weekly round-up for insightful reportage, commentary and the latest arts and lifestyle coverage, from across the UK and Europe
---