A taste of Eid for breakfast
The scent of a sweet, milky pudding is a reminder that festivities have begun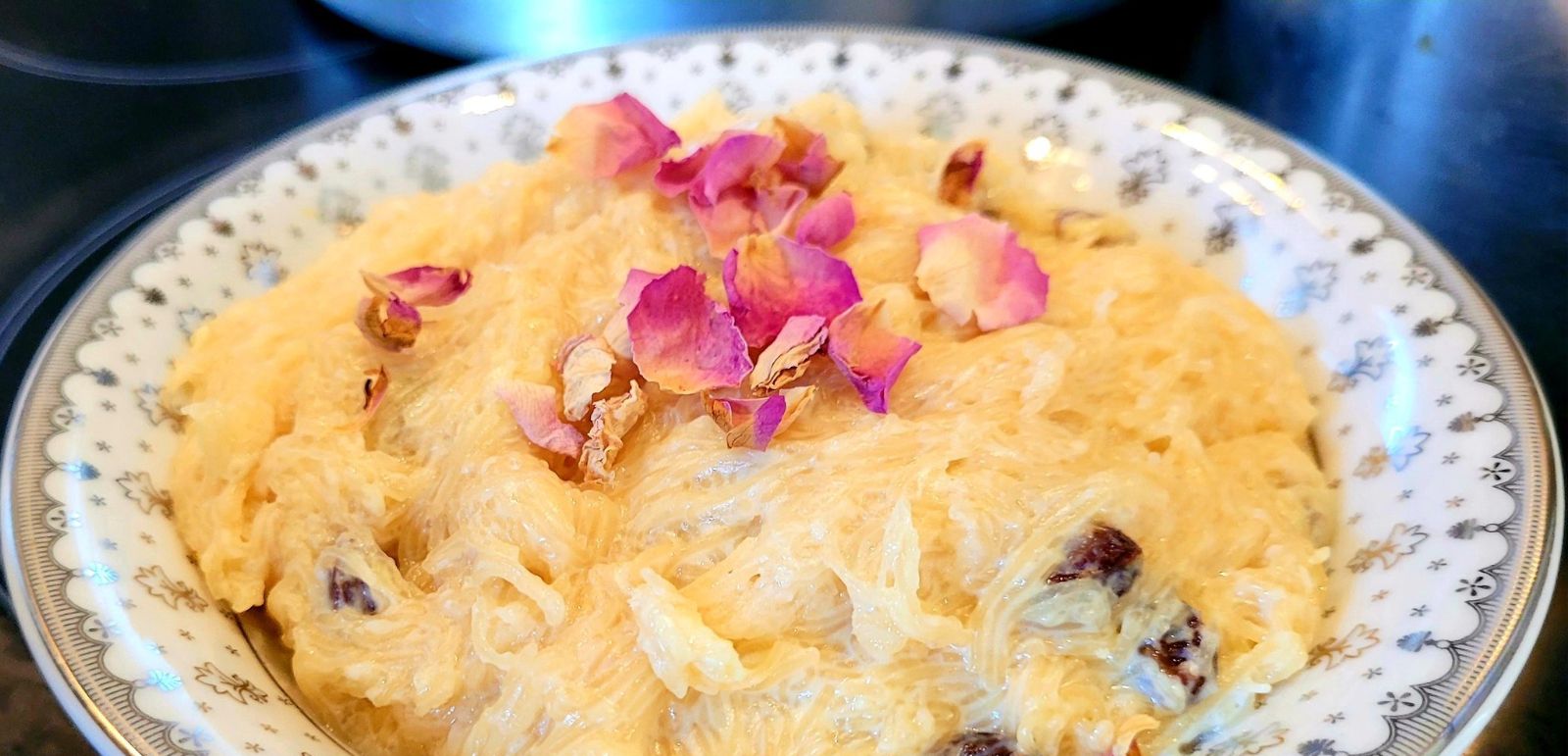 Shemai, also known as sev or seviyan, is a sweet milky pudding eaten across the Indian subcontinent. The name comes from the delicate strands of vermicelli which are toasted in ghee and then simmered with milk, sugar and fragrant spices.
I always associate this dish with special occasions; the scent of cardamom and ghee wafting through our house on Eid morning is always the first sign that festivities have begun. But it's so delicious and quick to make that it seems a shame to keep it just for celebrations. I often serve it for friends at weekend brunch along with freshly squeezed orange juice and mixed berries. It also makes an impressive dessert when served in a cocktail glass and garnished with delicate rose petals.
But my favourite way to eat this is the way my mother serves it: with buttery flaky parathas and sweet masala tea.
Some people enjoy their shemai very runny, while others prefer it thick and creamy, and others still like it dry and almost crunchy. The great thing about this recipe is that you can simply add more or less milk to achieve your desired consistency – but don't worry too much, it's delicious every way.
Serves 4
Ingredients
60g extra-fine vermicelli – make sure it is the long, straight vermicelli, not the Italian type sold in nests)
2 tablespoons ghee
500ml full-fat milk
80g caster sugar
2 tbsp golden sultanas
1 stick of cinnamon broken in half
3 cardamom pods, crushed
2 tbsp grated creamed coconut (found in blocks in most supermarkets)
To garnish:
1 tbsp toasted desiccated coconut
1 tbsp toasted flaked almonds
½ tsp rosewater (optional)
Edible rose petals (optional)
Method
1. Melt the ghee in a saucepan over medium heat and add the sultanas. When the sultanas puff up, remove them with a slotted spoon and set aside.
2. Add the vermicelli to the pan, breaking the strands into 2in pieces. Coat in the ghee and stir for 1-2 minutes to toast the vermicelli until it turns a light golden brown colour.
3. Reduce the heat to low, and slowly pour in all the milk, bit by bit, stirring well. Add the sugar, sultanas, cardamom and cinnamon. Stir gently as the vermicelli absorbs the milk until the texture is like porridge – about 5 minutes. At this stage you can add extra milk if you prefer. Note that shemai keeps cooking even when you remove it from the heat (like scrambled egg) and will continue to thicken as it cools slightly.
4. When the shemai is at your preferred thickness, remove from the heat and stir through the grated creamed coconut.
5. Pour the shemai into a serving dish and scatter over the toasted coconut and flaked almonds. Sprinkle over the rosewater and rose petals if using.
6. Serve in individual bowls or glasses with a dollop of Greek yoghurt – flaky parathas and tea on the side are optional but highly recommended.
Topics
Selected stories
Is the Gaza truce a turning point in the Israel-Hamas war? Our panel discuss this and other topical issues. Plus, a look at the Muslim renters dealing with London's housing crisis

The filmmaker on her life, work and why telling women's stories is more important than ever

From Ramadan dates to Christmas pudding, food can encapsulate specific times of year and remind us of the circular rhythms of life