How employers are helping staff better understand Ramadan
From fasting challenges to support and guidance, big companies across the UK are taking steps to be inclusive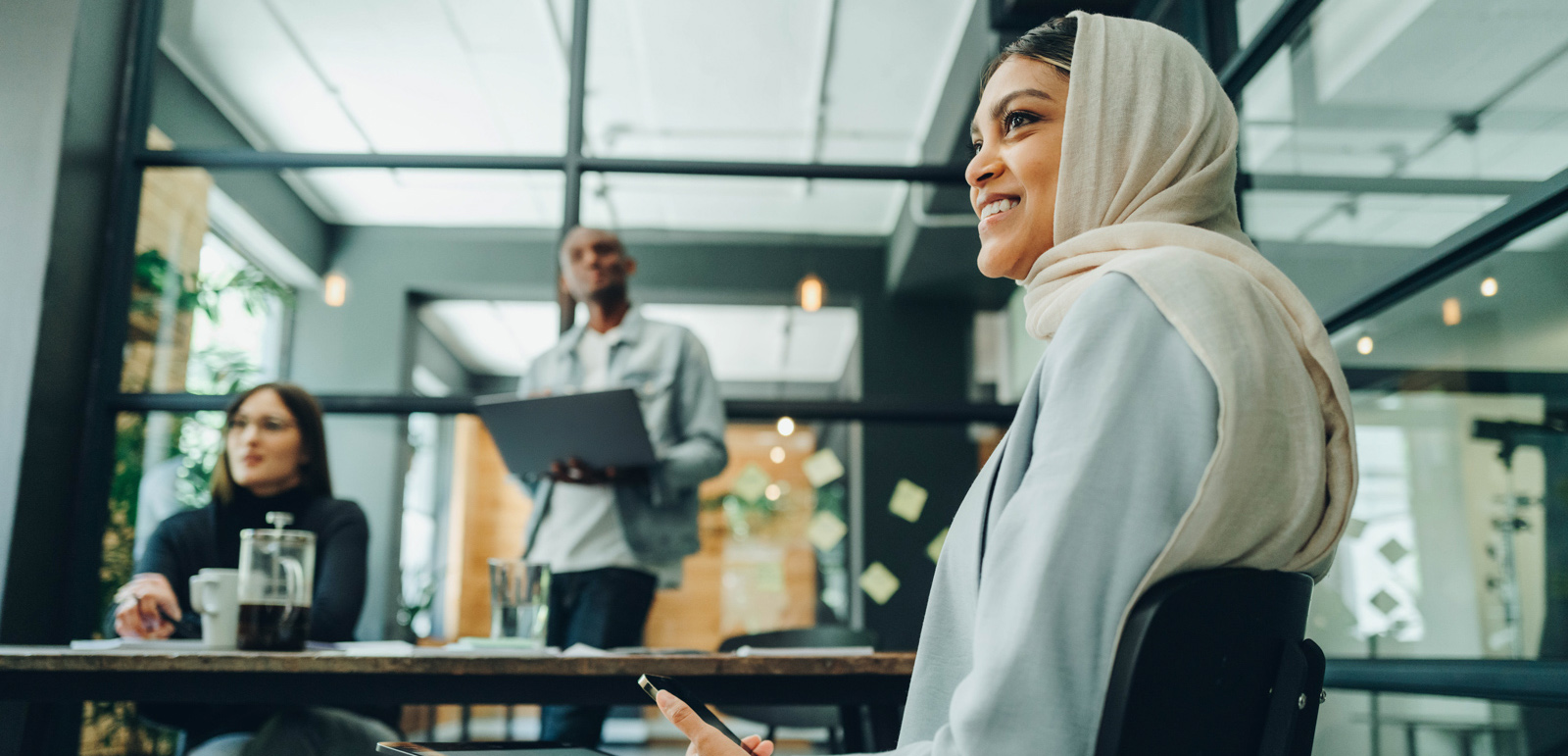 For a long time, observing Ramadan in UK workplaces was largely a private affair. Something most employers paid little attention to and colleagues often had little knowledge of. In recent years, however, businesses large and small have stepped up to provide flexible working policies and celebrations in which staff of all faiths can come together to strengthen relationships and build understanding.
"Ramadan has been a journey over the past few years and I feel like every single year it's improved in so many ways," said Zarin Tasnim, an auditor at the accounting firm PwC and co-chair of the company's Muslim Network.
Before the network and before the company started working together on Ramadan initiatives, Muslim staff observing the holy month had quietly fasted with none of the advice, support or celebration now in place.
"The guidance we offer really focuses on things such as making your team and your career coach aware that you will be observing Ramadan and discussing any flexible arrangements that colleagues may want to implement," Tasnim said.
PwC officially launched a Fasting Challenge in 2021, pairing up Muslim and non-Muslim colleagues to fast together throughout the day. It aims to give an insight into the religious significance of the holy month and create a space for learning and understanding.
Last year around 200 staff participated, including leadership, with the PwC Muslim Network providing gift packages to thank them. This year, PwC has had its chief people officer, Ian Elliott, take part and will also be following senior members of the company through the experience, using social media. "It's a beautiful thing to see, everybody coming together and uniting in this period." Tasnim said.
At the international professional services firm Deloitte, the company's 1,500-strong Muslim Network organises regular events throughout Ramadan. On 28 March, 450 people from 22 locations including offices in Birmingham, Leeds, Manchester and Glasgow took part in an iftar, with other offices observing at restaurants.
"The global network and Deloitte in general are doing a huge amount to support employees during Ramadan," said Amir Hussain, co-chair of Deloitte's Muslim Network. Every year the company publishes a Ramadan guide to help non-Muslim staff understand what they can do to support fasting colleagues.
To promote solidarity, it also runs a voluntary day of fasting for non-Muslims, lightheartedly named "The Fast and the Curious". Last year, staff who joined in set up a Microsoft Teams group to share how they were feeling, took part in a webinar with a neurologist who spoke about the health benefits of fasting and another about charity and the meaning of Ramadan.
The Muslim Network also took over Deloitte's LinkedIn channel, posting throughout the day about the holy month and what the company was doing to mark it, picking up around 5,000 likes and positive comments along the way.
At Barclays Bank, the company's 1,500-member Muslim Forum also produces a Ramadan guide and encourages conversations to support fasting employees. The group runs a programme of events during Ramadan in which colleagues share their personal stories and experiences with leadership teams and colleagues, solidarity fasts and educational sessions.
It's not just the financial sector making space for Muslim staff to observe and share their faith. The supermarket giant Tesco has updated its policies to support people observing Ramadan. Last year Tesco Executive members Jason Tarry and Jonny McQuarrie joined colleagues in breaking their fast in their first virtual Ramadan event.
"We know Ramadan is an incredibly important time of year for our Muslim colleagues and we've been working really hard to help our colleagues observing Ramadan," said Abhishek Kulkarni, co-chair of Tesco's Race and Ethnicity Network. "We've got a wealth of resources to educate our colleagues on the importance of the month and why colleagues celebrate it."
Fellow national retailer Morrisons has initiated flexible breaks and shifts, tries to ensure that meetings do not clash with prayers and iftars and is creating prayer spaces and wudu facilities, along with break areas away from canteens, where other staff may be eating during fasting hours. It is also working with store and site managers to make sure Muslim staff are supported during Ramadan.
It held a company-wide voluntary day of fasting on 29 March and an iftar for Muslim and non-Muslim staff. In a statement, the company said that "observing Ramadan and acknowledging Eid is a moment for all of us to learn more about this significant time for the Muslim community and celebrate the moments that matter to our colleagues."
Meanwhile, the multinational consumer goods company Unilever, whose brands include Dove soap and Ben & Jerry's ice cream, hosts open Ramadan sharing and learning sessions,  encourages employees to join a voluntary fasting day and hosts Eid al-Fitr celebrations. It also has an interchangeable holiday policy which allows employees to swap UK bank holidays for other cultural and religious celebrations. An exclusive poll of 2,073 people aged between 16 and 24, conducted by Hyphen in conjunction with Sevanta ComRes, found that 87% of Gen Z Muslims and 62% of non-Muslims want employers to give time off for Eid. 
For Amir Hussain of Deloitte's Muslim Network, good employers should be working to support staff, listening to their needs and celebrating their diversity. That way, he believes, shops, offices and factories across the country can be a "better place for people from all faiths".
Topics
---
Get the Hyphen weekly
Subscribe to Hyphen's weekly round-up for insightful reportage, commentary and the latest arts and lifestyle coverage, from across the UK and Europe
---