The Bulldozer who loves to ruck and roll
Zainab Alema has always loved the raw physicality of rugby and wants to inspire others to play it. The Richmond prop hopes to be the first Muslim woman to play for England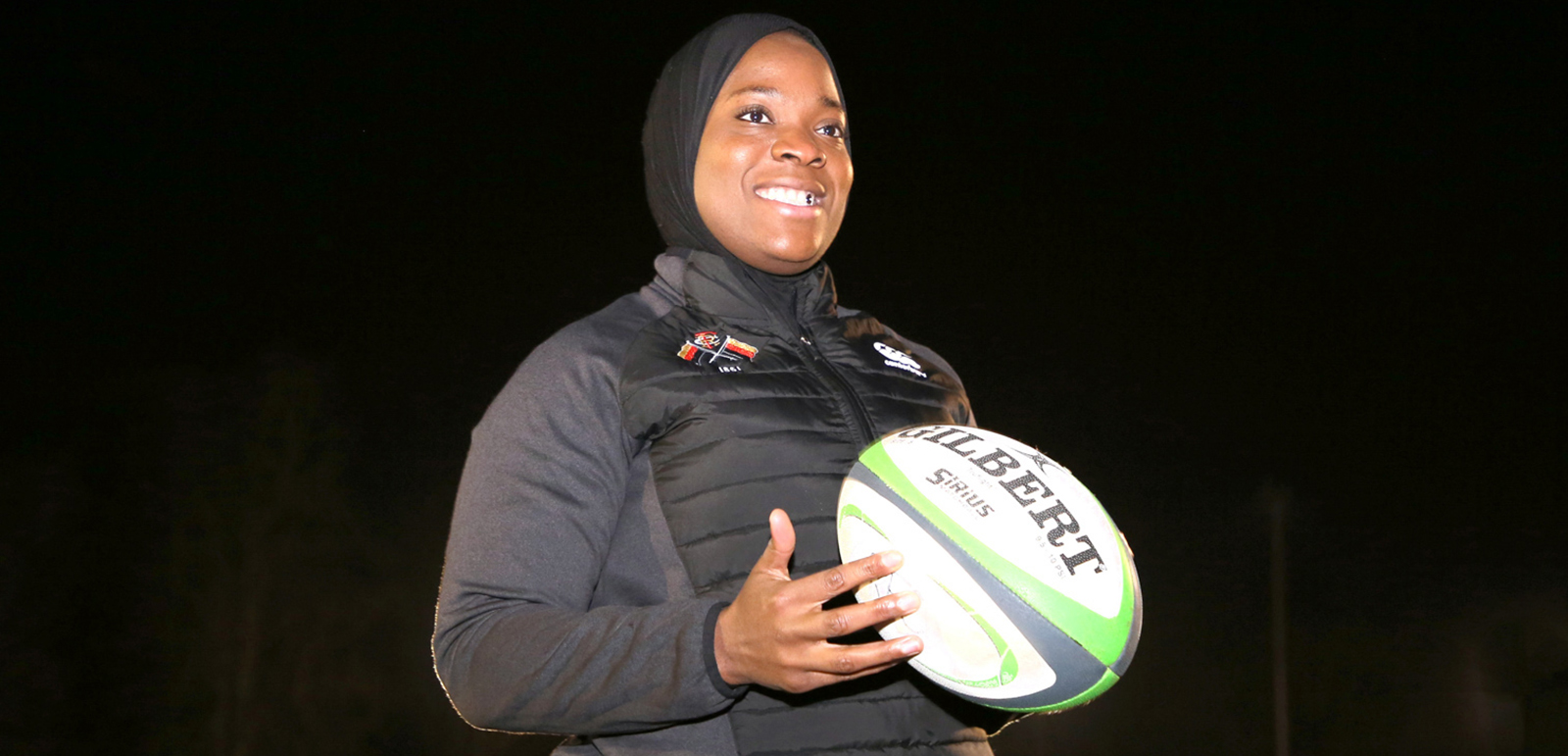 On a near-freezing evening at Richmond Athletic Ground in south-west London, a rugby coach is yelling at two dozen players. "Cossack into curtsey!" The women` respond by stretching their legs to the side, like Slavic dancers, then behind them, like ladies at court. At the shout of "Spider-Man!" the group's members throw themselves onto the cold ground, contorting into the kind of positions you might find at the World Twister Championship.
Once the warm-up is finished, drills commence and the women pair off, to grapple and shoulder-butt each other. Rugby is a punishing sport and that's what Zainab Alema, 30, has always loved about it. The raw physicality she encountered when she first played it at school as a teenager was something she'd never experienced before. It gave her a chance to let off steam and inhabit her own body. Twice-weekly training on an arctic January evening is part of the fun. 
Alema, a mother of three children, plays amateur rugby for Richmond RFC. "Our games are on Sundays, so when I do the school run on Monday I'm usually walking like a crab because everything hurts," she said. "I'm sure the other mums always wonder why. They have no idea that every weekend I'm getting smashed on the pitch." 
Alema's sporting passion is not a secret but it is, she said, by no means common, either. She has met only three other Muslim women playing rugby in her 12-year club career.
Richmond Women compete in the Women's Championship South, one league below the Premiership, the top tier of women's domestic rugby. Before moving there two years ago, Alema was playing largely for fun at Barnes RFC in south London. Her reputation as a powerhouse tackler earned her the nickname "The Bulldozer". In 2021, the British-Ghanaian neonatal nurse quit her NHS job and announced a new goal on Instagram: to become the first Muslim woman to play rugby for England. 
At the time, Alema was 28 years old, with three children under the age of six. She was playing for an amateur team in fourth-tier competition. She recalled thinking that she may have left it too late to make a bid for the national team and admits being scared to go public with her ambition.
"I was so nervous: 'What are people going to think? Are they going to just laugh at me?'" she said.
Instead, she received a level of support that she never dreamed of. Growing up, former England flanker Maggie Alphonsi was Alema's all-time sporting hero. Today, she is a friend and trusted guide.
"When I was in my early 20s and felt I didn't really belong in rugby, Maggie was the only Black woman in the England team," said Alema. "It was her who made me believe I could play and belong. The idea that she's now my mentor is incredible."
The Thameside area of south-west London — including Richmond, Barnes and Twickenham — is a rugby union heartland. Alema, who grew up just a few miles away on a council estate in Shepherd's Bush, had never heard of the game before she was a teenager. When a schoolteacher introduced it during a PE lesson, she was instantly hooked.
"None of the other girls wanted to roll on the floor or get dirty, but I was buzzing," she said.
Alema's father initially tried to put her off, she said: "He said rugby was for men, and why didn't I go play tennis. I think he said that because of Serena Williams. He was also arguing that rugby was an elitist sport, but so is tennis."
By the time she was studying nursing at the University of Hertfordshire, playing rugby was "50%" of Alema's life. She had also joined the Islamic Society and even though she found ways to abstain from rugby's notorious drinking culture, she still felt she was living a double life.
"It's not like I was embarrassed, but I didn't know anyone else who was a rugby player and a Muslim woman so it was a confusing time," she said. "I didn't know what I was supposed to do."
Alema considered giving up the sport until she looked in the official laws of world rugby and found the hijab specifically mentioned.
"I saw in black and white: you could wear a headscarf to play. I thought, 'This is a sign.' That was the message to me that I belonged."
Alema wanted others like her to feel that they belonged in the game, too. She founded a charity, Studs in the Mud, in 2019 and raised nearly £1,300 to buy equipment to send to Ghana, where she had seen pictures of children playing rugby without boots. After that, she built a social media channel on Instagram to inspire and celebrate Muslim women in rugby. Back then, that was the extent of her ambition.
Richard Frost, an executive at Nike, heard about the important work Alema was doing and told her he wanted to help in any way he could. He also issued a life-changing challenge for her.
"Zainab has an infectious energy and a purposeful approach, but she's very modest," he said. "I told her, 'Zee, there needs to be a change in your goal. One day, you need to run out wearing the hijab for the Red Roses.'"
It turned out that it was not impossible. The gap between the grassroots and elite game is narrower in women's rugby than in more popular sports such as football.
"With a few extra resources, the right kind of player can accelerate very quickly," said Frost.
Soon Alema had a new mission. She switched clubs to Richmond, where she could compete at a higher level and learn from more experienced teammates. She also changed from playing as number 8 to loose-head prop, because she calculated that she had a better chance of gaining a national cap in that position.
"Learning my trade in the front row has been a whole new world," said Alema. "The set pieces like the scrum and the line-out are technically demanding, but you have to be able to do everything else in the game too, like tackle and run with the ball, so you need stamina, and you have to be resilient."
Her new role demands a lot of training in the gym, but juggling her commitment to rugby with caring for three young children has not been easy.
"I never even went to the gym until a year ago," said Alema, whose phone screen features an illustration she had commissioned showing the outline of a woman wearing a hijab and an England rugby kit. Now, thanks to sponsorship from the fitness equipment company BLK BOX, she has a set of weights at home and can work out even when the responsibilities of motherhood prevent her from leaving the house. She's learning to take power naps, too — sleep is vital for an athlete's recovery, but hard to come by when you have a son who acts as an alarm clock at 6am every day.
Another boost to Alema's progress came when she was invited to join pre-season sessions with Premiership club Wasps in July 2022. Practising alongside elite-level forwards has taught her new skills.
For the present, it's all about working hard off the pitch and winning her starting place on the national side. In her next game, against Beckenham Ladies, Alema came off the bench just after half-time. The Bulldozer got straight into the action, pushing one player off the ball and tackling a second. 
Afterwards, with the game won, she reflected on the road ahead of her, and why it doesn't feel as daunting as it should.
"I'm already doing what I set out to do. I love rugby, and I want to inspire others to play it," she said. "So, even if I don't make it, I've already done the most important thing, which is to begin the journey. And if I don't get to the finish, someone else will pick the baton up and do it."
Topics
Selected stories
From pickles and ferments to jams and chutneys, conserving surplus produce allows us to enjoy fruits and vegetables grown in familiar earth, many thousands of miles away

The western world's largest mosque is a point of pride for the country's Muslims, but its impressive scale and ornate design do not reflect their position in the country as a whole

The challenge for Keir Starmer is to combine control and compassion in efforts to tackle dangerous boat crossings