Movers and shakers on the alcohol-free cocktail scene
Demand for sophisticated drinks without a kick is soaring — and Muslim entrepreneurs and mixologists are leading the way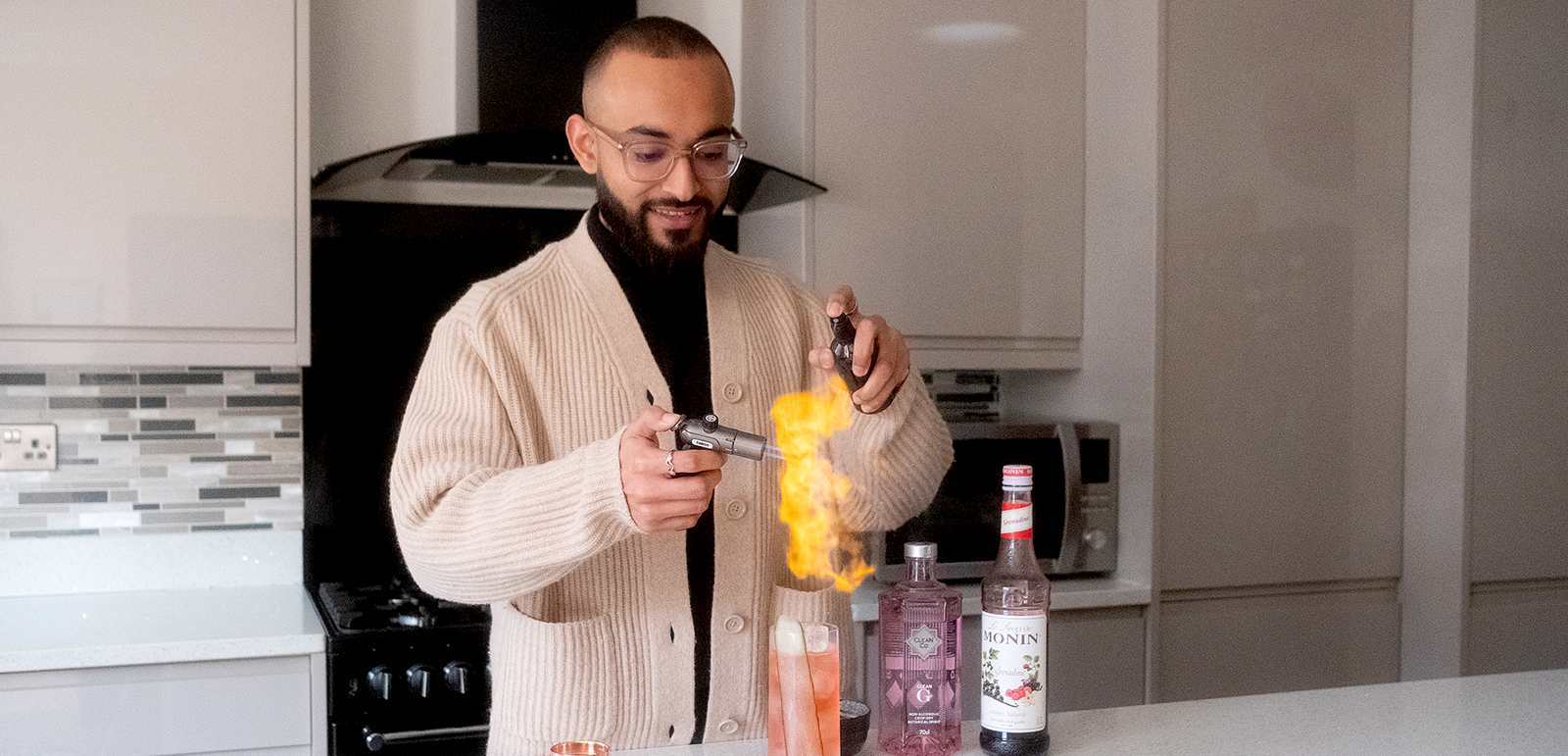 Working his day job in a medical pathology laboratory, running diagnostic tests, Takbeer Ahmed always felt that he needed a creative outlet.
He had already tried his hand at photography and cooking, but found what he was really looking for while out for dinner with his colleagues. Perusing the menu, Ahmed noticed that the restaurant offered a non-alcoholic negroni — a traditionally bitter-tasting spirit-based cocktail.
"They did their own take on it, using herbal teas to get that bitter taste, orange flavours and everything in it. When I tried that, I thought, 'This is actually a bit of me,'" he said.
Inspired, 25-year-old Ahmed, who lives in east London, decided to apply his analytical logic to mixology, using his spare time to perfect a variety of alcohol-free adult drinks. Along the way, he learnt that cocktails have five key components — acid, savoury notes, bitter flavours, sweetness and florals. Three or four of those elements will be prominent in any recipe.
"That's the aspect that really intrigued me — the idea of having to balance different flavour profiles," he said.
Armed with this knowledge, Ahmed spent countless hours poring over bartending books to see how he could deconstruct classic alcoholic drinks and recreate them without the alcoholic kick.
"It was actually quite a difficult process," he said. "But I kept doing the trial-and-error method and, eventually, it almost became like second nature. When you put your hours in, you get used to certain things, you understand flavour pairings better."
Soon, Ahmed began to showcase his creations on Instagram, building a 4,000-strong following.
"It's about the theatre of it, when you're presenting the drink. For example, the garnishes used — maybe you use dry ice, maybe you use some sort of smoke," he added. "I started looking into molecular gastronomy. That sounds like quite an intense jump, but I do have a scientific background…"
Ahmed isn't the only person pushing alcohol-free drinks into the future. Laura Willoughby is the founder of the mindful drinking movement and campaign group Club Soda. Lately she has noticed considerable growth and innovation in the industry, including the introduction of sparkling teas and drinks infused with "mood-enhancing" herbs.
"I think what's really interesting now is that the sector is moving away from replicas of alcohol to things that are good drinks in their own right," she said.
Willoughby added that larger drinks manufacturers are also looking to break into markets in the Middle East. For example, the online company Drink Dry already has a strong consumer base in the region, and the Virgin Mary Bar, an alcohol-free venue in Dublin, has recently launched satellite operations in the United Arab Emirates and Saudi Arabia.
"Muslims and people who have not drunk for religious reasons, or have never drunk, they too are looking for an upgraded experience," she explained. "The standard canned sugary soft drink just doesn't cut it for consumers now. They're now looking for things that are designed to go with food and have that same level of sophistication."
In 2016, Shahin Bharwani and her husband launched The Mocktail Company to provide ready-made non-alcoholic drinks in bottles for special occasions. Like Ahmed, she saw the lack of options for Muslims at a restaurant and realised there was an opportunity there.
"I love mocktails," she said. "Me and my sister, we love to experiment and my husband is quite picky on what he likes and doesn't like, but we taste-tested what we thought would work and then sent it over to manufacturers."
The company's products have proved a runaway success and are now stocked in several supermarkets in the UK and the Netherlands.
Ahmed's reputation is also on the rise, having come to the attention of the non-alcoholic spirit company Lyre's, for which he now features in online cocktail-making videos. Looking ahead, he believes that interest in alcoholic-free drinks will only increase, citing a growing health-consciousness in the public as one of the main driving factors.
But, for him, the main thing is making spaces more inclusive to people who do not drink and want something better than they've been getting up to now. As a Muslim, Ahmed sees his take on mixology as a way to bring people together, "so they don't feel like some sort of outcast because they've got a can of Red Bull or a can of Coke while everyone else is enjoying their drinks".
With that in mind, he plans to publish an ebook of his recipes, so anyone can make them at home.
"For me, it's about inspiring others and letting them know that this is a possibility," Ahmed said. "When you find that balance, it's almost like instantly, you know, you've got it."
Topics
Selected stories
From pickles and ferments to jams and chutneys, conserving surplus produce allows us to enjoy fruits and vegetables grown in familiar earth, many thousands of miles away

The western world's largest mosque is a point of pride for the country's Muslims, but its impressive scale and ornate design do not reflect their position in the country as a whole

The challenge for Keir Starmer is to combine control and compassion in efforts to tackle dangerous boat crossings