The Greek government wants a refugee-free capital by 2023
Authorities have moved thousands of migrants from Athens to camps in remote locations ahead of upcoming general election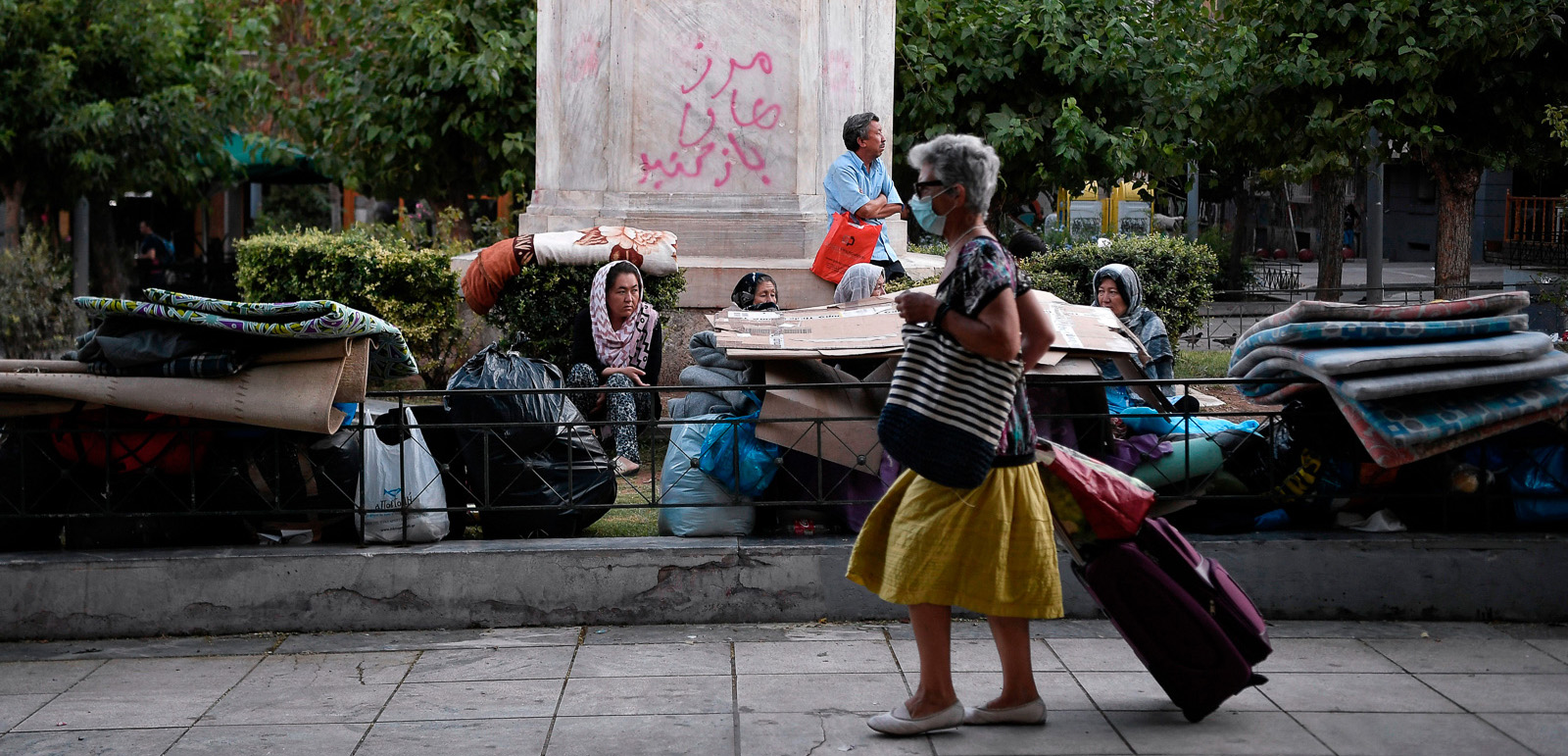 On a mild November afternoon in Victoria Square, central Athens, three women in hijab sit on a bench, talking and watching their children play. A pair of older Greek men sit in companionable silence with their coffees. A group of teenagers outside the Afghan Mobile Shop share earphones, laughing and listening to music as staff at the bars and cafes that line the square prepare for the evening rush. Otherwise, it is empty. This is not by chance.
Between 2015 and 2016 almost two million people — most from Syria, Iraq and Afghanistan, fleeing violence and seeking protection in mainland Europe — arrived in Greece, mainly via its islands. In response, vast sums were spent securing EU borders against further entries and the hundreds of thousands of asylum seekers already in Greece were stuck in limbo while governments across the continent argued about what to do with them.
Many found themselves in this leafy spot in the heart of the Greek capital, turning it into one of the most visible hubs of Europe's refugee crisis. "Now, we can go to Victoria Square and we don't see people living there," said Melina Daskalaki, special adviser to the mayor of Athens for migrants and refugees. "If we see one family, we act immediately."
A man behind the counter at the mobile shop who arrived in Greece 10 years ago from Afghanistan and has for the past four years had official refugee status — granting him a residence permit, right-to-travel documents, access to work, education and medical care — explained how that is done.
"There are 50 to 100 police here every day. Three months ago, I was coming back to the shop and they caught me. They wanted to see my papers. I have a refugee passport, but I'd left it in the shop. I told them I needed to get it, but they told me no. They were pulling me to their van when, suddenly, my brother saw me and came running with my papers," he said.
"The situation in Athens is terrible now. I think they just don't like refugees here."
Migration has remained a burning and highly politicised issue in Greece. Following a 2016 agreement between the European Union and Turkey, in which Turkey said it would "take any measures necessary to stop people travelling irregularly from Turkey to the Greek islands", the number of new arrivals fell dramatically. Still, tens of thousands continued to risk their lives at sea and on land to reach EU territory.
In 2019 Kyriakos Mitsotakis of the conservative New Democracy (ND) party was elected prime minister of Greece. His nephew and fellow party member Kostas Bakoyannis became mayor of Athens. A promise to crack down on abuse of the asylum system was central to the ND's manifesto. The number of new arrivals was creeping up again and the government was under pressure from right-wing opponents, including former prime minister Antonis Samaras, to take control of an alleged "invasion by illegals".

In early 2020, the Greek government ruled that all camps and reception facilities should be strictly reserved for people whose asylum claims were still being processed. This led to the eviction of 11,000 people with official refugee status, who were suddenly expected to find homes and support themselves. Without the means to do so, hundreds gathered on the doorstep of the new government in Victoria Square.
In July 2020, Minister of Migration and Asylum Notis Mitarachi made a statement on Twitter, saying that migrants "must stand on their feet, we cannot give them privileges for life".
The hundreds of people camped in Victoria Square were removed in a matter of days. Most of those without official refugee status were put on police buses and taken to nearby camps run by the Greek government and the UN migration agency (IOM), such as Eleonas, Skaramangas and Schisto. Some were transferred to the remote Kleidi camp in northern Greece and others sent to Amygdaleza, a pre-deportation detention centre 20 miles from Athens.
In May 2022, the Omonia neighbourhood of Athens, another refugee hub, was cleared by police. On one day, 442 people were rounded up. Of them, 129 judged to be "undocumented foreigners" were taken directly to Amygdaleza.
When Balkan countries closed their borders in March 2016 to asylum seekers hoping to reach Europe, 50,000 people ended up trapped in Greece. In response, the UNHCR offered to create 20,000 additional places using private apartments. This move formed the first pillar of the EU-funded Emergency Support to Integration and Accommodation (Estia) scheme, under which 4,305 of the most vulnerable refugee and asylum seekers have been accommodated across Athens.
Unhoused or undocumented migrants are not alone in being swept from the Greek capital. By the end of this year, the government will close Eleonas, the only remaining refugee camp in Athens, and the Estia scheme will be shut down, forcing its beneficiaries back into camps in more remote parts of the country.
"By next year, there will not be any accommodation in the centre of Athens. That was a choice of the government to decentralise the camps," Daskalaki confirmed. Speaking of the people who will be displaced by this double-pronged effort to remove migrants from the Greek capital, she added: "They don't have more opportunities here in Athens. They think they do, but it's a false belief. It's like a belief in the lottery. They really live better in a smaller town."
Non-governmental organisations working in Athens believe that these closures, along with a government drive to process and move migrants as quickly as possible from the Greek islands, could create a new crisis for asylum seekers on the Greek mainland.
"I was working in the islands in 2016 and I see a lot of similarities to what is happening now in Athens," says Panos Douros of HumanRights360, an organisation that works with refugees in Athens. "Then, people were forced to evacuate and they didn't know where they were being sent. The same applies to people being evacuated now. Some will be sent to camps, but most will be left to fend for themselves."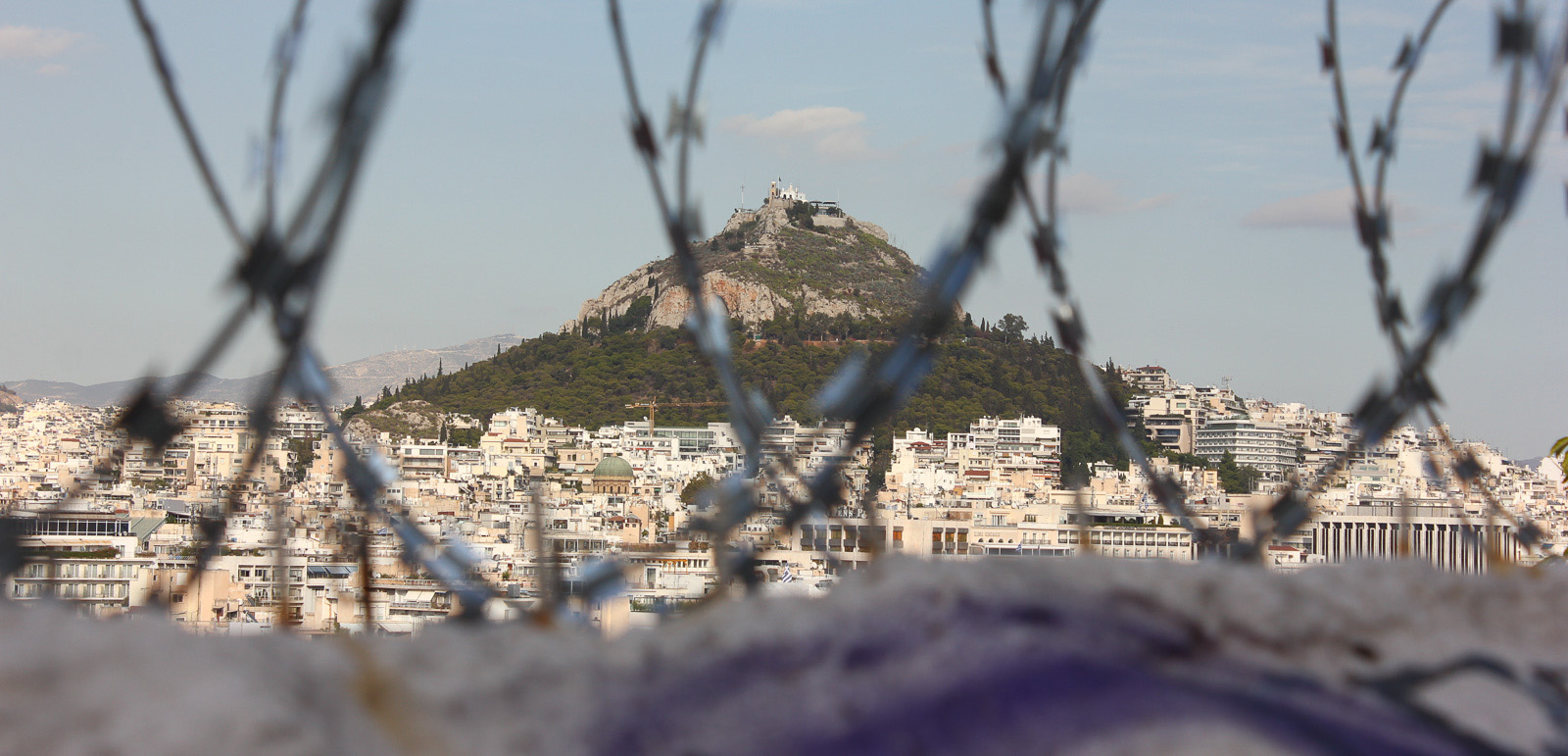 For four months, Thomas, a 22-year-old man from Gambia, has been living with two other asylum seekers in an Estia-supported flat in Kypseli, near Victoria Square. He was moved there from a camp on the island of Samos, where he arrived in Greece in the winter of 2021.
Thomas fled Gambia after his Muslim mother died and his father demanded that he convert from Islam to Christianity and become a pastor to earn money for the family. When Thomas refused, his father attacked him, breaking his leg. Now, it regularly swells and his wounds reopen, aggravated by cold weather. The flat has been good for him, especially with winter coming.
In October, Thomas received a text message from the Greek authorities informing him that he was going to be evicted and would be transferred to a camp in nine days. He had no idea where he was being sent, why it was happening or what the move would mean for his job at a fish packing company, his medical care or his open asylum claim. He ended up in Ritsona, a large facility in a remote spot around 45 miles from Athens.
"The Greek government hasn't behaved well in my case," Thomas said. "I was just put in this house and now they want to take me out. I've come from one camp, now I'm going to another one again. I don't understand anything now about what's happening to me."
Thomas' first asylum application was rejected, but he has the right to an appeal. As such, he is still a registered asylum seeker, allowed to work and eligible for healthcare. If this appeal is turned down, he will have to leave Greece or remain illegally. The authorities appointed a lawyer to appeal against the judgment, but Thomas has heard nothing from her since their first telephone call.
The Greek authorities also issued Thomas with an asylum seeker's ID card. Such documents need to be renewed every month and holders are obliged to present them if they are stopped by the police. The last time Thomas tried to renew it, an official told him he had been removed from the system and that he was no longer eligible. Thomas has no idea why or what this means. The confusion reduces him to tears.
Daskalaki could not explain why Thomas was being transferred to a camp when he was moved out of one only a few months previously on medical grounds.
"Estia beneficiaries have not been displaced to camps — not in large numbers," she said. "But every system has its injustices. We try to fix them. Sometimes we can, sometimes we can't."
Douros agrees. According to him, most people being evicted from Estia accommodation are not being transferred to camps — they are being made homeless and left completely unsupported.
"The vast majority of the requests we're receiving now in our service are from people being notified that they have to evacuate their Estia apartments," he said. "The big problem is that most of them don't have a stable job that could allow them to afford rent. We work with what we can, but there are times when we feel helpless."
Fahadi, 28, and William, 22, both from Uganda, are waiting for a decision on their asylum claims. They met at a camp on the Greek island of Lesvos. William arrived on a boat from Turkey with his pregnant partner a year after Fahadi. Both men were later transferred to Eleonas in Athens, where they lived with their families until they received notice that the camp was to be closed and they were being transferred.
"They came for me when I was at work. They told my wife, 'Today, at exactly 2pm, you have to leave'. It was 10am," Fahadi said. "I came straight back. I said that I need to know first where I'm going because I'm working and I can't leave my job. They told me, 'No, you cannot decide by yourself. You are still an asylum seeker. You have to go where we are taking you.'"
Confused, Fahadi went to find Douros, who was working at Eleonas.
"I went to speak to the person in charge and explained the situation," Douros said. "I brought certification from his employer, certification for his health issues, but to no avail. He was removed from the system. My hands were tied."
Judged as refusing to be transferred, Fahadi, his wife and their child were removed from the asylum system and no longer have access to camp accommodation, food, cash or medical support.
William was given only an hour to decide whether he would agree to pack up and move. His wife was at the camp medical centre queueing for vaccines for their baby when the social workers came.
"I told him, 'Just give me two hours. When my wife comes back, I can explain to her what we have to do.' He said, 'No, we'll give you 20 or 30 minutes, then you have to decide.' They came back 15 minutes later and said, 'We've cancelled you because you refused.'"
According to Daskalaki, maintaining the security of an overcrowded refugee camp in the centre of the capital had become impossible, meaning that there was no option but to shut down Eleonas.
"They were warned several times and everyone who said, 'I don't want to leave now. I want to leave in a few days' was heard. I understand that people have preferences and we try to respect them," she said.
"There were 2,000 or 3,000 people there, and not the people who were supposed to be there. I know from the ministry that they found all kinds of people, Roma and Albanians, illegal commerce. Why? Because it was in the centre of Athens."
Douros backs up William and Fahadi's version of events.
"From our experience, 'trying to go by their preferences' rarely happens," he said. "I can't speak for other camps but for Eleonas, they had an hour to decide. I think camp officials were under a lot of pressure, but I don't want to justify it because I think it was really cruel."
While living at Eleonas, Fahadi and William found regular work as cleaners at a hotel. On their small salaries and with no assistance from the state, they have been able to rent rooms in Athens for themselves and their families.
"The hotel where we are working is nice — at least you can pay your rent. But we're just surviving," Fahadi said.
Greece is to hold its next general election before summer 2023. The New Democracy party is eager to reassure voters that the issue of migration, which it identified in 2019 as the greatest threat facing the country, has been resolved.
In June 2021, the Mitsotakis government announced that it considered Turkey a "safe third country" for asylum seekers from Syria, Afghanistan, Pakistan, Bangladesh and Somalia — the five countries that compose more than two-thirds of asylum applications processed in Greece — to remain in. This policy has been coupled with an increase in the numbers of rejected asylum applications. According to official government data, 36% of 28,055 asylum claims made in Greece in 2022 were not approved, compared with 18% of 77,238 claims in 2019.
The Ministry of Migration has also announced that more migrants are now leaving Greece, either voluntarily or through forced returns, than are arriving. According to the most recent figures provided by the Ministry of Migration, there were 12,737 "illegal entries" to Greece in 2022, compared with 72,422 in 2019. Almost 40,000 asylum seekers have left Greece since 2019 — around 10% of them voluntarily.
Daskalaki believes that the greatest challenge facing Greece is not how to accommodate refugees but how to deal with migrants who come to the country for reasons other than displacement or fear of violence.
"I see who is coming in," she said. "There are people that are from countries where we can call them refugees, but there are large numbers nowadays from countries where, if we had a proper migration policy, they would ask to migrate. The protection system designed for a refugee is not suitable to help a migrant."
William, however, was arrested in Uganda at a protest in support of opposition leader and singer Bobi Wine. He was imprisoned and tortured for two weeks, burned with electrical cables, his nails pulled out with pliers. His uncle bribed a doctor to sign off his temporary release from prison for treatment in hospital. William then fled the country with his partner. Fahadi also says that he was forced to leave for political reasons. Neither thought they would end up in Greece.
"There was an Italian organisation taking asylum seekers to Italy. They called me, but because of the war in Ukraine, we didn't get our chance," Fahadi said.
"For people like us who are working, we can stay in Greece. As long as we can take care of our families, we are safe. But when you are not working, it is very, very difficult here."
Douros, meanwhile, believes that the government's drive to remove refugees and asylum seekers is a purely political move — and one not likely to work.
"Most people will try to stay and find a way here, because their work is here, their education is here, they need medical treatment here," he said. "They will just end up doing black market jobs and leading their lives at risk of being detained by the police."
For Douros, this represents a backward step to the kind of chaos and hardship witnessed on the Greek islands at the height of the migrant crisis in 2016. "It was survival of the fittest there," he said. "And, from what I can see, it's the same situation here in Athens now."
Topics
Selected stories
Is the Gaza truce a turning point in the Israel-Hamas war? Our panel discuss this and other topical issues. Plus, a look at the Muslim renters dealing with London's housing crisis

The filmmaker on her life, work and why telling women's stories is more important than ever

From Ramadan dates to Christmas pudding, food can encapsulate specific times of year and remind us of the circular rhythms of life