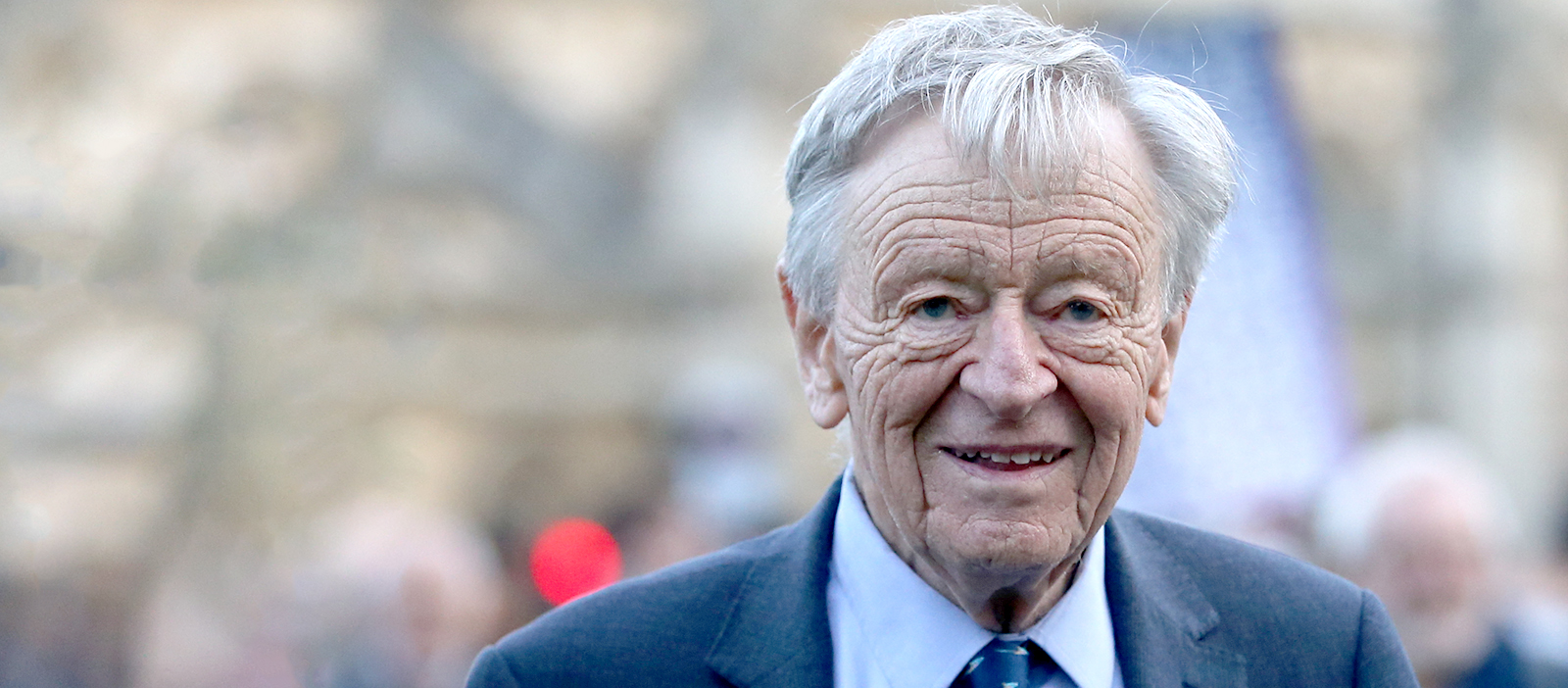 Lord Dubs Q&A: 'The situation for refugees today is much more hostile'
Photograph by Hasan Esen/Getty Images
The long-standing campaigner calls on the government to rethink its Rwanda asylum plan
Lord Dubs was born in then Czechoslovakia in 1932. He was six years old when he travelled to the UK on the Kindertransport as one of 10,000 children received by the UK as part of a government-backed scheme from Germany and Nazi-occupied countries before the outbreak of the second world war.
Dubs was elected Labour MP for Battersea South in 1979 and over the next 25 years has held a number of important roles, including Parliamentary Under Secretary of State at the Northern Ireland Office from 1997 to 1999. After losing his parliamentary seat in 1987, he became CEO of the Refugee Council. He joined the House of Lords in 1994.
In 2020, Dubs proposed an amendment to the Immigration Bill which would give safe passage and sanctuary to 3,000 unaccompanied children in Europe to come to the UK to join a family member already seeking refugee status. It was supported by the House of Lords, but was defeated by the House of Commons. Dubs is a prominent commentator on issues arising from immigration, road safety and prison reform.
This conversation has been edited for length and clarity.
Hyphen: You have been critical of the UK's Afghan Citizens' Resettlement Scheme, which aims to resettle 20,000 people. Can you describe its limitations?
Lord Dubs: The scheme provides a safe and legal way for some of the most vulnerable and at-risk people from Afghanistan to come to the United Kingdom and rebuild their lives. It's been a disastrous mess, frankly. Many Afghans are still stuck in limbo. I've been talking to some American politicians who agree. US President Joe Biden withdrew US troops from Afghanistan which has led to Taliban militants returning to power. Even before the Taliban took over, I was getting messages from Afghans who told me that their families helped them to flee because the Taliban wanted to put them into the army.
Over half of those resettled are still living in hotels or other forms of temporary accommodation. How does this stop people from starting a new life?
Thousands of Afghans are still in hotel accommodation. I know of asylum seekers who are sleeping on sofas. That means they don't have an address so it's harder to apply for things like benefits or apply for jobs. They can't do anything as they are stuck in a complete limbo. The refugees have travelled from the trauma of war and conflict and they need support from the UK.
You are a former Kindertransport scheme child refugee — how have things changed for child refugees these days? Are routes more perilous?
From December 1938 until May 1940, the Kindertransport efforts brought around 10,000 Jewish children to safety in the UK. The British government relaxed its immigration laws to bring this about. The Kindertransport scheme was put together by British stockbroker Nicholas Winton. For nine months in 1939 he rescued 669 children from Czechoslovakia, bringing them to the UK – and I was one of them.
The situation today is much more hostile and has become much worse. Many are stuck in Calais. The majority of refugees will get to France to claim asylum there. Afghan refugees come to the UK mainly because they have a connection with this country — they have family members here or speak the language. Today it's much more difficult, especially with the Government's attempted plans to send asylum seekers to Rwanda. I think it's a breach of the 1951 Geneva conventions on refugees.
How has the UK leaving the EU affected the issue of asylum seekers?
I think it poisoned the atmosphere because many people who voted on Brexit thought that the Vote Leave slogan "Take Back Control" meant keeping people out of the United Kingdom. We've now got a very hard line on immigration.
The Dubs Amendment was defeated by the House of Commons. Were you surprised that the government voted to remove the amendment?
I was disappointed. At the time, public opinion kicked in and woke up to the fact that people were drowning in the Mediterranean. The picture of the little Syrian boy, three-year-old Alan Kurdi, moved many people. We need to keep telling the story, which is becoming easier today as we see it on TV and film. Refugees are entitled to protection and are fleeing for very good reasons — from war, persecution and genocide.
Those who want a tougher line on immigration to the UK sometimes argue that taking in more unaccompanied child asylum seekers will encourage traffickers. Do you believe that to be true?
If there is no legal path to safety, then the traffickers have a field day as refugees are stuck in Calais. They are at the mercy of unscrupulous people. I think there have to be safer legal routes. We should seek a proper agreement and cooperation with the French.
What's your reaction to the resignation of Boris Johnson?
I think Boris Johnson appointed a lot of appalling people and lacked integrity. He poisoned the political atmosphere in this country.
At least 18,000 unaccompanied child migrants disappeared after arriving in European countries including Greece, Italy and Germany between 2018-2020, according to Lost in Europe, a cross-border journalism project. What do you think has happened to them?
We don't know what's happened to them. Some are stuck in the Greek islands where the conditions are pretty awful and some have been pushed back to Turkey. But the point is, they are only reported as missing if their presence is recorded, so the number might be much higher.
The Rwanda deportation flights will be put on hold while the Tory party elect a new leader. Rishi Sunak said he would retain the plan to deport asylum seekers to Rwanda. Do you think the government policy will act as a deterrent?
I don't think the threats will deter refugees from coming. I hope everyone will see sense and the lawyers and judges will stop it. I think it's wrong in principle. It's taking people from Asia and dumping them in central Africa. Human rights in Rwanda are not good, particularly for LGBT people.
At least 9,000 refugees have arrived on British shores since the beginning of 2022. What action needs to be taken to help them?
I think great work is being done by NGOs and volunteers in the UK. They should receive a lot of praise for what they're doing. We need to seek European cooperation. I'm on the OSCE (Organisation for Security and Co-operation in Europe) Permanent Assembly. The primary task of the 323-member assembly is to facilitate inter-parliamentary dialogue on security. We have a migration committee which is important because it is a way of maintaining international links not just across Europe, but also with North America and Asia.
In Germany, a Bertelsmann Foundation survey in February found that scepticism toward immigration is still widespread. Do you think the mood is growing less accepting of refugees in Europe?
Angela Merkel suffered in the 2017 elections, with some German voters disagreeing with her pro-refugee stance. The extreme right-wing parties have gained in popularity as we've seen in the national polls in France.
Topics
Selected stories
Hyphen journalists and guests discuss the toxic anti-feminism of Andrew Tate. Plus, our columnist Anna Lekas Miller on her new book about couples who have found love across borders

The director of the Salam Project talks about old-school rap, youth work and the power of positivity

The United Cricket Club spent a decade fighting for the right to compete. Now it's striving for a permanent home