From kormas to shawarmas — the transformation of Manchester's Curry Mile
The city's Rusholme district helped to introduce Britain to spice and bold flavours. Now, it is home to an array of cuisine from across the Muslim world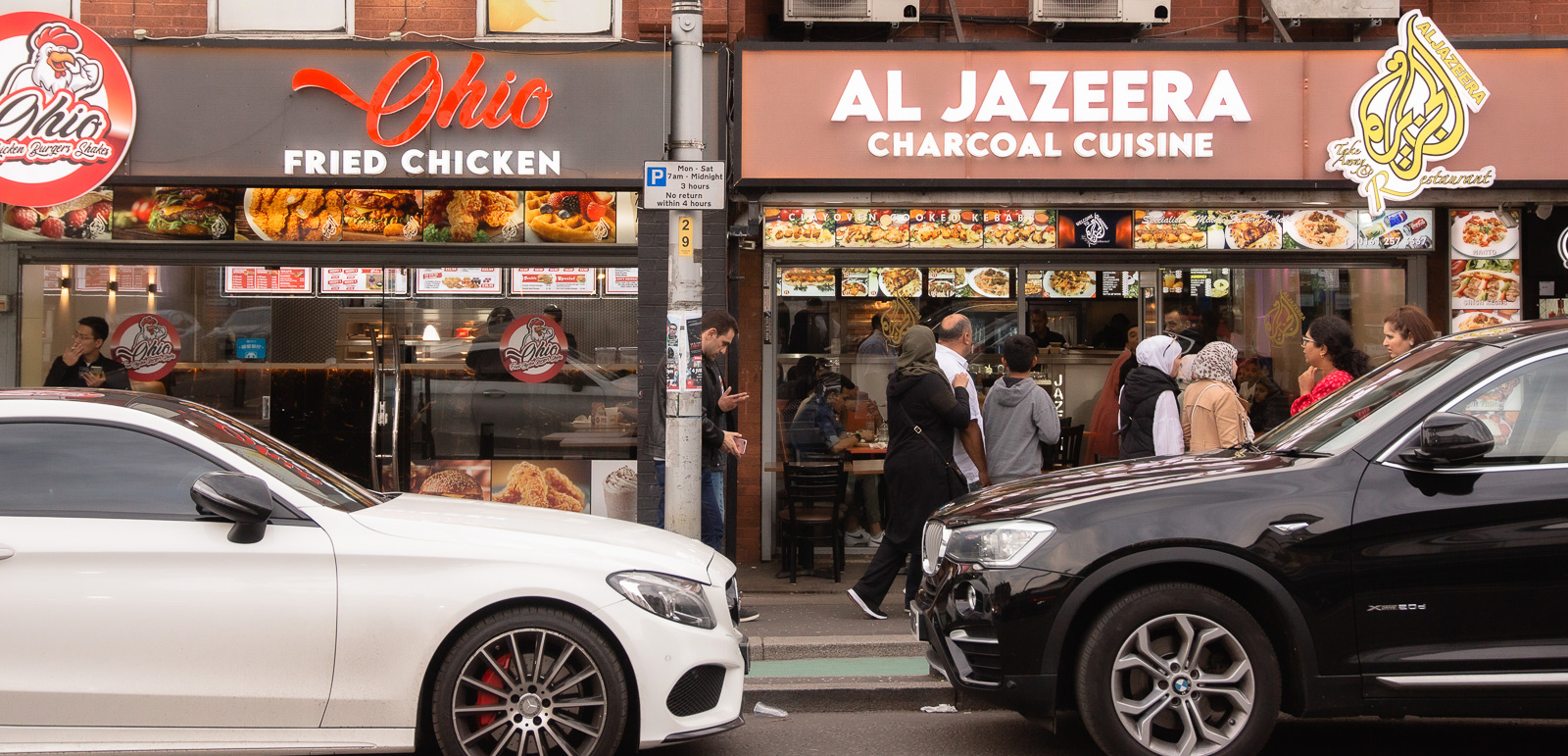 For decades, Wilmslow Road enjoyed a fabled reputation as Manchester's "Curry Mile". The name was coined in the 1980s to describe Britain's largest concentration of South Asian restaurants and takeaways. The street became renowned as one of the best places in Britain to get a curry, attracting celebrities, tourists, drunken students and football fans in their thousands.
Rusholme, the area within which the Curry Mile sits, was once home to the city's wealthiest merchants. As the Industrial Revolution gained momentum, their villas were knocked down to house the city's lower-middle and working classes. Wilmslow Road became a place of business, filled with butchers, milliners, tailors, greengrocers and dairies. In the 1950s and 60s, it provided a meeting place for a vast number of Punjabi Pakistanis recruited to work in the region's textile factories. Many moved into its cheap terraced housing and the first Indian restaurant, the New Taj Mahal, opened in 1959. Over the next 20 years, many similar businesses sprang up, forming the heart of Manchester's South Asian community.
Wilmslow Road was where our families came when they wanted to buy lenghas and sherwanis for weddings, okra and fenugreek, tawas and pressure cookers. In the 1980s, my yet-to-be-married mother went there, unchaperoned, to eat naan kebabs with her friends. In the 1990s, I celebrated my birthdays at a restaurant called Spicy Hut. They served chicken shashlik, a dish originating in the Caucasus, boosted with Pakistani spices and doused in soy sauce.
"It was amazing to be a part of," said Abdul Akhtar, whose father is one of the owners of Sanam, the oldest surviving Pakistani restaurant on the Curry Mile.
"People would come all the way from Leicester by coach — 40, 50 of them — and they would buy our mithai," he added, referring to the fragrant, tooth-aching South Asian sweets they sell to this day.
Akhtar's family initially came to Britain to work in the textile industry. His grandfather, Abdul Ghafoor, spotted a business opportunity in catering to hungry Pakistanis, yearning for a taste of home. He established Sanam in 1963, selling jalebis and mithai, before expanding and opening a restaurant, serving homestyle dishes such as spiced meatballs with boiled eggs and haleem, an unctuous porridge of meat and lentils.
Through the 1960s, the family watched as Manchester's predominantly Pakistani South Asian community made its mark on Rusholme. During that period, the British public had also emerged from rationing and postwar austerity into a new era of optimism and prosperity. By the 1970s a taste for "Indian" food had established itself among white Britons, which the restaurateurs readily embraced, aiming heavily anglicised versions of traditional dishes squarely at these new customers. The number of curry houses skyrocketed.
"In its heyday, there were 80-odd South Asian food businesses along here. I remember counting," Akhtar told me. He is an affable and talkative man, but my own memories suggest that he may have been exaggerating.
Nonetheless, for more than two decades, the Curry Mile did a roaring trade. Competition was fierce and waiters stood on the streets touting for trade. With its neon signs and raucous customers, Wilmslow Road had a gaudy, end-of-pier feel. At weekends, queues formed outside the most popular establishments. Most stayed open until 4am, serving mostly white diners who began or ended their nights by "going for an Indian".
In those years, Chinese and "Indian" takeaways competed with fish and chips for the title of the nation's favourite food. The individual white Briton's tolerance for spice seemed to act as a barometer of their broader acceptance of racial diversity. In 2001, Labour Foreign Secretary Robin Cook proclaimed chicken tikka masala the UK's "true national dish". As an Anglo-Indian invention, it seemed an appropriate metaphor for the country's ability to adapt to and be strengthened by cultural pluralism. But, shortly after, the nation's enthusiasm for "Indian" food began to wane. By 2005, the number of businesses on the Curry Mile had steeply declined. Today, only three of the original restaurants and a few takeaways remain.
Some blame the departure of Manchester City football club and the BBC from the South Manchester area. Others cite the regeneration of the city centre after the 1996 IRA bombing, which resulted in diners flocking to the new restaurants opening there. The Great Recession of 2008 also hit the Curry Mile hard.
Those events occurred in tandem with sweeping cultural changes that redefined the nation's palate. The rise of celebrity chefs and their aspirational recipes came at a time of growing affluence in the UK. Having introduced the UK to bold flavours and spice, curry houses now faced competition from an array of exciting cuisines, from Mexican to Thai and Vietnamese. Supermarket ready meals and the availability of ingredients such as ginger, garlic and chillies allowed people to recreate their favourite curry house dishes at home. Well-travelled diners also began to understand the diversity of South Asian cuisine, worked out that not all of it was Indian, realised that the dishes offered in curry houses were rarely much like the real thing, and went off in search of more authentic regional fare.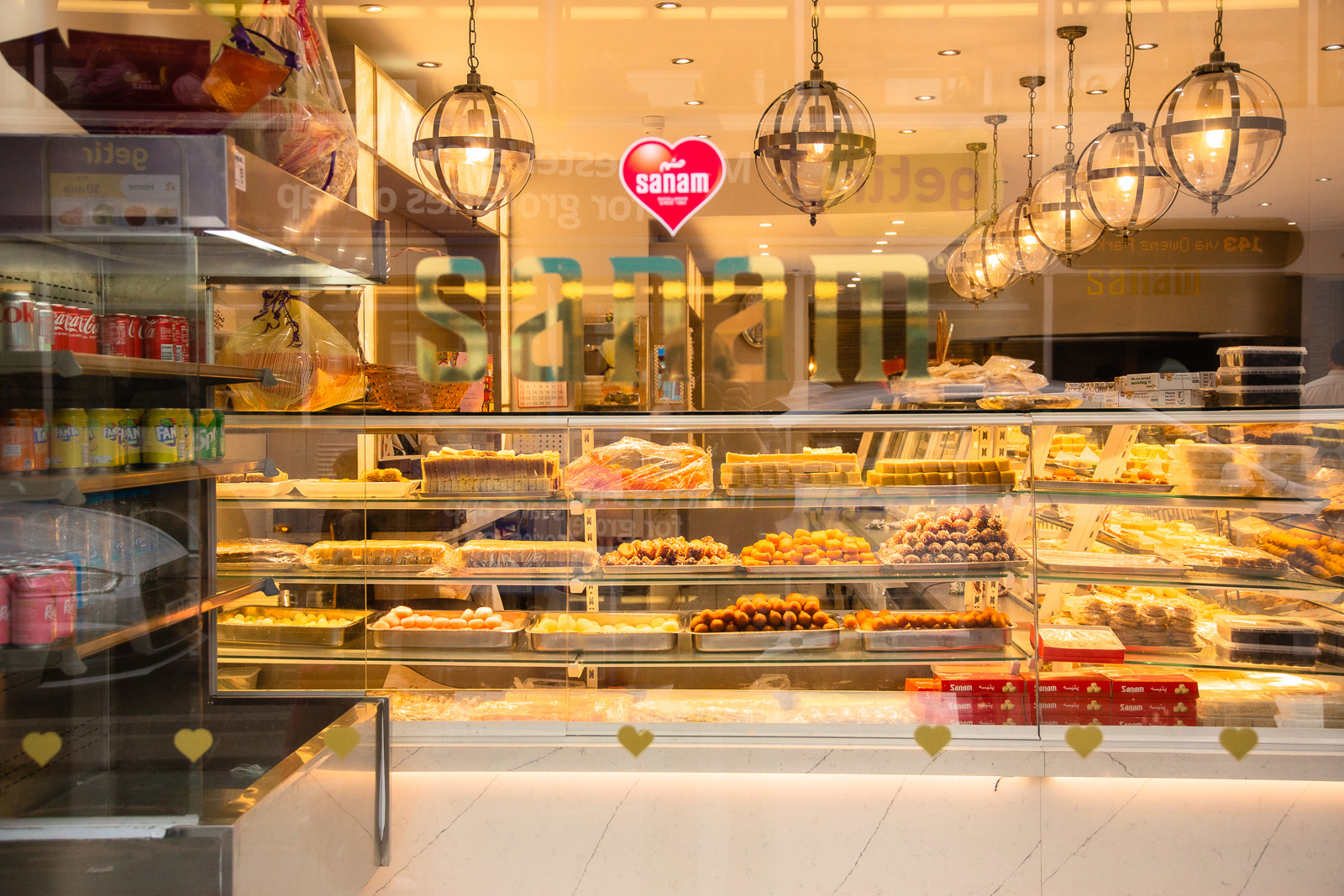 Some curry houses have survived by adapting. On the Curry Mile, Mughli, for example, embraced regionalism and street food trends, overhauled its menu and updated its decor to include images of Bollywood icons painted on bare brick walls. Akhtar, meanwhile, attributes Sanam's survival to not being a standard curry house in the first place. The owners refused to sell alcohol and served traditional charga (marinated fried chicken) and karahi dishes, thus catering primarily to the city's South Asian community. And it shows.
During Ramadan I visited Sanam's iftar buffet, which was being held in an upstairs space normally used as a wedding hall, big enough to hold a couple of hundred guests. The meat karahis, dals and aloo palak were heavily spiced and rounded in flavour. Even my parents murmured their approval. It was the first time that I can remember them actually enjoying a curry on the Curry Mile.
Sanam is a towering landmark on desi Manchester's horizon. The business makes a point of keeping its prices low so its products are accessible to everybody. And, with five restaurants, including one in Bradford, it is clearly thriving. When Akhtar and I spoke about the general demise of the Curry Mile, he explained that the biggest factor was the arduous nature of working in a curry house.
"This is not normal work," he said. "It's very long, very hot and very tedious. I used to work 15 hours a day. It's standing for 12, 13 hours, on your feet. You realise it takes away from other things. Family, friends, social life, you won't have any of that if you choose this job."
Many first-generation South Asian immigrants working in the hospitality industry did so because they lacked advanced qualifications. But, as more opportunities became available for subsequent, better-educated generations, few have followed in their parents' and grandparents' footsteps. Akhtar spoke about his cousins. As third-generation British-Pakistanis, they had all been to university and pursued jobs outside the family business. Although he took some interest in Sanam's day-to-day operations, he is a chartered accountant.
This phenomenon is common to all immigrant-led food businesses, but it has become a particularly debilitating problem for the Curry Mile because successive governments have chosen to curtail the supply of labour from South Asia.
When I was a teenager, I worked as a legal assistant at my dad's law firm, which specialised in immigration cases. I prepared applications for many of the chefs that eventually staffed those curry houses. That ended in 2011, when then Prime Minister David Cameron announced a tightening of the Tier 2 work permit system. Highly skilled chefs would only be granted visas if they earned more than £28,260 a year — a salary that many restaurant owners would have struggled to earn for themselves.
Consequently, many of the Curry Mile restaurateurs decided to close their businesses. Up and down the country, hundreds, if not thousands more did the same. Britain still has a chronic shortage of Indian, Pakistani and Bangladeshi chefs. In contrast to their willingness to embrace South Asian cuisine as a national staple, the politicians of today's Brexit Britain have remained largely silent on this matter.
Akhtar is surprisingly ambivalent about the fate of the British curry house. "Change is inevitable," he said. "If people still wanted curry houses, there would still be 60, 70 here." While this struck me as a certain amount of survivor's privilege, he is right. Their fate is, to a large extent, dictated by the basic economic principle of supply and demand.
But, as the boozy diners moved away from Rusholme and the neon faded, so began a glorious reinvention of the Curry Mile. Middle Eastern businesses took over the vacated premises. Their owners spotted an opportunity to serve students from the Gulf, enrolled at the city's universities, and people who had fled the conflicts that erupted during and after the Arab Spring. Wilmslow Road pivoted once more, from kormas and seekh kebabs to shisha and shawarma.
Al Jazeera was one of the first Middle Eastern businesses to open on the Curry Mile. Abdullah Albaydar, its owner, came to Manchester from Jordan in the early 2000s. When I visited his takeaway one April evening, the queue reached out of the door and orders were being shouted so loud that we could barely hear one another. Albaydar was drawn to the area because of the reputation established by the South Asian entrepreneurs who came before him. He saw it as a place that was "busy", "good for business", where "our kind of food was available".
His reference to "our kind of food" stayed with me. Al Jazeera offers a menu that fuses Jordanian cuisine with the road's existing influences. "The kebabs are Iranian, the roast and grilled chicken Middle Eastern, the qabuli pilau from Afghanistan. The tikkas were already here," Albaydar explained. He spoke passionately about the quality of his ingredients, saying that he serves only what he would buy for himself. I've been coming here for more than a decade, drawn to the tender, garlicky roast chicken and the char and chew of the lamb chops.
Al Jazeera's menu is emblematic of the kind of food that is served on the Curry Mile in 2022. Food worth travelling for. Food that the area is now staking its reputation on. There's the shawarma served at Today restaurant in crisp but pillowy Kurdish samun bread, balanced with sour pickles; Persian stews with nutty lentils and smoky dried lime at Walnut; Afghan pilaus, steeped in lamb stock, topped with sweet carrots and sultanas at Ariana. These restaurants serve dishes beloved by a vast region of people who are now increasingly a part of Manchester's social fabric.
South Asians never really abandoned Rusholme, either. Our jewellery, clothing and grocery stores remained a fixture on Wilmslow Road, even when the curry houses disappeared. Over the past decade, South Asian Muslims who had previously felt excluded from the burgeoning British culinary scene have discovered eateries that suit them perfectly, cooking halal meat, eschewing alcohol and offering dishes that cater to their own expanding and increasingly adventurous tastes.
The Curry Mile has resisted the kind of gentrification under way in other historically immigrant areas around Britain, such as Brick Lane in east London. The houses in Rusholme remain as affordable as property gets in the city. Even so, it is an imperfect space for new businesses. Speaking to Akhtar, I learned that few of the Middle Eastern entrepreneurs in Rusholme own the properties that they operate from. When the South Asian restaurateurs closed their curry houses, they held onto the buildings. Decades after they were first purchased, property values had soared and people realised that they could make money without the stress of running a restaurant, he said.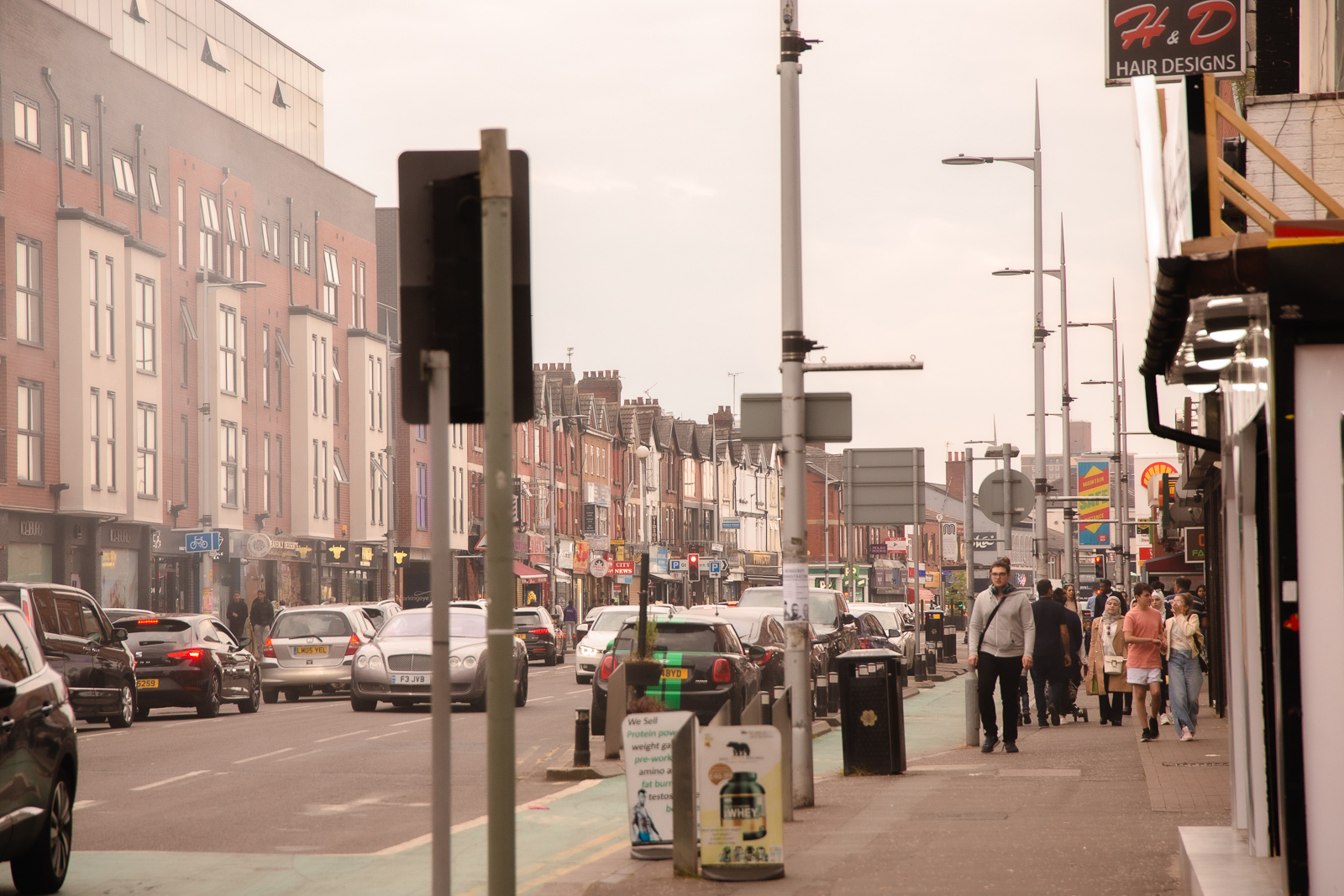 Albaydar agreed. "My rent is very, very high. I pay £40,000 a year, plus VAT. The places here are too expensive," he said, shaking his head. High rents, rates and other operational costs have resulted in a rapid turnover of businesses on Wilmslow Road. Only those with money can afford to open, and only the toughest survive.
These harsh economic realities have had at least one positive effect, though, fuelling the innovation and diversity of Rusholme's culinary scene. Gone are the days when one shisha bar or barber shop followed another. Each of the businesses now have a clear brand identity and something new to offer. The district's emergence from the Covid-19 pandemic seems only to have intensified this trend. South Asian tea houses such as Karak Chaai compete with Bubble Tea from Gong Cha; the barbecue smokehouse Pitmaster jostles against the Indian street food offered by Chit 'N' Chaat; hipster confectioner Donut Delight is a stone's throw from the knafeh sold at Syria Sweets and the milk cakes at the Instagrammable Moonlight.
Rental prices have contributed to the area's expansion, forcing newer businesses onto side streets, where costs are lower. The Lebanese bakery Cedar operates from an industrial-looking, corrugated storage building at the end of a narrow path. "The rent here is not that extreme — not like on the main road," Tina Murg, the shop's manager, told me.
According to Murg, Cedar's owner — Salman el-Rashid, who came to Britain from Lebanon 20 years ago — chose the site because he had always done business in Rusholme, having set up a shisha distribution business some years earlier. There had been another bakery on the premises, which closed after a fire. When the opportunity came for El-Rashid to take over the lease, he had to start from scratch.
"Salman had to come up with the recipes. He had to ring his mother and sisters in Lebanon, his friend who owns restaurants and teaches cooking. We put a menu together, the name, logo, interiors, from nothing,' Murg told me.
My visit to Cedar was the most visually rewarding of my trips to the Curry Mile. It was beautiful inside. A black tiled floor glittered as light poured in from the latticed ceiling and golden lanterns gave a honeyed glow to the display of baklava and ma'amoul.
"We pay attention to how we present the food," Murg said. "We care about quality, freshness. We prepare everything from scratch every two days and we are obsessed with cleaning. We clean this place like it's our own home."
I believe her. My brunch was magnificent. A series of egg dishes came served in rustic terracotta bowls, along with hummus and spicy batata harra. But it was the savoury pastries that reigned supreme, the lahm bi ajeen — a small, minced meat pizza — in particular. Crispy at the edges, the lamb and beef topping rich and tangy with lemon and tomato.
I still live a short walk from the Curry Mile. Like other Mancunians with South Asian heritage, Wilmslow Road has been a huge part of my life. But, lately, I have taken to visiting more frequently. During Ramadan, I broke my fast and lined up outside dessert lounges for falooda and knafeh, and watched the road continue to reinvent itself. A new restaurant, Nur Malaysia, serves flaky rotis, melting rendang curries and fiery wok-fried noodles to Malaysian students who have moved into the area. Half a mile away, down a side street, there is an enclave of Somali and Ethiopian cafes, where the food is vibrant and the rents are even cheaper.
Wilmslow Road is here for everybody, but I can't help feeling that it has been reclaimed as a place for recent immigrants to make their home. White British customers continue to be warmly welcomed, but are no longer the main clientele of the area's businesses. For proof of this you only have to go there on a typical weekend. Black and Brown men and women, friends and families, all dressed up for a night out, throng the pavements, visiting shisha bars or stopping for a shawarma. Couples browse the dazzlingly bright clothing and jewellery stores, then split a kulfi from a yellow cart. Small cars, with noisy engines and music blasting from open windows, navigate the heavy traffic.
Over the past few years, these scenes have reminded me of the Italian tradition of la passeggiata: a leisurely evening stroll in your best clothes through a city square or street, enjoyed by people of all ages. In cities from Milan to Palermo, I have watched genteel, older couples sitting on benches and watching the world go by, neighbours stopping to gossip, and young men and women making eyes at one another. In those places, as it is on Wilmslow Road, the whole ritual is about seeing and being seen, about claiming a public space as your own and, by extension, claiming your space in that society.
Topics
Selected stories
A new genre of writing is slowly establishing itself and painting a broader picture of what love can look like

The fashion influencer on faith, modesty and claiming a space for Black Muslim women

This week our panel assess what the Liberal Democrats offer Muslims and discuss the ongoing debate about definitions of Islamophobia. Plus, travel blogger Yara Abdelsamie on travelling solo and the best European destinations for Muslim women