Dining out on diversity in Europe
Home Secretary Suella Braverman says multiculturalism has failed. These refugee chefs and their many happy clients across the continent disagree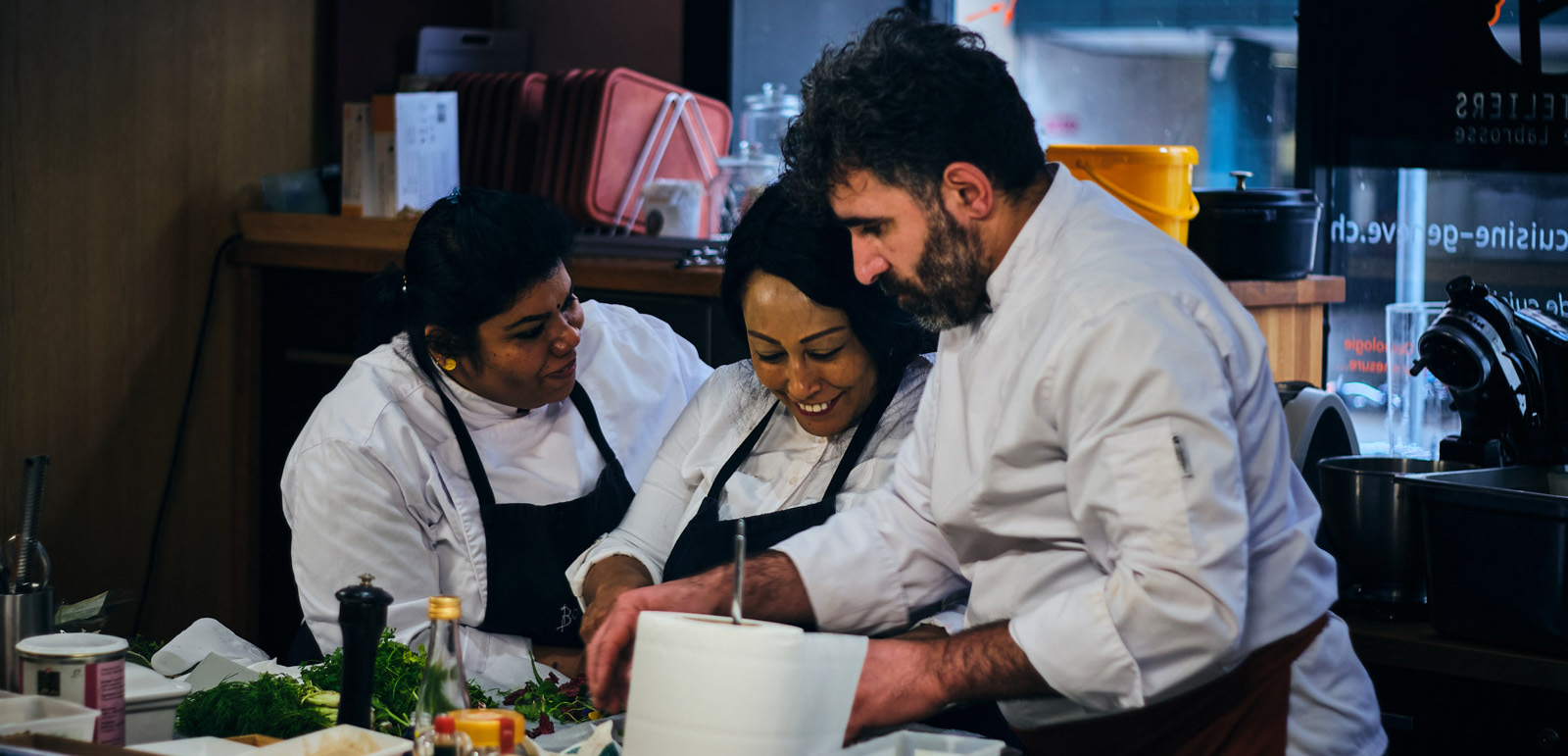 Suella Braverman has declared that multiculturalism is a failure. Delivering a keynote speech to the American Enterprise Institute in September, the British home secretary told the rightwing think tank: "Multiculturalism makes no demands of the incomer to integrate. It has failed because it has allowed people to come to our society and live parallel lives in it."
Hyphen spoke with the teams behind refugee-run restaurants across Europe who disprove Braverman's theory with every service. These talented chefs and socially minded restaurateurs are winning over the hearts and stomachs of their communities with recipes and flavours brought from homes they fled. If there's one thing that can reliably bring people together, it seems, it's delicious food.
Oriente da Shapoor, Palermo, Italy
In a back street in Ballarò – a bustling, working-class area in the centre of the Sicilian capital Palermo – Shapoor Safari makes saffron tea for customers at his restaurant Oriente da Shapoor. "In Afghanistan it's customary to make guests feel at ease before they start eating," he explained brightly. 
The softly spoken 53-year-old chef is a former army commander who fled Kabul in 1996 when a civil war tore his country apart. Following the path of many other Afghan refugees, he fled first to Turkey, where he stayed for eight years before being smuggled by boat to Italy in 2005. He was granted asylum in 2007 and spent several years travelling around the country, getting by on small jobs in restaurants, first as a dishwasher, then as pizza-maker.
"I realised I really like cooking," he said. "It allowed me to express my life journey when I couldn't express it with words and share it with people whose differences disappear when they eat at the same table."
He just couldn't find the right community to settle in until he visited Palermo for the first time in late 2009.
"Palermo is different from any other city I've been to," he said. "Here people are so welcoming towards newcomers."
He made his home here and after years working odd jobs, was hired at Moltivolti in 2014, a popular restaurant in the city that exclusively employs asylum seekers and also serves as a hostel, ice-cream shop and cultural centre with weekly lectures and workshops. Here, working with a team of Italian, Senegalese, Arab and Gambian cooks, Safari learnt to chef. He also quickly became involved with organising fundraisers and events designed to bridge the divide between locals and newcomers.
In 2021, when the Taliban took over Afghanistan, Safari was able to bring his family to safety in Sicily thanks to a fundraiser organised by Moltivolti and the city of Palermo. Moved by the community's support, he felt he wanted to give something back. After years of saving, he felt ready to finally open his own place.
This spring, Safari opened the doors of Oriente da Shapoor just a few doors from Moltivolti, where he still helps out a few nights a month. His cosy restaurant has become another sanctuary for migrants and Sicilians hoping to understand each other better.
"The revisited caponata [a Sicilian dish with bittersweet vegetables] speaks about our Sicily, his origins, as well as the other refugees he's met along the way," said Margherita Maniscalco, an NGO worker who often organises lectures and fundraisers at Oriente da Shapoor. "His dishes help us understand migrants' path, from the reminiscence of their homeland combined with local flavours and hints of other cultures they share their journey with." (SD)
The Marie Curry Restaurant, Bordeaux, France
When Fatima Kharma fled Syria in 2017 to escape the conflict, she was forced to leave behind her mother, sisters, brothers and her home. She also feared she had lost her passion – food. What had started as a love for Syrian cuisine grew until she was catering events for family, friends and others. Leaving Syria, she says, was the hardest time of her life.
While trying to rebuild her life in Bordeaux, south-west France, Fatima came across a recruitment advert. The Marie Curry organisation, an NGO that supports refugee and immigrant women in creating their own catering businesses, was launching a restaurant in a beautiful stone building in the city's Saint-Michel district and wanted chefs. Fatima applied and has worked at the Marie Curry restaurant since it opened in February this year, first as an intern, now as a chef.
"It means so much to me to be cooking for others again," she said. "Food is art. I find pleasure in it. I mix shapes and colours as an artist paints their picture."
Fatima cooks alongside Doliane Kouba, who arrived in France from the Republic of the Congo in 2012. Together, they have developed an enticing menu that incorporates dishes from both their cultures. Their home countries may be far apart, but they discovered a surprising harmony in their cooking.
"Our dishes are completely diverse but all are as good as the others," said Kouba. "Our clients always leave the restaurant with a smile because they always eat well here!"
Supporting the two lead chefs is Heilen Ramirez, from Colombia, who serves the food and often prepares starters and desserts. "Being here gives me the opportunity to express myself and to show who I am and what I can do," she said. "In French, 'se restaurer' means not only to eat but also to restore the body."
Aside from the quality of their food, made where possible with seasonal, local and organic produce, the team takes pride in an eco-responsible approach, packaging takeaways in glass boxes (or the customer's own Tupperware) and using any bio-waste to make compost.
The response has been overwhelmingly positive, with the restaurant scoring an average of 4.9 out of 5 in Google's reviews section. One satisfied customer wrote: "So glad we found this gem in the heart of Bordeaux! Innovative cuisine made with love by immigrant women from all over the world – a culinary adventure for a great cause."  (CH)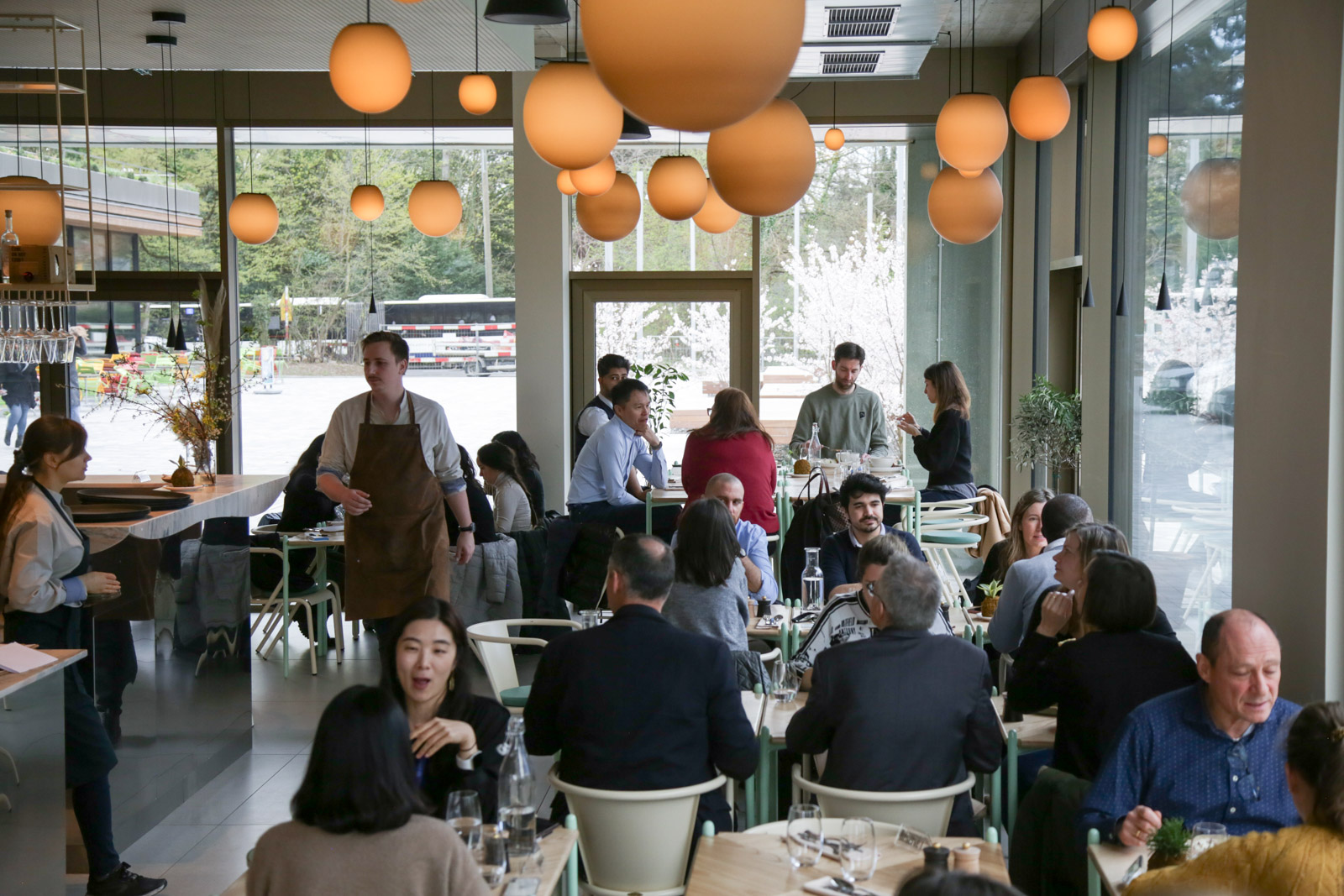 Cuisine Lab, Geneva, Switzerland
Just a stone's throw away from the United Nations' headquarters in Geneva is Cuisine Lab, a restaurant whose ethos matches its surroundings.  Nestled among UN agency buildings and full of natural light, it is often packed at lunch and dinner with an international clientele. 
Having started as an informal supper club to welcome asylum seekers and refugees in 2016, it quickly evolved into a social enterprise foundation, helping to integrate refugees into the Swiss community through training programmes as well as employment in local restaurants, catering and events.
In February this year, Cuisine Labs finally became a fully fledged restaurant. Fitore Pula, a refugee from Kosovo who now leads the Cuisine Labs team while doing a job at the International Committee of the Red Cross in Switzerland, admits that when the project started, they "didn't have a clue, no idea what this restaurant will be".
All the cooks had already worked with food in their home country, but none had the professional experience or qualifications required of professional chefs in Switzerland. The desire to equip refugees with this experience, and to provide a space for them to showcase their food, was one of the main motivators behind the restaurant.
The kitchen serves a different cuisine each week reflecting each chef's origins. "One week it's Syrian, one week it's Sri Lankan, another week it can be Eritrean," Pula explained. Ukrainian and Afghan cooks are recent additions to the team. The changeable menu has offered Sambar, a Sri Lankan spicy lentil and tamarind soup, Eritrean chickpeas with injera chips, handmade Syrian dumplings and chicken tikka skewers. Wherever possible, dishes are made with locally grown ingredients and the herbs and vegetables come from a garden around the corner from the restaurant managed by the Genève Cultive association. The food has had rave reviews.
"The concept of refugee integration with the restaurant is applaudable and the food is in the level of gastronomy," one Google reviewer said. Others have admired the ambiance which, unlike much of the food scene in Switzerland, is light and casual.
Cuisine Labs has so far raised 1.3 million Swiss francs (£1.1 million), enough to cover its start-up costs with profit to spare. It now hopes to branch out into catering, working with migrant and refugee female chefs. "It's not easy for women of certain cultures to be exposed directly in restaurants," Pula said. "The idea is to offer them a special integration programme through catering where they can showcase their talents and skills." (SM)
Saffron Kitchen Project, Athens, Greece
Tucked away in an old neoclassical house in the Athenian neighbourhood of Kypseli is the Saffron Kitchen Project, an organisation that sees food as the cornerstone for its ethos of integration. The project employs three full-time chefs, all from refugee backgrounds, and cooks around 6,000 meals each month to be distributed to vulnerable communities across the Greek capital, from women's shelters to refugee community centres.
"I'm a strong believer in food that brings you joy," said Evelina Eskenazi, the project's founder, a trained chef who was raised in the UK by Italian parents. Saffron Kitchen has Greek staff, works with local Greek vendors and supplies lunches to several local Greek organisations as well as offering certificated culinary training courses to others with refugee backgrounds.
The kitchen stands out at a time when Greek politics has shifted sharply to the right with three far-right parties elected in the June elections on strong anti-immigration platforms. They have espoused conspiracy theories around migration. Inside the four walls of the building, however, where the smell of cooked spices mixes with myriad languages, divisive politics feel far away.
Just after midday on a Monday, a grateful local Greek volunteer arrives to pick up more than 100 meals for a nearby community centre. The dish of the day is tomato and ricotta pasta topped with fried aubergine, but the menu varies each week, from the traditional Afghan rice dish Kabuli – prepared to the recipe of a previous chef's mother – to vegetarian fajitas.
The current chefs, Adel, Mamadou and John, arrive early each morning to begin the food prep. "Food is like music to us," said 40-year-old Adel. Originally from Damascus, where he also worked in kitchens, he has been in Greece since 2015 when he arrived as an asylum seeker. He has been working with the Saffron Kitchen Project since it opened 18 months ago. Mamadou, 30, a refugee from Guinea, has been with the kitchen for five months and says the most important thing to him is being able to cook for those in need.
English is the kitchen's common language, but it's clear that food is the glue. "I believe if you give food to someone who needs it, that is the most powerful thing you can do," said John, 27, an asylum seeker from Sierra Leone. "Now it feels good to be working to help other refugees." (KF)
Kreuzberger Himmel, Berlin, Germany
In 2015, as around a million people arrived in Europe, fleeing conflict, oppression and poverty in the Middle East and Asia, a group of Berliners founded the non-profit Be an Angel, with the aim of supporting refugees. Three years later the organisation opened Kreuzberger Himmel, a sit-down restaurant with the same aspiration, offering Syrian fare in the hip Kreuzberg neighbourhood of Berlin.
"The goal was to create a space for Germans to meet and interact with refugees," said Bakri Kamurgi, a managing partner, "and to assist in the integration of refugees." Himmel now employs 12 refugees from Syria, Iraq, Iran, Afghanistan, Pakistan, Cambodia, Gambia and Libya, and has hosted ministers, presidents and pop stars (whom the restaurant prefers not to name). Any profits are poured back into the restaurant and other projects helping refugees.
In 2015, 1.3 million people claimed asylum in Europe, the vast majority setting their sights on Germany, supported by a large chunk of the population. Refugees were welcomed with greetings placards. Hundreds of people took newcomers into their homes through Be an Angel. Not all Germans saw the benefit of Merkel's open-door policy, however, and eight years later – as the rise of far-right party AfD is proving – anti-immigrant sentiment is on the rise here, as it is across Europe.
On one busy October evening around 6pm, several tables of German patrons sit for what would be an early dinner by Syrian standards. A middle-aged German woman with short, grey hair is enjoying her orange and lemon chicken but even better than the food, she says, having a space for encounters between refugees and Germans is important for integrating newcomers into German. She calls Himmel a "little bridge" between newcomers and locals.
A table of German men are also raving about their food: a vegetarian kibbeh and mixed mezze plate with hummus, Baba ghanoush, and more unfamiliar dishes such as chopped olives with carrots. If you have origins in the Levant, the dishes are unlikely to inspire nostalgia. Like many foreign restaurants in Berlin, they have been tweaked for the local palate.
A few kilometres away in Neukölln, a neighbourhood that has been home to Arab refugees and immigrants for decades, Sonnenalle offers more authentic fare. Lined with small restaurants, cafes and markets and filled with Arab flags, dialects and the sweet smell of shisha, young, hip Berliners eat falafel and shawarma here after long nights in the city's bars and clubs.
Only one German patron at Kruezberger Himmel has been to Sonnenalle. "I like this much better," he said of Himmel. "You only go to Sonnenalle if you want to see the clans," he continued, referring to the popular German stereotype that Arab neighbourhoods are filled with family-run mafia. Himmel may not have cured Germany of its racial stereotypes but with mezze and cross-cultural meetings it's at least trying to build a little bridge. (RC)
Topics
Afghanistan
,
Citizenship
,
Diversity
,
Entrepreneurs
,
Europe
,
France
,
Germany
,
Greece
,
Italy
,
Racism
,
Refugees
,
Switzerland
Selected stories
Is the Gaza truce a turning point in the Israel-Hamas war? Our panel discuss this and other topical issues. Plus, a look at the Muslim renters dealing with London's housing crisis

The filmmaker on her life, work and why telling women's stories is more important than ever

From Ramadan dates to Christmas pudding, food can encapsulate specific times of year and remind us of the circular rhythms of life