Curry Circle brings hope and connection to Bradford
Based in a city library, the Muslim-run community initiative has been breaking down barriers by feeding and supporting people in need for close to a decade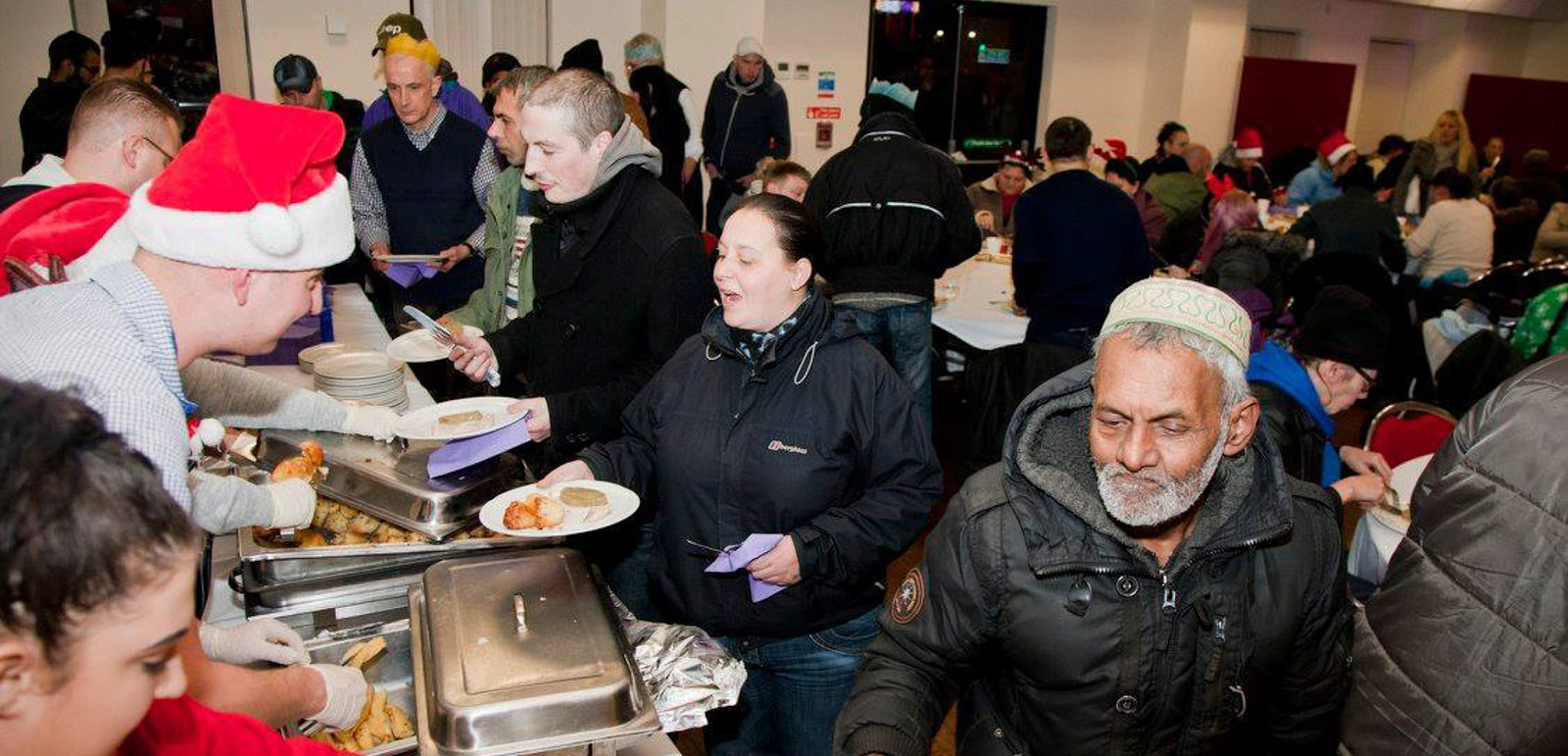 For the past two months, Paul has been out of work. After leaving his supermarket job because of poor working conditions, he found himself struggling to make ends meet. Being unemployed at any time would have upended his life, but the ongoing cost of living crisis has only made things harder.
Paul, 60, visits the Curry Circle, a community initiative held in Bradford's Manningham Library. Every Thursday, volunteers gather there, filling bags with containers of dal, rice, chicken curry and roti donated by the local restaurant MyLahore.
On the unusually warm October afternoon when I visited, Paul left with three bags — enough to see him through the next two days. For the remaining five, he would just have to get by. "Rice takes you a long way," he said.
Paul first heard of the Curry Circle during regular visits to the library to read the newspapers. Started in December 2013 to alleviate local food poverty, it is one of a number of projects run in the city by the Muslim Women's Council. To date, the Curry Circle has distributed more than 84,000 meals to vulnerable and unhoused people.
From the beginning, organisers have placed special emphasis on creating a welcoming environment for clients, in which meaningful relationships can be forged with volunteers and other people accessing services.
"When we first came up with the concept of the Curry Circle, we visited other soup kitchens to see how they were run," said Bana Gora, founder and CEO of the Muslim Women's Council. "We were really perturbed that a number of them were run in uninviting, cold and damp places. We wanted to allow people to network with each other, mingle and overcome social isolation or any other issues they may be dealing with."
According to data published by Bradford's Metropolitan District Council in 2019, Manningham was ranked as the most deprived ward in the city. An NHS study published in January also found that one in five households in Bradford is in food and fuel poverty.
At the start, the Curry Circle was run like a standard soup kitchen, with volunteers serving hot meals to an average of 100 people once a week. During the coronavirus pandemic, it was forced to switch to a two-day-a-week delivery service. Now, it operates somewhere in the middle, continuing to deliver to around 80 people a week, as well as providing pre-packaged meals. With demand growing because of the cost-of-living crisis, more than 200 people now receive takeaway meals every week.
When I visited, four volunteers were busy inside the library's kitchen, portioning out large tubs of food, ensuring everyone got a taste of everything on offer. When the meals were packaged, they were taken to a side door, so clients could collect them discreetly.
"The volunteers are what make the Curry Circle special," said Leila Taha, 35, an administrator for the Muslim Women's Council, who was helping out that afternoon.
"Last week we had a boy with special needs volunteering, and now he wants to come regularly and help out. Seeing the variety of people who want to make a difference is really lovely."
While the population of Manningham is 75% Muslim, the Curry Circle's clients come from a range of backgrounds. According to Gora, when the project first began about 70% were white British men with substance abuse and mental health problems. Reflecting Bradford's status as a city of sanctuary, refugees from countries including Sudan and Afghanistan have also made use of the service. In tough economic times, families now make up 60% of users.
"What's been eye-opening is that the majority aren't Muslim," said Umar, 32, who has volunteered at the Curry Circle for the past six years. "Throughout the time I've been here, I've seen a lot of diversity in the queues. This isn't a thing that's just helping Muslims."
Umar, who works as a data analyst, is just one of 450 volunteers on the initiative's roster.
"There was this one day when it was snowing and everything was shut," he said. "We still turned up despite the fact it was freezing. There was one guy who came on crutches all the way from West Bowling, which is about an hour's walk, because he didn't have anything to eat. When you see people trudging through the snow, it's quite humbling."
Over the years, the Curry Circle has become more than a place providing hot meals for people in need. Everyone is encouraged to bring ideas of how the initiative can best help to support clients. Additional services have included a mobile hairdresser offering free haircuts and a medical van with a trained nurse giving guidance on mental health support. Volunteers have also been able to help clients to find pathways to employment, further education and accommodation.
As their situations have improved, some people who first came to the Curry Circle as clients have now returned as volunteers and Gora believes that the initiative has helped to break down barriers of race and religion in the area.
"A lot of the non-BAME service users held a lot of stereotypes regarding Muslims. It's helped to have a core group of Muslim volunteers to dispel them," she said.
While Gora and her team never envisioned the numbers they now see coming through the Curry Circle's door, the benefits it brings to clients have become widely recognised.
In January 2020, the Prince and Princess of Wales visited MyLahore. In recognition of the Curry Circle's work, Gora and several clients were invited to meet them. One, named Keith, spoke to the couple about how the Curry Circle helped him when he was homeless and unemployed.
"It was the proudest moment of his life," said Gora. "Moments like that make it all worthwhile."
Topics
Selected stories
Is the Gaza truce a turning point in the Israel-Hamas war? Our panel discuss this and other topical issues. Plus, a look at the Muslim renters dealing with London's housing crisis

The filmmaker on her life, work and why telling women's stories is more important than ever

From Ramadan dates to Christmas pudding, food can encapsulate specific times of year and remind us of the circular rhythms of life