Faduma Farah Q&A: 'Let disabled people enjoy shopping and buy clothes off the rack'
The fashion brand founder on her mission to bring a pop of colour to adaptive clothing
In 2011, Faduma Farah contracted meningitis. The disease left her temporarily paralysed from the neck down and she has been a wheelchair user ever since. When Farah found that she couldn't get hold of stylish clothes that met her needs, she decided to create her own fashion line, tailored to people with disabilities. 
Now 46, London-based Farah is the founder of Faduma's Fellowship, an adaptive fashion initiative launched in 2021, which has been showcased at London Fashion Week and is set to release a ready-to-wear clothing range in the coming months. Here she talks about the challenges she has overcome during her career and the steps mainstream designers can take to be more inclusive. 
This conversation has been edited for length and clarity.
What gave you the idea for Faduma's Fellowship?
I became disabled 12 years ago. I felt ill one day, walked into hospital and fell into a coma for four months. When I woke up, I was paralysed from the neck down. I remained in hospital for more than a year. In rehab, you don't wear hospital gowns. You wear tops and trousers to do physical therapy. I became triple the size I was before, so all I wore was oversized T-shirts and oversized jogging bottoms.
I love colour, I love being flamboyant, but all of a sudden I was stuck in plain clothing. It got to the point where one day I started complaining to my mother that there was nowhere I could buy anything I could wear to go out. Then she said: "Well, what are you waiting for? If you want a change to start, it has to start with you. Why don't you do something about it?" That's where my journey began.
Can you tell us about your approach to living with a disability?
Well, I'm not in denial. I don't say I'm not disabled, but I refuse to be disabled. In other words, I don't let my condition hold me prisoner. Before 2011, I had a fabulous life and was a very busy, active person, but that stopped and I got a new life. I started from scratch, not being able to speak or swallow, being able to use one eye and then the other, trying to lip read and using an alphabet board to communicate. Now I rejoice in whatever Allah has given me.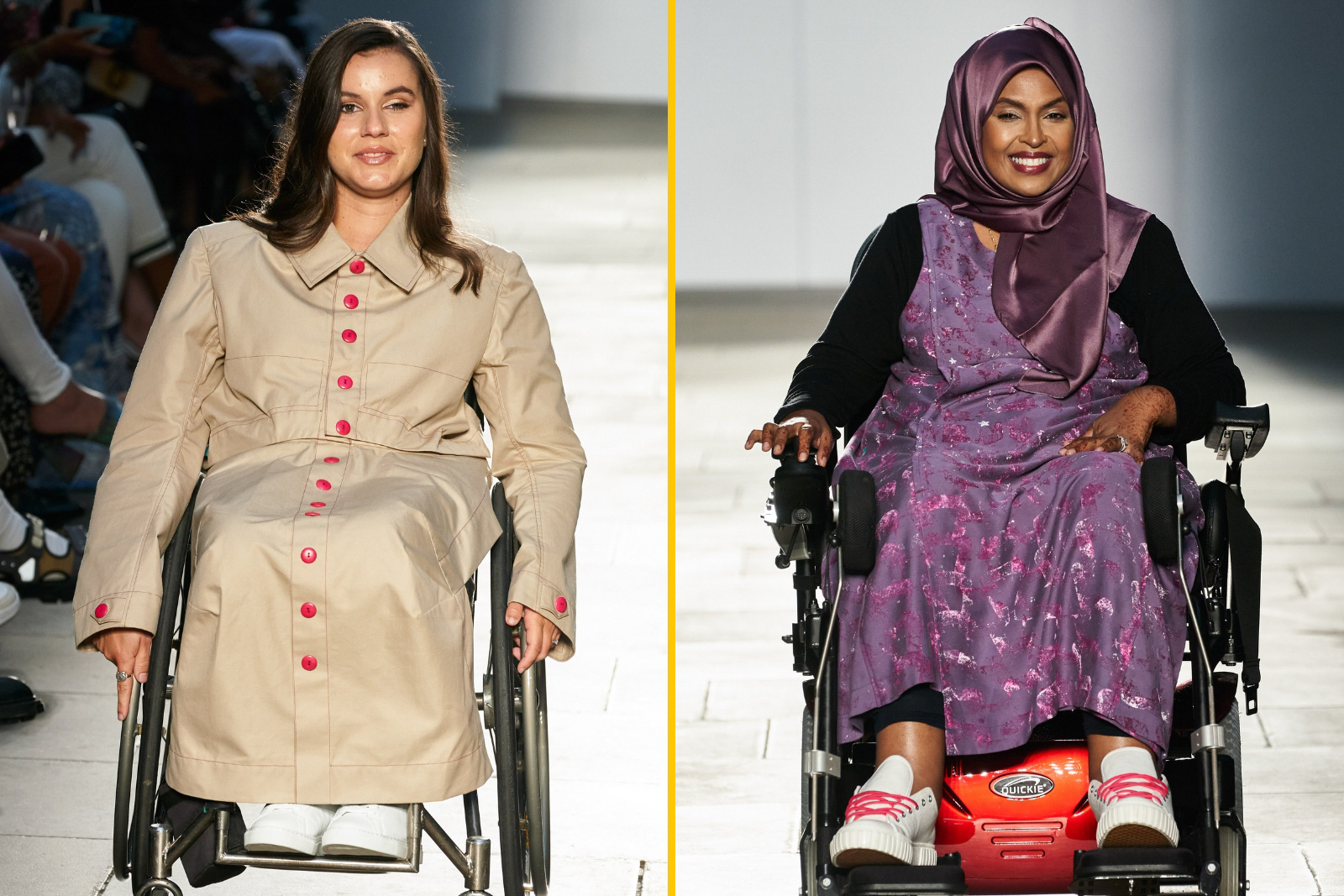 Before starting Faduma's Fellowship, where did you shop for clothes that met your needs and was it hard to find appropriate designs?
I couldn't shop anywhere. There were no clothes available for people like me and, quite frankly, there still aren't. When I was in rehab I was helped by the occupational therapist and the only place we could buy adaptivewear was an online shop in Canada, but one pair of jeans cost £110, which was ridiculous. My mother used to stitch and send me clothes from Africa to wear that were easy for me to get into. I actually design a lot of my own clothes now. I have a tailor based here in the UK who I call and tell what I want and he makes it for me.
How do the clothes that you will be producing address the needs of people with disabilities?
When you sit in a wheelchair, you sweat and your clothes can get damp and give you sores, so the material needs to be breathable and to have fewer seams. Our designs are easy to use by people wearing catheter bags or stoma bags, so they can be changed even while you're sitting in a wheelchair. Also, if a person has less hand dexterity, it's hard to button shirts, so we have incorporated Velcro or magnetic buttons which allow wearers the feeling of having buttoned their own shirt. It's the little things like this that matter in adaptive clothing.
Apart from some designer brands, including Tommy Hilfiger, very few major retailers stock adaptive clothing. Do you think that can change?
They say that the person wearing the shoe feels the pinch. To think about the needs of people with disabilities, they have to touch you. I guess we need a lot of education. Our fashion and design schools need to start teaching these things. Also, a lot of noise needs to be made for people to realise that a whole community is not being catered to. It's about more than the clothes, too. There are no spaces for wheelchair users to get through aisles in shops and even fitting rooms don't cater to us.
What about adaptive clothing appropriate for Muslim women? Will you be looking into this?
All of the designs by Faduma's Fellowship are modest, so we cater for everyone. For our London Fashion Week show, we used six walking models and six wheelchair models, because not every person who is disabled is in a wheelchair.
There was a time when I didn't wear a hijab in the hospital because my hands weren't working and there was nobody who could tie one properly for me. That used to kill me. I wanted something I could quickly put on and that would sit nicely, something fashionable but accessible, so I will definitely be looking into adaptive hijabs.
What is the future of adaptive clothing?
More than 20% of the UK population is disabled in some way. Disability doesn't come and go, it stays with you for life, so we need everyone to take the disabled community into consideration. I would love for high street shops — especially my favourites, like John Lewis, Marks & Spencer and Zara — to stock adaptive clothing. Let us shop just like everybody else, be able to go into a store and grab something off the rack, go to the fitting room and try it on.
Topics
Selected stories
Is the Gaza truce a turning point in the Israel-Hamas war? Our panel discuss this and other topical issues. Plus, a look at the Muslim renters dealing with London's housing crisis

The filmmaker on her life, work and why telling women's stories is more important than ever

From Ramadan dates to Christmas pudding, food can encapsulate specific times of year and remind us of the circular rhythms of life