'I want to make a meaningful impact on the lives of Muslim women'
Dutch police officer Sarah Izat was sent home for wearing a headscarf, and expects more restrictions to come — but is also hopeful that the law will be changed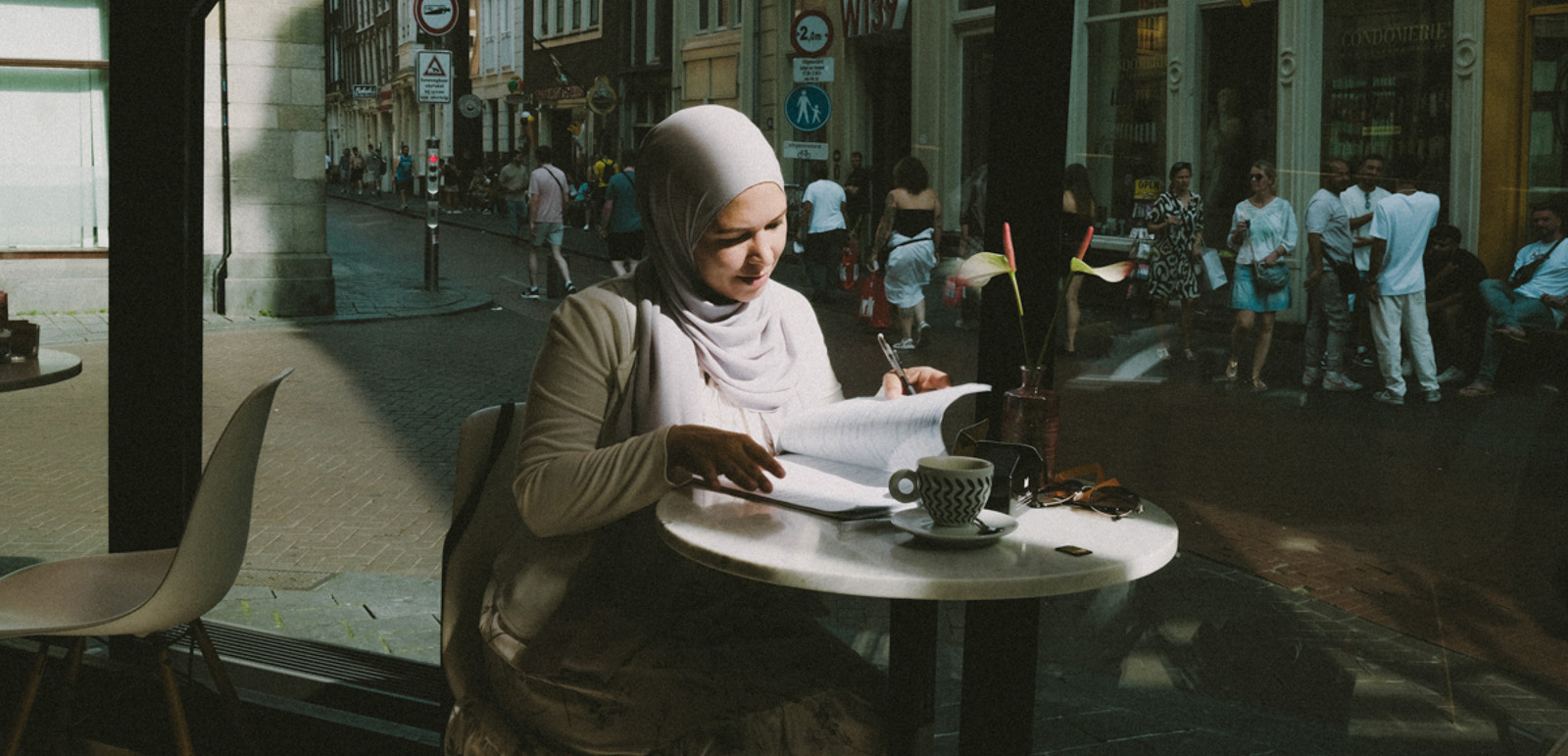 Sarah Izat had always regarded the Dutch police as heroes. For the 32-year-old, who arrived in the Netherlands as a refugee from Iraqi Kurdistan when she was eight, her decision to work for the Rotterdam Police was a way of giving back to her adopted home.
She had worn a hijab since her teens, so when she started on the force in 2013 she naturally wore one to work, even though she felt a little self-conscious around her colleagues. It was only when she applied for a senior role writing police statements that Izat found out how big a problem that was for her employers.
"During the job interview, they presented a hypothetical scenario in which I was instructed to take a statement without wearing my hijab but in uniform," she said.
Izat was confused by the question. In 2017, when this interview took place, there was no policy in place explicitly banning the hijab, which is worn by a few hundred women in the country of 17 million people. Nor were there any rules around head coverings in the job requirements of the Dutch police force.
"I told them I would take the statement wearing my hijab, combined with the police uniform," she said. "If this was prohibited, I would pursue the path of justice and take my case to the European Court of Human Rights. That was my response, true to my convictions and determined to stand for equality."
Rotterdam police gave her the job but on her first day in the role, she was sent home by her manager for wearing a hijab. Izat recalls her shock that her superiors, who had given her the promotion knowing that she wore a covering, would flag this as a problem once she was in the role. She went home feeling "belittled" and "deceived".
Izat took her case to the Netherlands Institute of Human Rights which intervened on her behalf, delivering a committee ruling later that year that she had been a victim of discrimination. While the decision did not carry any legal authority, the institutional support gave Izat the chance to return to work and "breathe freely again". The principle of neutrality was not legally binding, and the Dutch police decided not to push back.
Izat returned to work several months later, but soon became the target of hate on social media following an interview she gave to the national newspaper De Volkskrant in which she said that none of her colleagues with tattoos, or who wore a cross, faced the same challenges she had. "I owe society my side of the story and want to enter into dialogue," she said.
Ebru Umjar, a Dutch writer well-known for her anti-Muslim perspective, responded in a column for the free tabloid Metro: "I hate you and your kind with all that I have." The furore that followed forced Izat off social media and away from the limelight until now.
Six years on, Izat's case marks a decisive moment in Dutch-Muslim relations and a national debate on the concept of "neutrality" — an idea adopted from the French laïcité that first gained ground in Holland in 2011. Anti-hijab rhetoric has been bubbling since 9/11, says Rabin Baldewsingh, who monitors Islamophobic sentiment in the Netherlands, reporting to the government as the country's national coordinator against discrimination and racism. He points to the far-right politician Geert Wilders, founder and leader of the Party for Freedom (PVV), who persistently proposed banning the hijab for more than a decade, eventually galvanising the Dutch government to ban face coverings – such as niqabs – in public buildings in 2019.
Last year, Dutch justice minister Dilan Yeşilgöz-Zegerius of the ruling People's Party for Freedom and Democracy party (VVD), a former refugee who wants to reduce immigration, explicitly referred to the hijab as clothing that goes against the country's principle of neutrality. In a letter to MPs, she advocated a ban in the police force, writing: "I don't think a visible expression of a religion or belief is appropriate for officers in uniform. These are people who represent the government and who are mandated to use force if necessary."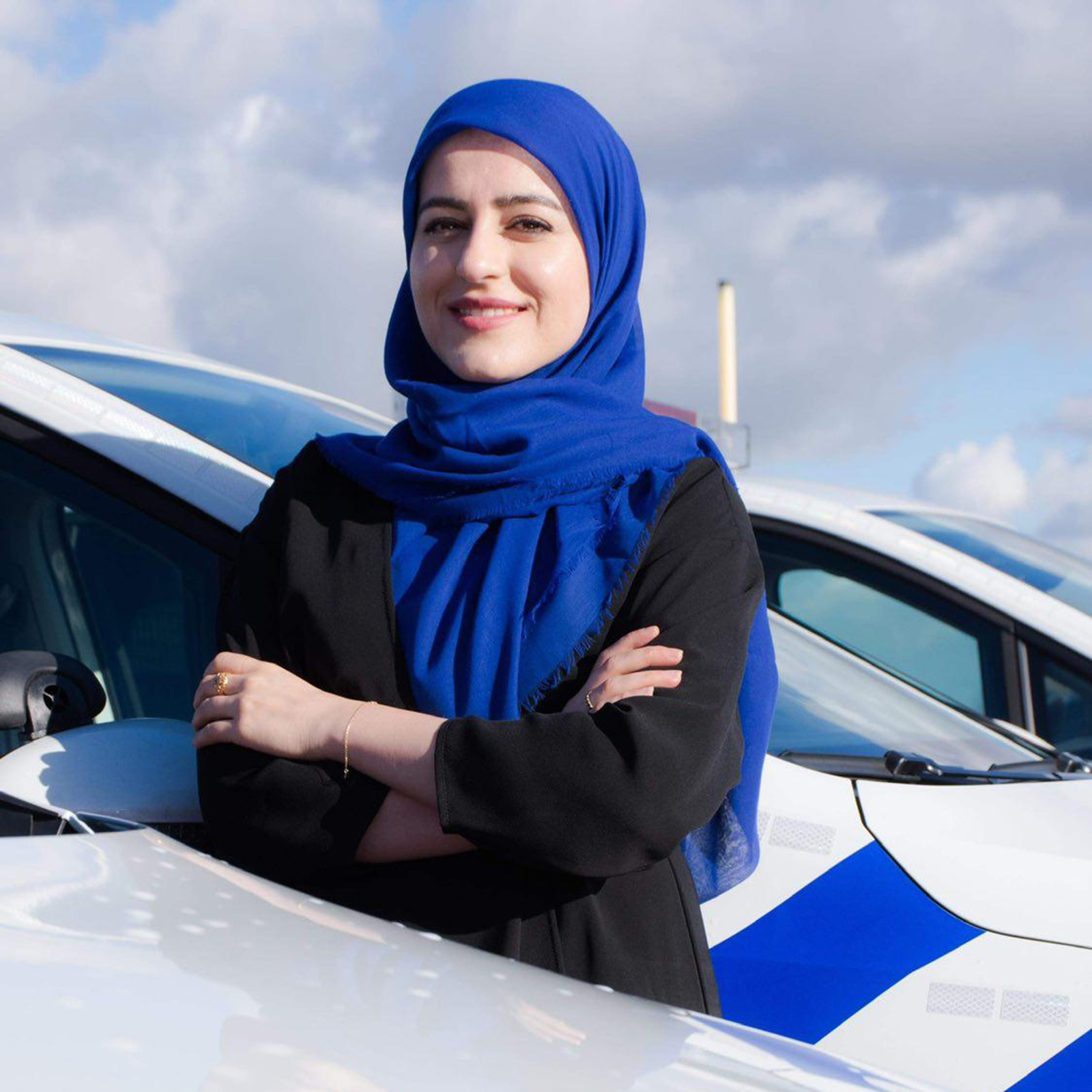 This July, parliament voted in support of this position and introduced legislation prohibiting those in enforcement duties, including the army, the police and court judges, from wearing the hijab. For Izat, the new law has marked an alarming progression in the "endangered freedom" of Muslims in Europe, prompting her to speak out again. "I expect that we will continue to be confronted with restrictions, bans and exclusion which can lead to discrimination. Look, for example, at France, where an intensive crackdown on Muslim women appears to have begun," she told Hyphen in her first interview since 2017.
Several senior police officers have challenged the government's ban. Among them is Amsterdam police chief Pieter-Jaap Aalbersberg, who, in an interview with Algemeen Dagblad, argued that allowing head scarves to be worn by police would in fact benefit the force, particularly in its efforts to achieve diversity. Aalbersberg and others believe that inclusive rather than exclusive policies that better reflect a modern Netherlands are required if they are to fill the 17,000 shortages in police staff. Baldewsingh, meanwhile, argues that police neutrality should be displayed in conduct, not dress, pointing to the first article in the Dutch constitution enshrining the equality of Dutch citizens in law.
Amsterdam-based lawyer Elsa van de Loo also publicly opposes the idea that the hijab compromises neutrality. "The way it's being explained now, in a way that I totally disagree with, is that if you work as a police officer or a judge, you cannot have someone think you're biased," she said, adding that while neutrality among those in authority is important, that is assured "in the way you act and not in the way you look".
Van de Loo, who herself wears a hijab, sees another problematic gendered aspect to the police hijab ban: "It is not a problem for a Muslim man as he can have a beard."
Despite the wave of anti-hijab legislation across Europe, Izat's belief in the headscarf as a "symbol of empowerment and unity" remains undiminished. She is hopeful that even this may have the positive effect of bringing a greater sense of solidarity to the Muslim community. In March, she launched an online clothes store for Muslim women.
"I want to make a meaningful impact on the lives of Muslim women in the fashion industry, where finding suitable and fashionable clothing is often a challenge," she said. "My experiences, especially when my hijab became the talk of the nation, have strengthened this calling."
Others in the Dutch Muslim community, like van de Loo, are optimistic that the hijab ban could still be undone. A general election is scheduled for November and politicians will be forced to acknowledge wider demographic shifts already changing the Dutch social landscape. The number of Dutch citizens with at least one foreign-born parent is projected to increase from 4.2 million in 2020 to between 5.3 and 8.4 million in 2050.
"Society is changing. Muslim women are participating in different ways," said van de Loo. "This narrow skew of neutrality is not sustainable in the future. I don't think it'll stay like this and it will be a short matter of time before it will change."
Topics
Selected stories
Is the Gaza truce a turning point in the Israel-Hamas war? Our panel discuss this and other topical issues. Plus, a look at the Muslim renters dealing with London's housing crisis

The filmmaker on her life, work and why telling women's stories is more important than ever

From Ramadan dates to Christmas pudding, food can encapsulate specific times of year and remind us of the circular rhythms of life