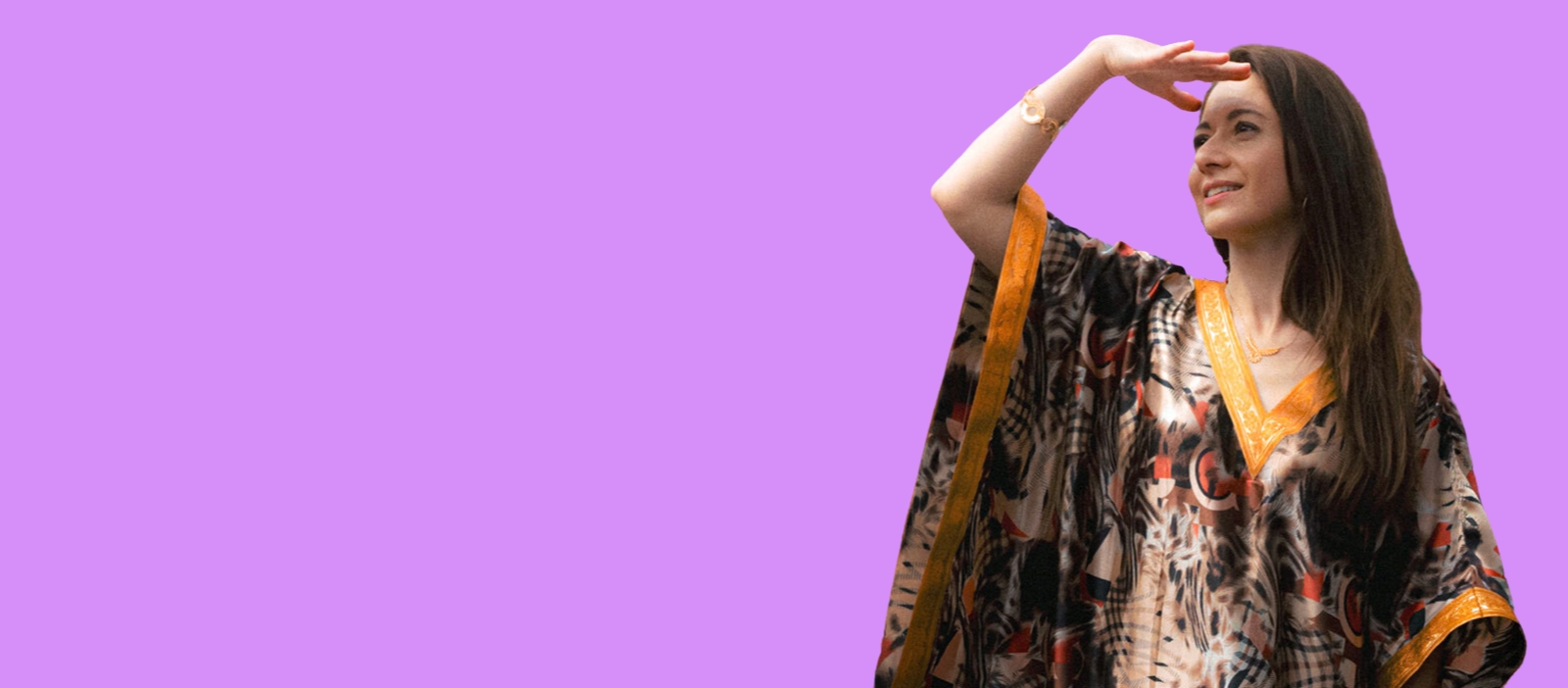 Yazz Ahmed Q&A: 'I was told I play instruments like a man'
The Bahraini-British jazz trumpeter on the power of fusing musical genres
Yazz Ahmed is a composer and trumpeter, who describes herself on Twitter as the "high priestess of psychedelic Arabic jazz". Her signature sound fuses the rhythms and melodic structures of Arab and modern classical music with syncopated improvisation.
Born in the Persian Gulf to a Bahraini father and an English mother, Ahmed struggled to find her own identity after moving to London as a child. She began to take an interest in jazz music at school and quickly gravitated towards the trumpet.
Now 40 years old, Ahmed has performed across the UK and Europe and has recorded with the likes of Radiohead, Lee "Scratch" Perry and Transglobal Underground. Ahmed will be performing at the London Jazz Festival 2023 on Sunday 12 November, alongside producer and DJ Hector Plimmer and percussionist Ralph Wyld.
This interview has been edited for length and clarity.
How does your mixed heritage influence your music?
When I moved to London at the age of nine in 1992, I felt like I had left part of my heritage back in Bahrain. I hid my mixed background for fear of being ridiculed because my dad is Muslim. It wasn't until my late 20s that I started listening to Arabic music again and tried to learn the language. That made me remember my happy childhood back in Bahrain — the music, food, the smells, going to the souks with my friends. All of those nostalgic memories inspired me. Also, discovering an album called Blue Camel by Rabih Abou-Khalil, a Lebanese jazz oud player, made me think maybe I could try this.
What challenges do you face as a Muslim woman in the jazz scene?
As a female player, I have definitely been undermined. People have preconceived ideas of how women should be on stage, what instruments we should play and even if we should be playing at all. When I was younger, I was told, "wow, you play like a man". There are so many pressures with people assuming that women aren't as good as men, which is absolute rubbish, as we know. It affected my confidence, but it has made me work a lot harder.
Aside from the trumpet, do you play any other instruments?
I play the flugelhorn, which is very similar to the trumpet. I also play the quarter-tone flugelhorn. It's a unique instrument, which plays what are known as the blue notes found in Arabic scales. It's very human-sounding.
If you would change one thing about the jazz scene, what would it be and why?
I would like to see a lot more equality. Venues should make an effort to have more female-led bands and bands from different backgrounds, even inviting people from outside of the UK. I know that some festivals and organisations understand the importance of visibility of people from different ethnicities. I find it very frustrating that some promoters can be lazy and don't do their work to find these women. This can only be done if safe spaces are being created for girls and women to showcase their talent and make it in the industry.
Artists often speak about how music brings people together. Can you think of a time you have seen this?
I find that a very diverse group of people tend to watch my performances, which I love, but one particular time I will remember forever was when I played in Braga, Portugal, in May. I discovered that the members of the Zohra Orchestra — Afghanistan's first all-female orchestra — came to watch. I had the privilege of meeting them after the concert. Knowing what those brave young students went through, simply to play music, made my heart ache. I hope to one day meet them again and perhaps even perform with them.
Who are your favourite jazz artists?
First would be the Canadian composer Kenny Wheeler. His music is so fragile and very personal. You feel his music in your heart. I remember going to see his 80th birthday concert and I couldn't stop crying — I've never felt that before. Next, it would be Miles Davis, a great pioneer of all sorts of jazz. He has shaped the history of music. Then I'd say Rabih Abou-Khalil because I wouldn't be writing the music that I do now if it wasn't for discovering him.
How do you see your career developing?
I am working on my fourth album, which is inspired by traditional Bahraini music. It's about pearl divers and the songs they sing when they go out to sea — songs of loneliness, about missing their loved ones while they're away for months. It will also feature women drumming groups and be a mix of instrumental jazz and electronics. I'm hoping to release it next year. As for the future, my dream collaborator would be Björk. I would love to pick her brains.
Topics
Selected stories
Religious leaders from Spain, Germany and Sweden speak about events in the Middle East and the consequences for their communities

Is the Gaza truce a turning point in the Israel-Hamas war? Our panel discuss this and other topical issues. Plus, a look at the Muslim renters dealing with London's housing crisis

The filmmaker on her life, work and why telling women's stories is more important than ever