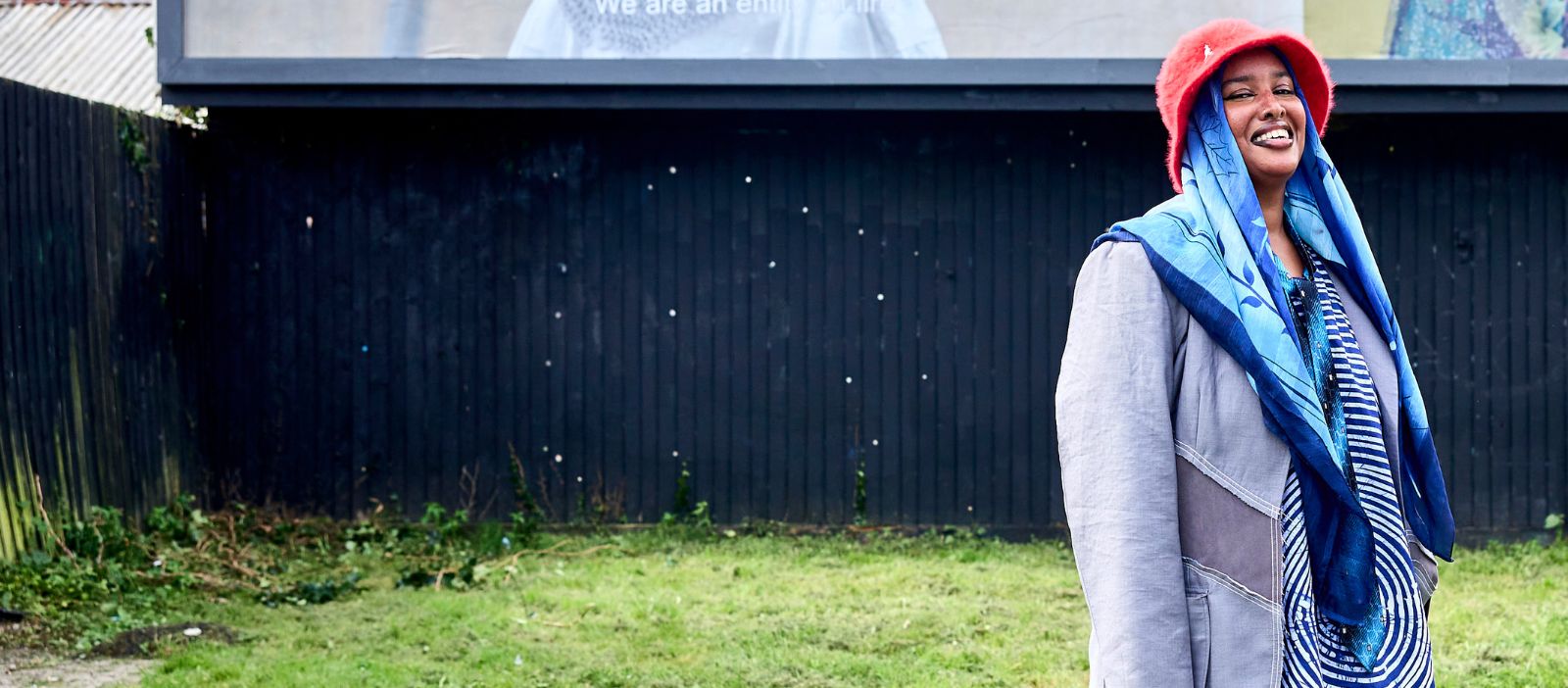 Asmaa Jama Q&A: 'I am interested in the ways people resist being erased'
Asmaa Jama stands in front of their All About Love billboard, commissioned by Buildhollywood. Photograph courtesy of Asmaa Jama/Kevin Lake
The poet and artist on how Somali folklore influences their work alongside modern films
Asmaa Jama is a Danish-Somali poet, artist and filmmaker based in Bristol, who has been shortlisted for the Queen Mary Wasafiri Writing Prize and longlisted in the National Poetry Competition. In September, Jama took over billboards in Bristol with visually striking stills from their short film, Except this time nothing returns from the ashes, shot on location in Addis Ababa.
The commission, titled All About Love, was part of a national project curated by Zarina Rossheart and commissioned by street advertising specialists Buildhollywood. It encouraged artists to use street spaces to produce works responding to the 2000 book All About Love by Black feminist author Gloria Jean Watkins, better known as bell hooks.
They spoke to Hyphen about how poetry and film come together in their body of work.
This interview has been edited for length and clarity.

Can you tell me a bit about your most recent project in Bristol?
We did a takeover in the city over the weekend which was also a performance. The stills that ended up on the billboards were from a film that I made with my collaborator, Gouled Ahmed. That film looked at self portraiture and the ways that people resist being erased. So we had, I guess, phantoms haunting the city. We shot on location in Addis Ababa, then I wrote the text, and that's what I performed. There's also this idea of plastic being a metaphor for people that have been discarded.
What first attracted you to filmmaking and poetry?
My initial interest was through my poetry because I'm Somali and there's a very rich history of poetry in that country. It was a way of connecting with my heritage. I was really inspired by Warsan Shire's book Teaching My Mother How To Give Birth. I think I was aged around 13 and it was mind blowing to me to see her combining Somali and English at the same time. Poetry just became my medium.
Did you grow up in an artistic family?
There's a very important Somali poet called Hadrawi whose poems my dad would translate. A lot of Somali poems become popular songs, so the pieces of that cultural world are connected. Maybe he also opened up this idea of something being multidisciplinary, I don't think a poem was ever something that was written down, it always felt alive.
So how did you make the move from poetry to visual arts and filmmaking?
Through my poetry I started connecting with other people, I worked with a choreographer to perform my poems, and then performed them in her show. I started making films and got a commission with BBC New Creatives to make an interactive film in collaboration with Gouled Ahmed. I paint as well, which is something I started when I was younger and then picked up again. There are different ways of expressing myself, of telling a story.
What are the dominating themes and influences in your work?
I am inspired by visuals, I'm always screenshotting and saving stills and I think the images just stay in my mind. I watch a lot of films. Recently I watched The Colour of Pomegranates. I think that's a very strikingly shot film. And a more recent movie, Joyland had these great visual moments for me. I also really like Julianknxx, who has an exhibition at the Barbican at the moment.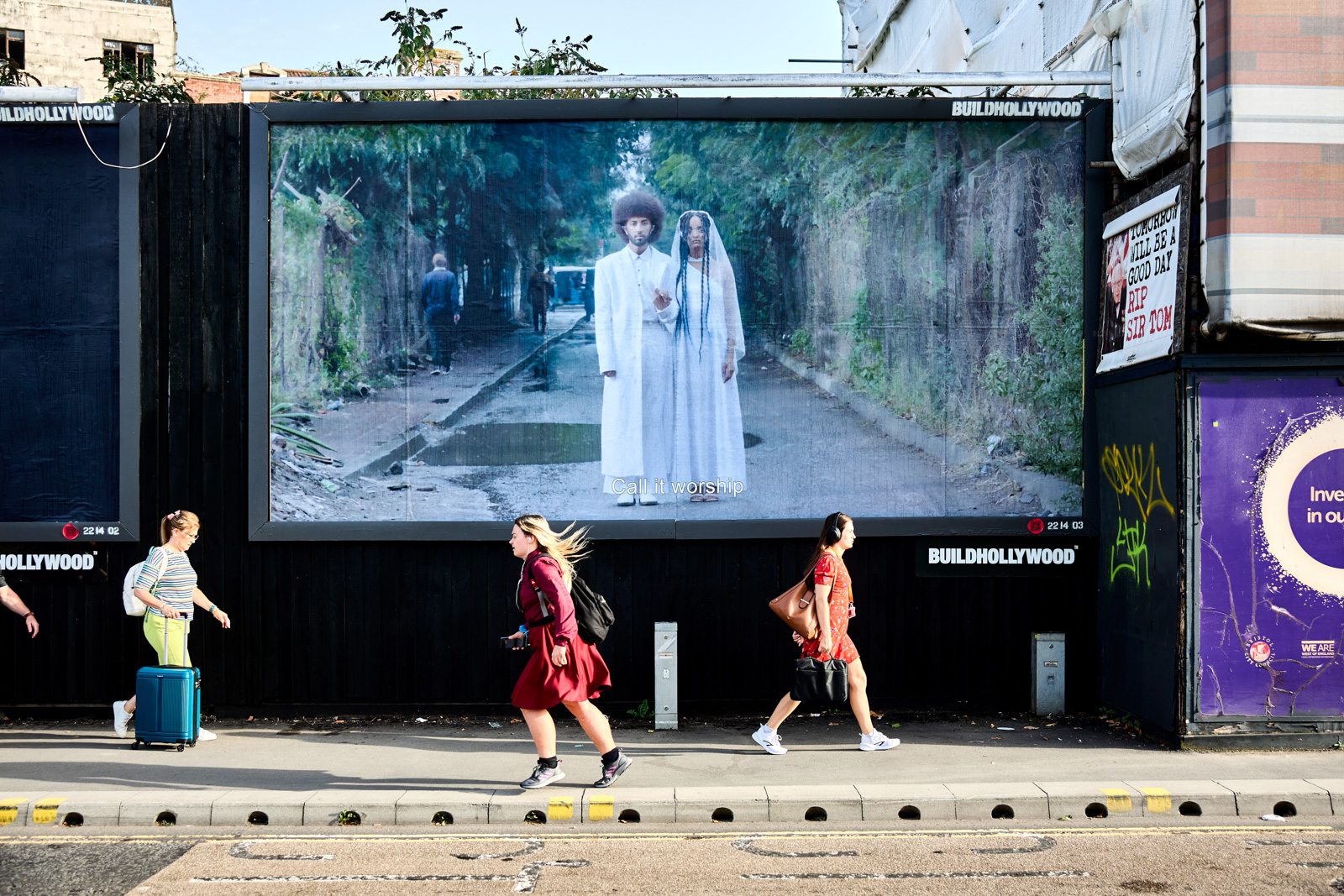 Why do you draw on Somali folklore in your work?
I grew up with a lot of storytelling around me, and I think folklore and myth can serve as touchstones when it comes to worldbuilding. In The Wretched of the Earth, Frantz Fanon describes these stories of "'serpent-men" as being "a magical superstructure" that governs our worlds. I think in every tale, there is an underpinning lesson about how to exist with nature, about how to be a good person.
I think folklore and the oral tradition of passing it down is my inheritance. It also governs how I move through the world, what I believe, what rituals and superstitions I hold.
Are there challenges to progressing in the arts as a more experimental and multimedia artist?
I think there's a lot of room in art for experimental work and perhaps it's harder in more traditional film spaces to make work that's not narrative driven. I am inspired by a lot of Black experimental filmmakers, including the Sankofa Collective, John Akomfrah, Ja'Tovia Gary. It's inspiring to see people push the bounds of the medium. 
What would your advice be to new and aspiring Somali artists?
Look at the artistic traditions you come from and let that ground you. For me, it was about looking for works outside of the traditional canon and reminding myself of the deep artistic lineages there are in the global south. In African cinema, you have Djibril Diop Mambéty, Ousmane Sembène, Safi Faye to start. There is also a really wonderful experimental Somali film called Geedka nolosha (The Tree of Life) by Abdulkadir Ahmed Said. And then there's also contemporary artists and filmmakers like Mo Harawe, Ladan Osman, Warda Mohamed and Khader Ahmed. There's always someone that came before – or someone that was waiting for you to come along too.
Topics
Selected stories
Is the Gaza truce a turning point in the Israel-Hamas war? Our panel discuss this and other topical issues. Plus, a look at the Muslim renters dealing with London's housing crisis

The filmmaker on her life, work and why telling women's stories is more important than ever

From Ramadan dates to Christmas pudding, food can encapsulate specific times of year and remind us of the circular rhythms of life