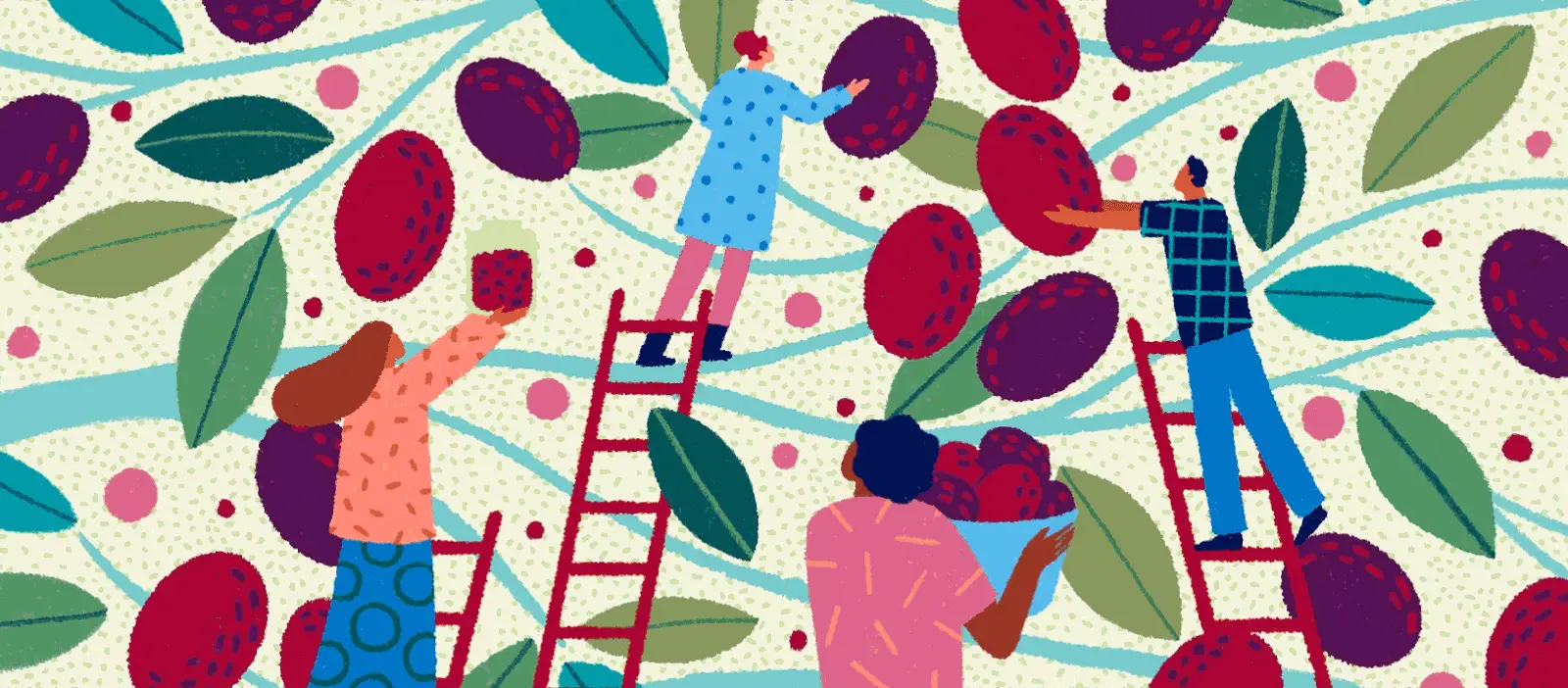 Soul preserves
From pickles and ferments to jams and chutneys, conserving surplus produce allows us to enjoy fruits and vegetables grown in familiar earth, many thousands of miles away
At the bottom of my parents' garden is a Victoria plum tree. It was a sapling when they moved into their home almost 30 years ago. Today it stands proudly, its trunk thicker and branches sturdier, beside the summer house my sisters and I used to play in.
Our summers were spent impatiently checking the buds on the tree and trying to predict whether it would offer up a bumper crop that year. The end of the long school holidays was heralded by fruit picking. My dad would hand us plastic colanders and we were sent out to collect as many plums as we could carry. In a good year, there were too many to eat fresh. We would give away full carrier bags full to neighbours and relatives and still be left with a glut. With an abundance that would have been sinful to waste, my mother set about preserving the harvest.
Extending the life of fresh produce through processes such as salting and pickling is one of the oldest methods of food preparation. Evidence from the Tigris Valley shows that pickles were being made as early as 2030 BCE. The practice is as universal as it is ancient and cultures have their own traditions: kimchi from Korea; plums and ginger from Japan; various types of achar from the Indian subcontinent; eastern European sauerkraut.
My mum's preferred approach of preserving homegrown crops is to make satni — or chutney. While pickling tends to require large quantities of raw ingredients such as vinegar, oil, salt and a lot of time, chutney-making is quicker and far less labour intensive. Her method goes something like this:
Heat a flavourless, neutral oil, such as corn oil, to a medium temperature and saute some crushed garlic until the fragrance emerges and there is the slightest hint of gold. Add a few teaspoons of panch puron — the Bengali five-spice mix, made from fenugreek, nigella, cumin, black mustard and fennel — and fry until the seeds pop. Then tip in the peeled, chopped fruit, which doesn't have to be plums. My mum preserves apples, blackcurrants and gooseberries from the garden using this recipe. Stir well, adding liberal amounts of salt, sugar, lemon juice, and sliced green chillies.
Then cook low and slow until soft and pulpy, remembering to stir occasionally. The chutney is ready once it has amalgamated into an unctuous, velvety consistency that is aromatic and fruity, sweet and savoury. I find it the perfect accompaniment to mutton biryani, along with a dollop of yoghurt, or as a dip for freshly fried, crunchy bhajis and boras. Once cooled, it can be stored in sterilised jars and kept in the fridge for months or, better still, shared with neighbours and friends.
Harvest time in Keighley, the small West Yorkshire town where I grew up, prompted a community generosity that I remember fondly. We swapped jars of chutney with neighbours up the road who made jam from their homegrown damsons, and with our nextdoor neighbour who made blackcurrant preserve. Partly inspired by our neighbours, I turned my hand to jam-making too. We didn't have a family recipe, so my mum left it up to me, a devoted disciple of Delia Smith, to look them up. In the days before the internet, my research consisted of watching TV episodes and cross-referencing books from the library. I noted that Delia used a very tall saucepan. Necessary, she said, because sugar gets very hot and you don't want it to spit. We didn't have a tall pot, so I used the huge catering-grade pan mum used for making bhuna gosht at Eid.
Victoria plums are distinctive thanks to their velvety skin and unique colouring: blush pink and lilac, with mottled patches of pale green if picked a little too early. I halved and stoned them, diligently removing the skin from about half — partly out of laziness, partly to retain a rustic texture and a deeper colour. The fruit was added to the pan along with eye-watering quantities of sugar. The sound of the grains whooshing out of the packet always made me a little nervous. It felt so indulgent to use so much. Next came the pectin, in the form of lots of freshly squeezed lemon juice, which necessitated even more sugar. The jam, like chutney, needed long, slow cooking to get thick and sticky. A quick plate and spoon test helped determine when it was ready.
Making a huge vat of homemade plum jam made me feel like a storybook character. I always wanted to cut little squares of red and white gingham and tie them over the jar lids and make cute labels tied with raffia. In reality, the containers available to me were old Pataks pickle jars with their bold purple lids, and my labelling method was cutting up address labels from my dad's stationery drawer and sticking them onto the jars with extra Sellotape. If the presentation was a little rough around the edges, it didn't make the contents any less delicious.
The sharing of food as a means of connection is often talked about, but there is something special about the power of preserves to bridge wider geographical gaps. For people living far from home they offer a way to enjoy produce grown in familiar earth, many thousands of miles away. Relatives returning from Bangladesh often bring jars of achar made from green mangoes, tamarinds or olives, all grown in family orchards. These jars and bottles are always wrapped in several layers of plastic and smuggled into suitcases amid prayers that they won't leak. The effort to transport them mirrors the labour of love that goes into making them.
It is the same in many other diaspora families. An Ethiopian friend brings homemade awaze — a condiment made from red chilli and mustard — back when he travels. A Bulgarian former housemate used to return from visits to her grandparents' home with jars of preserved treats. Often the biggest joy is introducing new textures and flavours to friends and loved ones, sharing a taste of home and hoping they enjoy it as much as you.
Topics
Selected stories
Religious leaders from Spain, Germany and Sweden speak about events in the Middle East and the consequences for their communities

Is the Gaza truce a turning point in the Israel-Hamas war? Our panel discuss this and other topical issues. Plus, a look at the Muslim renters dealing with London's housing crisis

The filmmaker on her life, work and why telling women's stories is more important than ever