From Marvel to Barbie, hijabis are making their mark on the cosplay scene
Drawing inspiration from comic books and movies, a growing number of young Muslim women are pushing modest clothing into the realms of fantasy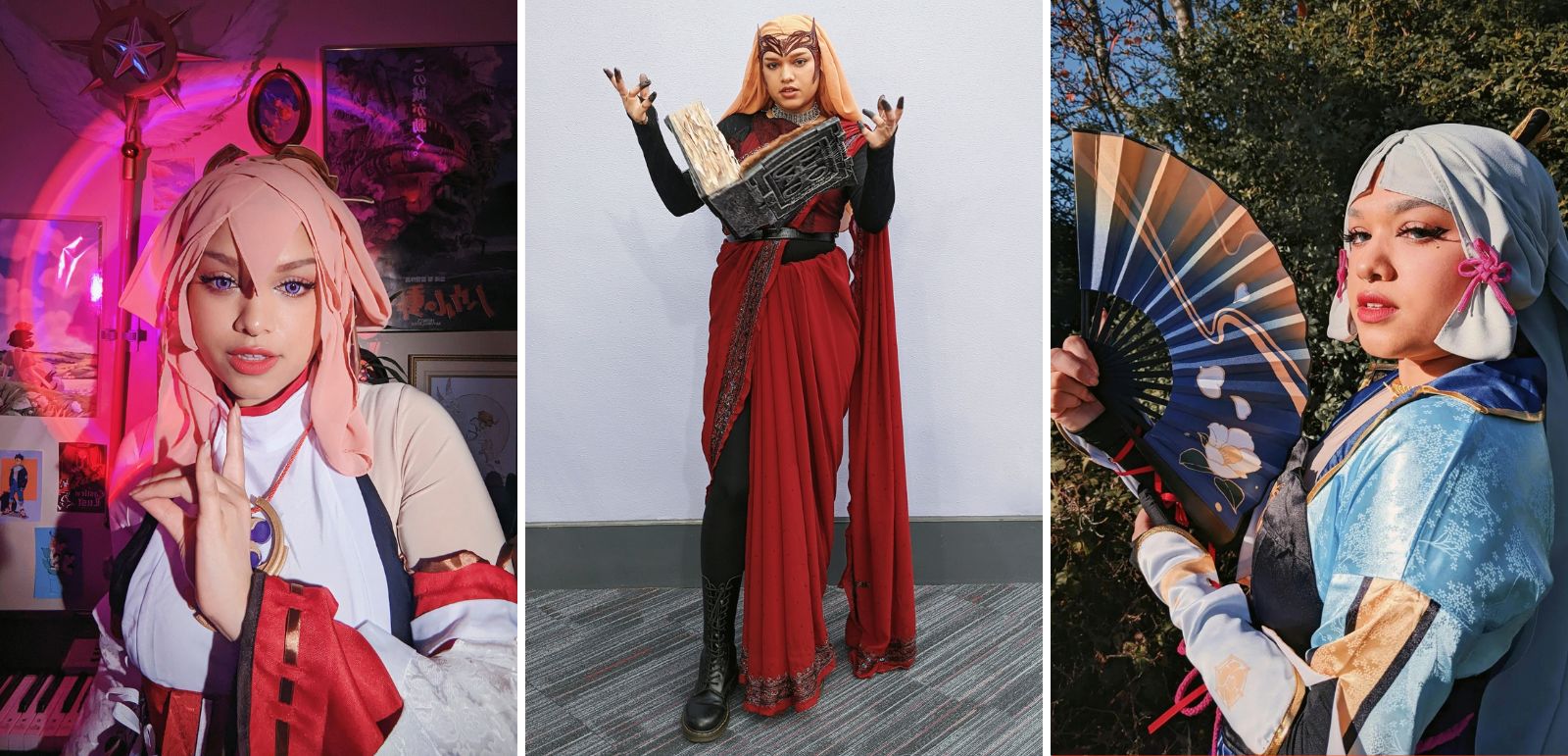 Earlier this year, Saima Chowdhury caused a buzz on social media when she posted a picture of herself, captioned "Desi Scarlet Witch". Her outfit, modelled on a comic book superhero, was carefully curated, comprising a regal red sari, draped over a long-sleeved black top, leggings and combat boots, a peach-coloured headscarf, a crown-like headpiece and blackened fingertips. Completing the ensemble was a prop she made herself: a thick, grey book which her followers, many of whom are fans of Marvel movies and comic books, recognise as "The Darkhold".
Birmingham-based Chowdhury is part of a growing community of cosplayers, who express their love of comic books, superhero and fantasy films and anime in creative costume-making. Many cosplayers invest significant time, effort and money to produce their intricate and hyper-realistic outfits — some of which require specialist skills, such as the electrical engineering knowledge needed to make a functioning Iron Man helmet.

While most practitioners focus on creating looks faithful to the fictional worlds they feature in, hijabi cosplayers such as Chowdhury, 29, have made a name for themselves by creating modest versions, customising the original designs to cover skin and hair, in accordance with their religious beliefs.
"Anyone can get involved. You don't need to change who you are to be a part of it," Chowdhury says.
Now cosplay, which is already popular in Asian countries such as Singapore and Malaysia, is gaining devotees in the west. Artist and digital creator Zainab Jiwa is another big name in the UK hijabi cosplay scene. Her modest costumes regularly receive millions of views on Instagram and TikTok. She also recently starred in an ad campaign for Samsung and can frequently be seen interviewing famous actors from Netflix shows and Marvel movies, and attending major award ceremonies including the Baftas.

Chowdhury entered the cosplay scene in 2019, after several years as a modest fashion blogger and YouTuber posting outfits and head scarf-tying tutorials. At the time, there were few western hijabi cosplayers. As a result, Chowdhury quickly found an online audience, especially among anime and manga fans who were drawn in by her portrayals of characters from series including Cardcaptor Sakura and the video game Genshin Impact. As her following grew, Chowdhury began experimenting with new styles, incorporating brightly coloured contact lenses, swords, eye patches, lace gloves and leather harnesses.

Many Muslims are attracted to cosplay because they see dressing up as popular fictional characters as both an effective way of elevating modest fashion trends and a form of escapism.
"As hijabis we don't often see ourselves represented in fiction, so we often have to try to imagine or write ourselves into the stories we love," says 22-year-old London-based journalist Shaheena Uddin, who has recently taken up cosplay as a hobby.
"Hijabi cosplay is a fun way of placing ourselves into these worlds and characters, with the added challenge of staying true to our Islamic values by making our costumes modest."
One of Uddin's recent cosplay experiments was dressing as Spider-Gwen, a Marvel character recently featured in the animated movie Spider-Man: Across the Spider-Verse. Because the character wears a hood, Uddin saw the costume as easily "compatible with hijab".
But it isn't just just superheroes and fantasy characters that Muslim cosplayers are imitating. When the Barbie movie was released in July, many hijabi women donned head-to-toe pink outfits to mark the occasion. Even women who had never attempted cosplay before jumped on the Barbiecore trend, wearing gingham prints, silk dresses and suit separates, accessorised with pearl-emblazoned berets on top of bright pink headscarves.
Uddin believes that the popularity of Barbie is an example of Muslim women feeling more comfortable participating in pop cultural trends. To her, cosplay presents an avenue for Muslim women from all walks of life to express themselves through fashion.
"The message of the film was about celebrating all women, from every background because anyone can be a Barbie — and that includes Muslim women being able to practise their faith freely," she says. "I found it very heartwarming to watch all the creative TikToks and see so many pink hijarbies in the cinemas."

As more young Muslim women embrace cosplay, questions about its permissibility have also arisen. A cursory online search brings up dozens of queries posted by Muslims related to rulings on wearing costumes, including whether one can cosplay with hijab and whether a Muslim can take part in fantasy roleplay.
Uddin believes that some of this scepticism is rooted in confusion and the possibility that individuals who don't understand cosplay culture might believe that participants are attempting to mimic western styles of dress and physical characteristics. For her, however, the opposite is true.
"Instead of trying to look like the characters, it can be fun to make the characters look like you," she says.

It's a sentiment that Chowdhury also agrees with. "I love that cosplay allows you to become your favourite characters," she says. "It feels like I'm healing my inner child by dressing up and having fun as an adult."
Topics
Selected stories
A new genre of writing is slowly establishing itself and painting a broader picture of what love can look like

The fashion influencer on faith, modesty and claiming a space for Black Muslim women

This week our panel assess what the Liberal Democrats offer Muslims and discuss the ongoing debate about definitions of Islamophobia. Plus, travel blogger Yara Abdelsamie on travelling solo and the best European destinations for Muslim women