The unstoppable rise of the halal breakfast
From Mediterranean delicacies to halal takes on the classic English fry-up, Muslim-owned cafes across London are changing the way we start our days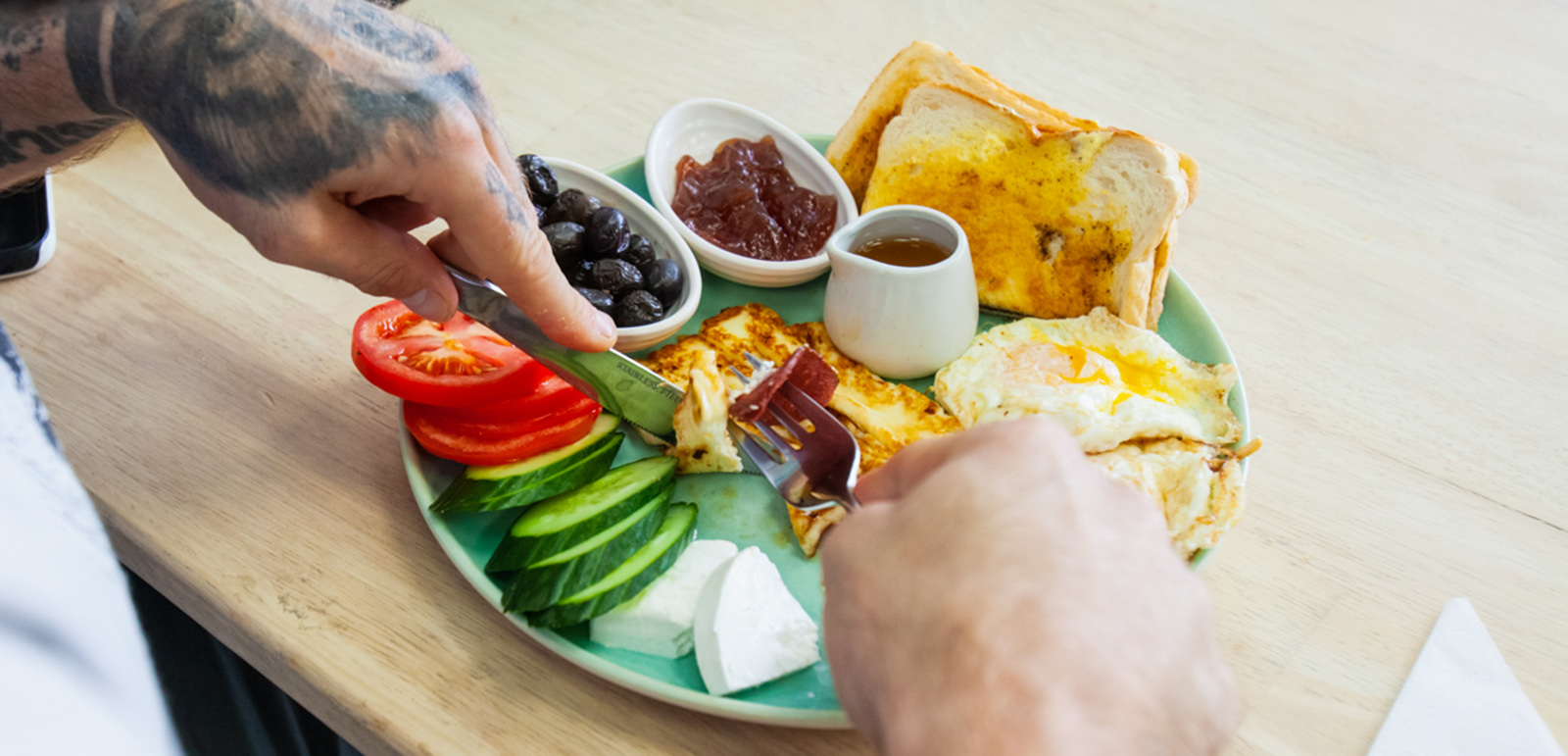 Food is among the last things that British people are proud of, that lack of regard for our own cuisine often acts as a litmus test, of sorts, for national identity. One dish sits right at the heart of UK culture, though: the classic fry-up. Go to any cafe and it's almost guaranteed to have a take on the time-honoured combination of eggs, bacon, sausages, mushrooms, some variety of fried potatoes and toasted bread with a generous slathering of butter.

The passion this meal arouses is so great that it comes in distinct national variations including the full English, full Scottish and full Welsh, all of which provoke fierce debate among connoisseurs — baked beans or not; are hash browns appropriate? It has also inspired an array of blogs and Instagram accounts dedicated to the best of the genre.
The ardent opinions and heated discussions about the fry-up have, however, largely ignored one of the most striking developments of the UK breakfast scene. In recent years, many of the north London cafes I frequent have been serving their own alternative. Typically billed simply as the Mediterranean breakfast, it is a hearty plateful comprising eggs, fried halloumi, salty cheese, sliced sucuk beef sausage, olives, cucumbers, fresh tomatoes and bread or toast. What's more, among regular punters it seems just as popular as the traditional British celebration of protein, saturated fat, carbs and salt.
The meal is clearly influenced by the Greek, Cypriot and Turkish communities that have for decades flourished in areas such as Manor House, Turnpike Lane and Wood Green. While the owners of many of London's remaining old-school greasy spoons come from those communities, their customers reflect the diversity of the city. The growing popularity of the Mediterranean breakfast has provided an opportunity for restaurant owners to offer those patrons a variety of dishes that have not been part of the standard cafe repertoire.
Now, shakshuka and cilbir — Turkish poached eggs served on a bed of garlicky yoghurt — are firm favourites among the regulars at Bowes Cafe in Bounds Green. Bowes, which happens to be my local, is a quintessential example of why British cafes are so well loved. From its warm, inviting atmosphere to its hearty portion sizes and varied menu, there's a reason I'm in there nearly every weekend.
"When I took over five years ago, I was undecided whether to keep it as it was — a typical builders' cafe — or updating it and readjusting everything with today's trends," says owner Alev Kotch.
Kotch was five years old when her dad bought his first cafe in Hoxton. She grew up making and serving classic cafe staples, including the sausages, eggs and chips that would make up its traditional full English. A few years ago, feeling dissatisfied with her project management job, she jumped at the opportunity to take over the cafe's lease.
During her early years at Bowes, Kotch recalls customers from a variety of ethnic backgrounds asking her to add items to their morning meals not normally included in the traditional fry-up. Requests ranged from salad to cold cuts of pastrami and toast with honey. When she took over, those memories gave her the confidence to put together a menu that both reflected her identity and catered for the wide-ranging palates of her clientele.
"I think everyone wanted a bit of a change and had different tastes," Kotch says. "North London is well known for its Mediterranean population. When you think about it, Greeks, Turks, Kurds, Italians — we all eat more or less the same things."
But what about Muslims who are just as enthusiastic about large cooked breakfasts as I am, yet have long lacked an alternative to the pork-heavy fry-ups this island is known for? Fortunately, breakfast trends appear to have gone full circle, with a growing number of cafe proprietors moving back towards the full English, but giving it a halal update.

One of them is Onic Bozoglu, the owner of Dobar, which has two restaurants on Green Lanes and one in Crouch End, all of which serve a varied menu featuring fry-ups, Instagram-ready stacked pancakes, fresh fruit and Lotus Biscoff hot chocolate.
"We also have the option of halal fry-ups, which has become very popular. Even pork eaters are now opting for this," he says. "Halal fry-ups were non-existent 10 years ago. But now, suppliers can match the quality of the sausages and turkey rashers to the pork ones. It's become popular and allows halal-only customers to eat with us completely assured."
Judging by the queues of diners willing to wait up to an hour for a seat, Dobar's appeal extends far beyond the Muslim market. The cafe's loyal following reflects changing tastes across the UK, and the influence that Muslims have had on the nation's culinary culture, from the now ubiquitous adana wrap to the Michelin-starred quail seekh kebabs at Gymkhana.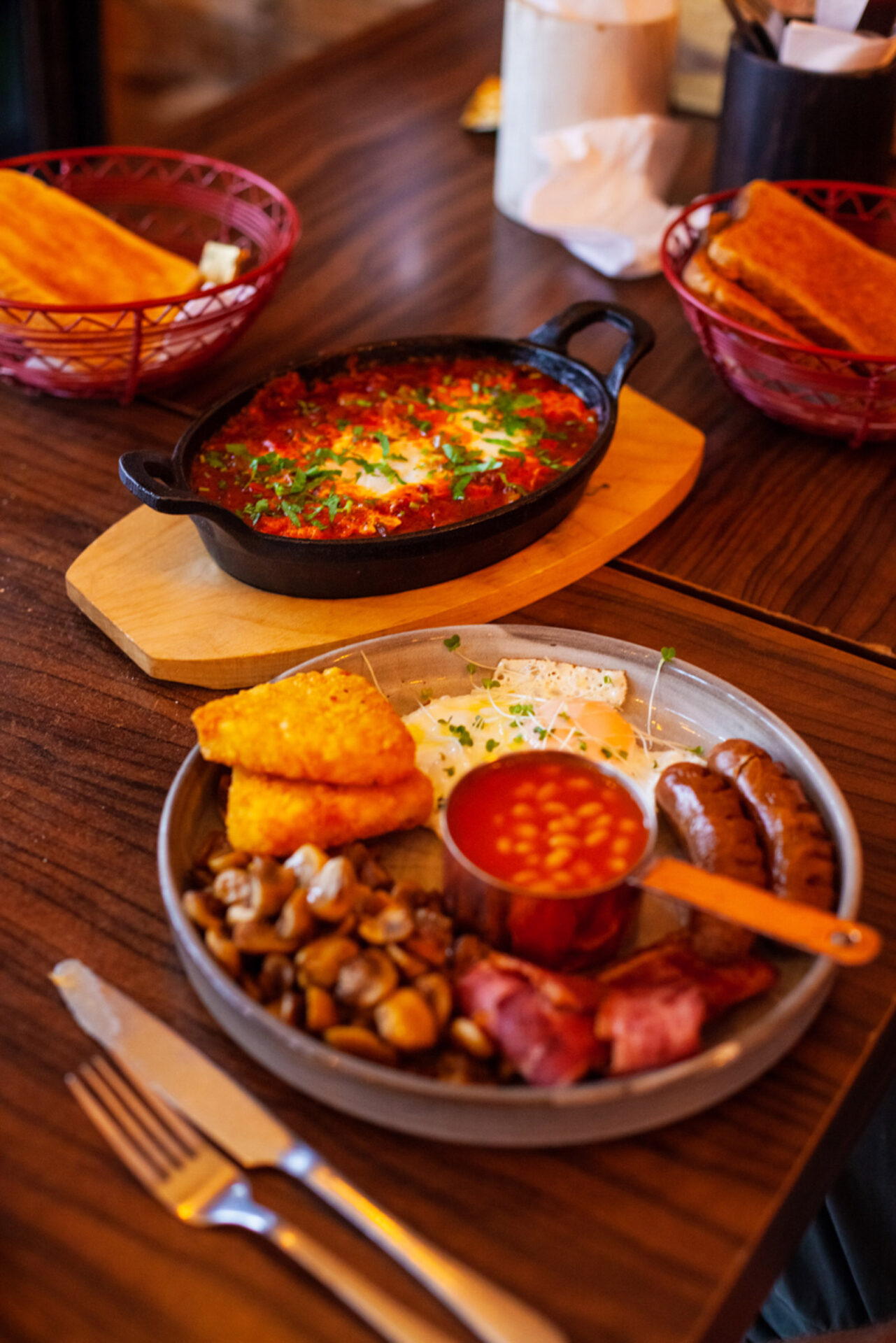 "The trend of cafes offering inclusive alternatives for fry-ups started gaining popularity two or three years ago," says Ahmad Osman, who has owned The Rabbit Hole, a small, completely halal cafe on Holloway Road, since 2018. Over a plate of sausages and beef bacon, he notes that while his initial customer base consisted of Muslims looking for halal cooked breakfasts, the range of people passing through his doors has broadened considerably.
"Other Londoners are more open-minded about food and cultural integration," he says, adding that the success of his business is "a reflection of London's multicultural essence and the desire to embrace different culinary traditions".
Slowly but surely, halal fry-ups are following the trajectory of the Mediterranean breakfast and spreading across the capital. Muslim lifestyle blogs, including Halal Food Diary and Halal Gems, now have extensive lists ranking the best spots.
Of course, Bowes cafe and others like it will still serve the classic English breakfast, along with standard menu items such as burgers and jacket potatoes. Excelling at these staples means that such establishments have become guardians of the high-cholesterol traditions at the heart of the nation's culinary identity. Like Dobar and The Rabbit Hole, they are also helping to define what British food is and can become.
In their own ways, both the Mediterranean breakfast and the halal fry-up feature quintessentially British dishes such as chicken tikka masala and salt and pepper chips — ways for cultures to pay homage to one another with their own spins on classic dishes and, in so doing, showing what it means to be British today.
Topics
Selected stories
A new genre of writing is slowly establishing itself and painting a broader picture of what love can look like

The fashion influencer on faith, modesty and claiming a space for Black Muslim women

This week our panel assess what the Liberal Democrats offer Muslims and discuss the ongoing debate about definitions of Islamophobia. Plus, travel blogger Yara Abdelsamie on travelling solo and the best European destinations for Muslim women