Afternoon tea gets a halal makeover
From Lebanese treats to five-star luxury, this quintessentially English meal is both infinitely adaptable and increasingly inclusive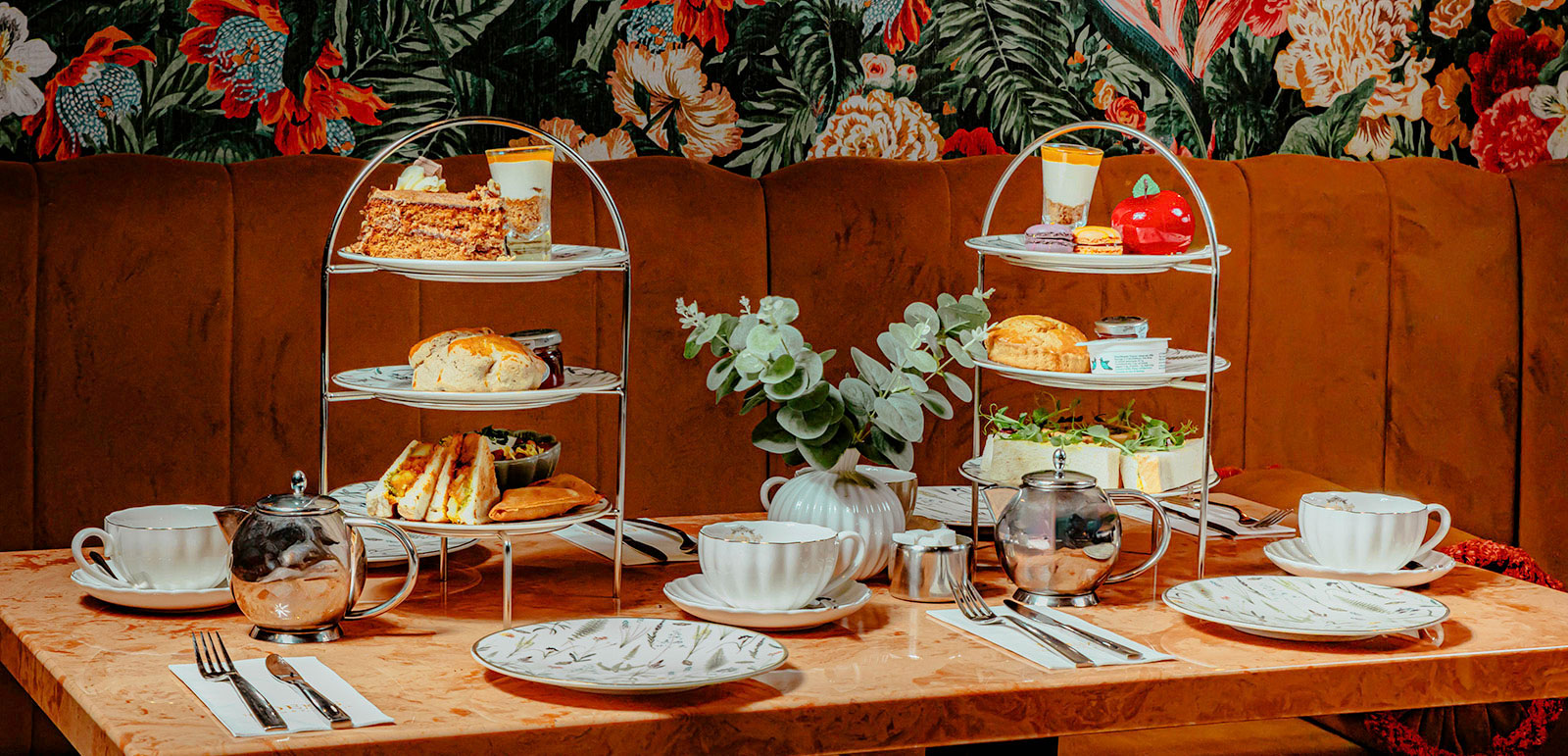 Think of afternoon tea and the chances are that you'll picture a pristine white tablecloth filled with immaculately sliced finger sandwiches, bite-sized cakes and floral bone china. Given that the menu has remained largely unchanged since its invention in the early days of Queen Victoria's reign, you would generally be right, too.
Thanks to a new generation of Muslim devotees, however, the meal now appears to be shedding its long-held chintzy image and undergoing a halal makeover. Afternoon Tea Week 2023, which runs from 7-13 August, offers the ideal opportunity to highlight some of the innovative takes on this once quintessentially English feast.
One deliciously unexpected example is a Lebanese rendition pioneered by Aqua Food and Mood in Coventry. The family-run restaurant delivers a fusion of east and west, using a traditional English three-tiered stand to showcase the culinary traditions of the Levant. The top plate includes marinated olives, hummus and cucumber crudités. The middle features crisp cheese sambousek and mini-wraps filled with chicken, shawarma, lamb shawarma and vegetarian falafel. The bottom plate, meanwhile, plays host to desserts, including macarons, baklava and maamoul — an ornately decorated Middle Eastern pastry, stuffed with dates and nuts.
Priced at £15 per head, the menu is anchored by a selection of teas including fresh mint, cinnamon, cardamom and Earl Grey. But the two Lebanese options — aynar and zhourat — are the real stars. According to restaurant owner Abz Hussein, both have "beneficial components, like anise, nutmeg and cloves, to help balance your digestive system and your energy levels".
Hussein, 43, ships dried flowers for the zhourat direct from Lebanon. The blend, including relaxing chamomile, is then made in-house. Served in a geometrically patterned Lebanese-style teapot and poured tableside, it pairs beautifully with rich Middle Eastern flavours of the food. If you're feeling adventurous, you can also sample a non-alcoholic prosecco from the restaurant's 100% dry bar.
"We used to be a licensed restaurant, but during the Covid-19 lockdowns we realised that a lot of people, because of all the bars and pubs being closed, went dry," said Hussein. "We took the opportunity to become a non-alcoholic restaurant, but didn't want to be a place where the only option is a Coke or orange juice."
While researching the concept, Hussein was overwhelmed by the range of alcohol-free options produced by wineries in the south of France and Spain. "They aren't the diluted versions that you get on supermarket shelves, but are really high quality wines that you can actually taste and enjoy with a meal," he added.
According to Hussein, the decision did cost the restaurant some initial trade, but the format gradually revealed itself to be a resounding success. Now, his business attracts more Muslim customers and three other dry bars have opened up in the area.
Eden's Tearoom in Bradford, West Yorkshire, takes a slightly different approach to its halal experience, offering fruity mocktails and drawing inspiration from South Asian dishes. Opened in February 2023, this impeccably decorated cafe serves both a desi afternoon tea and a classic English option.
A 10-minute drive away from the Unesco world heritage site of Saltaire, the establishment caters to local residents and tourists with a menu that includes vegetarian and gluten-free choices. For Saeqa Gazi-Hussain, 30, who co-owns the tearoom with her husband Nurul Hussain, 32, creating an inclusive atmosphere is at the heart of their mission.
"You've got those lovely coffee shops and little places to eat in Saltaire but none of them are halal. I feel like afternoon tea was always only for a certain kind of demographic — the kind of people that might have felt comfortable going into Bettys," she said, referring to the famous Yorkshire tea rooms in the nearby spa town of Harrogate.
After realising that she had to travel out of the city to enjoy a halal afternoon tea, Gazi-Hussain decided to bring a welcoming sense of luxury to her hometown. The intimate, homely nature of the tearoom has also made it a popular choice for bridal and baby showers.
For Muslim customers who want something more than the dainty bites and subtle flavour of the classic afternoon tea, the cafe offers an Indian option for £15 per person, featuring Bombay potato sandwiches, samosas and a spicy chickpea bowl, alongside cakes, pastries and karak chai. The showstopper at the top of the tiered afternoon tea plate is a chocolate mousse, made in the shape of a glazed red apple — a reference to the religious roots of the restaurant's name.
"It's light and it's halal," said Gazi-Hussain, explaining that it can be hard to find such desserts made without gelatin. "We work with an artisan Bakery that makes the mousse for us and I was thinking we could change that up and do something different for Afternoon Tea Week."
For diners seeking nostalgic glamour, though, a historic West End hotel will always be the archetypal afternoon tea destination. With a truly international clientele, many of whom come from Gulf nations such as the United Arab Emirates and Saudi Arabia, many now offer menus that are fully accessible to Muslim customers.
In the heart of Mayfair, The Ritz London provides an entirely halal option, available on request at the time of booking. Served in The Palm Court, a lavishly decorated room with chandeliers, pillars, gilded mirrors and 24-carat gold details, the five-star establishment sticks to the classic formula of tiny sandwiches — cheddar, cream cheese, chicken, smoked salmon and egg mayonnaise — pastries, cakes and feather-light scones with clotted cream and strawberry preserve. Eighteen varieties of tea are poured from silver pots while a pianist provides live musical accompaniment.
Sadaf Aslam, 49, an assistant headteacher at a special school, from Ealing, west London, is a big fan of afternoon tea. She booked a table at The Ritz to celebrate her husband's birthday in March, but has also been to The Savoy and The Dorchester. She described their meal as a "memorable, opulent experience" and a "real treat".
Priced at £72 per person, afternoon tea is served daily over five sittings from 11.30am to 7.30pm. It's a formal affair, with men required to wear a jacket and tie. Some high-end establishments, such as the nearby luxury hotel Claridge's, however, do not enforce a dress code. Despite the price tag and the old-school etiquette, demand is high. With customers who wish to take tea at The Ritz facing a 10-week waiting list, it seems the allure of this refined and infinitely adaptable tradition is here to stay.
Topics
Selected stories
A new genre of writing is slowly establishing itself and painting a broader picture of what love can look like

The fashion influencer on faith, modesty and claiming a space for Black Muslim women

This week our panel assess what the Liberal Democrats offer Muslims and discuss the ongoing debate about definitions of Islamophobia. Plus, travel blogger Yara Abdelsamie on travelling solo and the best European destinations for Muslim women