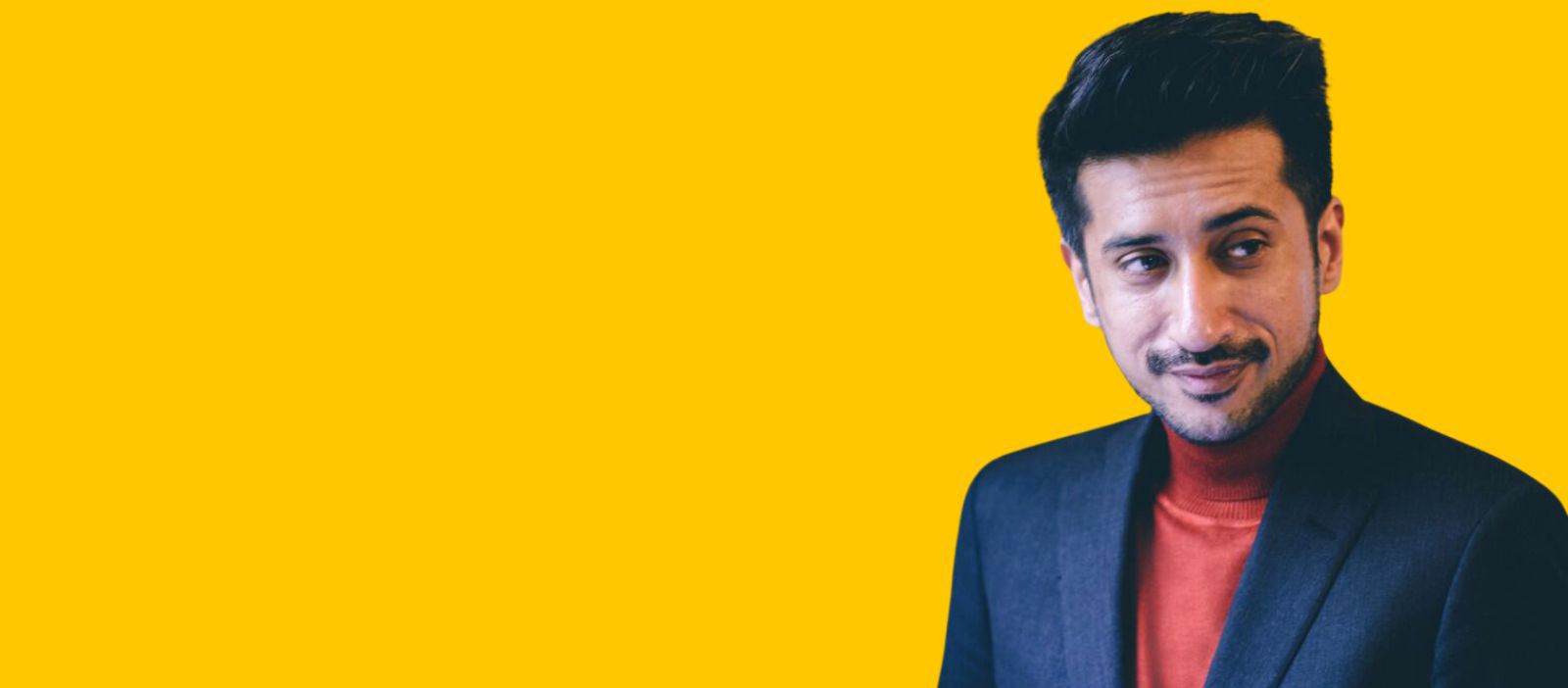 Asim Abbasi Q&A: 'Doors opened up for me in Pakistan because the film and TV industry was growing'
After making short films in the UK, Asim Abbasi made his feature film debut Cake in Pakistan, before landing ITV show Count Abdulla. Photograph courtesy of Asim Abbasi/Fudge Park/ITV
The filmmaker and director talks about ITV's Muslim comedy horror Count Abdulla
Asim Abbasi is British-Pakistani filmmaker and the director of ITV's Count Abdulla, a comedy horror series about a Muslim NHS doctor who becomes a vampire.
He started his career making short films in the UK. Then, in 2018, Abbasi directed his debut feature film Cake, a comedy-drama that focuses on lives of two sisters reunited in Pakistan by the declining health of their father.
He is also the writer and director of the 2020 Pakistani web series Churails, about a group of women who set up a detective agency to expose unfaithful husbands, only to get into murkier territory.
This interview has been edited for length and clarity.
How did you get into filmmaking?
My background is actually in finance. I did investment banking in my 20s, but there was something inside me that always just wanted to be a creative person. I loved writing and was always a film buff. At 30, I left banking and studied film theory at SOAS. Then I started doing a bunch of short films in the UK, but it was and is a super-competitive industry. At that point, I didn't have an agent, so I wasn't getting any long-form gigs. Then doors started opening up in Pakistan, because the industry was growing there.
Is Count Abdulla your first time making something in the horror genre?
I've not done horror. I've never really done comedy. My dramas have humorous bits in them, but an outright 25-minute sitcom-ish comedy — I have not done that. It was always a tightrope because it's positioned as a comedy, but we have a lot of horror tropes in it.
And it's bringing together a classic story from Europe with Muslim characters
The theme of "othering" is core to Count Abdulla. South Asians know othering, as immigrants and in a country that is predominantly white, whether it's through racism, xenophobia, or Islamophobia. I think the vampire metaphor lends itself very well to the issues, the socio-political landscape and climate that we face as outsiders.
But the interesting twist here, thanks to the show's writer Kaamil Shah, is that vampirism is usually associated with Christianity and western symbolism, so what happens if that symbolism is eastern and it's linked to South Asian culture? It plays with a lot of those tropes that exist within vampire mythology, but gives them a South Asian-slash-Muslim twist.
What films have influenced you the most?
I always end up going back to a lot of arthouse cinema, European cinema, as opposed to more mainstream Hollywood. For everything, I revisit Ingmar Bergman, Andrei Tarkovsky, and Wong Kar-wai, even if they have nothing to do with the show or film I'm working on. They just get me in the right frame of mind and remind me why I do this.
What did you watch to prepare for Count Abdulla?
We revisited all the old vampire films and TV series and thought, "What can we take away from these and what can be different in our show?" One thing that was really important for Count Abdulla was that Kaamil wanted the show to feel sexy. British comedy tends to be lit very high-key. We wanted to switch that around and make it moodier and darker, so we revisited a lot of noir and neo-noir films.
What would your dream project or story be?
I have been very lucky that I think all my projects have been dream projects. When I was doing Cake I really wanted to write a story about a dysfunctional family, because I was dealing with my father's ageing — it was almost like I was pre-grieving his loss.
I don't think there is any one particular story that I want to tell, but I want to do new genres. I want to do sci-fi, I want to do dystopian drama, I want to explore romantic comedies. As long as I can find my own authenticity, my own specificity and my own language to tell that story, I'm happy.
What are your plans for the rest of 2023?
I'm writing a couple of things that I'm developing and I have a series and a film that I want to do. Then I'm open to any other drafting gigs that come my way. I'm just reading scripts and figuring out what fits with what I want to do and where I can leave a mark.
Topics
Selected stories
A new genre of writing is slowly establishing itself and painting a broader picture of what love can look like

The fashion influencer on faith, modesty and claiming a space for Black Muslim women

This week our panel assess what the Liberal Democrats offer Muslims and discuss the ongoing debate about definitions of Islamophobia. Plus, travel blogger Yara Abdelsamie on travelling solo and the best European destinations for Muslim women