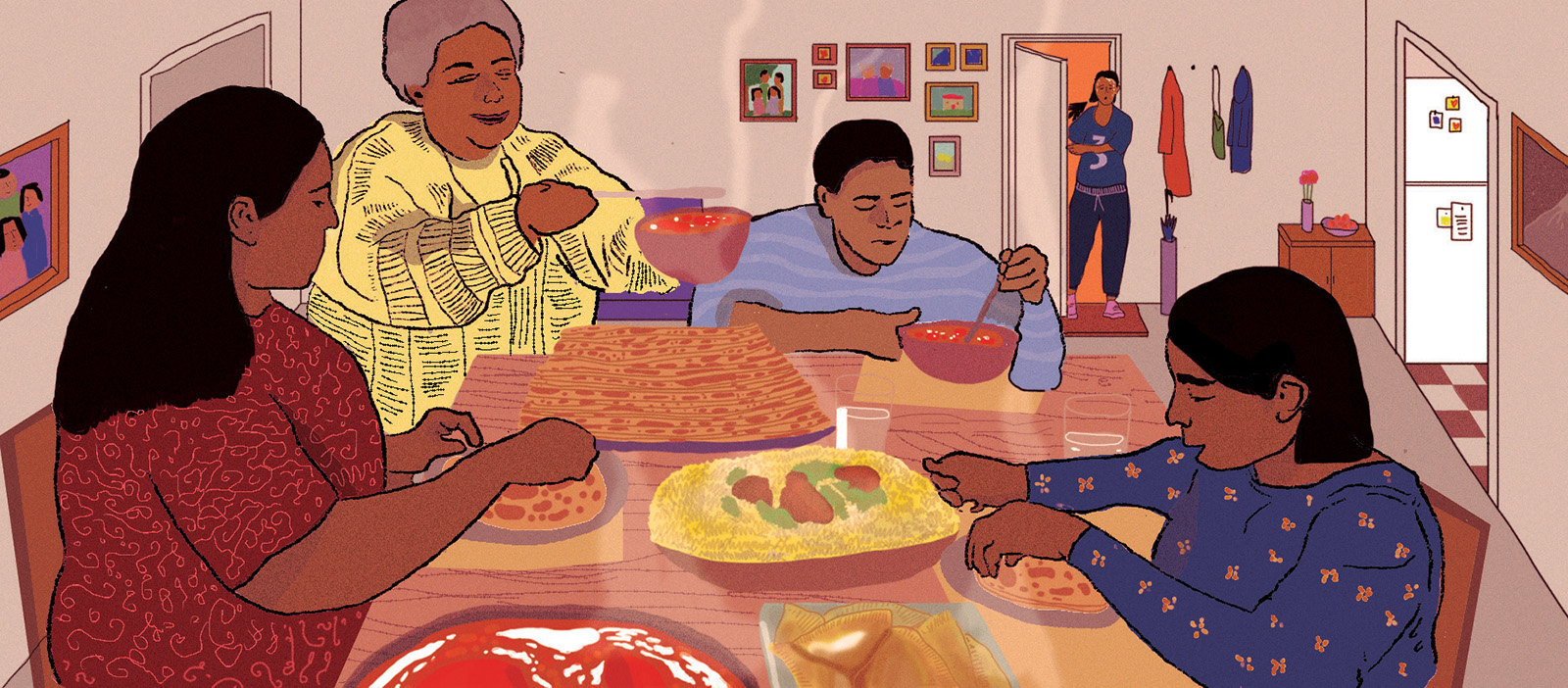 How to get fit in a multigenerational household
We are all bombarded with advice on how to lose weight and hone our bodies but, for some, family life presents particular challenges
"My grandma did the cooking in our house and she used to add a lot of butter and oil. There was just no compromise on that," says Mahum Mir, a tax consultant from London. "It was really hard to have any sense of calorie control."
From birth, Mir, 32, lived with her paternal grandparents, parents and two brothers in Manchester until she left for university. She returned in her 20s to help care for her grandmother, who died in 2019, aged 83. Around that time, Mir's body mass index was firmly in the obese range, meaning she needed to lose 20kg to reach a healthy weight.
"Culturally, all our lives were based around food and what we were eating," she explains. "There was no nutritional education, either. My mum was always caught up with trying to respect her mother-in-law and make sure that they were living harmoniously, so she didn't have much control over what was being eaten."
Likening the situation to having "two different sets of parents from different generations", Mir adds that, even when her father developed diabetes in his 30s, her mother struggled to prepare healthier meals, because she was also catering to the needs of her in-laws and children. Keeping track of what she was eating was particularly tricky for Mir, as family meals were cooked by andaaza, meaning without measurement. Eventually, to meet her fitness goals, she started to prepare her own food.
According to the ONS, 35% of Pakistani and 56% of Bangladeshi households in Britain are multigenerational, meaning they contain at least one person under 19, one between 20 and 69 and one over 70.
Personal trainer Zayb Abbas, 32, owner of ZA Fitness and Education in Glasgow, has a number of solutions to deal with the obstacles to healthy eating and exercise faced by people living in such households. Having helped more than a thousand South Asian clients on their fitness journeys over the past nine years, he has created a free-to-download guide, titled the Asian Blueprint.
"If I was to give advice to anyone, I would say don't eat separately because, number one, if you live in a household where you have judgmental family members, then the comments will be coming in," he says. "Number two, if you're a mum and if you've got a kid and you want to make food for the in-laws, that's a hell of a lot you're going to be doing. So, it's best to try to have a conversation about making some healthier changes that everyone can enjoy."
Abbas explains that slightly adapting or adding to a meal, rather than cutting back, helps too.
Measuring oil with a tablespoon instead of pouring it in directly from the bottle is a small change that, according to Abbas, reduces calories and can get results if it becomes a habit. So too can boosting protein intake, which helps reduce the urge to snack.
"When you eat more protein-based foods it can keep you feeling fuller for longer and allow you to actually burn slightly more calories," he says. "So, whatever Asian foods you're looking at — chicken, fish, meat-based sources — increase them."
About 70% of Abbas's clients are women. Some are newly married and have concerns related to privacy and modesty after moving in with their in-laws. As a result, those women tend to keep their fitness goals to themselves and want to exercise as unobtrusively as possible — a challenging prospect when sharing a home with several other people.
In such situations, Abbas recommends starting small and increasing the number of daily steps by parking further away from the supermarket, taking the stairs instead of the escalator, standing while on the phone and walking the kids home or to the mosque after school.
For those who feel they don't have enough emotional support or cannot share their plans with anyone at home, he recommends joining online groups with like-minded people to swap tips on exercise and food preparation.
While Mir chose to cook most of her own meals, she has made a point of including her grandfather in the prep. "I'd build a conversation around it and he'd be interested. Then I'd make some for him to try."
That, she felt, mirrored the behaviour of her grandparents, whose affection was always shown through food. She also did little things, such as swapping roti for rice, which is easier to measure in terms of calorie intake, and logged her weight and measurements in her notes app every week to maintain consistency.
After a year of using the My Fitness Pal app to record her daily calories and a diet of high-protein and high-volume foods, including plenty of vegetables and greens, she began to love the routine. She looked forward to strength training and deciding what to cook. Her confidence increased and, as her weight gradually dropped from 85kg to 65kg, she developed a new love for clothes shopping.
Women are not alone in experiencing problems when it comes to diet and fitness. Businessman Umar Khan, 43, from Reading, lives with his mum, wife and two sons. In his home, food is the main way to express love. When I told Khan that I was writing an article on how to diet in a multigenerational household, he jokingly said: "You can't."
Thanks to his mother's presence, Khan's home has become a hub for his six siblings and their children. That means lots of cooking and an abundance of leftovers that he is often tasked with eating when everyone leaves. Similarly, when his mum visits his brothers and sisters at their homes, she comes back loaded down with food. "The boot opens and there's all this biryani in there that goes in my fridge," Khan says. After gaining more than 5kg and not looking or feeling his best, he decided to make a change.
"As human beings we always go for the path of least resistance," he explains, adding that when his fridge is filled with leftover curries and kheer it is much easier to reach for them than the salmon and avocado he had planned to eat for dinner.
Portion sizes have also presented a problem for Khan. While his wife, Naila, tries to give him moderate servings, his mum lovingly place an entire family-sized dish in front of him. Then there are the snacks. During a recent conference call, she came in and set a plate of fried shaami kebab down on his desk.
"I'm the sort of guy when you put something in front of me, no matter how strong my willpower, I'll eat it. I know the problem at the end of the day lies with me and I should take ownership," Khan says.
Despite those challenges, Khan's efforts have been successful. Over the past three months he has lost 5kg through regular sessions on the treadmill and small dietary changes. "My weight does come down if I start going to the gym and stop eating the biryani and all the oily food," he explains.
He has also found that short-term incentives, such as looking good for an event, have helped keep him on track. His next step is to start doing more weight-training. "If you've got muscle on you, then even if you leave the gym your metabolic rate is higher," he says.
According to Abbas, it is possible to make meaningful changes without them even registering on the scales. As muscle takes up less volume than an equal weight of fat, it's possible to look leaner and be fitter without losing weight.
"Fat loss is developing lean muscle tissue and losing body fat in the process," Abbas explained. "The muscle that you develop occupies the space that the fat dropped off from, so that's why if you're lifting weights and losing body fat your weight won't necessarily fall that much.
"Fat loss takes stress off your organs and your joints. How do you feel when you wake up? Are you able to walk with your kids up that hill and not get out of breath or can you pray and come back up without much pain? These are real-world things that we should pay attention to."
Topics
Selected stories
A new genre of writing is slowly establishing itself and painting a broader picture of what love can look like

The fashion influencer on faith, modesty and claiming a space for Black Muslim women

This week our panel assess what the Liberal Democrats offer Muslims and discuss the ongoing debate about definitions of Islamophobia. Plus, travel blogger Yara Abdelsamie on travelling solo and the best European destinations for Muslim women