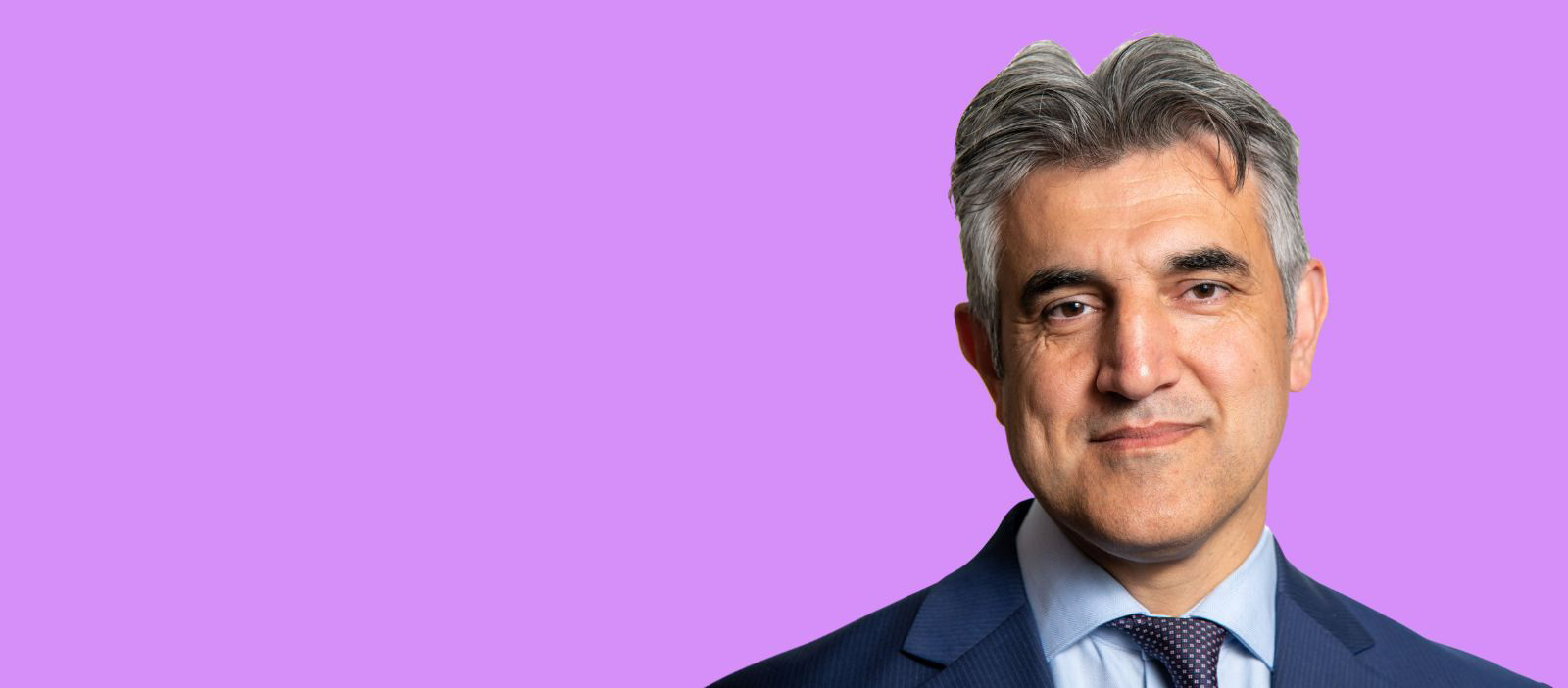 Sabir Zazai Q&A: 'The UK government's Rwanda plan is inhumane, costly and unworkable'
Sabir Zazai, who came to the UK after fleeing conflict in Afghanistan, has been working to support refugees for more than 20 years. Photograph courtesy of the Scottish Refugee Council/Paul Chappells
The CEO of the Scottish Refugee Council on the illegal immigration bill and being a welcoming country
Sabir Zazai is the chief executive of the Scottish Refugee Council (SRC), which advocates for better rights for refugees in Scotland and across the UK. He has personal experience of the UK asylum system, having arrived in the country in 1999 in the back of a lorry after fleeing from conflict in Afghanistan. 
Zazai initially settled in Coventry and, in 2002, began his first full-time job of working with refugee children in primary education. From 2014, Zaizai led the Coventry Refugee and Migrant Centre, which had provided support to him when he needed it most.
Now 48, Zazai took his current leadership role at the Glasgow-based Scottish Refugee Council (SRC) in 2017. His achievements there include helping to secure rights for refugees to vote in Scottish parliamentary and local elections. He was also awarded an OBE in the Queen's final birthday honours in 2022.
This interview has been edited for length and clarity.
What do you feel are the main challenges facing refugees and asylum seekers in Scotland?
So, there is a situation now where people fleeing similar conflicts are treated differently. You've got the response to Ukraine, you've got the asylum process, you've got people who were evacuated from Afghanistan. The challenge for refugees is that while the conflicts that they're fleeing do not discriminate, the systems that they're arriving into could be. That is the challenge and not just in Scotland, but across the UK and Europe as well: how do we work towards a more consistent approach to all people fleeing persecution and human rights violations?
How do you feel about the UK government's illegal immigration bill?
I think it's inhumane, costly and unworkable.
What are your main concerns about it?
The illegal migration bill is threatening to abolish the human right to seek asylum. That will lead to people arriving but not having their claim submitted. If I look back on my own journey, it was that right to seek asylum that helped me to rebuild my life here. This bill will simply prejudge people's need for protection. If a woman arrived from Sudan, for example, with two children, under this bill the authorities will only look at how they arrived here. People will still arrive, people will still be exploited by traffickers and will still take perilous and dangerous journeys to safety. We'll end up with a community that will be destitute, in hiding and facing multiple disadvantages.
Am I right in thinking that were this bill in force when you arrived, that you would not have been granted refugee status?
Yes. Basically, the bill is about stopping people arriving through irregular routes, but there's no legal way for people to seek protection apart from the specific schemes for Ukraine and Hong Kong. We had a response to Afghanistan two years ago, but that was an emergency evacuation. There is no functioning, accessible resettlement program for Afghanistan now.
What would you like to see instead?
We are calling for the government to help create safe routes to reduce these dangerous crossings, put in place resettlement programs, humanitarian visas and a resettlement program that is expanded to all conflicts and the easing of family reunification.
What does it mean to be an open and welcoming country?
One that is open for innovation, for business, for prosperity. When we shut our doors, we don't only shut our doors on people coming here, we shut our doors on the unique gifts, talents and opportunities that people bring with them. Let's not forget that the UK and many other countries around the world have benefited from migration and from refugee populations, particularly people who arrived at the same time as I did who today are teachers, nurses, bus drivers, taxi drivers, have set up their own businesses and are giving jobs to others. I arrived here with seven years of formal education and now I'm the chief executive of the Scottish Refugee Council.
Did you feel welcome when you arrived as an asylum seeker?
When I arrived here, I arrived with lots of hopes, dreams and aspirations. But there were barriers and challenges. I was not allowed to work or have a choice where I stayed. I felt like I was not valued as much as anyone else in this society. At times it was a retraumatisation because I fled war and was safe here, but there was still that form of discrimination.
Were there any moments that stand out?
I had to survive on asylum vouchers. There was one day where I went to do the food shopping for the people in the asylum accommodation. I went to a supermarket and I put everything in the trolley. There was a very long queue and everyone was paying with cash or card. I had my asylum vouchers and I didn't feel confident. I just left a full trolley and walked away with no food, because I didn't want the cashier to call the manager in front of everyone.
Should the UK change its policy on refugees and asylum seekers?
Only a small number of refugees want to come to the UK and do. It is on us — based on our values of human rights, our traditions and history — to make sure that those people are treated with dignity and respect. To make sure they're not scapegoated, not put in ship prisons and detention centres. We're part of these islands, where people have arrived over generations — people from Vietnam, people from Eritrea, Sudan, and many other conflicts. Our history is intertwined with migration and offering people protection is an important part of our values.
Topics
Selected stories
A new genre of writing is slowly establishing itself and painting a broader picture of what love can look like

The fashion influencer on faith, modesty and claiming a space for Black Muslim women

This week our panel assess what the Liberal Democrats offer Muslims and discuss the ongoing debate about definitions of Islamophobia. Plus, travel blogger Yara Abdelsamie on travelling solo and the best European destinations for Muslim women