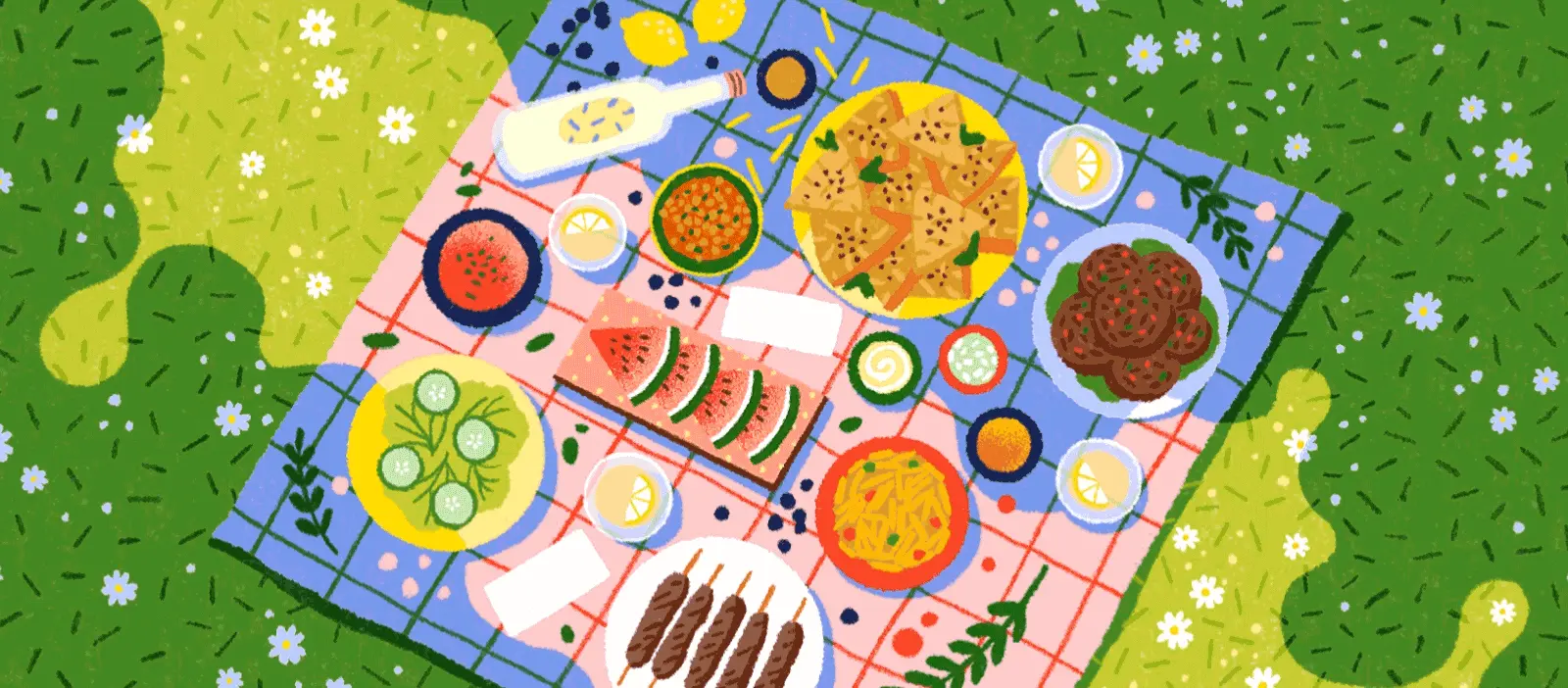 Everything tastes better outside
Whether your hamper is stuffed with kebabs or cucumber sandwiches, alfresco eating is a time-honoured pleasure across all cultures
As the weather has warmed up, with the UK experiencing record temperatures, many of us have been busy firing up grills and packing hampers. Dining alfresco — Italian for "in the fresh air" – always marks a shift in the calendar year. Nothing heralds summer more resoundingly than enjoying food outside. Whether it's a picnic at a local beauty spot, a barbecue on the beach or a simple lunch on the patio, there's something liberating about it. As the food writer Claudia Roden says, everything tastes better outdoors.
I've often wondered whether there is an evolutionary aspect to our enjoyment of dining outside. Long ago, eating out in the open typically rendered people more vulnerable to attack by predators, so seeking shelter became the norm. Maybe there is still something subversive about doing something so primal so publicly?
Whatever the underlying reason, the enjoyment of eating outdoors is common across cultures. Throwing another shrimp on the barbie has become a cliche of Australian Christmases, while scenes of traditional English picnics abound in literature and art. One of my favourite descriptions is from the classic children's book The Wind in the Willows, when Ratty reveals a stupendous hamper stuffed with "cold chicken, cold tongue, cold ham, cold beef, pickled gherkins, salad, French rolls, cress sandwiches, potted meat, ginger beer, lemonade, soda water".
I have vivid memories of my first picnic. My parents took me and my sisters on a steam train through the Worth Valley in West Yorkshire and we ended up in a little wooded area with a picnic bench. My mum pulled out Tupperware boxes — no storybook basket for us — filled with sandwiches of cheese and achar on white bread, tuna mayonnaise with green chillies on brown, red packets of Walkers crisps, mini bars of Cadbury's Caramel, boxes of Ribena, sliced apples and shiny clementines. It was no different from the packed lunches we took to school, but felt so much more exciting.
As much as where one eats, there is the question of what one eats on a picnic. Many English classics — Scotch eggs, pork pies, Cornish pasties — are convenient to pack and eat with hands, but incompatible with Muslim dietary laws. Instead, on our family trips to the Lake District, my aunties packed samosas stuffed with lamb, potato and peas; huge buttery parathas with achar; spicy kebabs with mint and coriander chutney for dipping. On more than one occasion, passing groups of English tourists remarked how tasty our food smelled. They were always rewarded with — and eager to accept — an offer of something from our spread.
In her classic book, Picnics and Other Outdoor Feasts, Roden writes that the ideal picnic dish would be "anything without a sauce, that can be easily transportable, that can be eaten cold, or that is not too difficult to heat up". The caveat about heating dishes is an interesting one and speaks to the different expectations of picnic eating across time and place. For instance, the Indian food writer Priyadarshini Chatterjee describes the winter Sunday picnics of her Kolkata childhood, to which her family would take "casseroles of different colours and sizes".
That reminds me of another childhood experience, this time in Bangladesh, at a famous beauty spot with a waterfall known as Madupkondo. My cousins told me we would be going for a picnic, so I was astonished to see huge deghs (metal pots) of mutton curry and rice being carried out, with gas burners to heat them. I still remember how spicy the curry was and how my five-year-old eyes watered almost as much as the falls when I tried to eat it.
It is often claimed that modern subcontinental approaches to picnicking hark back to the days of empire, when the British in India would hire bearers to carry tables, chairs, linens, cutlery, crockery and glassware for their outdoor meals. Chatterjee, however, says that, far from being invented or popularised by outsiders, classical Indian art and literature points to dining outdoors as a longstanding practice, dating back as far as 185 BCE.
Cultural attitudes to picnicking and eating outdoors have shifted throughout history, from being seen as a debauched bohemian practice in 19th-century Europe, to our recent reframing during the height of the Covid pandemic. Although rules differed widely according to month, country and political whim, after a certain point in the UK restaurants and cafes were allowed to operate if they had seating outdoors. Suddenly, being outside was synonymous with freedom. And food was part of that. Pubs were allowed to serve drinks in beer gardens only if a meal was ordered. Eating became a solemnising act, allowing people to commune, to connect. Now that all restrictions have all been lifted, the preference for sitting outside appears to have remained.
Maybe it's that the fresh air piques our appetites, maybe it's that we relax more in the sunshine, or perhaps it's simply the novelty that comes from living in a country where it's too cold to sit outdoors for most of the year. Whatever the reason, the appeal of eating outdoors is evergreen.
Over the years, I've constructed my own ideal picnic scenario: the setting, the equipment and the spread itself. First, find somewhere beautiful and, ideally, grassy. A glade or a wood, with sunlight streaming through the treetops and plenty of shade is perfect. Running water nearby is a bonus. Folding chairs aren't quite on my horizon yet, so I'm happy to eat on a comfy blanket spread on the ground. Perhaps it's a sign of officially entering the category of desi aunty, but crockery does matter. My mum gifted me a set of beautiful teal, non-breakable melamine plates and bowls several years ago, which are used on all my picnics. Paper plates may be convenient, but they don't feel special.
I have always been a fan of building a picnic around spicy savoury snacks. The samosa is the shining star and cold chicken or lamb kebabs (chapli or seekh) are also a must, served with chutneys for dipping. I also love salads. Red cabbage and grated carrot with a lemony garlic dressing and toasted nuts is flavoursome and — unlike lettuce-based salads, or anything with cucumber — does not get soggy. Crunchy treats such as corn chips, potato crisps or Bombay mix offer variety and flavour.
Then comes fruit. Luscious berries or sliced watermelon are perfect to round off the meal and transport well in the heat, unlike sticky, melting desserts. All this can all be washed down with cans of my favourite cloudy lemonade kept in a cool box, or cartons of juice that have been frozen and allowed to thaw. Another sign of entering aunty territory is that I am now increasingly partial to a flask of masala tea and a packet of cake rusks. Whatever your preferred menu, setting or seating, I wish you a summer — and beyond — of many more happy picnics.
Topics
Selected stories
A new genre of writing is slowly establishing itself and painting a broader picture of what love can look like

The fashion influencer on faith, modesty and claiming a space for Black Muslim women

This week our panel assess what the Liberal Democrats offer Muslims and discuss the ongoing debate about definitions of Islamophobia. Plus, travel blogger Yara Abdelsamie on travelling solo and the best European destinations for Muslim women