Muslim sneakerheads step out in style
For many young Muslims, sports footwear has become a personal statement and status symbol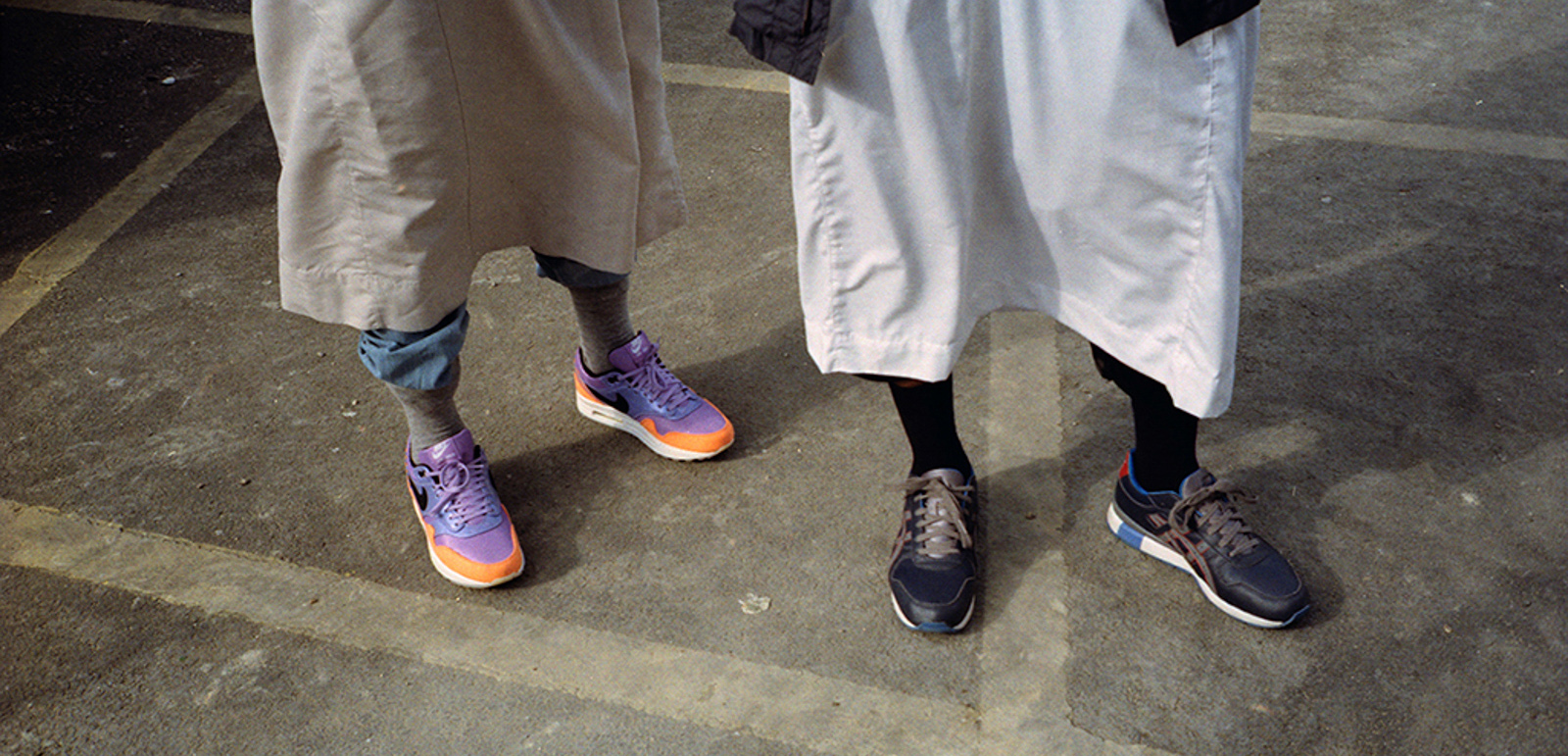 In 2013, award-winning photographer Toufic Beyhum was regularly attending Friday prayers in Brixton, south London. While at the mosque, he began to notice new pairs of Nike and Adidas sneakers with colourful swooshes and bold stripes neatly lining the shoe racks.
"It wasn't the usual leather shoes or sandals you see in the Middle East," he recalls, adding that the scene resembled a display wall in a Foot Locker or Nike store. "When the brothers were putting their shoes on after prayers, you could see that they all had great style and their sneakers really complimented their thobes."
Embarking on a photo series titled Sneakers at the Mosque, Beyhum was interested in the juxtaposition of traditional Islamic dress and contemporary streetwear, which he believed showed a different side to sneaker culture within a demographic often overlooked when it came to fashion. The approach to style visible at the mosque, he believes, proved that "mixing spirituality with fashion can be a great collaboration if done right".
Nearly a decade since Beyhum's project was published in the style magazine Dazed, sneaker culture is at an all-time high. In 2020, the global market was estimated to be worth £62bn. It is projected to reach £94bn by 2026. Besides just wearing their shoes, many sneaker fanatics buy exclusive releases and resell them on websites such as goat.com and stockx.com — the latter of which was reportedly visited by more than 200 million buyers and sellers across the world in 2020. Big-name collectors include DJ Khaled, Bella Hadid and modest fashion influencers such as Nawal Sari.
Self-professed sneakerhead Mohammed Miftahuddin Khan, a student from Exeter, gained a reputation among his friends by wearing new pairs of colourful sneakers to university each day. Now he owns around 70 pairs, including an array of Nike Jordans and Yeezys. "A lot of my friends call me a bad influence because I got them into the world of sneakers," he says.
Like many sneakerheads, Khan is heavily involved in the online resale market, where rare sneakers can sometimes cost more than a new car. Selling shoes allows him to make an income from his passion while ensuring that his collection contains the latest drops.

But, for Khan, it's not just about business. Online marketplaces have allowed him to connect with fellow collectors and get fresh insights into the latest trends. The culture has also given him a way to talk to new people.
While sneaker culture is often seen as a boys' club, it is increasingly being shaped by the tastes of women. Leyla Mazouz, 36, and Esma Hmadouch, 34, are fashion designers who work under The Modest Stylist brand and own around 40 pairs of sneakers between them. Their collection ranges from athletic brands such as Adidas and Nike to luxury labels including Chanel and Dior.
Based in the Netherlands, Mazouz says the appeal of sneakers for many Muslim women lies in their ability to elevate simple, modest outfits. It's one reason why she often recommends a good pair of versatile sneakers when working with clients. Mazouz and Hmadouch believe that sneaker culture has pushed the boundaries of Muslim women's fashion, noting that these days it's not uncommon to see chunky varieties paired with loose and roomy abayas, tracksuits, co-ords and dresses.
Some Muslims, however, are expressing concerns that sneaker culture, with its obsession with new editions, branding and box-fresh styles, encourages overconsumption. The cost of some shoes also means that only those with enough disposable income can participate.

James Blackmore, a 40-year-old sneaker fan, runner and supervisor at the London-based community hub and charity organisation Rumi's Kitchen, owns 10 pairs. It might seem like a small number compared to others, but Blackmore's collection is built around functionality as well as aesthetics. Which is to say that unlike some enthusiasts, he regularly wears his.

He is often tempted to buy new editions and finds himself having to resist. "I just try to think practically, which is what Islam teaches me. If I need the new shoes and I've got the money, then Bismillah!" he says.
Blackmore points out that the hype that develops around short-term sneaker trends often means that fans focus far more on branding than the primary functions of shoes. "Sneakers are absolutely a status symbol," adds Khan.
For most Muslim sneakerheads, though, their footwear of choice doesn't need to be lavish or expensive. Even basic pairs can be used to express personal style, while being comfortable and practical. "At the end of the day, they are shoes," Beyhum says. "Everyone needs to wear shoes."
Topics
Selected stories
A new genre of writing is slowly establishing itself and painting a broader picture of what love can look like

The fashion influencer on faith, modesty and claiming a space for Black Muslim women

This week our panel assess what the Liberal Democrats offer Muslims and discuss the ongoing debate about definitions of Islamophobia. Plus, travel blogger Yara Abdelsamie on travelling solo and the best European destinations for Muslim women