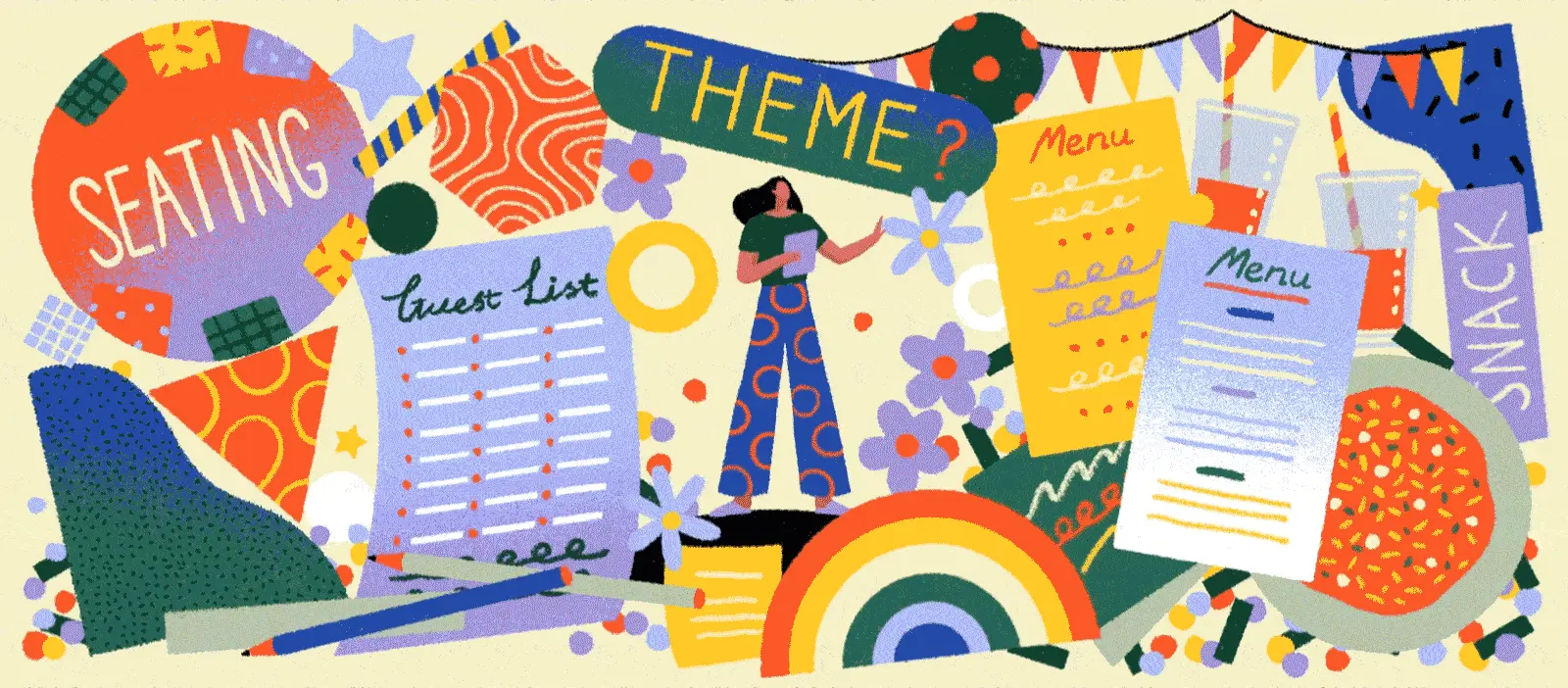 Party tips for Eid and beyond
The way we congregate for special occasions has changed, but a few golden rules still apply
The sagest advice I received when planning our wedding was this: "Nobody will remember your dress, nobody will remember the flowers. The only thing anyone will talk about for years to come after the event will be the food. So make sure it's good — and that there's plenty of it."
As we all know, a party with bad food is a disappointment and one without is little more than a meeting. Done well, food has the power to elevate any gathering, offering the chance to get creative, be playful, bring a theme alive and even time travel. Serve a starter of prawn cocktail and avocado, or any kind of fish mousse, and it's a 1970s retro dinner party. Order boxes of cheesy deep-dish pizza and serve drinks in red Solo cups and you've got an American frat party on your hands. Drape your garden with kitsch country-core bunting, cover a table with floral cloths and cake stands laden with chunky scones and snow-dusted Victoria sponge, and you're hosting your very own village fete.
With Eid al Adha just around the corner, I have been reflecting on the ways British Muslim families entertain at home have changed in recent years. When I was a child, the number of attendees at our family gatherings always far outstripped the number of chairs around the table, making it necessary to serve food in shifts: children first, then men, and, finally, the ladies, who could take their time over their plates of pulao, bhuna mangsho and tandoori roast chicken.
Today, more hosts are moving towards serving food buffet-style, rather than being traditionally seated at a table in shifts — a necessity as families grow, but the desire to bring everyone together for food and festivity remains strong. Websites such as Pinterest are full of inspo posts about specifically decorating an Eid table – complete with flickering lanterns, filigree candle holders, crescent moon motifs, banners and festoon lighting, all of which are now readily available from specialist party shops and online sellers. It makes me realise how far things have come since I was a child, when Eid decorations had to be homemade.
One gathering that has gone down in family history was my cousin's Lord of the Rings-themed first birthday. Not only did the guests all turn up in costume — including elven ears, orc face paint and wizard beards — at a venue adorned with maps of Middle Earth and the film music playing over a sound system, but even the food was themed. Platters were labelled in elvish script — Meriadoc's mini pizzas and Radagast's red jelly — along with a birthday cake decorated as a Hobbit hole and, one for the nerds: lembas shortbread.
Another memorable celebration was a murder-mystery dinner that I co-hosted with a friend. Drawing inspiration from Agatha Christie's Hercule Poirot, we created a Belgo-Gallic menu of French onion soup, chicken fricassee and creamy dauphinoise potatoes, followed by a burnished caramel tarte tatin. Guests arrived in period-appropriate dress and spoke in questionable accents, but it was the menu that brought the evening alive.
Growing up, we had a Good Housekeeping book in our home about the art of hosting. I loved poring over it, learning the tips and tricks such as decorating a table to match the occasion, and, of course, the food. The book suggested theming an autumn harvest dinner by adorning a rustic wooden table with mini pumpkins and scattered straw. Napkins were to be tied with twine, maybe with an ear of baby corn tucked in, and a menu of squash soup or a hearty beef and vegetable stew with dumplings would draw it all together. It was my first exposure to the idea that décor can enhance the enjoyment of the food itself: after all, one eats with the eyes before the belly. Taking in the beauty of a well put-together table can heighten the anticipation and enjoyment of the meal to follow.
This hosting bible also outlined different ways to cater a party, many of which were totally alien to me. I remember marvelling at the suggestion of doing a one-pot dish for a large gathering, such as a vat of chilli con carne to be served alongside rice or baked potatoes. It was a far cry from the gatherings my parents hosted, which involved my dad shopping a for a week and my mum cooking for three days before an event at which no fewer than 12 dishes, plus desserts, would be served. And while I loved the idea of decorating a table with the correct ratio of place settings to guests, it just would never have worked for our large Bangladeshi family.
Over the years, I have come to realise that while setting a beautiful table and having the correct number of chairs can help, what really matters is the commitment to bringing loved ones together for a special occasion. Here are a few of my tips for planning a party that I hope you will find useful — and that help create an event that your guests will remember fondly for years to come.
Identify the occasion. Whether it's a birthday, baby shower, Eid or weekend get-together, the occasion will help to inform your budget, how much effort you may want to go to and your guest list.
Set your numbers. Certain occasions, such as Eid or a pre-wedding celebration, are likely to have more attendees than an impromptu barbecue — but your number of expected guests will help you decide on …
Table and seating arrangements. Depending on the space you have available and your preference, seated, family-style dinners can be more intimate, while a self-service buffet may reduce the clear-up for a larger gathering. Gardens and folding tables offer extra space and encourage movement, as can a drinks bar and dessert table.
To theme or not to theme? Some occasions will lend themselves to a theme; others will be more personalised. While bunting and balloons are eye-catching, atmosphere can be achieved with tableware alone. A beautiful cloth or woven placemats, candles, coloured glasses and pretty plates can create a real sense of elegance and care. And don't forget about the music and lighting to create ambience.
Plan your menu. This is the best part of throwing a party and the only limit is your imagination. Having a range of food — nibbles/snacks, more substantial mains, salads, sides, desserts — and drinks is vital. If you're working with a theme, it's also where that really comes to life – a Wild One birthday party could have animal-decorated cupcakes, while roast chicken or turkey legs are a must for a medieval banquet. Some holidays have their own festive foods, such as panta ilish for Bengali New Year and mince pies at Christmas, so make sure you don't forget the classics!
Topics
Selected stories
A new genre of writing is slowly establishing itself and painting a broader picture of what love can look like

The fashion influencer on faith, modesty and claiming a space for Black Muslim women

This week our panel assess what the Liberal Democrats offer Muslims and discuss the ongoing debate about definitions of Islamophobia. Plus, travel blogger Yara Abdelsamie on travelling solo and the best European destinations for Muslim women