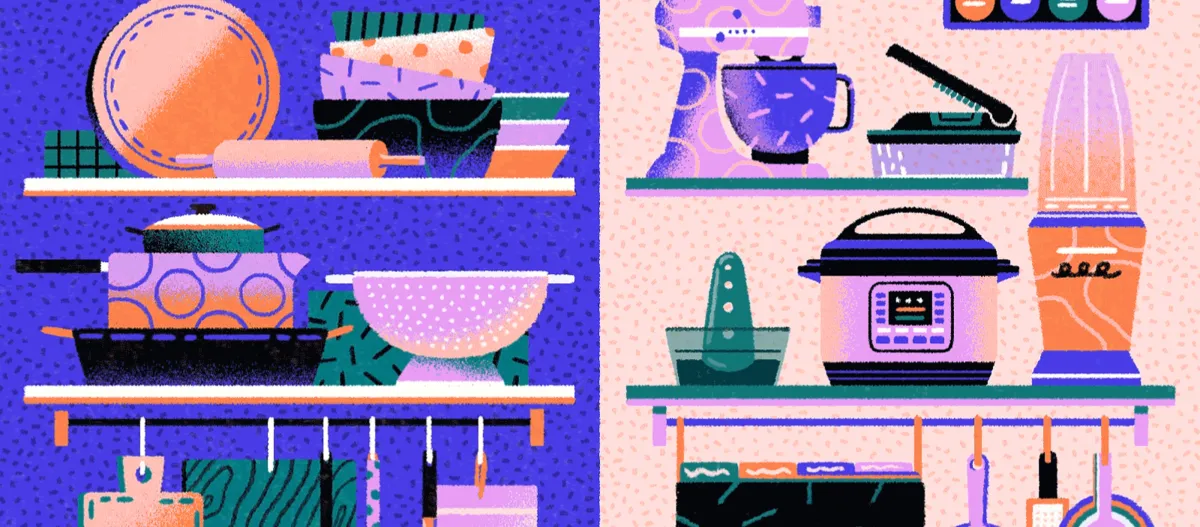 The simple pleasure of a good kitchen gadget
From breadmakers to rice cookers, we are constantly looking to make our kitchens faster and more user-friendly. But what makes an appliance truly indispensable?
For as long as people have been cooking food, we've been fascinated by kitchen gadgets. From rudimentary items fashioned from stone, wood, bronze and iron to hi-tech digital devices, the drive to innovate and create time-saving tools to prepare our meals is baked into our culinary lives.
Just consider how much time we devote to inventing, manufacturing, marketing and talking about them. The Guardian's long-running and much loved Inspect a gadget column is one among many examples of this obsession. And with surveys showing that the average household has more than £300 worth of unused cookery kit, the industry is also a lucrative one. However, given that a significant number of appliances are destined to remain packed away in boxes, there is also a question about how necessary many of them really are.
At the heart of what I like to refer to as "kitchinnovation" is the desire to simplify tasks and save time. It is now hard to imagine life without the electric kettle, the microwave or the toaster, but other gadgets have proved less essential. While bread and ice-cream makers were all the rage in the 1990s, and the Nutribullet took the 2010s by storm, the fact is that we can probably get by without them.
While a product's marketing campaign can dictate how many units are sold, the longevity of any gadget depends on how it fits into our daily routines and whether or not it succeeds in making our lives easier and our meals better. The most successful can even drive social and even political change.
One of the best examples of this can be seen in the Channel 4 series The 1900 House, which explains that advances in domestic technology — from mangles to meat grinders — went some way in helping to bring equality to society. When they first emerged, these new technologies reduced the need for families to hire housekeepers, cooks and maids and helped to create time for middle-class women to pursue other activities, including working outside of the home and campaigning for the vote. For working-class women, they opened up employment opportunities beyond domestic service.
The things we use in our kitchens can also paint a picture of who we are, where we came from and where we are now. Like many others of my age, I have vivid memories of the 1970s-style pressure cookers used by South Asian aunties — a necessity for making dal and melt-in-the-mouth meat dishes such as nihari.
Their high-pitched whistle and wild shaking never failed to trigger terror, but always heralded the arrival of something delicious. Today, the desi love affair with the pressure cooker remains, but we tend to rely on more genteel varieties with flashy brand names such as the Ninja Foodi and the Instant Pot. These new multicookers are slicker, more user-friendly and much more mainstream, despite their hefty price tags.
On the subject of expense, I was flabbergasted to recently learn the eye-watering cost of the Rotimatic — a device that's supposed to make rotis as good as your mum's. It measures, mixes, rolls and cooks the dough, and even has a timer you can program to have fresh roti, puri, and even pizza bases ready the moment you get through the door. While some customers might consider £1,114 a price worth paying to recreate their Ammi's taste of home, this machine is a far cry from the more commonly used rolling pin, cast-iron tawa and folding wooden atta board (which, it turns out, has also had a £50 revamp in the form of the Rotibox).
Aside from the expense, I often wonder whether kitchen gadgets are making us lose certain skills — be it the dying art of rolling perfectly round parathas or properly cooking rice. Like every well-brought-up Bangladeshi girl, I was taught to cook rice the old-fashioned way, measuring it into a pan with a cup, washing it under running water many times to swill away the starch and grit, then setting it on the stove with a lid half-balanced on top to make sure the water doesn't boil over.
It is an undeniably cumbersome method of cooking: when the rice is done, the lid has to be clamped on tightly and the pan then tipped at an angle over a colander in the sink, so the water can be drained away. After that, it is left to stand for a while before eating so the grains can fluff up and the last of the water can evaporate. It is also something that requires years of practice to get right. These days, I just use a rice cooker: no faff, no draining. I do take some pleasure in knowing that I can cook rice the old way, but just because I am able to doesn't mean I want to, especially when the alternative is simply flicking a switch.
Although premium gadgets such as the KitchenAid stand mixer have become lifestyle status symbols, my favourites are ones that are inexpensive but so useful that, once tried, you can't live without them. One of my most prized is the OXO Good Grips vegetable peeler (£8.99), which can perform the miraculous feat of skinning a butternut squash as easily as a knife cuts butter. Another favourite I never knew I needed was a wedding gift: a salad dressing shaker, complete with silicone flip pouring spout, which can fit comfortably on a fridge door shelf.
Some of us become so attached to our favourite gadgets that they follow us around the world. I have a friend who travels with her preferred peeler and kitchen knife, most recently on a trip from the USA, to the Middle East, and then Southern Africa. Perhaps doing that is a sign of becoming more stuck in our ways, but I like to see it as having higher expectations of the material things in our lives. Having the right tool for the job makes a world of difference, as anyone who has tried to whip cream with a hand whisk instead of an electric one, or mash potatoes with a fork rather than a potato ricer, can tell you.
In a world where corporations are constantly trying to sell us things we don't need, perhaps we should tune out the trends and allow ourselves the small luxury of choosing, using and, yes, falling a little bit in love with gadgets that genuinely help us and bring us joy.
Topics
Selected stories
From pickles and ferments to jams and chutneys, conserving surplus produce allows us to enjoy fruits and vegetables grown in familiar earth, many thousands of miles away

The western world's largest mosque is a point of pride for the country's Muslims, but its impressive scale and ornate design do not reflect their position in the country as a whole

The challenge for Keir Starmer is to combine control and compassion in efforts to tackle dangerous boat crossings