Pilgrims are still fighting for compensation from ill-fated Hajj platform Motawif
One year after the introduction of the Saudi Arabian government's chaotic online travel service, users say they are being offered less than 10% of their original spend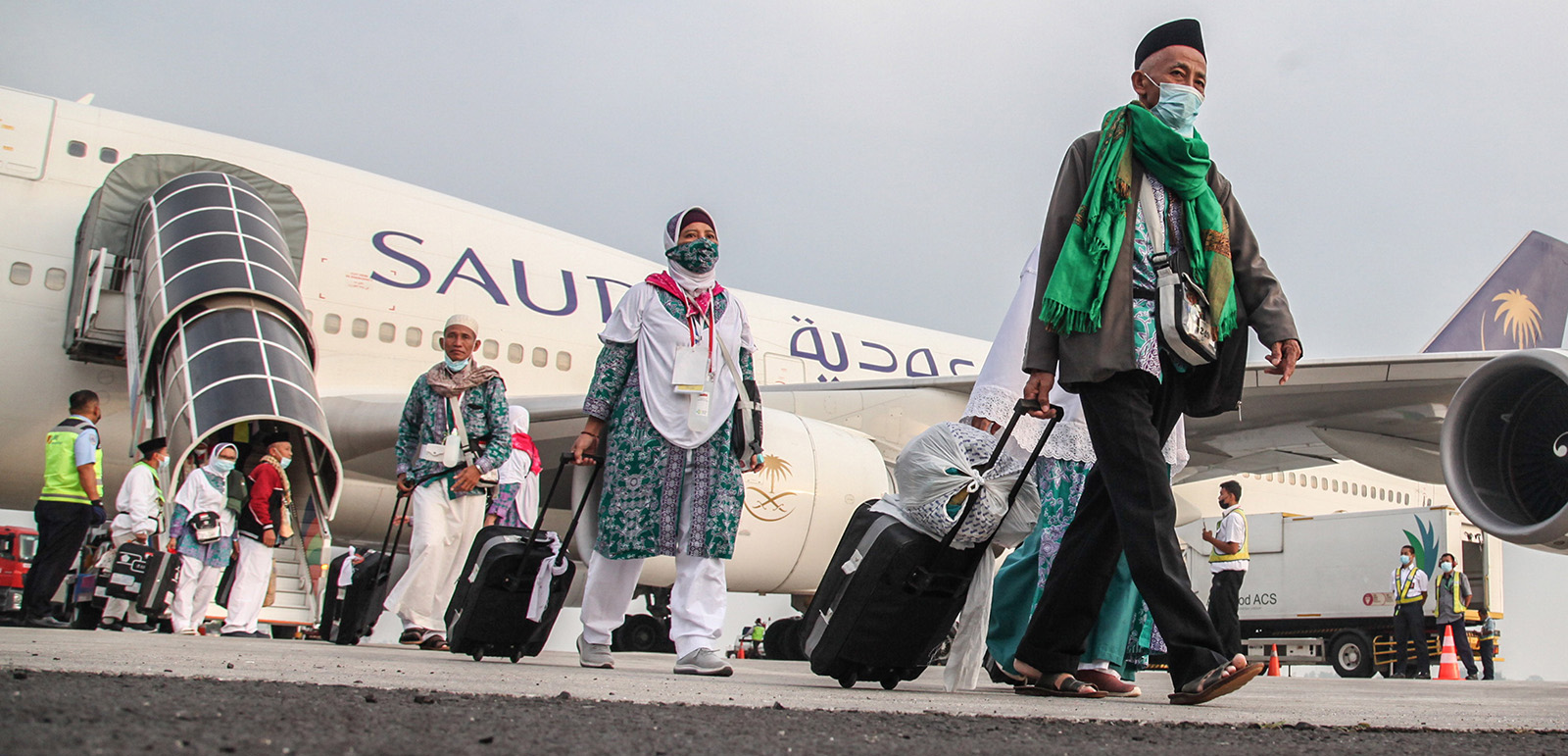 People left without transport or adequate accommodation during the 2022 Hajj, following the introduction of a new state-run online system for booking pilgrimage packages, are still fighting for appropriate compensation.
The online system, named Motawif, was introduced suddenly in 2022 by the Saudi Arabian Ministry of Hajj and Umrah to replace the longstanding practice of booking trips and accommodation via travel agents. It was the only way that people outside Saudi Arabia could visit the country for religious purposes. Motawif has since been closed down and replaced by a similar platform called Nusuk.
Pilgrims who spoke to Hyphen said they had spent up to £30,000 on Hajj packages that fell short of their expectations. Some explained that they have been offered refunds totalling less than 10% of their original spend. Pre-pandemic, Hajj brought nearly $30bn a year to the Saudi economy.
El Moaddem Soundos, from Lyon, France, is just one of dozens of pilgrims active on social media who have been seeking compensation from Motawif. After months of silence and unanswered messages and calls, she was called and offered a €700 refund, less than 10% of what she originally paid.
"We knew just a month before the start of Hajj that the agencies system was finished and now it was Motawif, an unknown platform, that was going to take over," said Soundos. She added that the system created "a lot of stress before departure", with opaque pricing and poor communication and customer service.
The problems continued when Soundos arrived in Saudi Arabia. "There was no information on how we would be picked up at the airport. We had to organise it ourselves. From our arrival until our departure, we didn't see a single guide to accompany us in the hotels or in the manasiks (rituals), and we had paid for this service," she said.
The experience left Soundos feeling like her Hajj was somehow "incomplete".
"We had to manage the logistics and support the elderly alone while we were there to commune with Allah. We felt stressed, abandoned, like guinea pigs and, above all, exhausted," she said.
Soundos also noticed in February 2023 that Nusuk — a new, but similar-looking system — was being used for Hajj bookings. She feels that Muslims travelling from abroad to perform Hajj, which is one of the five pillars of Islam, are being treated with a lack of care and respect.
"Once again, we feel like second-class Muslims. It's so sad and unfair," she said.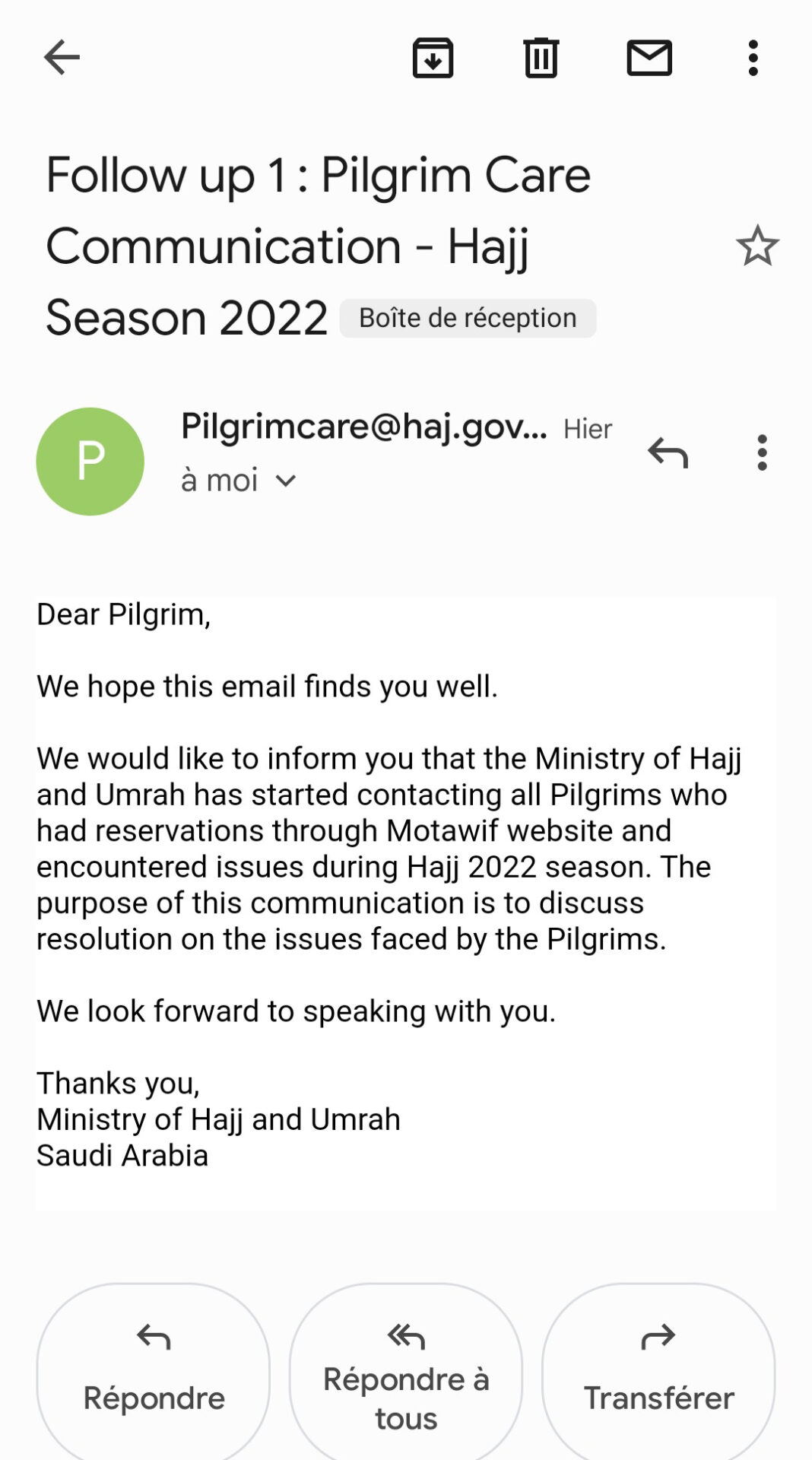 Fazeela Hafejee, 42, a local authority social care manager from Lancashire, paid out nearly £30,000 for a 2022 Hajj package for her and her son. Hafejee wanted to ensure they could stay together and would not have to be separated. The platinum "luxury" option offered by the Motawif platform was the only one that met her needs.
"There was no luxury attached to it," she said.
The package was meant to include high-end transport and accommodation throughout their pilgrimage, along with guides from Motawif. She said, however, that she and her son received transportation, no guides we provided and accommodation was not of the promised standard.
"The room that we got was literally a box room .There wasn't enough room to fit your cat in there," she said, adding that the shower regularly flooded the floor.
Transport was also an issue in Mina, where there are large camps set up for pilgrims to complete some of the rituals of Hajj.
"I was left stranded at 10 o'clock at night in the middle of Mina, where all the camps look the same. I literally had to find my way back to where our camp was," Hafejee explained.
When the opportunity arose, Hafejee decided to come back home early.
Hafejee and her son complained at the time, but received no response from Motawif. They were recently contacted by telephone and offered a refund of around £1,700. She is now pushing for Motawif to refund the difference between the Platinum Plus package she paid for and the Gold package, costing around £21,000, which she felt reflected the experience she and her son had.
She said that the cost of Hajj packages has risen sharply in recent years and many pilgrims save for years in advance. "It was a once-in-a-lifetime opportunity. For some people, 20 grand is their entire life savings," she said.
Zeeshan Sarwar and his wife, who live in Leeds, performed their first Hajj in 2022, costing £19,000. On arrival in Mecca, they and other pilgrims were forced to wait for hours for transport. Sarwar had expected there to be a religious guide, access to medical services and multilingual tour guides, as was the practice under the old system before Motawif.
"We were feeling stranded and had no one to help," he said.
Since their return home, Sarwar has used social media to share his experience and highlight the ways in which Motawif failed pilgrims. He was contacted by a representative from Motawif in February 2023 and told that all pilgrims who used the Motawif system would be offered a partial refund in recognition of the problems with Hajj.
While he was offered only 7% of the £19,000 he paid, he believes that the response acknowledges that there were significant problems with the system. However, he said that there is "no rhyme or reason for the amount calculated".
Some pilgrims had a much worse experience than others. An American pilgrim with whom Sarwar has been in contact said the whole Medina part of his Hajj was cancelled without notice. For Sarwar, it's not about the money, which he plans to donate to charity if and when he gets it. He simply wants the Saudi authorities to recognise and learn from the mistakes of 2022 and ensure that they are not repeated. Most of all, he believes that communication and transparency must be improved.
Sarwar is still glad that he went on Hajj and it is important to him that people are not discouraged from doing so. "At the end of the day, it wasn't great, but we did everything that we needed to do," he said. "We just want a positive result. We don't want to put anyone off going — that's the last thing anyone wants to do," he said.
The Saudi Arabian embassy in London and the Ministry of Hajj in Mecca have both been contacted for comment.
Topics
Selected stories
From pickles and ferments to jams and chutneys, conserving surplus produce allows us to enjoy fruits and vegetables grown in familiar earth, many thousands of miles away

The western world's largest mosque is a point of pride for the country's Muslims, but its impressive scale and ornate design do not reflect their position in the country as a whole

The challenge for Keir Starmer is to combine control and compassion in efforts to tackle dangerous boat crossings