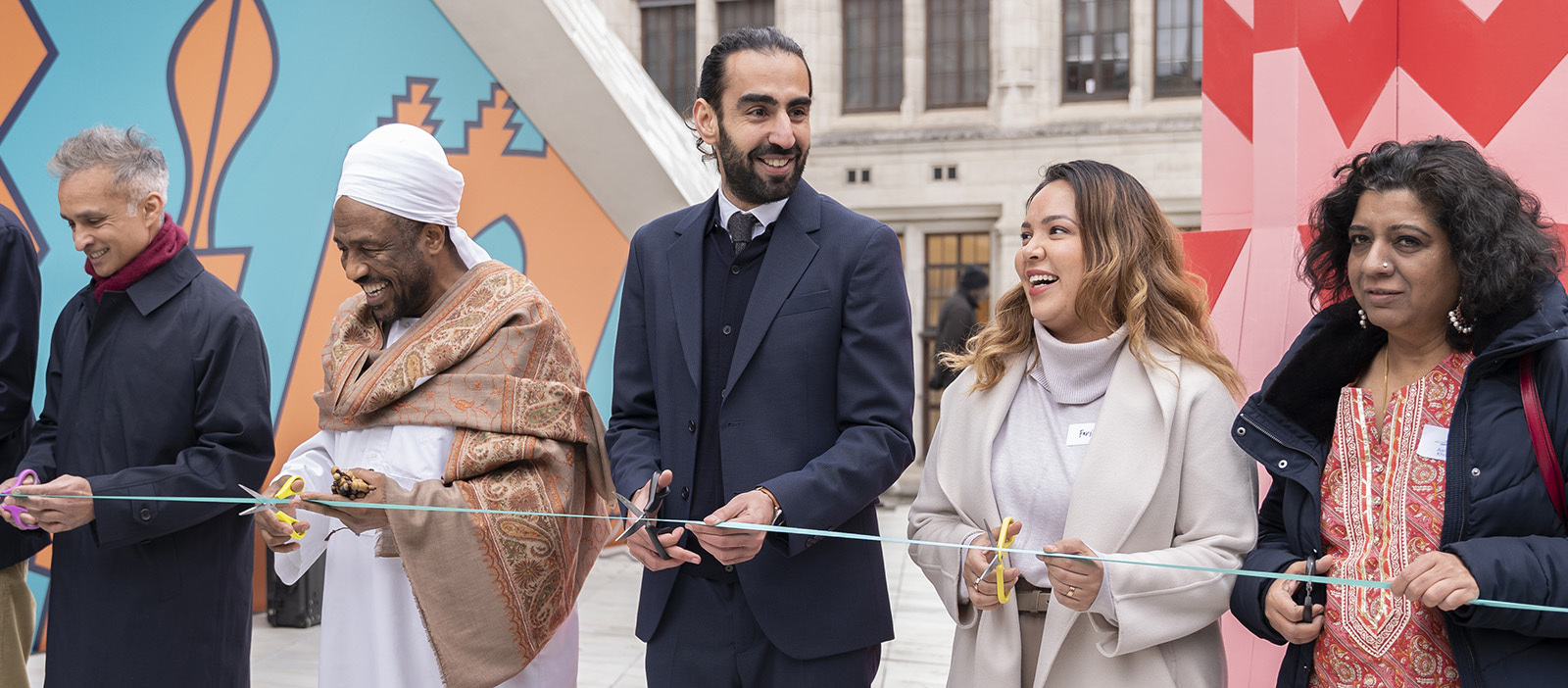 Omar Salha Q&A: 'The Ramadan Tent Project's mission is much bigger than people's faith or political party'
Omar Salha (centre), at the launch of the Ramadan Pavilion at the Victoria & Albert Museum. Photography for Hyphen by Amaal Said
The charity founder on the organisation's 10th anniversary and its hopes for the future
Omar Salha is the founder of the Ramadan Tent Project, a charity that feeds thousands of people during the Islamic holy month at its annual Open Iftar events.
Started as a small get-together for students at SOAS University of London in 2013, the Open Iftar is now one of the most popular Ramadan celebrations in the capital and beyond. Events have been held at prestigious London venues such as the Royal Albert Hall, the British Library and Trafalgar Square. The gatherings aim to promote a more harmonious society by bringing people of all faiths — or none — together to share a meal.
The project is supported by more than 1,000 volunteers and has, since its founding, distributed more than 300,000 meals. This year, the charity has also commissioned a Ramadan pavilion at the Victoria & Albert Museum, designed by architect Shahid Saleem and inspired by the history of the mosque in Britain.
As the Ramadan Tent Project returns for its 10th year, Salha hopes to feed more people than ever before. "Ramadan is a month of barakah and blessings," he said. "We want people to come to our events and not have to worry about changing who they are, but have the freedom to be who they are."
This article has been edited for length and clarity.
The Ramadan Tent Project is celebrating its 10th anniversary this year. How are you celebrating this milestone?
This year we're hosting iftars in 10 cities across England. They will be in London, Newcastle, Manchester, Bradford, Sheffield, Brighton, Birmingham, Cambridge, Coventry and Gloucester. In the future we would like to expand to every major city across the UK. We've already committed to hosting events in Wales and Scotland in 2024.
What can people who attend this year's events expect to see on the menu?
Rest assured it will be a very wholesome meal that represents different cultures. Each city will have a different menu. It won't just be a biryani every night. We're also serving meals from Turkey and the Mediterranean.
Muslims across the UK have been hard hit by the cost of living crisis. Research by Muslim Census has found that one in five Muslims has used a food bank since August 2021. Are you expecting the turnout to be bigger this year?
This year we're projected to feed between 30,000 and 40,000 people. Our events have been and will continue to be open and free to all, but we are also looking at how we can support food banks around the UK through our charity partner, Islamic Relief.
It's also important to note that while Open Iftar started with the intention of inviting Muslims who are away from their family and friends to break their fast together, it's now open to everyone. That includes rough sleepers and people who are non-Muslim, irrespective of where you are on the economic ladder.
Has it been more difficult to organise events this year, given the rising costs of food and energy?
As we've seen from the emergency appeals taking place in Turkey and Syria, the current economic climate has not held back public giving. It has tightened people's pockets a little and some restaurants have found it more difficult to offer as much as they would have liked. But we've also built new relationships with partners who we had not previously worked with, which has helped.
How has the Ramadan Tent Project been inspired by the work of other Muslims?
The first person who comes to mind is Asma Khan. She opened her Covent Garden restaurant, Darjeeling Express, the same year that we started the project. It's been amazing to see her passion for using food as a connector between people around the globe. All we need is a mechanism that can bridge different communities, and food is a great way of doing that.
The theme for this year's project is "belonging". Can you share an example of how the project has fostered a sense of community?
One story I often think about is from 2014, when our events were hosted at the Malet Street Gardens in central London. It was a Friday evening, and a group of Polish men were walking past the gardens when they came across us and were welcomed inside by our volunteers. There was a bit of hesitancy from them at first, but when they came in, I sat next to them and we shared a meal. One of them turned to me and said all the negative stereotypes he had about Muslims had been false. Through these very basic conversations, we are able to soften the hearts and minds of people and alleviate some of the misconceptions that people may have about Muslims.
As the first Muslim mayor of London, Sadiq Khan has been an avid supporter of the charity. If he is not elected for a third term next year, are you worried this could affect future Ramadan Tent Project plans?
I don't believe it would make any difference. We have amazing relationships with people from different political spectrums. For example, Andy Street, mayor of the West Midlands from the Conservative party, has attended our events.
It's not down to people's faith or the political party they are affiliated with. Our mission is much bigger than that. It's about building a society that has mutual respect and understanding for all. We also work with a number of different partners from the Christian and Jewish communities. This year there will be a time when Passover, Easter and Ramadan will coincide. It's a great opportunity for communities of those three faiths to connect and understand the different celebrations and why they are so important.
What's your go-to iftar meal?
I like to have something very light and refreshing for iftar. I usually have some lentil soup, tabbouleh or fattoush.
What's your favourite thing about Ramadan?
The smiles I see on people's faces, whether it's in the mosque or at our events. I love the spirit of generosity and compassion that comes with Ramadan. I think this is the reason Muslims are so energetic during this month, despite the fact that we are fasting.
Topics
Selected stories
From pickles and ferments to jams and chutneys, conserving surplus produce allows us to enjoy fruits and vegetables grown in familiar earth, many thousands of miles away

The western world's largest mosque is a point of pride for the country's Muslims, but its impressive scale and ornate design do not reflect their position in the country as a whole

The challenge for Keir Starmer is to combine control and compassion in efforts to tackle dangerous boat crossings